For a lunch or a drink in the sun, the Do It In Paris editorial team reveals its must-visit terrace spots to book right away!
In the Drink Chic category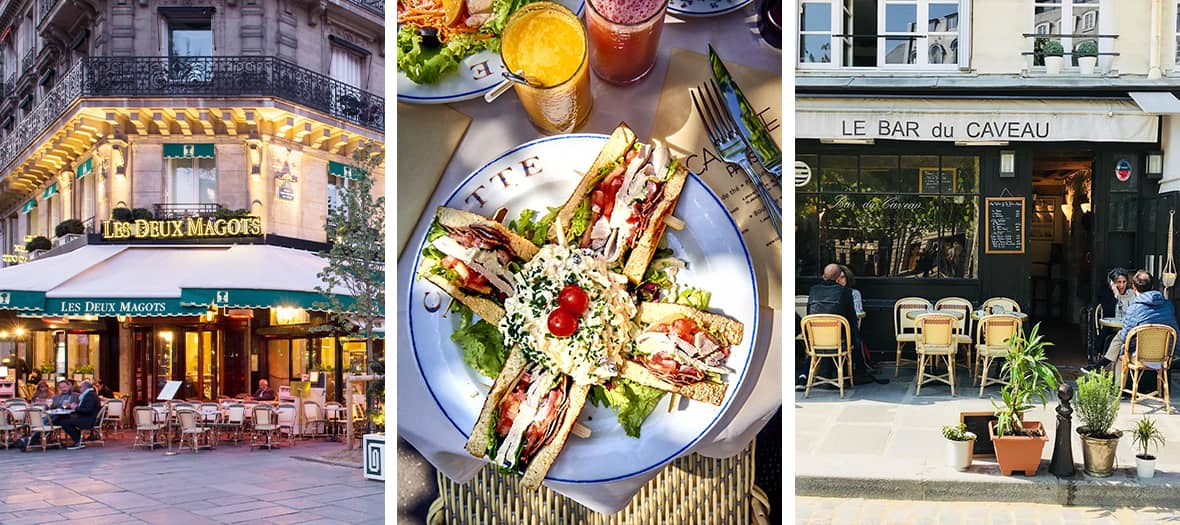 If you dream of sitting on a fashionable terrace, enjoying a coffee in the sun, being served a chilled glass of champagne with a stylish salad or a croque-madame, then you must visit Les Deux Magots (6 place Saint-Germain des Prés, Paris 6th).
On the other side of the Seine, the terrace of Le Fumoir (6 rue de l'Amiral de Coligny, Paris 1st) eagerly awaits Parisians with its amazing cocktails and club sandwiches, just like Le Nemours (2 place Colette, Paris 1st), where it's customary to indulge in typical Parisian delights near the Comédie-Française, from a morning coffee and croissant to an evening apéritif.
If you're looking for a picturesque little square, head to Île de la Cité and sip a coke or a beer at Bar du Caveau on the charming Place Dauphine, a true Parisian gem that instantly transports you to a Provençal atmosphere, complete with stylish pétanque players.
And of course, there's always La Palette (43 rue de Seine, Paris 6th), Le Charlot (38 rue de Bretagne, Paris 3rd), and all the successful addresses of Thierry Bourdoncle. Let's not forget the divine sun-drenched terrace of Café Francœur in Montmartre or an extraordinary breakfast in the sun at the artisan baker Benoît Castel's (11 rue Sorbier, Paris 20th). And for those who dream of a club sandwich and a juice on a royal square, Carette (25 place des Vosges, Paris 3rd) remains the must-go destination for a chic tea room experience!
© Les Deux Magots by Julio Piatti / Carette / Bar du Caveau

In the Chic Dining Category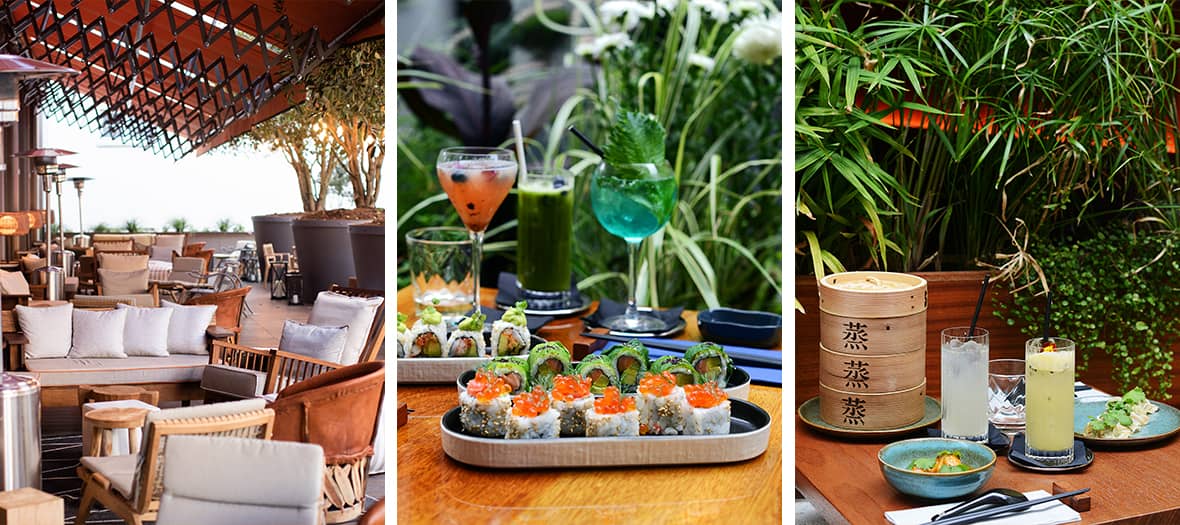 If we had to mention just one, it would be LouLou (107 rue de Rivoli, Paris 1st), the terrace of the Musée des Arts Déco overlooking the Carrousel Gardens, orchestrated by Gilles and his sister Claire Malafosse. It's the ideal address for those who want to immerse themselves in a glamorous setting, a place to see and be seen. You'll encounter the Parisian elite comfortably seated on the white banquettes, shielded from cars and enjoying the view. On the menu: prosecco, vitello tonnato, pasta snob, and other Italian delights. Note the bar with its more casual terrace on the left, no reservations required, dedicated to aperitivo with spritz, chic snacks, and good music.
Craving a trip to Long Island? Ralph's (173 boulevard Saint-Germain, Paris 6th) masterfully delivers on that promise, welcoming the high society of the Left Bank to its elegant patio nestled in the heart of a private mansion on Boulevard Saint-Germain, offering a luxurious burger and a lobster salad.
Just a few steps away, you'll also come across the Parisian foodie crowd yearning for sushi on the divine small terrace of Blueberry, a maki bar located on rue du Sabot in the 6th arrondissement, right next to Steam Bar, the other incredibly cool establishment by the Vaconsin sisters, serving the best of Hong Kong's iconic dishes like baos, spring rolls, and gyozas.
As trendy as it gets, the ultra-hip patio of Hoxton (30-32 rue du Sentier, Paris 2nd) is eagerly preparing to reopen its doors for cocktails and all the hype! Brach (1-7 rue Jean Richepin, Paris 16th), the 5-star hotel created by Starck and the new cool hotspot in the 16th arrondissement, is also gearing up with its spacious terrace on the first floor, perfect for a delightful hummus-infused meal. And let's not forget the ultimate sophistication of Flandrin (4 Place Tattegrain, Paris 16th), adorned with white tablecloths, attracting people of influence.
And as always, for rubbing shoulders with the beautiful crowd, the couture-filled courtyard of Hôtel Les Jardins du Faubourg (9 rue d'Aguesseau, Paris 8th) or Le Récamier (4 rue Juliette Récamier, Paris 7th) for indulging in an exquisite soufflé in a hidden spot in Sèvres Bab'. And for those living in the 92 area: L'Île (Parc de l'Ile Saint-Germain, Issy-les-Moulineaux) and Polpo (47 quai Charles Pasqua, Levallois-Perret).
© Brach by Yann Audic / Blueberry / Steam Bar


In the Frenchie Dining Category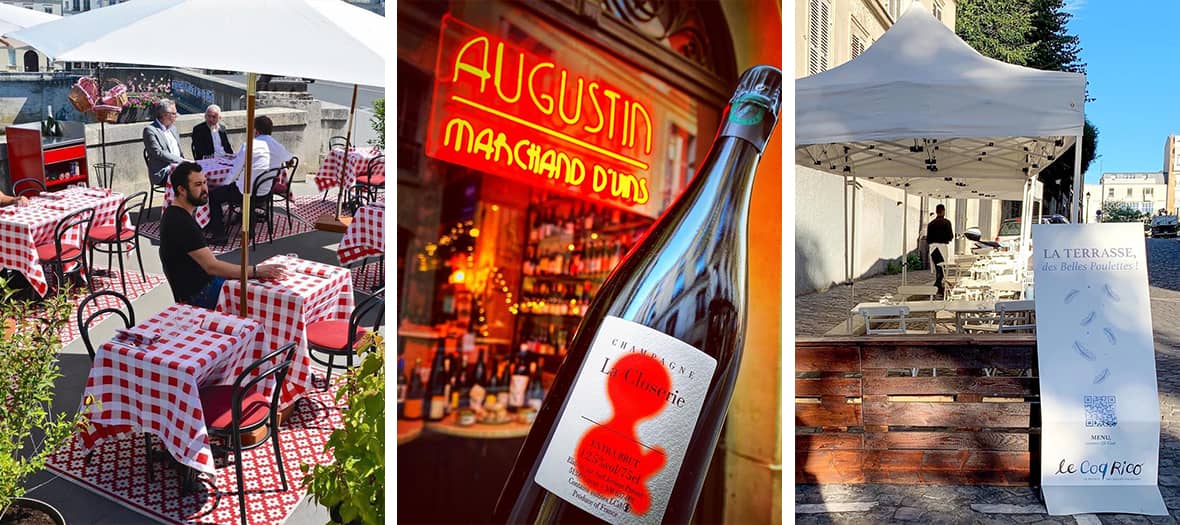 A real obsession since its opening last summer:
A true obsession since its opening: you must rush to Café Les Deux Gares in the 10th arrondissement to taste or rediscover the simple yet phenomenal cuisine of Jonathan Schweizer! We're already salivating...
An enchanted interlude, La Rôtisserie d'Argent (17 quai de la Tournelle, Paris 5th) sets its red and white checkered tablecloths right on the Tournelle bridge, in a perfect Parisian setting worthy of Ratatouille. This unpretentious bistro has become as legendary as its mother, La Tour d'Argent, and is known for its succulent roasted meats, signature duck, and incomparable fries.
And if you're a fan of fine poultry, the alternative on the Montmartre side is undoubtedly Antoine Westermann's Coq Rico (98 rue Lepic, Paris 18th), where you'll find the best chicken and fries and other carefully sourced poultry dishes.
It's impossible to resist the temptation to indulge in the classic steak-frites with mustard sauce at Chez Georges (1 rue du Mail, Paris 2nd), especially on its splendid terrace that spills out onto the Place des Petits Pères.
And as always, there's the timeless and irreplaceable Maison Plisson (35 place du Marché Saint-Honoré, Paris 1st), Hôtel Amour with its magnificent patio (8 rue de Navarin, Paris 9th), Augustin Marchand d'Vins (26 rue des Grands Augustins, Paris 6th), which offers the best selection of natural wines and mouthwatering foie gras rillettes on its small outdoor tables, or Le Lazare (rue Intérieure, Paris 8th), the train station bistro by Eric Frechon, serving classic dishes like deviled eggs and sausage with mashed potatoes.
© La Rôtisserie d'Argent / Augustin Marchand d'Vins / Coq Rico
In the chef's tables category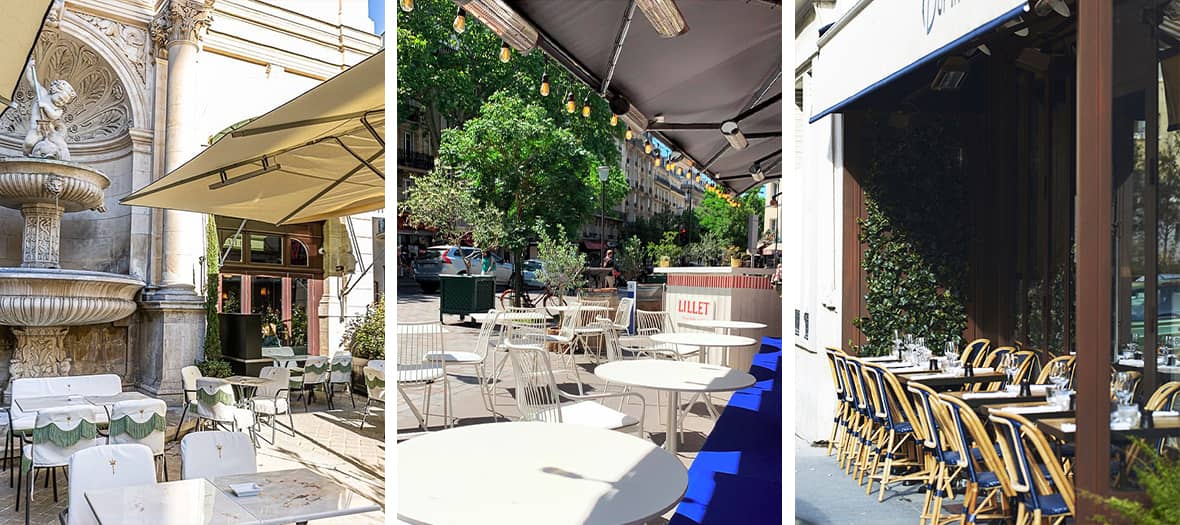 It's impossible to resist the call of À l'Épi d'Or (25 rue Jean-Jacques Rousseau, Paris 1st), Jean-François Piège's bistro with a high added value, where you can indulge in a foie gras mousse, steak tartare with fries, and other delightful Parisian treats. It's absolutely fantastic!
On the divine Place Gaillon, Parisians are torn between the trendy sophistication of Fontaine Gaillon (1 rue de la Michodière, Paris 2nd), a Parisian institution recently taken over by the brilliant Marc Veyrat, and just across the street, Drouant (16-18 rue Gaillon, Paris 2nd), recently acquired by the team from Taillevent. One thing is certain in both cases: the spot is an absolute delight.
It's hard to find someone more friendly than Juan Arbelaez (Plantxa, Levain, Vida, Froufrou), the beloved young chef of television fame, always juggling multiple projects while maintaining his lively Colombian spirit. Reserve a table with friends at Yaya Secrétan (33 avenue Secrétan, Paris 19th), his Greek restaurant that brings a holiday atmosphere to the Secrétan market. Mezzes, wood-fired octopus, cocktails - the sea is nearby.
Fans of Top Chef will rush to the restaurant of the Jura-native Matthias Marc (formerly at Racines des Prés, Le Meurice, Lasserre...), whose restaurant Substance (18 rue de Chaillot, Paris 16th) wakes up the Chaillot neighborhood with its young and smart team that focuses on seasonality, excellent ingredients, and, of course, a good dose of vin jaune (yellow wine).
At Nathan Helo's highly sought-after Dupin (11 rue Dupin, Paris 6th), a young chef, gourmets will be delighted by a terrace with 30 seats, evoking a guinguette atmosphere with its lawn and solar-powered lanterns. Here, you can enjoy fresh cuisine that prioritizes products from the Paris region and zero waste.
Another foodie gem to urgently try is Nosso (22 promenade Claude Lévi-Strauss, Paris 13th): the brand-new establishment near the MK2 Bibliothèque, opened by the rising Brazilian chef Alessandra Montagne, with an exceptional terrace where you can savor her unique Brazilian feijoada or a chicken meatball sandwich with satay mayo. Pure bliss!
And as always, there's Amandine Chaignot, the talented chef of Pouliche (11 rue d'Enghien, Paris 10th), revamping her terrace, or the extraordinary terrace of Pavyllon, Yannick Alléno's Michelin-starred brasserie in the Champs-Élysées gardens.
© Fontaine Gaillon / Yaya Secrétan by @pj_cha on Instagram / Dupin
In the Mediterranean category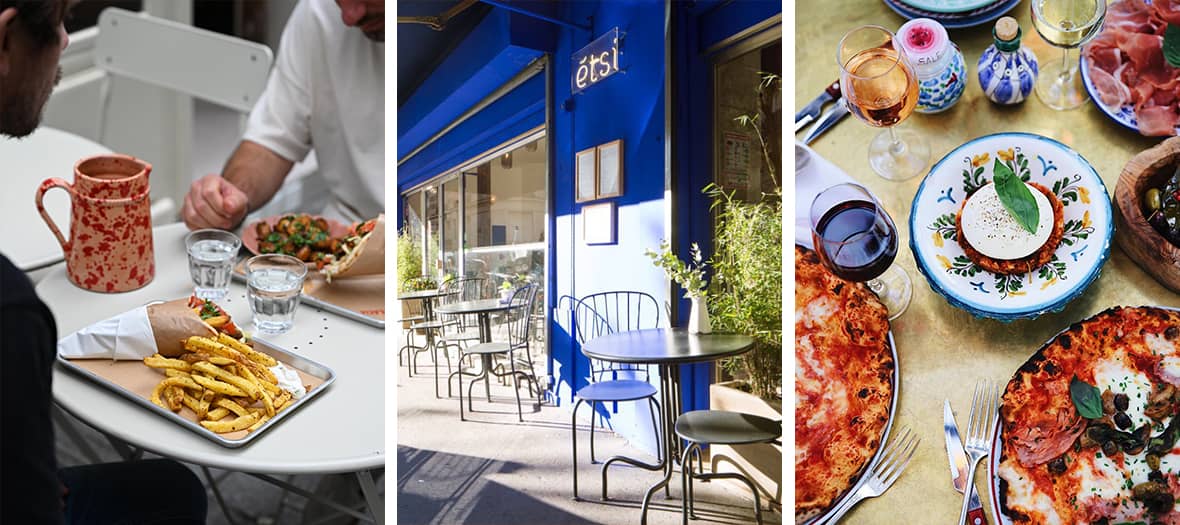 A true tribute to Provence, we joyfully rediscover Janou (2 rue Roger Verlomme, Paris 3rd) and the trendy crowd of Le Marais on a tranquil square, indulging in ratatouille, panisses, and petits farcis. Alternatively, you may prefer the hipster and uber-cool atmosphere of Niçois (7 rue Lacharrière, Paris 11th) with pissaladière, pétanque, and mauresque cocktails.
Missing your Greek getaways? It's time to head to Filakia Petit Café d'Athènes (9 rue Mandar, Paris 2nd), where you'll find the best souvlakis in Paris, refreshing lemonades, and Ouzo cocktails on their pedestrian and friend-friendly terrace, transporting you on vacation. Another divine spot that will evoke the summer vibes of Antiparos in Montmartre-style is Etsi (23 rue Eugène Carrière, Paris 18th).
If you suddenly have the urge to dine at the best Lebanese restaurants in Paris, we highly recommend quickly snagging a spot on the cozy terrace of Eats Thyme (44 rue Coquillière, Paris 1st), the new trendy and gourmet spot frequented by Parisian elites, designed like an oriental trattoria. As for Liza, the big sister of the fashionable dining scene from Beirut (14 rue de la Banque, Paris 2nd), make a reservation without delay to indulge in their exquisite mezzes.
Attention, pasta lovers! The extraordinary terrace of Mamma Primi (71 rue des Dames, Paris 17th) awaits you with its legendary truffle pasta, just like all the other Parisian addresses of the Big Mamma group. For a more picturesque and refined setting, the paved courtyard of Marcello (8 rue Mabillon, Paris 6th) creates a buzz among Italian foodies. Ready, set, book!
© Filakia Petit Café d'Athènes by Géraldine Martens / Etsi / Big Mamma
Also discover the aperitif obsession of spring and the hotel Rochechouard rooftop.