Between those who have closed for good and the others who prefer to wait until June 9: difficult to navigate. Do It In Paris has sorted it out. Be in the starting blocks to book your place in the sun!
In the Drink Chic category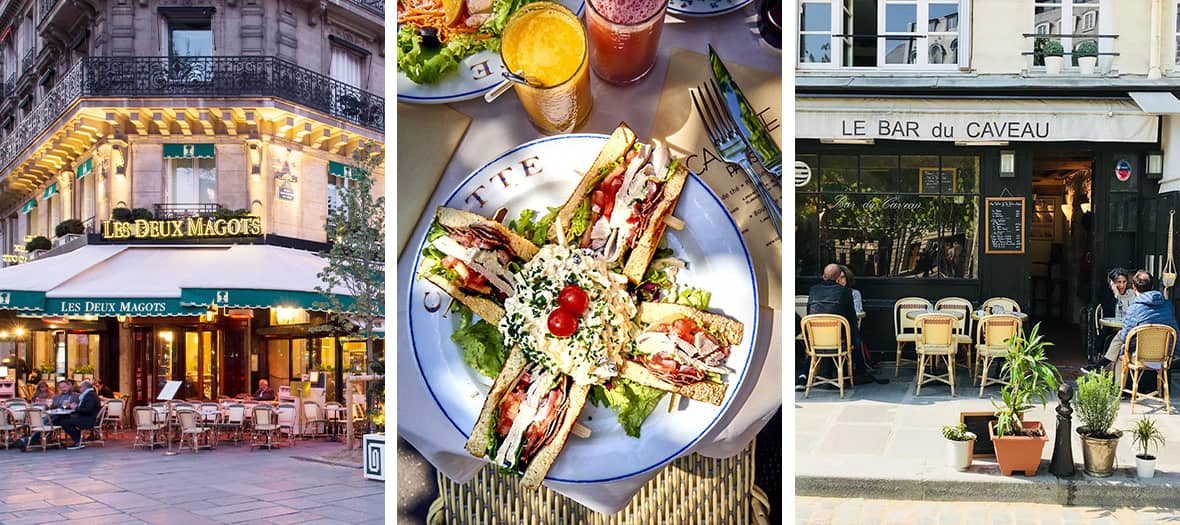 If you dream of sitting on a social terrace to drink a coffee in the sun, have a glass of well chilled champagne served with a beautiful couture salad or a croque-madame, you should of course stop at Deux Magots (6 place Saint-Germain des Prés, Paris 6th).

On the other side of the Seine, the Fumoir terrace ( 6 rue de l'Amiral de Coligny, Paris 1er ) obviously awaits Parisiennes firmly with its crazy cocktails and club sandwiches, like the Nemours ( 2 place Colette, Paris 1er ), where it is fashionable to resume its titi Parisian habits at the foot of the Comédie-Française, with a crème-croissant at dawn until aperitif time.
If you are looking for a small picturesque place, sneak onto the Île de la Cité to sip a coke or a beer at the Bar du Caveau on the divine Place Dauphine, a real Parisian treasure that will transport you immediately to an atmosphere Provençal with its batch of chic pétanque players.
And always: La Palette ( 43 rue de Seine, Paris 6e ), Le Charlot ( 38 rue de Bretagne, Paris 3e ) and all the successful addresses of Thierry Bourdoncle, not to mention the divine terrace in the sun of the Café Francœur in Montmartre or a extraordinary breakfast in the sun at the author's baker Benoît Castel ( 11 rue Sorbier, Paris 20th district ). Not to mention a signature café at La Fontaine de Belleville ( 31 rue Juliette Dodu, Paris 10th ). And for those who dream of a club sandwich and a juice on a Place Royale: Carette ( 25 place des Vosges, Paris 3rd ) remains the must-go of the chic tea room!
© Julio Piatti / @limagigraphe on Instagram
In the social tables category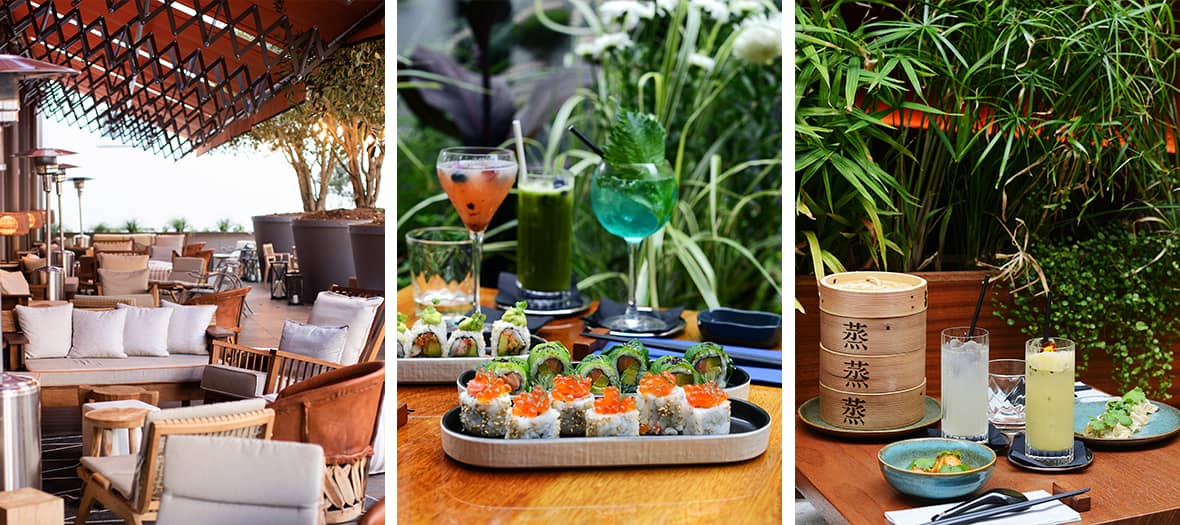 If only one had to be mentioned, it would be LouLou ( 107 rue de Rivoli, Paris 1er ), the terrace of the Musée des Arts Déco on the Carrousel gardens, orchestrated by Gilles and his sister Claire Malafosse. The ideal address for those who want to immerse themselves in a glam 'staging, a post-confinement "be seen and be seen". We meet all the Parisian elite, well installed on the white benches, sheltered from cars and with a view. On the program: prosecco, vitello tonnato, snobbish pasta and other Italian pleasures. Note: the bar with its more relaxed terrace on the left and without reservation, dedicated to aperitivo in spritz mode, chic snacks and good sound.
Fancy a trip to Long Island? This is the masterfully kept promise of Ralph's ( 173 boulevard Saint-Germain, Paris 6e ) which awaits the high society of the left bank in its elegant patio nestled in the heart of a mansion on boulevard Saint-Germain between a luxury burger and a lobster salad.
A few steps away, we will also come across the All-Paris foodie in need of sushi on the divine little terrace of Blueberry , maki bar located on rue du Sabot in the 6th arrondissement, next to that of the Steam Bar , the other establishment ultimate cool from the Vaconsin sisters, who serve the best of Hong Kong cult dishes with baos, spring rolls and gyozas.
Trendy to your fingertips: the ultra-trendy patio of the Hoxton ( 30-32 rue du Sentier, Paris 2e ) is about to reopen its doors with impatience to toast with a cocktail and the hype! Le Brach ( 1-7 rue Jean Richepin, Paris 16th ), a 5-star hotel created by Starck and a cool new HQ in the 16th, is also in the starting blocks with its XXL terrace on the 1st floor for a hummus-style dinette… Not to mention the ultimate chic of Flandrin ( 4 Place Tattegrain, Paris 16th ) all in white tablecloths, celebrity and sophistication.
And always: to meet very beautiful people, the tree-lined couture courtyard of the hotel Les jardins du Faubourg ( 9 rue d'Aguesseau, Paris 8th ) or Le Récamier ( 4 rue Juliette Récamier, Paris 7th ) to feast on a exquisite soufflé in a dead end at Sèvres Bab '. And for those who live in the 92: L'Île ( Parc de l'Ile Saint-Germain, Issy-les-Moulineaux ) and Polpo ( 47 suai Charles Pasqua, Levallois-Perret)
In the Frenchie-chic category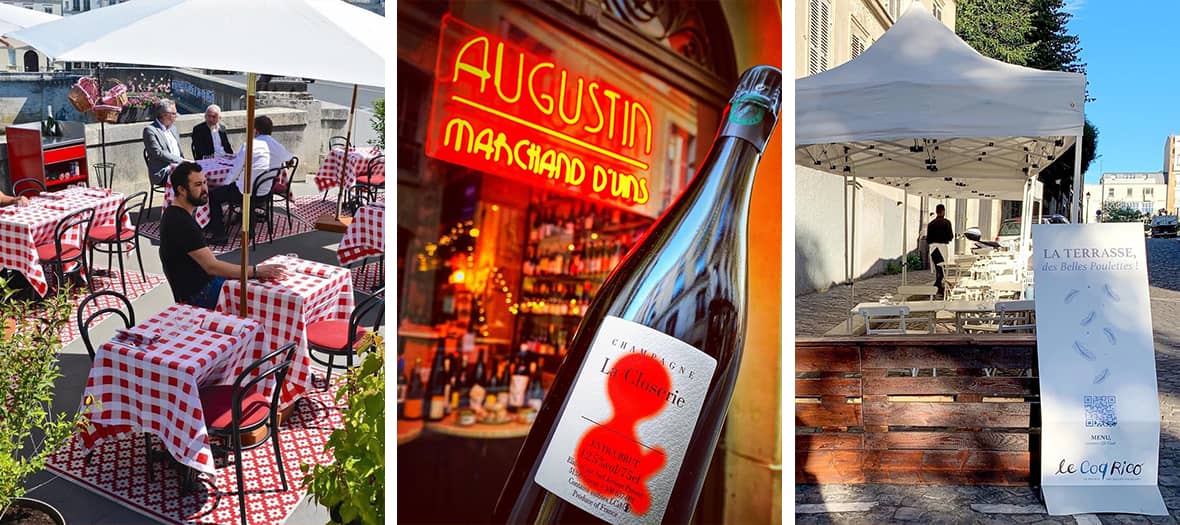 A real obsession since its opening last summer: you have to run to Café Les Deux Gares in the 10th district to test or re-taste the simple but phenomenal author's cuisine of Jonathan Schweizer! We're already salivating ...
Enchanted interlude, La Rôtisserie d'Argent ( 17 quai de la Tournelle, Paris 5th ) sets up its red and white checkered tablecloths on the Pont de la Tournelle, in a perfect Parisian setting worthy of Ratatouille . An anti-snobbish bistro that has become as legendary as its mother Silver Tower and where we come back for its grilled meats, its signature duck and its incomparable fries.
And if you are a lover of fine poultry, the alternative on the Montmartre side is obviously rue Lepic at Antoine Westermann who sells the best chicken and chips and other well-sourced casseroles at Coq Rico (98 rue Lepic, Paris 18th) .
Impossible to resist the temptation to reconnect with the pavé-frites with mustard sauce around a snack at Chez Georges ( 1 rue du Mail, Paris 2nd ), especially on its splendid terrace which overflows everywhere as far as the Place des Petits Pères. .
And always: the eternal and irreplaceable Maison Plisson ( 35 place du Marché Saint-Honoré, Paris 1er ), the Hôtel Amour and its magnificent patio ( 8 rue de Navarin, Paris 9th ), Augustin Marchand d'Vins ( 26 rue des Grands Augustins, Paris 6e ) which sells on its small outdoor tables the best selection of natural wines and its amazing foie gras rillettes or Le Lazare ( rue Intérieurs, Paris 8e ), station bistro signed Eric Frechon in egg mode mimosa and mashed sausage.
In the chefs tables category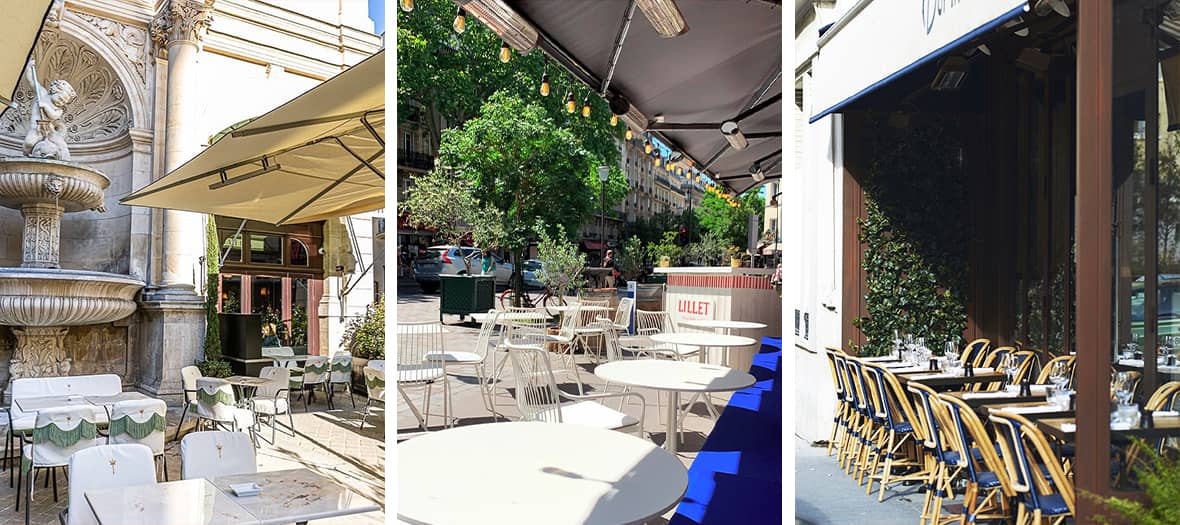 Impossible to resist the call of À l'Épi d'Or ( 25 rue Jean-Jacques Rousseau, Paris 1er ), the very high added value bistro from Jean-François Trap for a shot of liver mousse, tartare fries and other titi delicacies. It's crazy !
On the divine Place Gaillon, the hearts of Parisiennes swing ... between the trendy sophistication of the Fontaine Gaillon ( 1 rue de la Michodière, Paris 2nd ), a Parisian institution freshly taken over by the brilliant Marc Veyrat, without forgetting just opposite Drouant ( 16- 18 rue Gaillon, Paris 2e ), recently taken over by the Taillevent team. One thing is certain, in both cases: the spot is an ultimate delight.
It's hard to be nicer than Juan Arbelaez (Plantxa, Levain, Vida , Froufrou ), young favorite chef of the small screen, always on a thousand projects at the same time, without ever letting go of his Colombian good humor. We reserve a table of friends at Yaya Secrétan ( 33 avenue Secrétan, Paris 19th ), his Greek restaurant with a holiday feel that decorates the Halle Secrétan. Mezze, wood-fired octopus, cocktails: the sea is very close.
Top Chef addicts will immediately flock to this season's darling aka the Jurassic Matthias Marc (ex-Racines des Prés, Le Meurice, Lasserre ...), whose Substance table ( 18 rue de Chaillot, Paris 16th ) awakens Chaillot with its young and smart team which plays on seasonality, real good products and, inevitably, a good dose of yellow wine ...
Chez Nathan Helo, the highly coveted young chef from Dupin ( 11 rue Dupin, Paris 6e ): a new terrace with 30 seats in a guinguette style with lawn and solar-effect lanterns will make gourmets happy to test a fresh cuisine that favors products Ile-de-France and zero waste.
Another foodie nugget to try urgently: Nosso ( 22 promenade Claude Lévi-Strauss, Paris 13th arrondissement ): the brand new address a stone's throw from the MK2 Library opened by the young Brazilian chef who climbs Alessandra Montagne, with an exceptional terrace to feast on its inimitable Brazilian feijoada or a sandwich with chicken meatballs and satay mayo. Happiness!
And always: Amandine Chaignot, potential chef at Pouliche (11 rue d'Enghien, Paris 10th), is rearranging her terrace, or the extraordinary terrace of Pavyllon , Yannick Alléno's starred brasserie in the Champs-Élysées gardens.
© @pj_cha on Instagram
In the Mediterranean category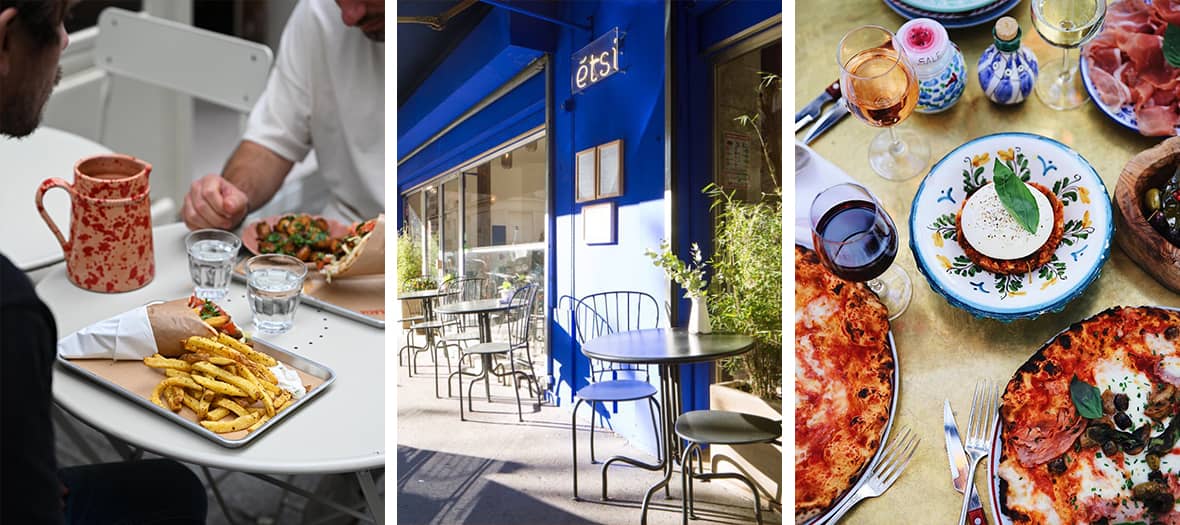 A true hymn to Provence, we find with joy Janou ( 2 rue Roger Verlomme, Paris 3rd ) and all the trendy fauna of the Marais on a quiet square in ratatouille, panisses and stuffed foods, unless you prefer the hipster atmosphere and coolissime des Niçois ( 7 rue Lacharrière, Paris 11th ) with pissaladière, pétanque and Moorish. As for Bocca Nissa, the trendiest restaurant in Nice opened by Jean Valfort, it relocates to the capital in Bocca sur Seine mode and squats the banks of the Seine at Quai Ouest.
Missing getaways in Greece? It's time to head to the Filakia Petit Café d'Athènes ( 9 rue Mandar, Paris 2e) which sells the best souvlakis in Paris, lemonades and cocktails at Ouzo on its pedestrian and friends-friendly terrace that transports you on vacation. Another divine drop-off point that will bring back summer in Antiparos in Montmartre fashion: Etsi ( 23 rue Eugène Carrière, Paris 18th ).
If you suddenly feel the urge to dine at the best Lebanese in Paris, dearly, we can only recommend you to squat dare-dare the small terrace of Eats Thyme ( 44 rue Coquillière, Paris 1er ), the new posh and gourmet trusted by the beautiful Parisian world and thought of as an oriental trattoria. As for Liza , the big sister of the fashionable Beirut dining room ( 14 rue de la Banque, Paris 2e ): you reserve your place without delay to taste her signature mezzés.
Notice to pasta lovers: the extraordinary terrace of Mamma Primi ( 71 rue des Dames, Paris 17th ) awaits you with its legendary truffle pasta like all the other Parisian addresses of the Big Mamma group . More picturesque and refined, the paved courtyard of Marcello ( 8 rue Mabillon, Paris 6e ) provokes the general excitement of Italian foodies. Ready, Set ? Book!
© Geraldine Martens
Also discover the aperitif obsession of spring and the hotel Rochechouard rooftop.