The place
You don't necessarily think of, yet… Located on the 5th and 6th floors of the famous Boulevard Haussmann department store, le Printemps du Goût —one of the best food addresses of the capital—shelters an amazing terrace in the sun overlooking Paris.
Amongst the restaurants present, Supernature stands out. Its tables installed on the rooftop are a real little paradise on weekends. This vegetal cantina, led by the brilliant Emmelyne Perot (ex Bichat and Guinguette d'Angèle), shakes up fruit and vegetables (organic of course) with real talent and just the right glam' and comfort food touch.
On the program of treats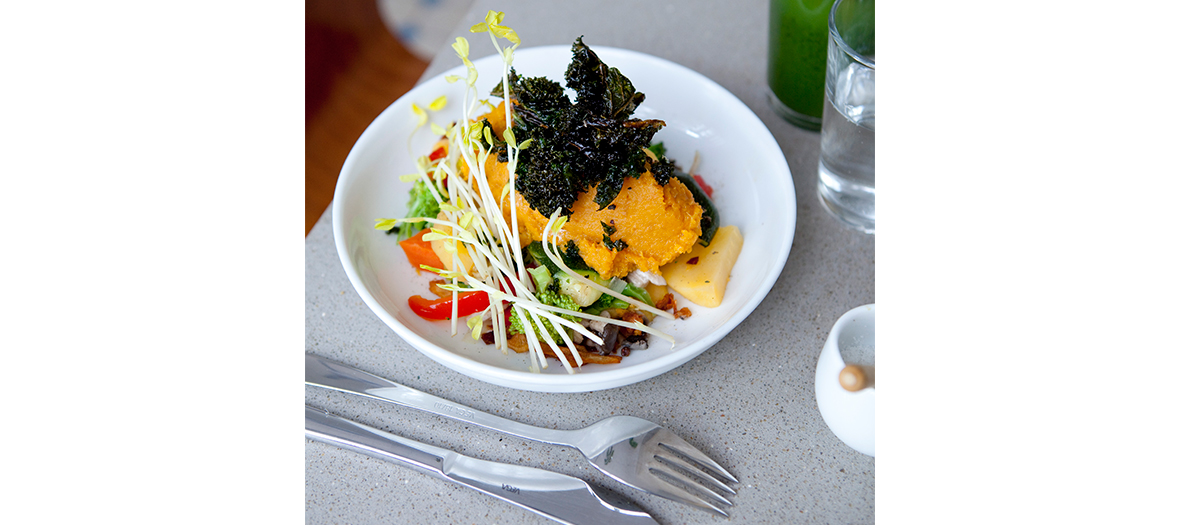 Each Sunday, a very copious and 100 % vegetarian brunch (with vegan option)  formula at €35, is served at the table.
On the menu: the multi-vitamin juice of the day with blood orange, carrot and blood orange for example to accompany a fabulous veggie plate: mashed celeriac, pink houmous, no gluten focaccia with herbs, creamy guacamole with aniseed, pesto of leeks, falafels served with a cream of garlic and ginger, braised root beets and mushrooms, cauliflower with curcuma, salad of quinoa, cranberry and raddichio salad, tartare of algae, fried kale, glazed ginger, long radishes, soft boiled egg...
For desert, hard to choose: rice pudding with almonds or a thick and fluffy crêpe with orange blossom ; each with cream of banana roasted with crème de banane vanilla and muscovado along with fruit salad.
The added plus
Flexibility. With first of all the possibility of reserving your table on the terrace —a rare occasion in Paris. Then you can order  à la carte if your prefer… Tempuras of courgettes flowers to dip in a lemon mayo, burrata, cold soup of peas, lacquered aubergine with vinegar abricot or a green stew with coconut milk. A great high.
Reservations http://super-nature.fr/#/reservation
Also discover the best brunches in Paris