It's the brand new feel good address that is going to bring some sunshine to all those in the doldrums and who don't like rain. Instead of hopping on a plane for a sunny destination, Floridea and its good vibes are now in town.
SUPER GLAM TAQUERIA IN THE TRENDY SENTIER
Forget Tex Mex dives which for a long time gave Mexican cuisine an Ugly Betty reputation. Reset! Here, you are at the heart of a very new street food concept, never seen before in Paris, totally in keeping with The Webster vibes as well as trendy venues of Art Basel Miami…
A real food phenomenon founded by Alan Drummond, Sven Vogtland and Scott Linquist, Coyo Taco, this Miami address of super cool tacos has just landed in Paris across form Popolare, the pizzeria of Big Mamma at métro Sentier!
Be amongst the first diner to test the best tacos of Wynwood (and often considered the best tacos in the US), adored by Serena Williams, Barack Obama and LeBron James!
A DECOR SIGNED JULIEN SEBBAN
Here, everything looks terrific, starting with the decor by Uchronia, the studio of Julien Sebban everyone is raving about (the Onii San and Créatures restaurants of the Jour/Né pop-up store— that's them).
The architect manages to transpose the good vibes of Miami in a street decor (textured concrete, stainless steel kitchen in a XXL loft spirit) mingled with touches borrowed from a traditional taqueria, such as old fashioned tiles or the flower motif picked from Mexican lottery tickets…
Another big evening hit: the more lowkey and glam' ambiance which perfectly matches with a craving for a frozen margarita (€9). And very quickly the hidden bar below (all blue)!
THE BEST TACOS IN PARIS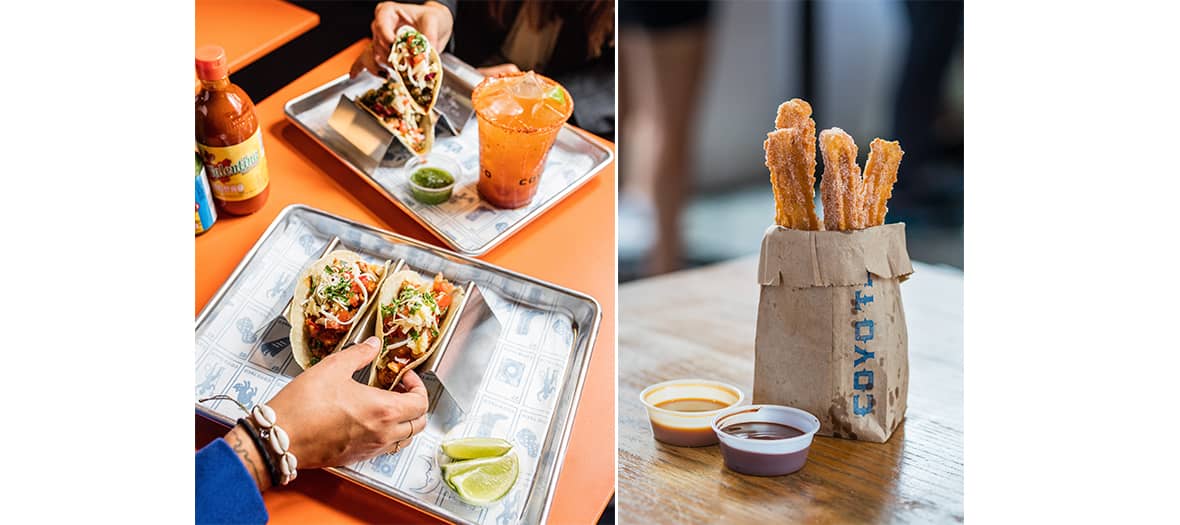 Quite honestly the quality of the products and the tacos are top notch, including indispensables herb ingredients + pimentos + avocados imported from Mexico. Starting with the house tortilla (served by 2) and stuffed with very good things, from the carne asada with herbs cooked à la plancha and cheese from Oaxaca, or the house creation made with canard confit.
Must be tested: wheat tortillas with pescado frito, house specialties such as sea bass (€9) or veggie (cauliflower à la plancha, butternut, red onion and avocado, €7.50). All with salsas (our fave: chipotle mayo), corn on the cob or arroz verde: spinach rice and coriander.
GUACAMOLE, CHURROS AND BURRITOS
Aside from their incredilbe guacamole, the other house specialty is burritos, also offered as burrito bowl (€12), the star dish of healthy girls. Less light, yet delicious, quesadilla al queso is the ticket (€10.80).
When it comes to desserts, play the food porn card: churros, with The French Bastards, dough is fried on the spot and covered with cinnamon sugar to be dipped in chocolate and caramel sauce. Devilish (€4).
Another top speciality: paletas signed Glazed (€4.80), the coolest ice cream maker in the city of lights. The famous Mexican popsicles are irresistible at every age: tequila, orange, pomegranate, pineapple or the coconut, brownie & cream version from the Ile-de-France. Local is chic.
Careful: this is a street food venue. No reservations! First come, first served.
Psssst: and in case of pandemic closing issues, Coyo Taco will ensure a great take away and soon a delivery service. Phew!
Open every day from noon to 11pm. Late night until 2am on Friday and Saturday.
Also discover Sir Winston, the chic buzzing pub and Havanita, a bar just like in Havana.