Are you looking for the most sensational rooftop of the season? It has just opened its doors! Left by the wayside for a long time, Galeries Lafayette finally decided to put the spotlight on their incredible roofs.
And it's the "Sous Les Fraises" collective that is in charge of the XXL vegetable garden suppliging their new ephemeral rooftop, Créatures, under the helm of chef Julien Sebbag in collaboration with Moma.
Julien Sebbag: the young chef everyone is talking about
This handsome foodie beau gosse, obsessed by Yotam Ottolenghi, has given up his business school for cuisine—a revelation. After several voyages, he emerged in the kitchens of Miznon when it opened and incarnates the new guard of Israeli cuisine in Paris. His underground restaurant at Chez Oim is already creating the buzz amongst inside-track Parisians.
His signature? Vegetal work —- he only cooks vegetables in super sexy mode and comfort food —along with his signature Basquiat-style plates. In short, everything to delight veggies eager for cool sensations.
A terrific spot for Parisian families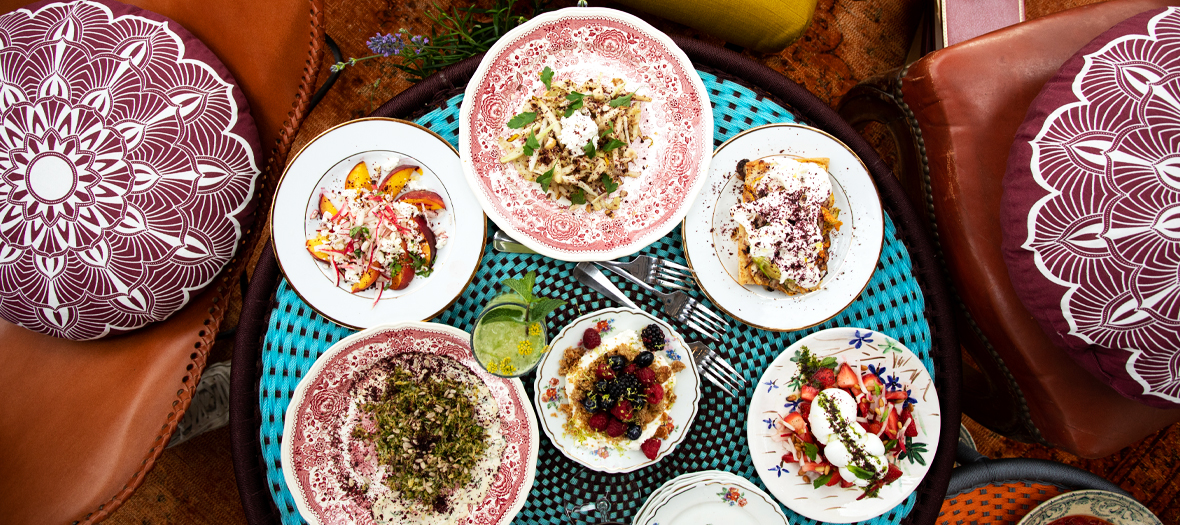 Imagine a huge dining room with an incredible view. To highlight the space, the scenography was entrusted to Uchronia, the studio of trendy young  architects that also produces fashion shows.
The result is stunning! To welcome large tables of friends and "millefa": a joyful mess 100 % by pieces found at Emmaüs. Pergola, burlap, caning, stainless steel and open kitchens: all recalling the holidays.
A venue open all day long
Impossible to avoid waiting around and the crowds at 8pm, when everyone shows up for dinner at sunset. The restaurant has a no reservation policy.
But don't be daunted. Open non stop starting at 10am, every one can find a time slot without queuing up.
For breakfast: brioche avocado grapefruit (€10), a chakchouka (€9), a super granola (€8) or the coffee, orange juice, viennoiseries formula at €10 with the most beautiful view in Paris
At the table, you can share small plates and fun cocktails: potato salad, egg, red onion and capers (€10), salty salad with peaches, spring onions, radish and feta (€10 €), mozzarella and gariguette strawberries (€20) or a focaccia with flower of courgettes and burrata (€14). All to be washed down with a detox potion (€9) or a Med-flavoured cocktail such as prosecco, orange blossom, cognac and liqueur of apricot (€16). Cheers.
The must in the evening? Showing up at 6:30 / 7pm by taking the escalators of the department store.
Open non-stop every day from 10am to 1am.