Residents along the Canal Saint-Martin now have a new landmark to come enjoy a super chill aperitif along the waterfront. Kumo, the guru of Japanese rolls distributed a little bit everywhere during events and in chic cantinas, has settled until the end of July on the Quai de Jemmapes.
The idea: grabbing a few XXL makis (a regressive chicken teriyaki with mayo, curry tuna, veggie courgette-feta-mint… €4.5), a nice Japanese beer (€5), a fresh lemonade bien fraîche (€3), a donburi (€11), special ribs (€16), a platter to share (€16) and even a bucket of fried chicken (€6), ask for a deck chair transat and settle down right across from the lock. With a nice playlist and your gang, it does not get much better after work.
There is more to happy hour in life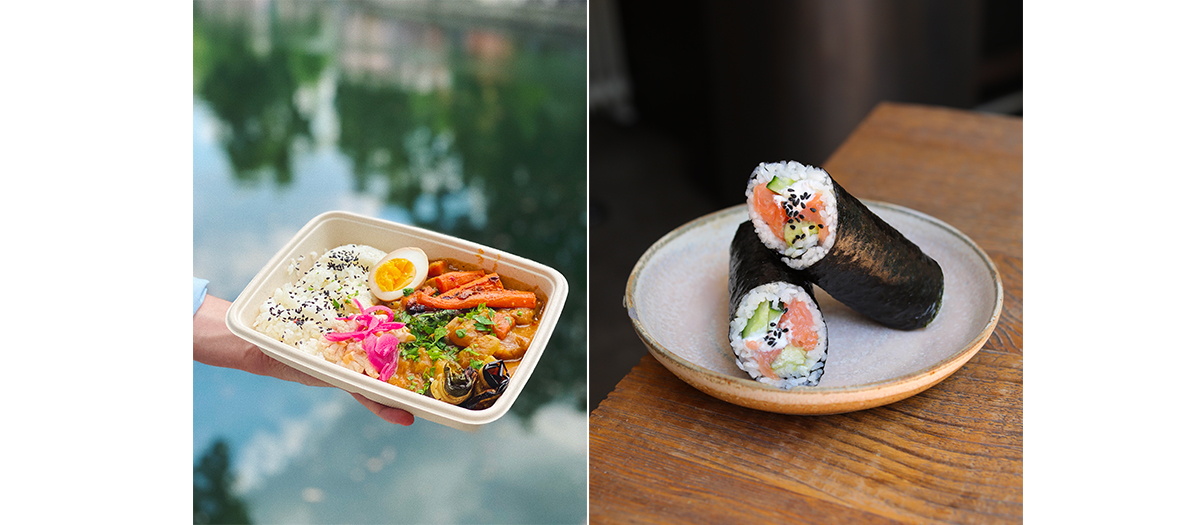 Managed by Antoine and Gaspard, two friendly foodies, the shop is open from morning until evening and can cover many requests. In addition to happy hour, you can come by in the morning for a good latte matcha (€5) and a yummy house Kookie (€3.5 ). At lunchtime, sit at the tables of the terrace to order a bento box or a lunch with two Kumo + 1 side (main or dessert) + one drink (€13).
Stylish happenings
Depending on events, moods and occasions, there will also be happenings taking place at Kantīne by Kumo: chef residences in the evening, DJ set or a presentation of young fashion labels. How about that: here one finds behind the bar the pretty round bags of Darris, whose creator, Pauline, is the darling of Gaspard…
Open every day.
Also discover the first Perchoir on the Left Bank and 3 new rooftops to launch the season.