Only Le Perchoir could make all the beautiful people of the Left Bank consider Porte de Versailles as the new hot spot. It's a fact that upscale 30-years-olds from the 15t hand 16tharrondissement were sorely missing a cool place to chill and party. Is the new Perchoir at the doors of Paris up to par? Clearly, yes.
Dream rooftop
Used to launch party spots where guests feel at home, the Perchoir team is inaugurating this summer a 6th address on the panoramic terrace of pavilion 6 at the Parc des Expos. A very trendy rooftop,totally instagrammable, pimped by olive trees and large comfy sofas to take in the sunset with your gang of friends and clink glasses while listening to good sounds, sipping a Moscow Mule(€12) or a Fragola(gin, lemon, basil and strawberry, €13). There is a definite sense of upcoming holidays and we know what we are talking about...
From the vegetable garden to the plate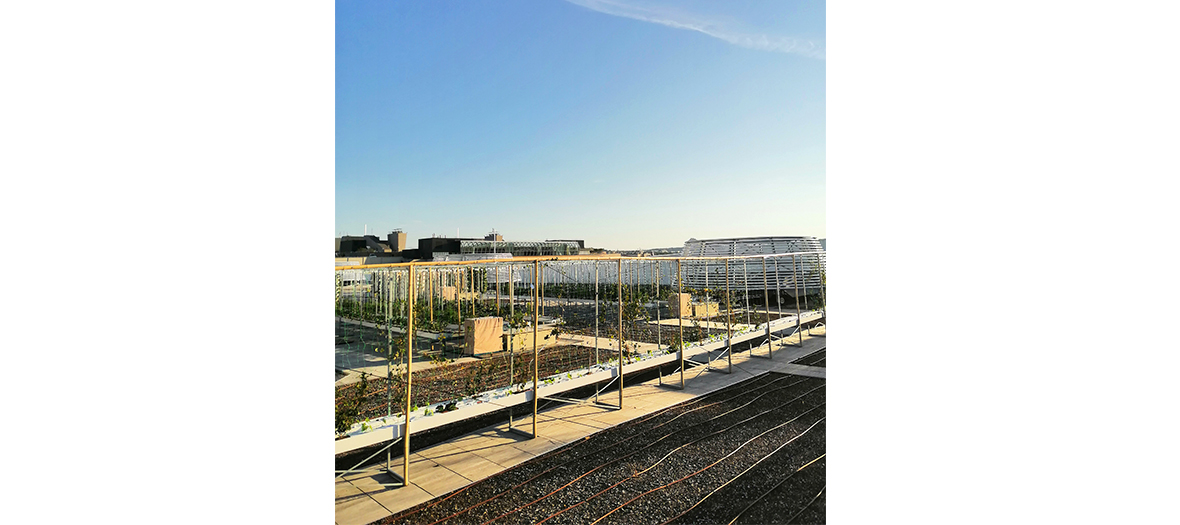 Proud to set forth sustainable values, Le Perchoir is inaugurating on the same occasion the largest urban rooftop farm in Europe. It features a huge vegetable garden with fruit, vegetables and aromatics set up right across the venue in order to supply the tables of the group, from the garden to the plate. An approach that delights chef Jérémy Claudepierre whose fresh and gourmet cuisine uses 100% of the product varieties cultivated by Nature Urbaine.
The result: arancini of vegetables, beef juice, mozzarella and soya mayo (€10), an Asian-style tartare of raw beef (€17), green and white asparagus, emulsion of vegetables (€16), squid, houmous and lemon condiment (€22) or large plates to share with a chuck flap of beef, courgettes and small potatoes (€54) as well as a wrapped seabass with shells and Provençal cards (€54). Very special kudos for their delightful desserts with poached strawberries, buckwheat biscuit and diplomat (€9) without forgetting the amazing cherry pavlova (€9).
Restaurant by reservation, bar space in free access. Bar open Monday to Friday from 6pm – 2am, on the weekend noon – 2am; restaurant open Wednesday to Saturday 7:30pm – 11pm, on the weekend noon – 3pm.
Also discover 3 new rooftops to launch the season and the very chic pub everybody is talking about.