The place: a darling crêperie nestled near canal Saint-Martin that will match with your instagram feed, without even using a filet. Emerald green banquette, millennial pink walls with neon lights, hanging plants, marble tables, chairs in formica and communal wood tables­—all under a superb skylight.
The signature : the combo pancake/cocktail, resolutely more fun and festive than a bowl of cider. Just choose your fave top recipe concocted by the chef : from the upgraded "complete" (egg, Prince de Paris ham, comté and buckwheat, €9) to the veggie (braised carrots, curry, fresh cheese and toasted seeds, €11.50) as well as salmon, beet, sweet and sour vinaigrette (€13.50). With the right potion. Special kudos for the Diane (gin, egg white, house syrup of pistachio, €11). And for those with a sweet tooth : chocolate ganache crêpe, buckwheat seed, whipped cream (€7.50), crêpe  with salty butter caramel and muscovado sugar (€7)...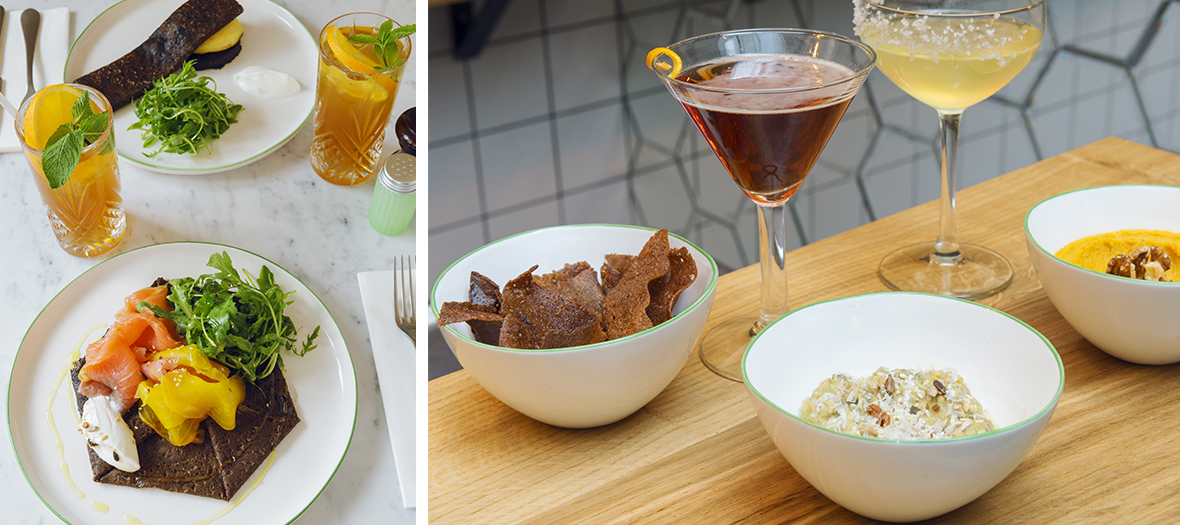 The plus : the greatest weekend brunch: mini crêpes and as many pancakes as you want with all the sides (scrambled eggs, jam, salty butter caramel ) + drinks (€22).
More info on the Facebook page  of Kasha.
Also check out the best crêperies in Paris.