In keeping with the Candelmas celebration or pancake day, take a tour of the new best crêperies in Paris with reinvented atmospheres.
Breizh Café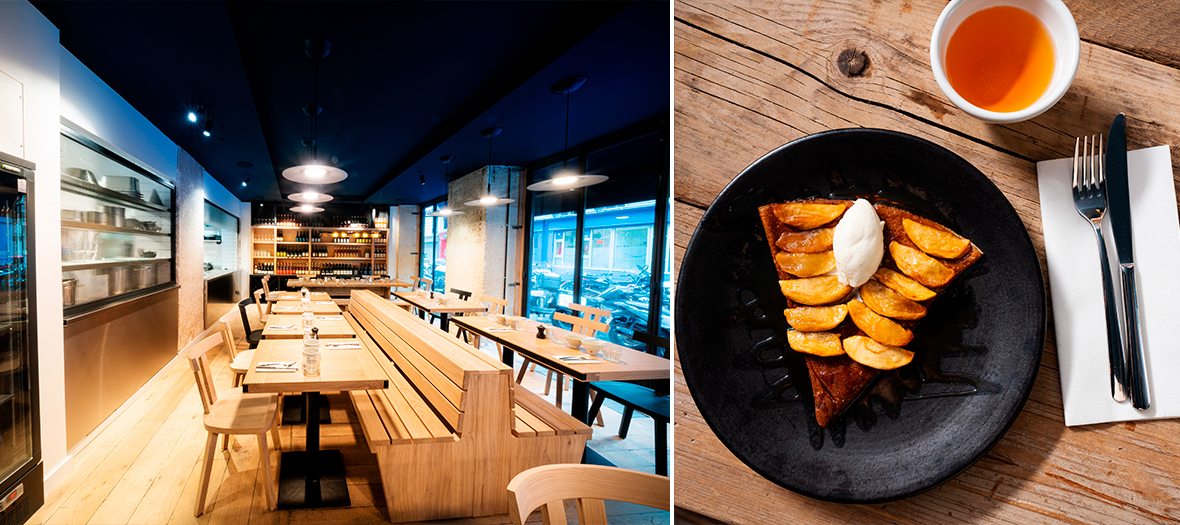 The place: the Breizh, is without any doubt the story of the best crêperie in the world. No less. A success story featured by Le Fooding and Michelin, conducted with maestria by Bertrand Larcher, a native from Brittany, who stands out with his "different kinds of crêpes" twisted with Japanese refinement … in Japan, in Cancale, Saint-Malo and the Marais. The recent openings at Paul Bert is totally on the same par: great buzz and full house…
The signature: the Breizh Rolls, a 100 % buckwheat pancake cut and served like a maki, to be tasted solo just like the rolls of natural smoked salmon from Ireland with organic scrambled eggs and aniseed cream (€16.50) or rolls of artichoke, wakame algae, scrambled eggs and comté cheese (€14.50)... If you prefer a more traditional style: the pancake of smoked herring with small potatoes from Saint-Malo is a must. More classic but divine: the mirror egg version, incredible ham with truffle … And let's not forget the crêpe with salty butter caramel.
The plus: a super slick decor that never makes you feel you are in a fuddy-duddy crêperie.
To be noted: all the dairy products and cheese come from Bordier. Yum…
More info on line
Paul Bert, Batignolles, the Marais, Montorgueil and Odéon.
Open non-stop Monday to Sunday.

Brutus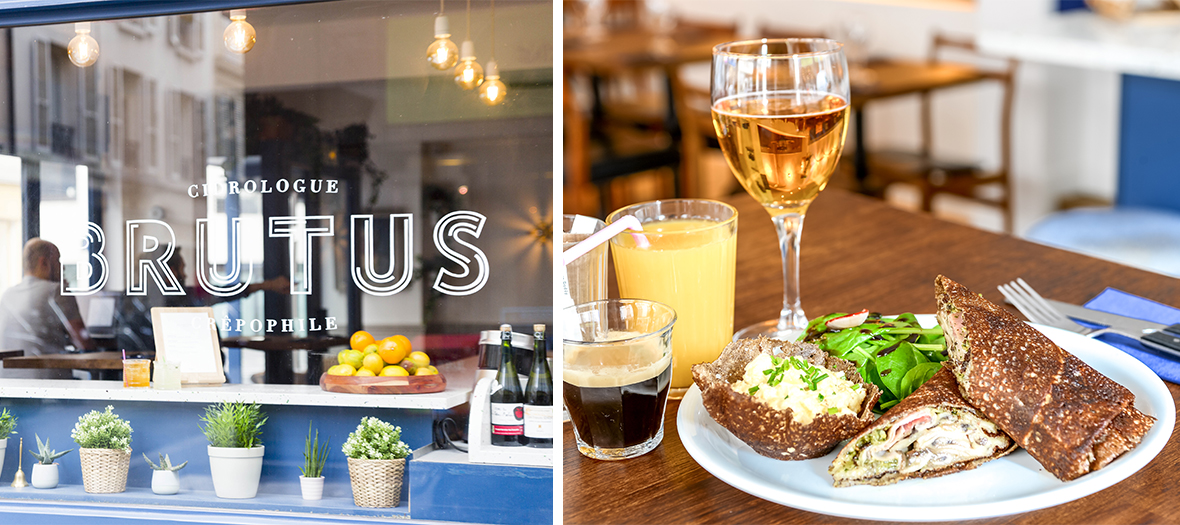 The place: Ocean blue paint, terrazzo walls, cosy banquette, cocktails bar and behind the door of the rest rooms… the sea. At least, the sound of the seagulls and the rolling waves, that propel you (mentally) onto a beach in the Finistère region. Brutus, is a very cool crêperie, surfing on the passion of Parisians for buckwheat galettes and good cider. Charles, Maxence and Vincent, 3 buddies from Brittany and Normandy, are quite decided to put sweet and savoury crêpes back on the foodie map.
The signature: a crêpe in tapas-happy hour mode, with slabs of "buckwheat to share" shaped as samosas, to be dipped in a sauce. Yummy: salmon rolls, ham nibbles or sardine rillettes (€6 for 6 pieces) to be tasted with a selection of pear poirés and apple ciders or cider cocktails.
The plus: the super Sunday brunch at €23
99 Rue des Dames, 75017 Paris. 09 86 53 44 00.
Open Monday to Saturday, lunch and dinner and on Sunday until 4pm

Gigi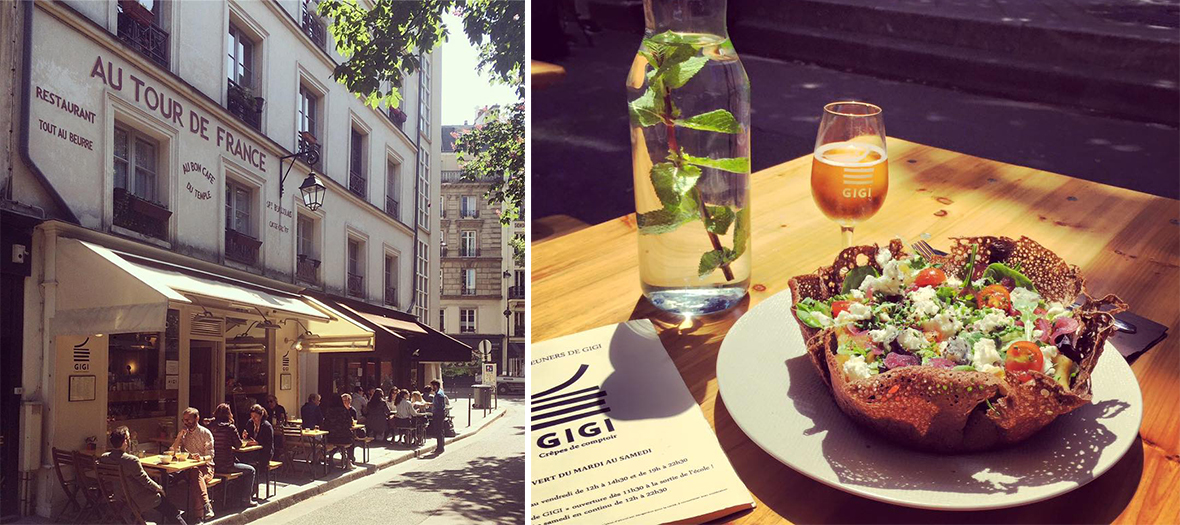 The place: a prestigious recruit in the very popular Carreau du Temple block, this trendy cantina is creating a real buzz. Quite normal, amongst the slew of new crêperies, Gigi really stands out!
The signature: hurray for original crêpes. Here the buckwheat galettes (hence no gluten) are really amazing, refined, soft yet crunchy. Special kudos to the galette with comté, truffle ham shitaké, the famous Japanese mushrooms (€12). For dessert, make sure to order the traditional salty butter caramel or honey & nut (€6).
The plus: a romantic candle-lit atmosphere in the evening, far from the sometimes dismal crêperies once night has fallen. Very funny: the references to the character Gigi in the cult film Les Bronzés, a little bit everywhere.
More info on line
4 Rue de la Corderie, 75003 Paris. 07 83 58 75 30.
Open from Tuesday to Saturday, lunch and evening; on Sunday until 5pm.

Alain Miam Miam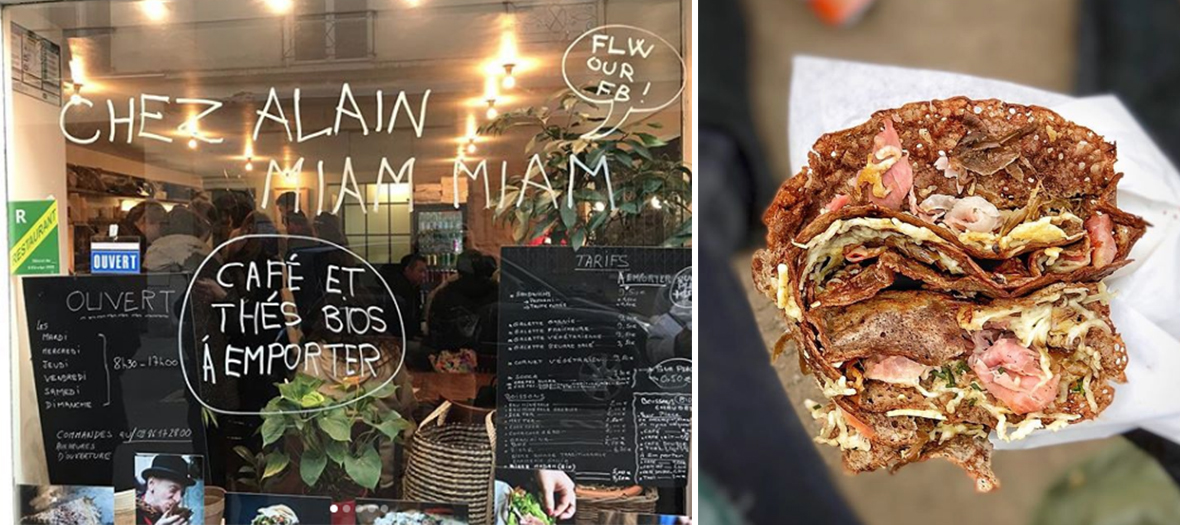 The place: you must have heard about Alain Miam Miam. Since more than 10 years, on the Marché des Enfants Rouges the stand of Alain Roussel, real figurehead of the Marais, attracts many foodies. Alain finally decided to open another place with more flexible hours on Rue Charlot. Behind this new counter, the roguish intellectual keeps running the show…
The signature: a crêpe (with or without gluten) stuffed with goat cheese, avocado, salad, zest of lemon, small grains we like—particularly coveted by Marais twigs and healthy girls from the four corners of the planet (€9.50).
The plus: here, regionalism gets prime time. Alain serves a socca that amazes all those from Nice and a galette with salty butter worthy of the most outlandish fantasies in Brittany. Go for it.
More info on line
26 Rue Charlot, 75003 Paris.
Open non-stop Tuesday to Sunday until 5pm.

Fricotin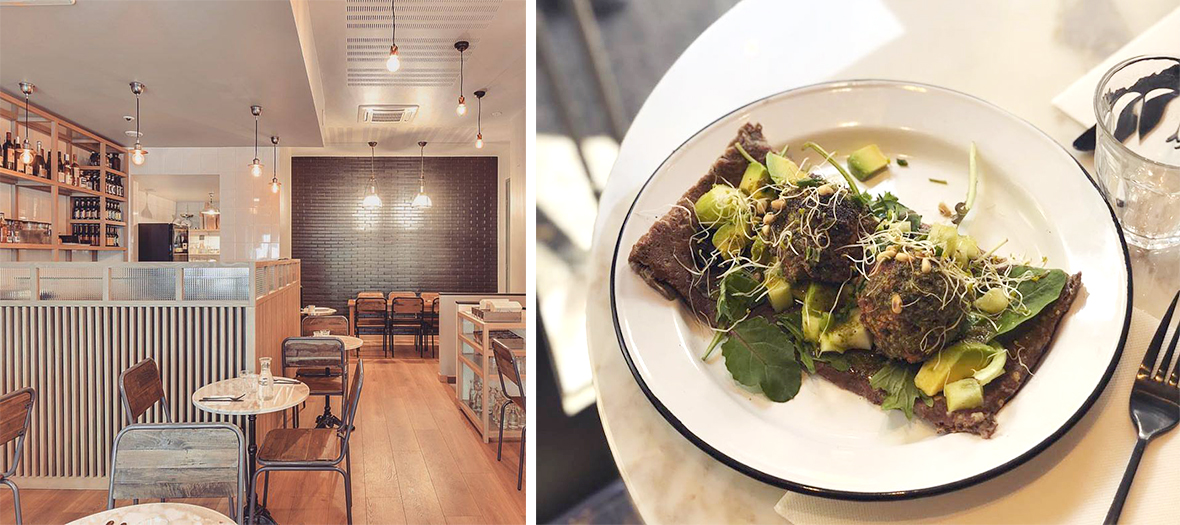 The place: large bay windows, cafeteria chairs, a lovely wood counter… Conceived like a coffee-shop, you are in fact at the heart of the most parisienne organic crêperie in the district of Wagram.
The signature: in addition to the traditional buckwheat galettes of ham-cheese, salmon-cheese-aniseed or caramel salty butter, here you can order one of their superb salads such as marinated chicken and comté cheese, served with small organic buckwheat blinis. Great news for all the gluten-free twigs in the area.
85 bis Avenue de Wagram, 75017 Paris. 09 73 58 55 24.
Open lunch and dinner, Monday to Sunday and only in the evening on Saturday.

Atelier artisan crêpier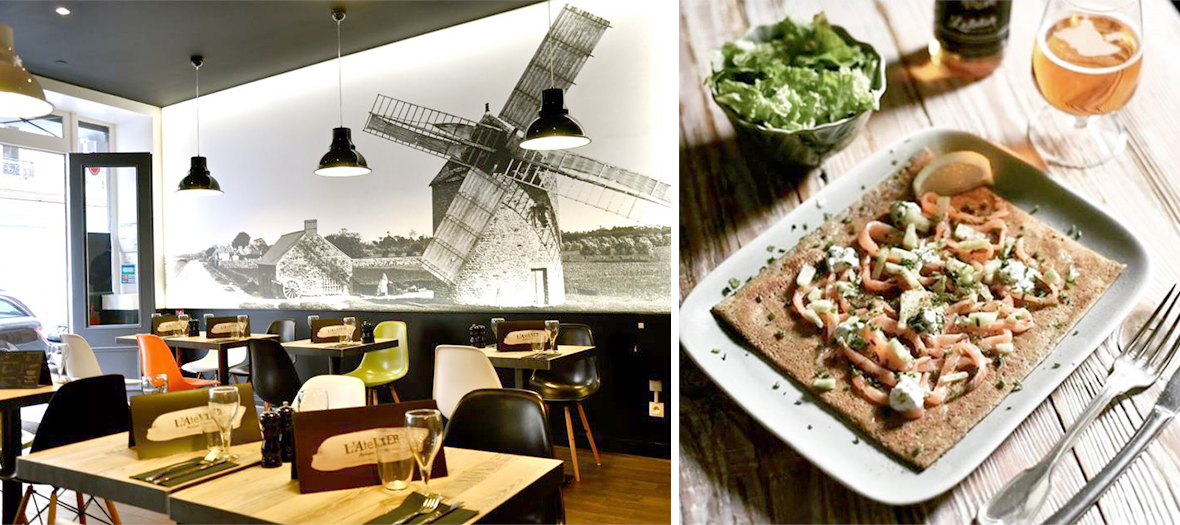 The place: "In crêpe we trust": such is the mantra of this fast-good venue, whose concept has spread a little bit everywhere in Paris, from Mabillon to the Grands Boulevards, including the 13th arrondissement. Everything is fresh and home-made with good products: the ideal pit-stop when you are on a shop-op.
The signature: round the world galettes. Starting with the "Robert", Italian style with tomato-mozzarella di buffala, arugula and pesto, the "Henri" as though you were in a ski resort (raclette cheese, raw ham, potatoes, glazed onions and fresh cream. "Gustave" plays it "American-style", farm-range egg, hamburger meat, cheese, glazed tomato and fresh cream, make a detour to Delhi with "Hubert", the chicken curry. (€11.50 for each galette).
The plus: foodporn crêpes for dessert: house chocolate, chantilly, banana and coconut (€8.50), cream of chestnut, vanilla ice cream, grilled nuts and chantilly or the red-fruit-mascarpone.
Atelier artisan crêpier
Discover all the addresses on line
La Cantine bretonne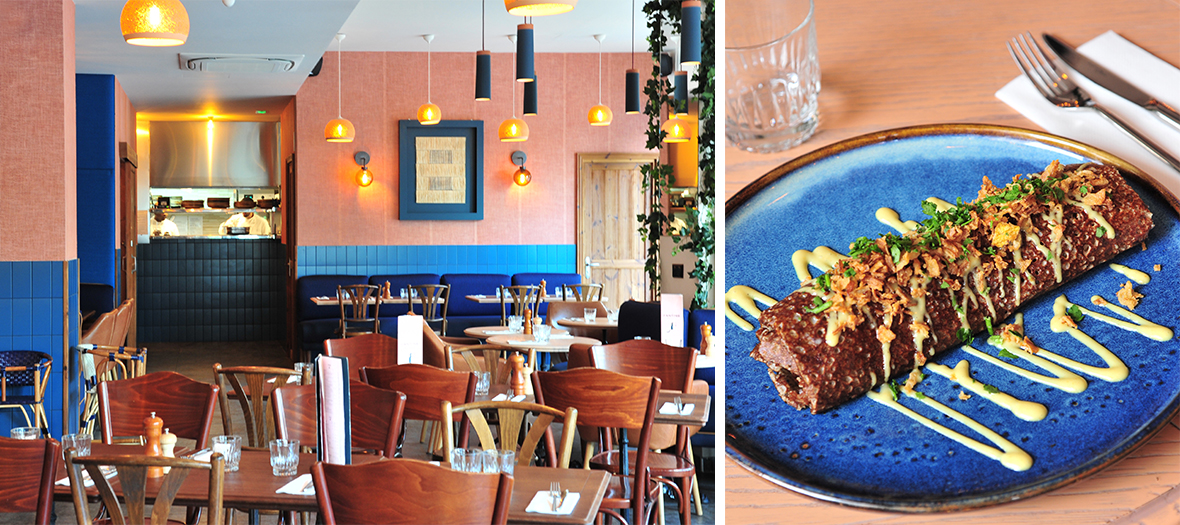 The place: right on the Canal de l'Ourcq, the team of Simonetta and Maison Becquey has launched into made in Breizh foodporn. La Cantine Bretonne revisits the good old crêperie from Brittany in a very chic setting, pimped with blue banquettes and pretty tables.
The signature: resolutely addictive buckwheat galettes: a Brittany hot dog, more foodporn than ever, pimped with glazed onions, mustard sauce and fried onions (€11), or the Broceliande (potatoes, veggies, comté, fresh cheese, sesame seeds, €11). For a successful #bikinibody operation.
The plus: its XXL heated terrace, ideal for a cocktail between buddies sipping a sailor Mojito and cider (€9) or a Celtic Spritz with elderberry (€9).
More info on line
22bis Rue de l'Ourcq, 75019 Paris. 01 42 00 86 09.
Open every day non-stop from 8am to 1am.

Bisou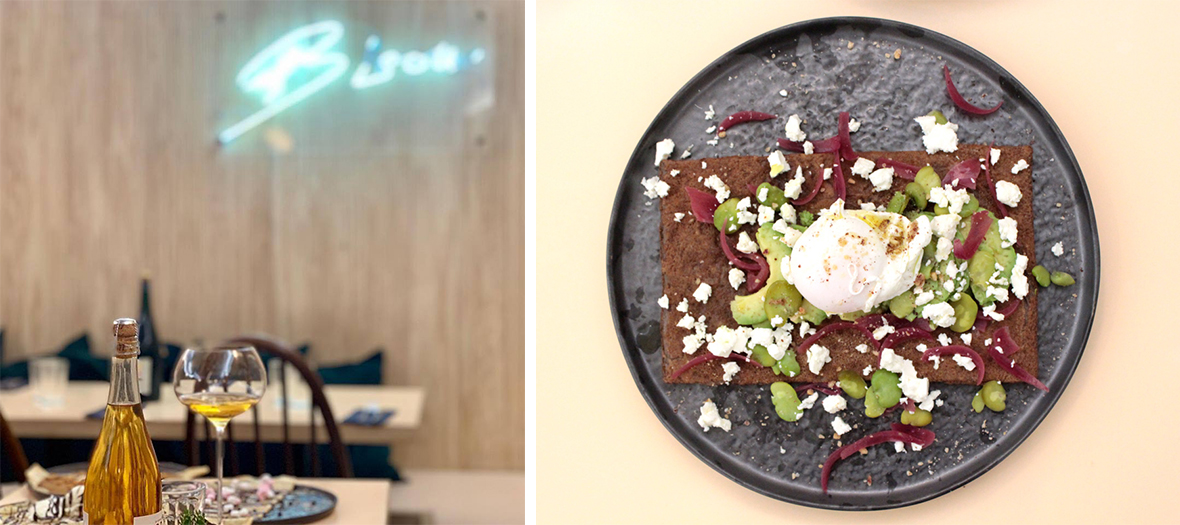 The place: in full reconstruction of its food credibility (Caffè Stern, Canard et Champagne, Lo Zio, Racines…), the Passage des Panoramas welcomes a new crêperie with a very lovey-dovey name. Inside, a minimalist decor, light, streamlined—eclipsing the dismal souvenirs of a former tourist trap.
The signature: crêpes and galettes as pimped like Kim Kardashian on a red carpet (Kim, if you are following us, this is a compliment). Check it out: the Kiss from NYC burger style (beef, cheddar, grilled pancetta, BBQ sauce, poached egg €12.50); the Crazy Avocado (avocado, tartare of tomatoes, egg, parmesan €12.50) and the Popeye Power (avocado, feta, egg €11). Add the glam' bubbles of a good cider and the banana split straight out of a fantasy #foodporn (€8).
The plus: the DIY option to compose your own sweet crêpe with the couture ice creams of Geronimi, Nutella, caramel salty butter, jam…
More info on line
62 Passage des Panoramas, 75002 Paris. 09 62 50 35 28.
Open lunch and dinner from Tuesday to Saturday, and only at lunch on Monday.

Kasha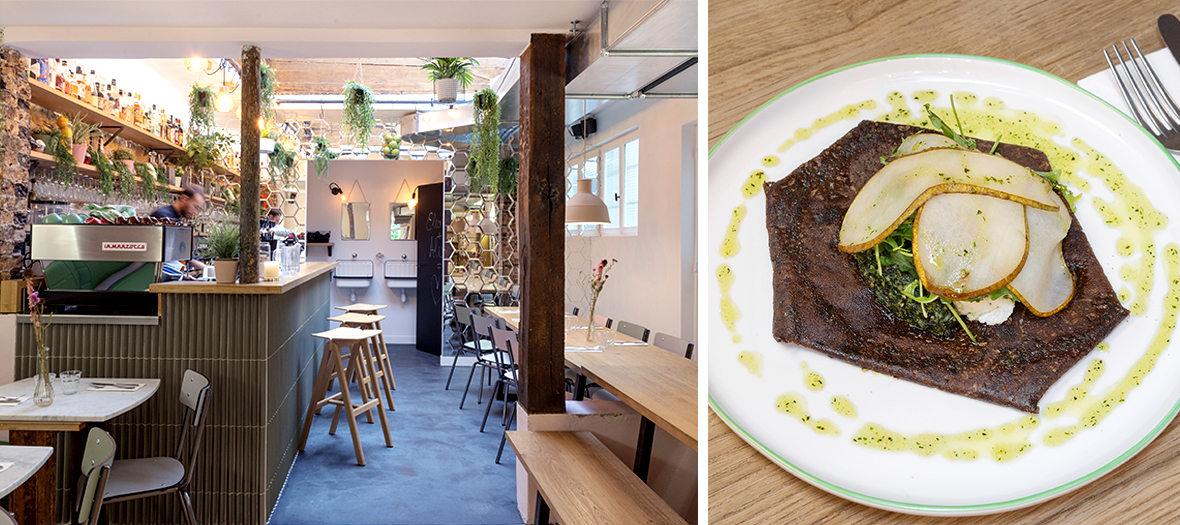 The place: a wonderful little gem-like crêperie nestled a skip and a hop from Canal Saint-Martin that will match up with Instagram feed, without even having to use a filter. Emerald green banquette, rose millennial pink wall with neon lights, hanging plants, marble tables, formica chairs and wooden communal tables —all under a superb skylight.
The signature: a galette cocktail combo, resolutely more fun and festive than a bowl of cider. Now just choose your fave recipe, concocted by the chef: from the upgraded complète (egg, Prince de Paris ham, comté and buckwheat (€9) to the veggie (braised carrots, curry, fresh cheese and toasted seeds, €11.50) including salmon, beet, sweet and sour vinaigrette, €13.50).
The plus: the fab weekend brunch: mini crêpes with everything you want inside (scrambled eggs, jam, salty butter caramel) + beverages (€22).
More info on line
9 Rue des Récollets, 75010 Paris. 09 51 76 34 26.
Open every day lunch and dinner, and non-stop on the weekend.

Krugen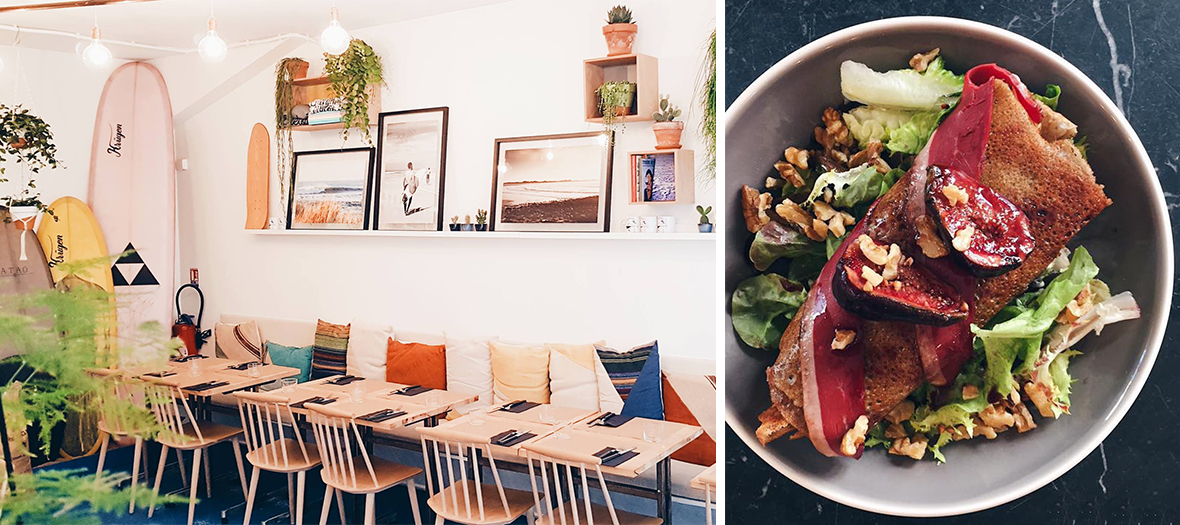 The place: this Belleville belle offers a "Scandinavia and cement atmosphere" and clearly claims its regional slow-food and passion for its producer suppliers, AB or in biodynamics with a very up stream selection of ciders, beer and local whiskies.
The signature: here tradition is the name of the game. Concretely: the galette with sausage from the Ile et Vilaine region (€8.50), the complète with andouille de Guéménée or mushrooms (€9,10). For dessert: the Kouign, a pancake with its special bigoudine sauce creates a sensation, especially with salty butter caramel or apples flambéed with Grand Marnier.
The plus: their Kouign Burger served only on Saturday night (15€) prepared with Kouign bread. Addictive!
58 Rue de la Fontaine au Roi, 75011 Paris. 09 52 29 78 79.
Open lunch and dinner from Wednesday to Saturday, and only at lunch on Sunday and Tuesday.


Discover also the new restaurants everyone is raving about and the californian brunch Marlon.