When it comes to food in shop, nothing beats The Broken Arm, the concept store in the Marais. Local hipsters have already taken over the café corner of this light space with a minimalist Scandinavian design, that combines with finesse and subtlety food, fashion and lifestyle.
Here everything is trendy, nothing surprising when you know that the founders of this hot spot were behind the launch of the online magazine "De Jeunes Gens Modernes".
What about the food? An ex gal from the Bristol imagines nice healthy dishes, simple but ultra refined that change every day. Sandwiches, salads and soups made from seasonal products like the brioche bun with duck breast and quince purée, spring sprouts or the mushroom soup, bone ham, arugula and croutons.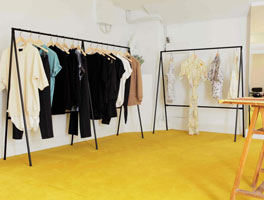 Impossible to resist the blueberry cheesecake (4 €) or the poppy lemon cake (3, 50 €) tempting us on the counter.
We like : strolling through the shop to pick up an iconic Kenzo tiger sweat shirt, the chic ethnic jewelry by Aurélie Bidermann, a pretty Carven dress or Faber-Castell writing instruments.
Tops : the super energetic breakfast to start the day on a preppy note with freshly squeezed fruit juice, muesli and fruit salad.
Sandwiches between 8 € and 9,50 € - salad 7 € - soup 5,50 €
Open Tuesday to Saturday 9am to 7pm
Picture credit: Facebook Broken Arm