Open since a little more than a year, la Fabrique à Gâteaux, the ultra girly pastry shop of Alice and Lisa is delighting Canal Saint-Martin fans. The two gals, who studied at Ecole Ferrandi and trained at Gérard Mulot, where they met, are having fun shaking up the great pastry classics with humor and panache.
In the window, our eyes feast on amazing tasty looking cakes, named after their best friends such as Chloé, a divine lemon meringue pie, Thomas, inspired from the chocolate, caramel and peanut Snickers. Special kudos for the cheesecake by Elodie, with its raspberry topping.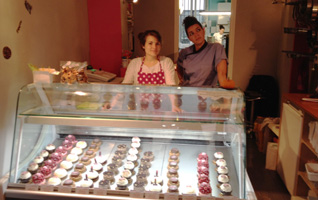 We also like: their cakes (raspberry chocolate, banana, Nutella and Suchard marble), cookies and other really, irresistible tarts.
Tops? Mini prices, count 4,20 € per pastry and 2,5 € for biscuits.
Open Wednesday to Sunday from 10am to 8pm.
Also discover the inventor of cronut lands at Yann Couvreur.