As usual, the Do It Team went ahead of the news and fresh bread! Just imagine that  our darling Cyril Lignac (we are great fans of his Saint Germain venues) is back in the running with a second bakery address opening on Wednesday !
After his first Pâtisserie by Lignac rue Paul Bert, gentleman-chef is squatting the bourgeois district of Trocadéro, a few meters from musée Galliera (THE museum for fashionistas that is reopening its doirs in a few days…)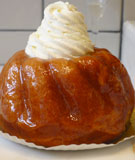 Scene of the crime ? A former vintage bakery twisted with a marble counter, wild lights, wooden frames, all designed by the  KO agency
Our passion ? His amazing baba. For coconut milk fans a new éclair with that flavor.
We love : the idea of the 8,90€ great sandwich formula (made with VIP products) : ham, flower of salt, comté,  satay chicken or peppered camembert. To enhance the formulea, drinks and small chocolate pots with cookie topping. A killer !
Yummy
We like : an address at a  super-democratic price. Because his bread and cakes served in his restaurants come from right here.