Regionalism is furiously hype. Paris breizh is this marvelous, trendy terrace that everyone's talking about this Summer, is a fun contemporary crêperie in the super cool district near the planted promenade.
We love : tapas in Brittany mode : made out of small rolled pancakes: emmental + andouille sausage + mustardy cream, cheddar + onions + bacon bits, cooked tomatoes + tuna and goat cheese with chives + honey + apples. We mix this wonder dish with a nice bottle of organic cider (12€).
Plates are served until 7.30.pm.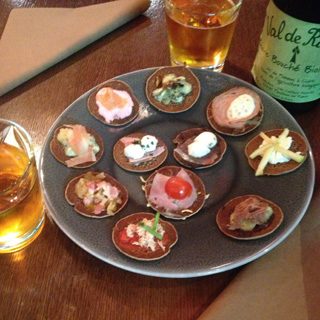 Tops also : divines modern-style crêpes à la carte such as the « Quintin » with mozzarella + egg + cherry tomato + arugula + oil of white truffle (9,90€) or the  « Poullaouen » with chicken + tandoori + emmental + mushrooms +onions. (9,90€)
For the classics : buckwheat pancakes filled with egg, raclette cheese,  ham (8€) of crêpes with Nutella, praline, Chantilly cream (6,50€) accompanied with a good bottle of rosé wine.
Picture credit : Facebook Paris Breizh