Buzzing canal Ourcq has just added a new nugget to its list of foodie hot spots. Open by the team of Simonetta and Maison Becquey, La Cantine Bretonne revisits the gold old classic Brittany crêperie finto a super chic venue that has already attracted all  the local hipsters.
Here, all the wildest ciders are served in pretty stem glasses (starting at €4) and to be enjoyed in a contemporary decor pimped with blue banquettes and large tables, articulated around a monumental bar. And that's without counting the XXL terrace, ideal for a fun cocktail with the gang: Sailor's mojito with cider (€9 ) or a Celtic Spritz with sorrel liqueur (€9 ).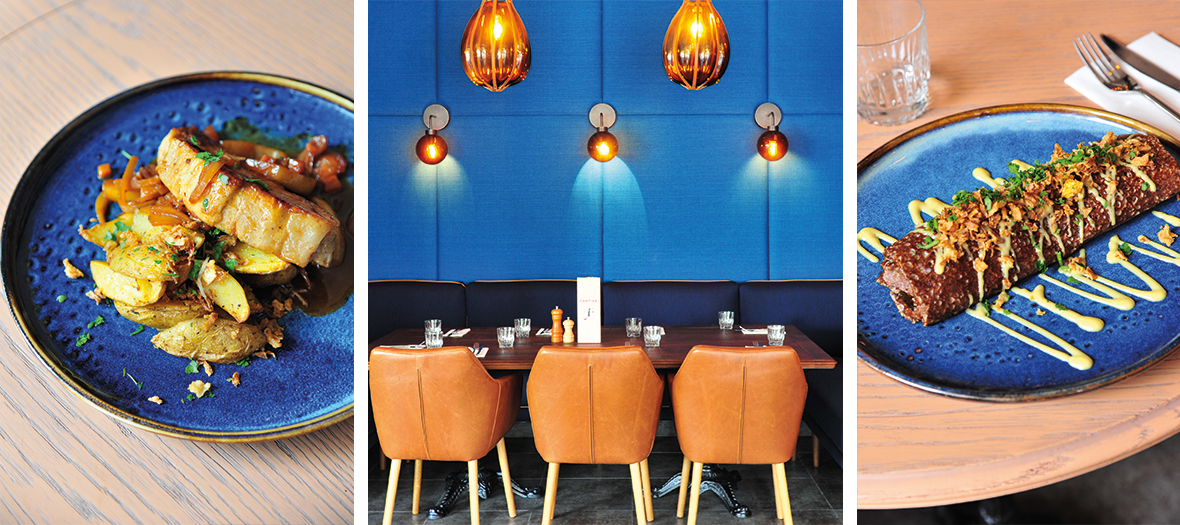 Feeling very hungry? For starters, the house pâté de campagne (€75.0 €) opens up the appetite resolutely addictive buckwheat pancakes such as their revisited  pancake-sausage: a foodporn Brittany-style hot- dog, pimped with glazed onions, sauce mustard sauce and fried onions (€11 ), or the Brocéliande (potatoes, veggies with parsley, fresh cheese,  buckwheat seeds, (€11).
And for all the blasés when it comes to galettes, there's a nice option on the rack of pig with cider and potatoes (€14.50), or the grandmother-style veal roast with cauliflower gratin and house tomatoe sauce (€16.50). But the must-try is obviously the divine kouign-amann butter cake by  MOF Georges Larnicol with a scoop of vanilla (€6.50). For a successful #bikinibody operation.
Open every day in non-stop from 8am to 1am.
Also discover Candelma, the made in Saint-Germain-des-Prés crêperies