This Summer, Paris is looking a lot like an US seashore town with the arrival of the lobster roll t Rech.
The famous seafood venue of Alain Ducasse is offering a super « fish and chic » version of the hot-dog, like the one the Big Apple it-girls bite into when the go to the Hampton's.
Forget cheap hot dogs, they are replaced by furiously trendy blue lobster, delicately placed on a black radish sauce spiked with mayonnaise boosted by a zest of lemon and Espelette pimento, all wrapped in a soft tender Scottish bread.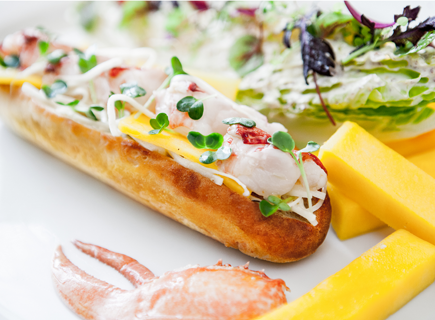 This little snacking starlet is escorted by a mini-salad of black radish/ lobster and slivers of mango cut like fries with a mix of cassonade sugar, flower of salt, pimento of Espelette and zest of lemon instead of ketchup. In short the healthy snacking ideal for a lunch with the gals.
And to complete the US style, we sip a Santa Barbara chardonnay.
We like: nibbling our lobster roll right there is the super Bright seafaring decor (32 €) or choose the to-go option (29 €) for a deluxe picnic.
The must : finish on a sweet touch with the super refreshing basil sherbet, the strawberry tart where the chocolate éclair for those who have a sweet tooth!
The hot tip: win a lunch with three gals at Rech.
On the menu, nibbles to share, the famous lobster roll and choice of desserts, and of course a nice little glass of wine.
Closed Sunday and Monday
Lunch noon to 2pm and Dinner 7h30 pm to 10pm
copyright Pierre Monetta