At the heart of the trendy Marais, here is finally Pinson, prettily decorated and a great cocooning spot to enjoy 100% veggie and gluten free dishes. Imagine Scandinavian or Brooklyn style coffee shops with a wildly Parisian couture touch. We love it.
The ideal nibbling place for fashionistas. It's like Rose Bakery but better: so come swing between nice fresh juices filled with vitamins (6€), a hot chocolate with nut milk that has a very « Nutella » taste (4,50€), sexy salades, no gluten cakes and madeleines that are delicious or the lemon pie without butter.
Why we like it: for its terrific breakfasts, the free wifi, ideal with your iPad or laptop.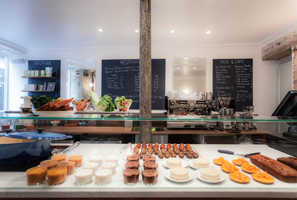 Tops: the divine very cozy decor signed Dorothée Meilichzon (decorator of the Beef Club) featuring a mix of moudlings and old stones from the Marais, the cake and nibbles counter where you can talk for hours.
To be noted: A 25€ Sunday brunch with bread, jam and home spreads, vegetal butter with marsipan, a salty plate with a low temperature egg + salty madeleine cake + seasonal mousseline + veggie salad. But also a sweet plate with house granola + stewed fruit + sweet madeleine. Free refills for tea and coffee.
Lunch formula at 17€.
Open every day from 9am to 7pm except Sunday from 10am to 6pm.
© Facebook Pinson