The address is shared with as much enthusiasm as its plates Newcomer at the Canal Saint-Martin, his trendy houmous bar with a super stylish Orientalist decor is very friendly.
Before settling here, Keren and Jérémie had already received a few kudos with their Houmous Bar, a Levantine street-food counter present during events at the four corners of Paris. Maybe you have run into them,  who knows…
On site, the houmous is naturally in the spotlight, plain (€8.50) or pesto (€9,50), to dip into with fab pita bread.To go along, yummy falafels (€4.50), irresistible grilled cauliflower and labneh (€6.50), shakshuka (€12), eggplant caviar (€9.50€), taboulé with herbs (€5.50€), haloumi fries (5€)… right down to the rosewater panna cotta. To be washed down with a nice glass of Israeli wine (€8) or a house lemonade (€3.50).
We adore: the serendipity decor sponsorised by  Le Bon Coin between vintage poster dating back to the golden age of Egyptian cinema, the pepsy winter garden and the high communal tables.
Good to know, the bowl or pita sandwich formula with dessert at lunch (€12) and the Sunday (€22).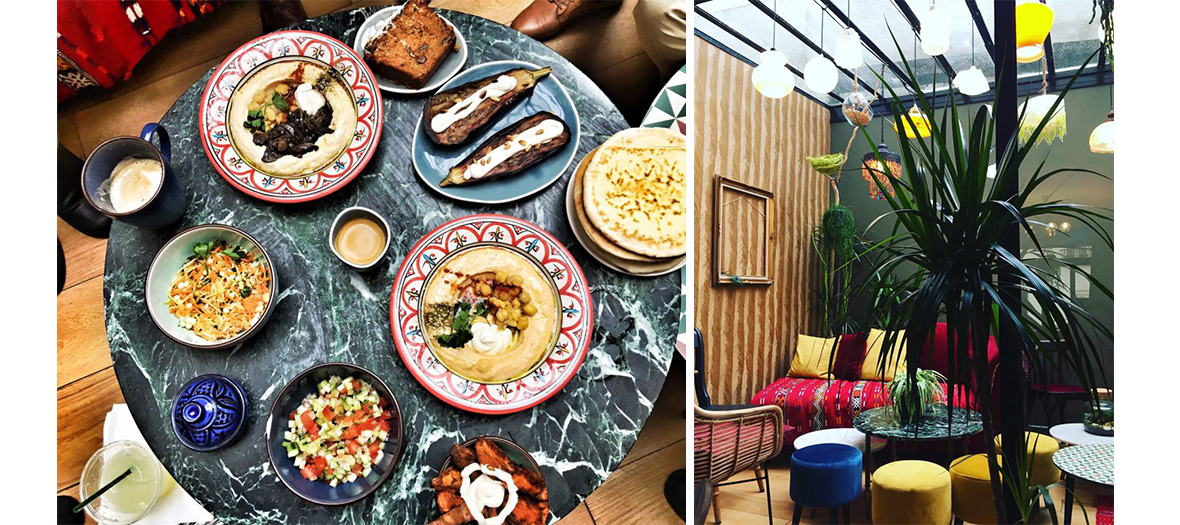 Open every day lunch and dinner.
Also check out Salatim, an israli restaurant and Balagan, the "joyful mess".