If there is a new address to keep in mind, it's Marée Jeanne, a restaurant furiously in keeping with the times serving gourmet no-nonsense dishes from the sea … Always a good idea, to go out on a date or have dinner with the gang. Atmosphere guaranteed...
It's not surprising that behind this "nautical bistro" hides a foodie dandy, Fredéric Hubig (Jeanne B that's him, Sassotondo and Astier also) who is a real pro. Starting with the super-stylish decor and implementation: a counter where it's possible to sit down and chill, high tables, a nice terrace and big tables…
We adore: the menu with two portion sizes. Average size, with a tapas spirit or a larger version! That way you can taste and share in relaxed mode… or not!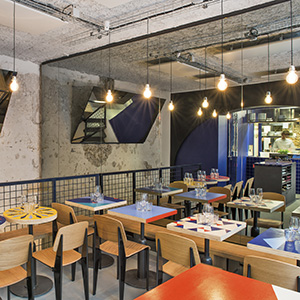 © Xavier Bejot
On the plates: tiny fried fish mayo (7€), boutargue fish egg cream (7€), raw sea bass with a sensual oyster. All served with great bread, , Bordier butter and a great selection of wines…that's all we are telling you!