Where are the new hot terraces in Paris ? Brach, Uno, Brussels Beer Project, Anco, Paris Longchamp, Hana Bento at the Jeu de Paume, Allénothèque, Grand Café Capucine, Maison Plisson Saint-Honoré and Bloom at Monnaie de Paris.

Alleluia! Balmy weather is around the corner. And when you say sun, this means the first terraces… You were dreaming of find out the listing of all these highly desirable newcomers where you will be able to chill, work on your tan or sip a glass of rosé? Here they are.
Brach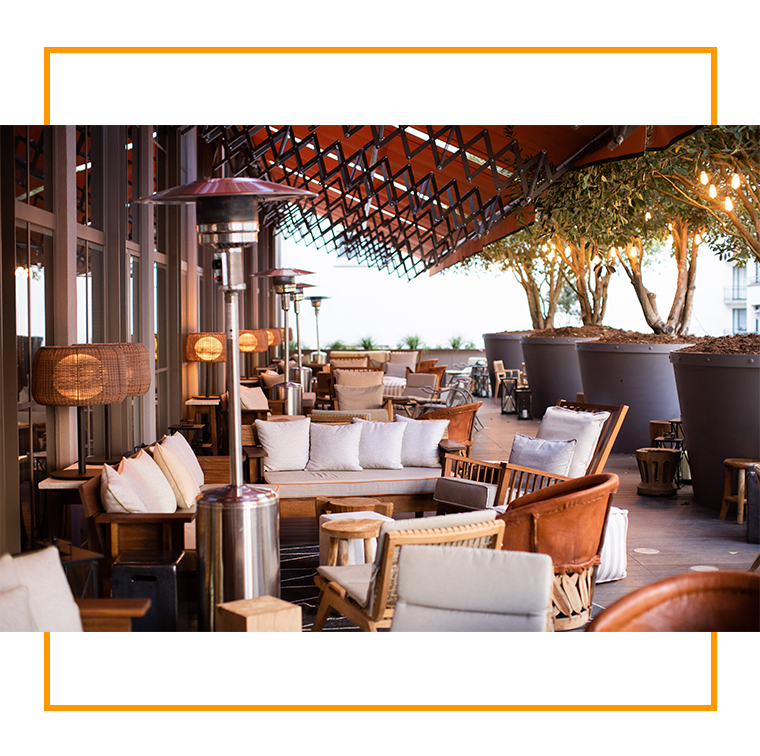 At the heart of the 16th arrondissement, the new hotel designed by Starck is creating the buzz since its opening. But the object of all the attentions at Brach, is assuredly its new terrace of 400 m², hidden on the 1st floor of the 5-star, right next to the lobby.
In addition to its great breakfast, here, no imposed formula, but a wide offer of small Asian plates to share: dim sums(€15), nems (€15) and poke bowls(€26). Ideal for a girly lunch or a long happy hour, in a decor that flirts with the holidays. Reservations highly suggested.
Brach, 1-7 Rue Jean Richepin, 75016 Paris / 01 44 30 10 00
Uno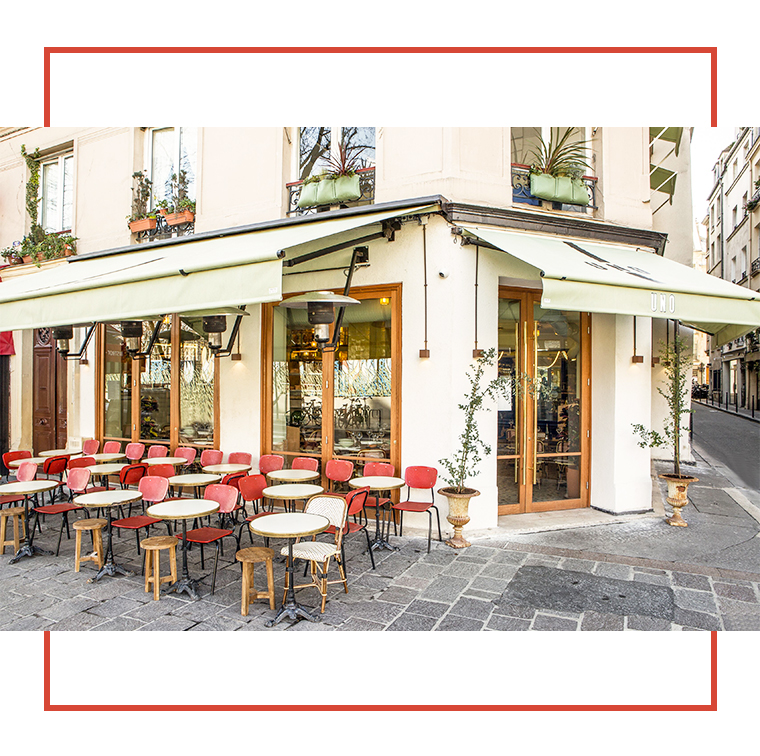 It's the new cool attraction of the Les Halles district, nearby Poule au Pot and close to Canopée. David Soussan (Cucuzza, Le Mercier) and the team of Tripletta unveil their new wildly stylish Italian table, doubled up by a lovely terrace with view on a freshly refurbished small garden. You said dolce vita?
On the menu? Burrata, vitello tonnato, pasta with almond pesto (€12), pizza with artichokes (€17), a Spritz (€7), let's get started!
Uno, 37 Rue Berger, 75001 Paris / 01 42 36 20 47
Brussels Beer Project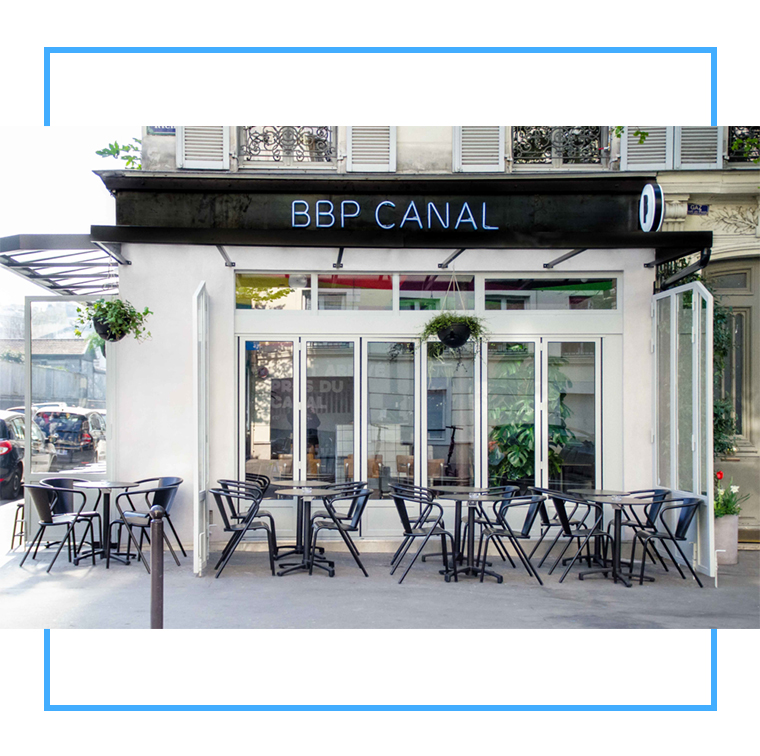 For its second Parisian address, the Belgian brewery has thrown its anchor along Canal Saint-Martin in a wild space that extends along the street so you can froth in the sun.
On the programme? More than 20 craft beers on tap and a 100 % food porn brunchserved all week long from 10am to 3pm: fluffy pancakes, burger, chicken waffle.
Brussels Beer Project, 47 bis Rue Bichat, Paris 75010 / 06 31 49 99 90
Anco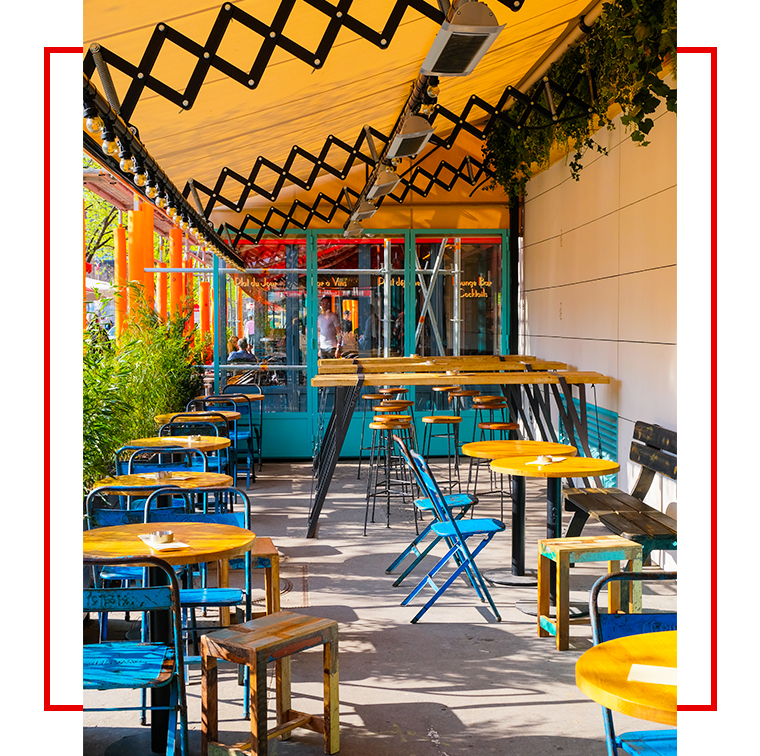 Bingo, we have spotted a very fun new H.Q. near Bercy. Nestled at the foot of AccorHotelsArena, this new buddy-buddy restaurant features a large outdoor space of 80 seats: second hand garden chairs, stools, high tables, hanging plants.
Great for a happy hour plancha-cocktails doped with vitamin D or to wolf down great traditional dishes, such as the wonderful crispy pork belly, served non-stop from noon to 10:30pm.
Anco, 108 Rue de Bercy, 75012 Paris / 01 44 68 07 61
Brasserie Paris-Longchamp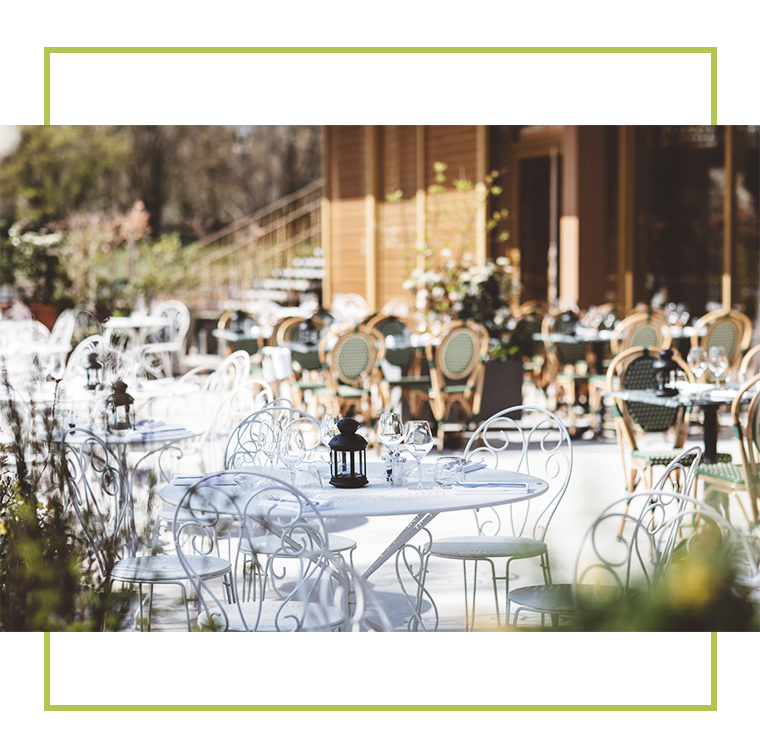 Nestled at the heart of the Hippodrome de Longchamp racetrack, this huge ultra bucolic terrace, is somewhat the new country house of Parisians in the 16th, and not only on racing days. The large round tables and garden chairs convey a very British style we adore.
Option 1 – Festive cocktail hours from Thursday to Saturday with good sound, nice bottles of rosé (€28 for a bottle of Lou Peyrassol), buddies and large slabs of charcuteries and cheese to share (€18) with all the 30-year-old trendies of the Parisian West side. And for once, you can reserve.
Option 2 – Sunny lunches from Wednesday to Sunday with an ultra-family ambiance around culinary classics and large dishes to share (chicken and potatoes, mousse au chocolat) with the possibility of hanging out in the afternoon for a little tanning while the kids club manages the kids a little further (Saturday and Sunday).
Brasserie Parislonchamps, 2 Route des Tribunes, 75016 Paris / 01 47 27 53 50
Hana Bento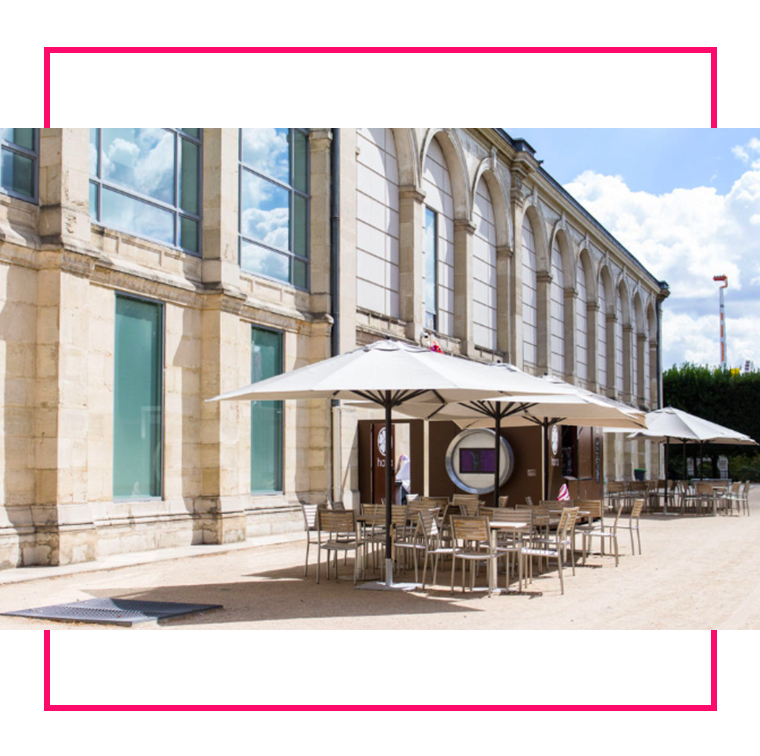 More chic than a picnic. The creator of couture bentos has taken over the Jardin des Tuileries, in collaboration with the Musée du Jeu de Paume. An absolutely idyllic spot open every day, except Monday, from 11am to 7pm (late night on Tuesday until 9pm).
On the programme? Highly kawaii eats: onigiri tuna mayo (€2.90), donburi curry of beef or chicken teriyaki (€11.50), poke bowl with salmon (€13.90) and matcha tea ice cream.
Hana Bento, 1 Place de la Concorde, 75008 Paris
Allénothéque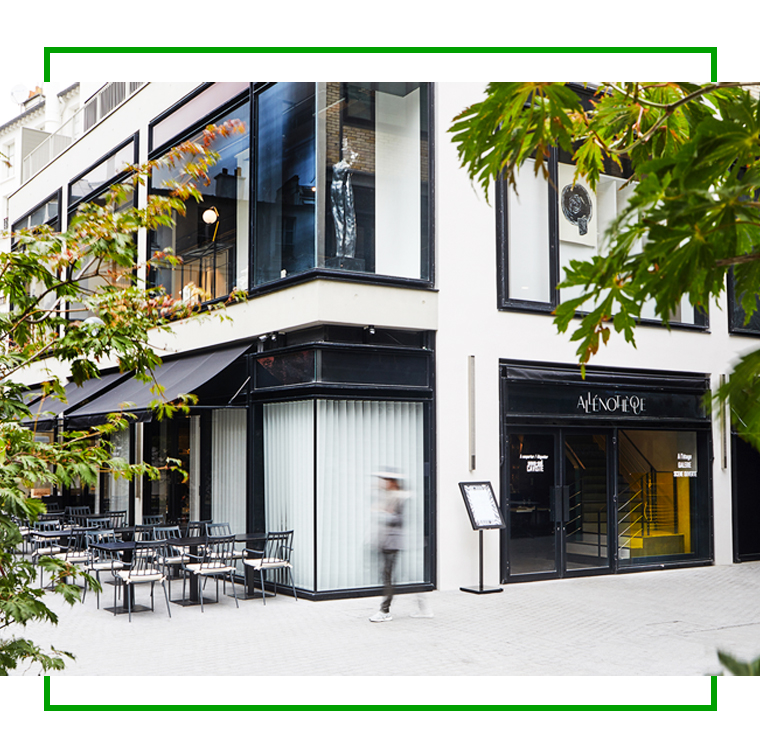 Beaupassage, these are the new gourmet markets on the Left Bank, gathering all the leading names of gastronomy: Thierry Marx, Yannick Alléno, Pierre Herméas well as butcher Polmard. The terraces, sheltered from cars, happen to be small privileged small paradises offering calm and elegance.
Quite particularly,L'Allénothéque, the bistro of the three-star chef that hits the bull's eye. Aside from a superb selection of wines, you can enjoy a signature cuisine under an open sky, a rare occurrence when it comes to gourmet rendezvous.On the programme? A fab lunch menu (€29), à la carte in the evening: gnocchi with burrata (€26 ) a Parisian-style heart of salmon (€18) and a pecan nut cookie served in a pot with vanilla ice cream (€11).
Allenothéque, 53-57 rue de Grenelle, 75007 Paris / 01 84 74 21 21
Also discover : the most glam' steakhouse in Parisand the vegetable garden rooftops of Parisians.
Maison Plisson Saint-Honoré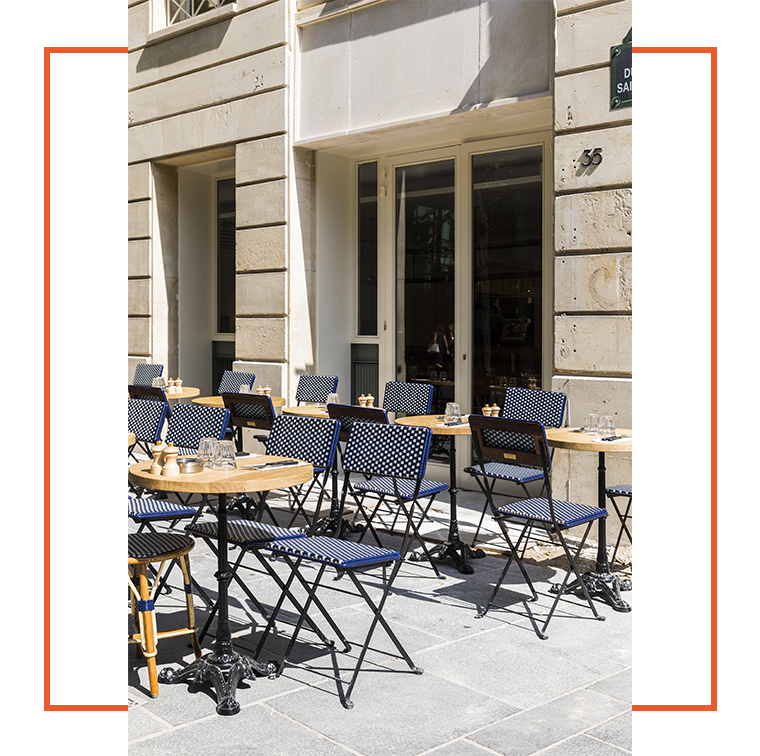 We already mentioned the highly awaited opening of Maison Plisson place du marché Saint-Honoré, the most stylish general store with a wide array of gourmet treats and surprises… We were impatiently waiting for its terrace to open in order to enjoy all their delights on the spot. Well, it's a done deal!
Delphine Plisson has installed her Resto Parigoton the pavements, also open in the evening (service until 10:30pm). À la carte, the best producers on the shelves: happy hour to share with houmous, cervelle de canut cheese dip, labné yogurt and Cajun nuts, puntarelle salad, anchovies, olives (€12), cod with Spring veggies and yuzu (€24) or Caesar Salad(€17) along with a good Gin Tonicfrom La Distillerie de Paris, obviously (€11).
Plisson Saint Honoré, 35 place du Marché Saint-Honoré, 75001
Paris / 01 83 97 96 96
Café Frappé par Bloom
The dream: la Monnaie de Paris hides a small coffee-shop, aka Frappé par Bloom, serving fruit juices and great house pastries. The ultimate high? Its terrace sheltered from the world at the heart of the courtyard of this amazing landmark building.
While during the day, the restaurant is a tea salon, the unique moment is at happy hour. Order at the bar and hang out around a glass of rosé (€6) or a Moscow Mule (€12), a plate of saucisson or a plancha (€16). What a great life!
Café Frappé par Bloom, 11 Quai de Conti, 75006 Paris / 07 89 83 79 58