It's THE number 1 issue of pulpy women. You know the story: it seems that all the delicate and inspiring lingerie brands were imagined, elaborated, conceived for small breasts. A real mafia of the mini cup !
So, all the D+ need to accept without conviction the most basic models, clearly without much interest, dull option. And expensive to boot...
No longer. Eureka: the venerable Belgian house PrimaDonna is putting luscious cleavages back on the map, with a joyful and sexy collection that offers real support. The ideal occasion for a daring modern ensemble to show off your bust line. There you go.
The proof? To incarnate the collection "Ode to curves", large size American top model Myla Dalbesio did not hesitate to show off her feminine curves and her bouncy fanny. Photos of the shooting blossom on her Instagram, and make us feel like stepping in the dance circle of self-confidence. Hurray for curves!
Pump up the colour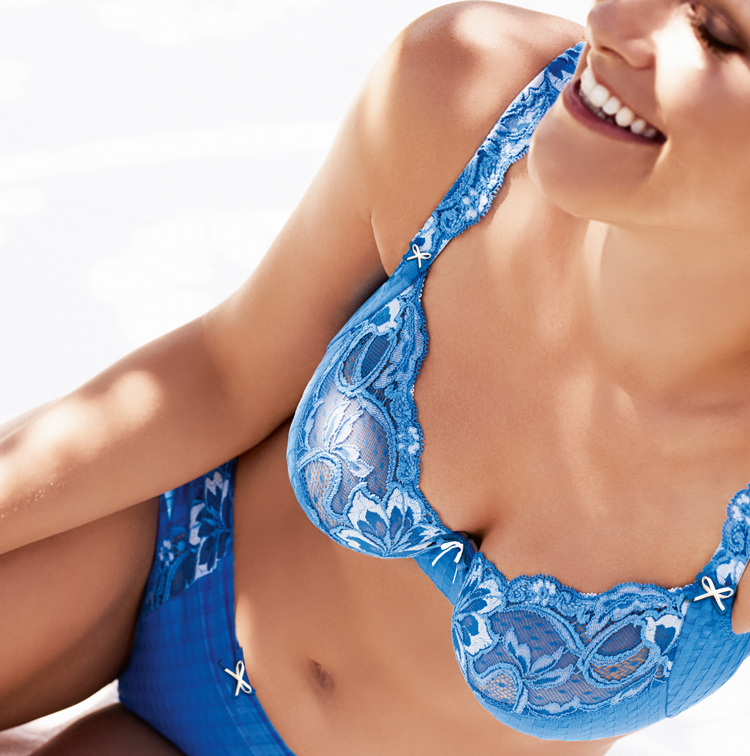 Thanks to this bra / panties ensemble in a resolutely luminous aqua blue. Its braided lace gives it a wildly retro Brigitte Bardot style and the push-up shape ensures a fabulous cleavage.
We like: its straps at the same time wide and delicately ornamented, for solid support at the shoulders while staying ultra feminine.
Blue bar, PrimaDonna, €79.95.
Blue panties, PrimaDonna, €38,95.
Go for nude rose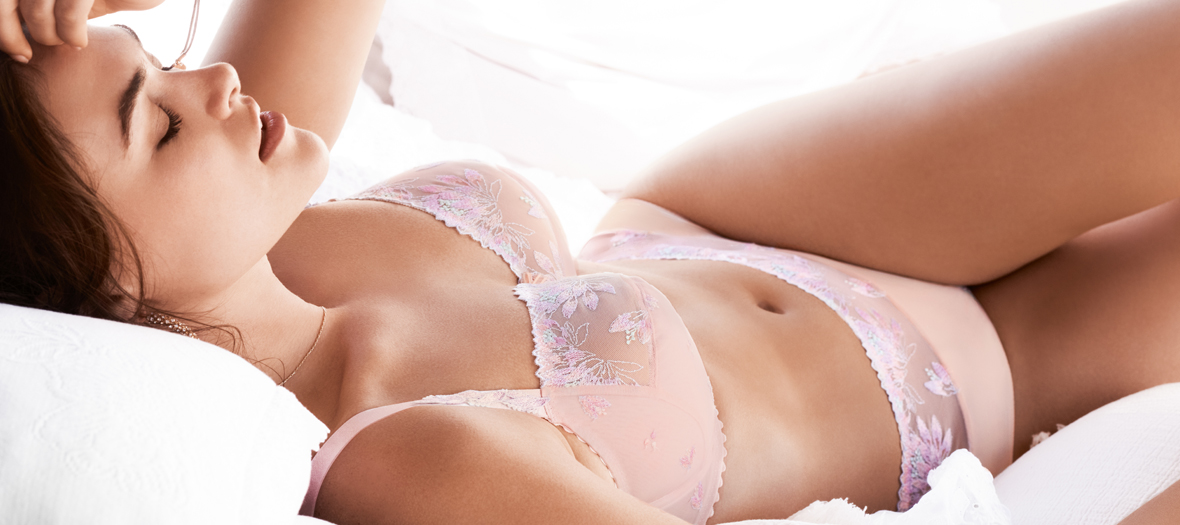 Soft and romantic, you like to create the surprise when you unbutton your shirt. What could be more delicate than this pastel pink ensemble to make his head turn?
A sure value to whip out for the big evening, without overdoing it.
We like: the transparent tulle that subtly reveals the tip of the breast. Not so goody-goody finally…
Light pink bra, PrimaDonna, €89.95.
Light pink panties, PrimaDonna, €44.95.
Dare the sexy ensemble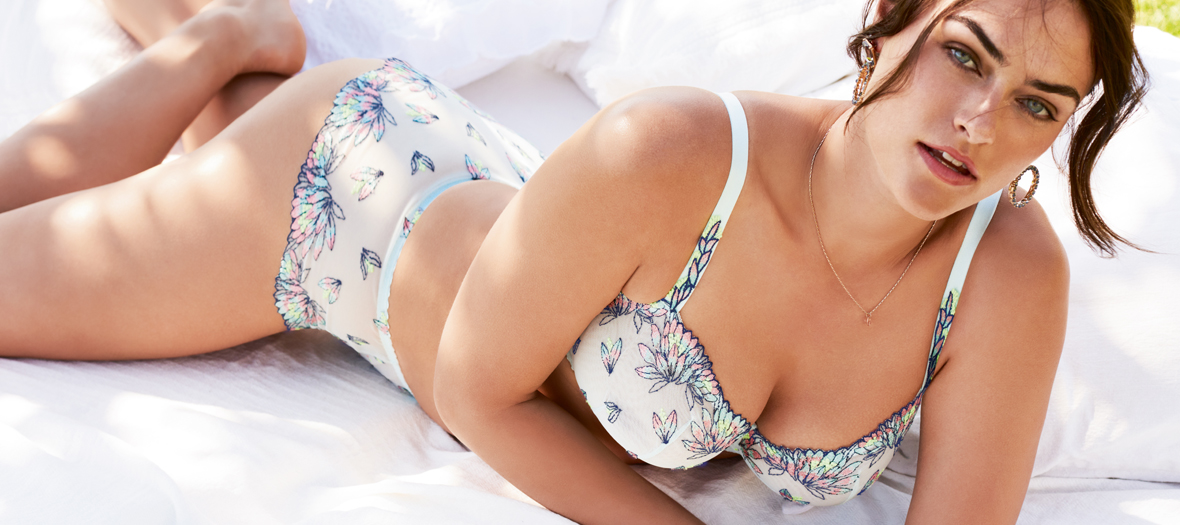 The playful colours of this feel good ensemble makes us dream of the holidays. Special kudos for the shorty that enhances buttocks, and is invisible under pants or a light summer dress.
We like: the vertical resistant seam, lined with transparent tulle, that lifts and centers your breasts without the unpleasant sensation of padding.
Bra with flower embroideries, PrimaDonna, €89.95.
White panties with flower embroideries, PrimaDonna, €44.95.
Tuck in that little tummy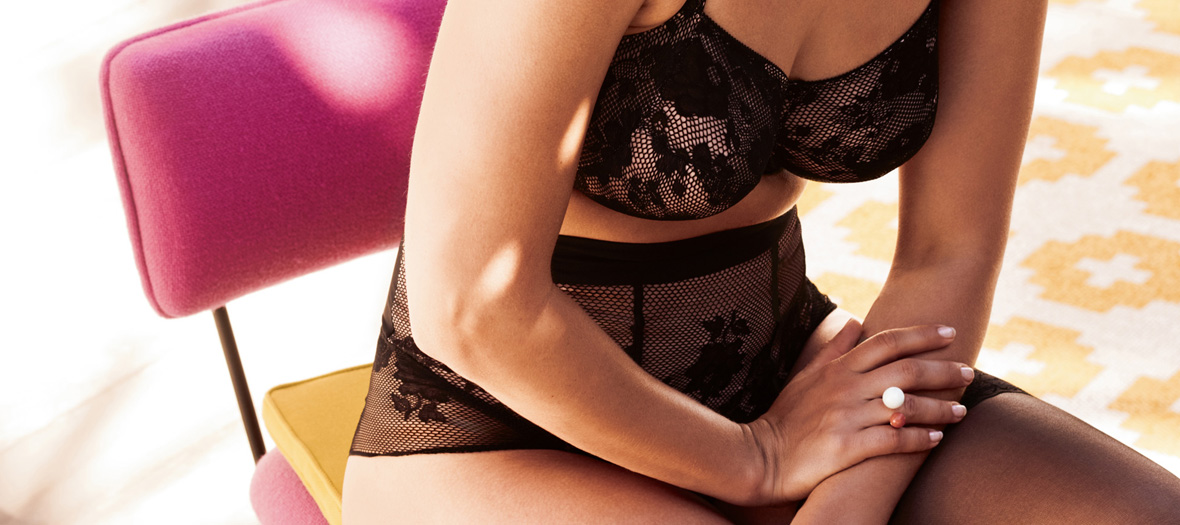 The secret weapon of all those with a sweet tooth who never manage to get rid of that cute little tummy. Far from the Bridget Jones spirit, this black pair of shapewear panties is both useful and pleasant to wear with its uplifting colours and super sexy lace trim.
We like: the best friend of high waist jeans and tight fitting dresses, while waiting to go back to the gym (softly…).
Black bra, PrimaDonna, €75.95.
Black shapewear panties, PrimaDonna, €59.95.
Play the camouflage card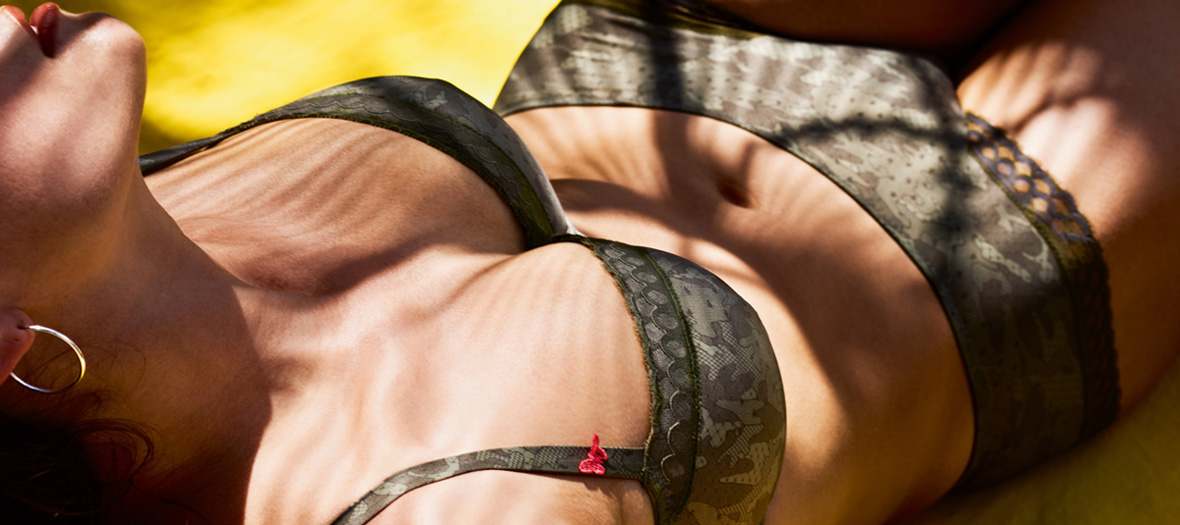 Khaki, is THE colour that enhances most carnations, light or matt. Furthermore, you are bound to have noticed, green is everywhere this season, on the podiums and in every of the green palette. So, we dare the badass lingerie worthy of Lara Croft.
We like: its cute pink butterfly, embroidered on the lace, nonchalantly feminine, and its lace details that are so flat and well-designed there is no cutting effect.
Black bra, PrimaDonna, €79.95.
Sheathing black bra, PrimaDonna, €36.95.
We pullout the massive seduction weapon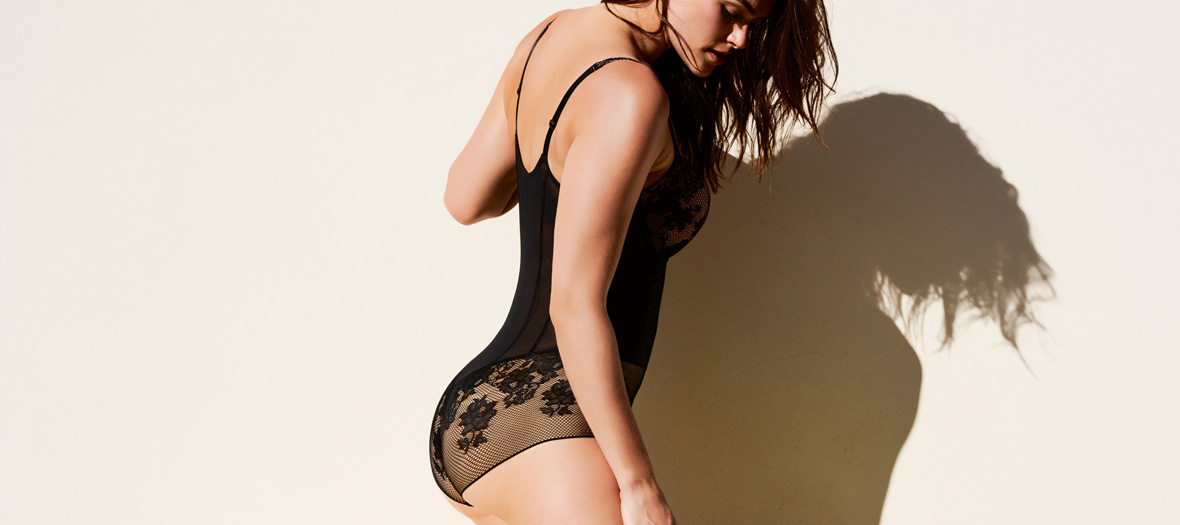 Ask around you. What really makes men go crazy in addition to stockings…is … (drum roll) the body top, of course. Inherited from the French corset-making tradition, it has become a real must-have of the undies drawer. Especially when it showcases the cleavage, the fanny and the back thanks to cleverly studied seams.
We like: its 2 in 1 side. Both the love weapon of seductive Parisiennes, and best enemy of love handles. It smoothes the silhouette in a jiffy and creates the famous hourglass shape, more erotic than ever, dear to the lovely Kim Kardashian.
Black body top, PrimaDonna, €129.95.
We are hooked to the total white look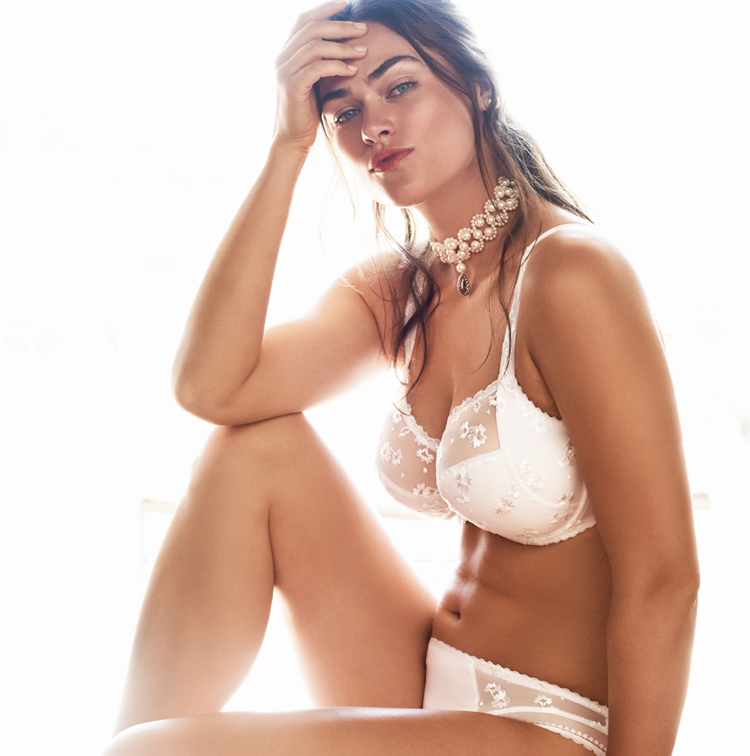 Because it's the cool asset of balmy weather, at the same time rock, casual and sexy, the white t-shirt has it all. And since colour (sometimes transparent) is very revealing, this iconic star of the wardrobe needs a good well cut bra.
We like: on a tanned body, nothing is more beautiful than a total white look, the charm and fashion asset at its best.
White bra, PrimaDonna, €89.95.
White shapewear panties, PrimaDonna, €34.95.
Slip into a vamp ensemble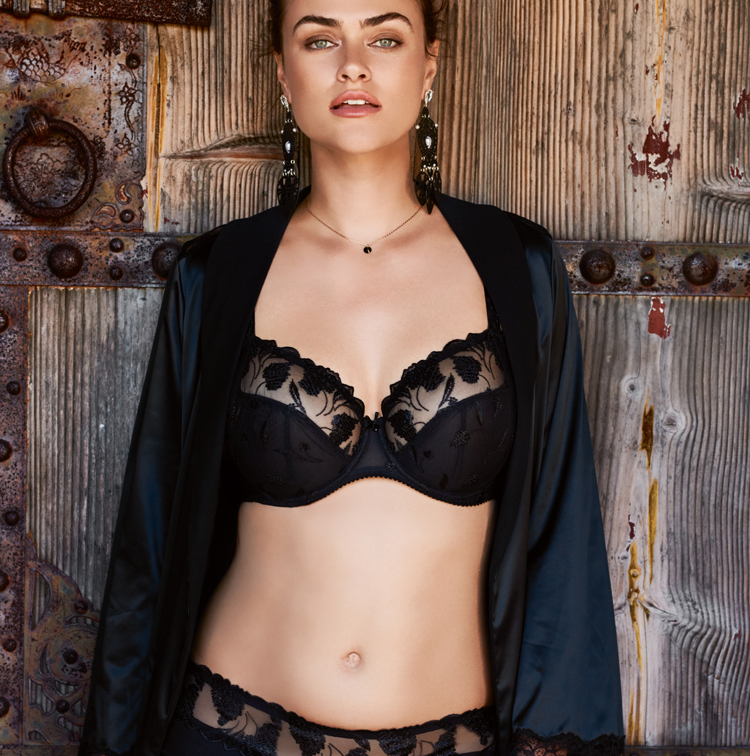 Not everyone can be Dita Von Teese. Yet you may get closer with this must-have very sexy ensemble in black lace, totally fatal below to look like a modern pin up. The Eternal bra, that comes in 6 shapes, is well known by gals with a challenging morphology because it adapts to all women and all cups. And what charm!
We like: the matching mid-waist shorty, discretely erases the lower part of the tummy. Clever and efficient!
Black bra, PrimaDonna, 85,95 €.
Back panties, PrimaDonna, 42,95 €.
Information points on sale on www.primadonna.com.