Where to party outdoors, drink a glass, nibble and dance under open skies with the gang, as a duo or to flirt? A quick look at the most stylish upcoming parties this summer.
Papa Cabane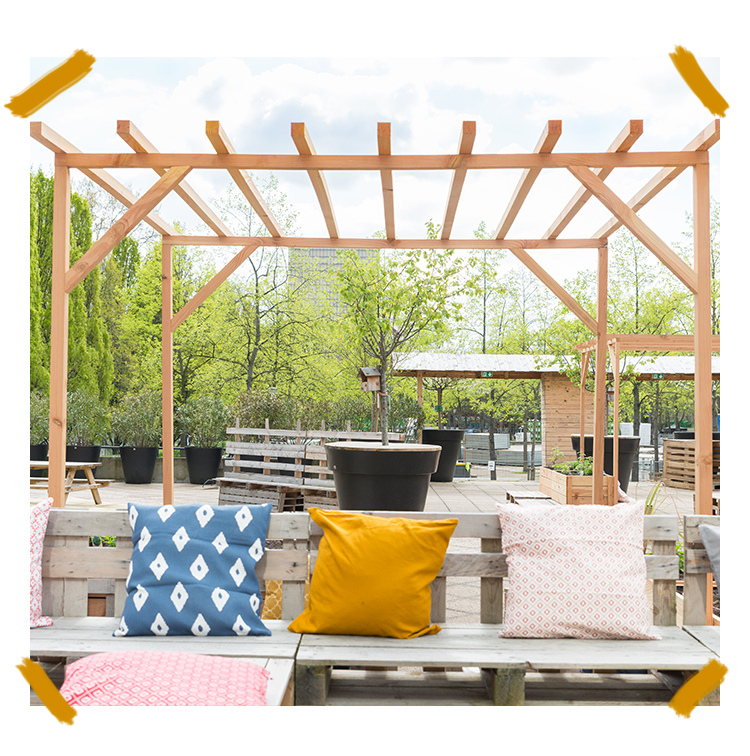 The party: a wild 1000 m2 terrace with plants and fruit trees, sun, good sound, cocktails and street food… Papa Cabane is opening again this year near Bercy in a more chill spirit than ever. The cool option? Squatting a pétanque terrain with your crew, before sitting at a big table to dance the night away as a group on leading classics by Gloria Gaynor and Michael Jackson.
Who do you run into? Trendy startuppers for an afterwork.
À la carte: a glass of prosecco (€5), a bottle of white or rosé (€25), an easy to drink spritz (€10), fab mojitos (€10), to go along with a mixed plancha (€20), a comfy burger or a juicy hot dog (€8).
The right moment: every Thursday night !
rue Paul Belmondo, 75012. Reservations at 01 53 46 50 17. All the info on www.facebook.com/lepapacabane.
Plaza Havana Club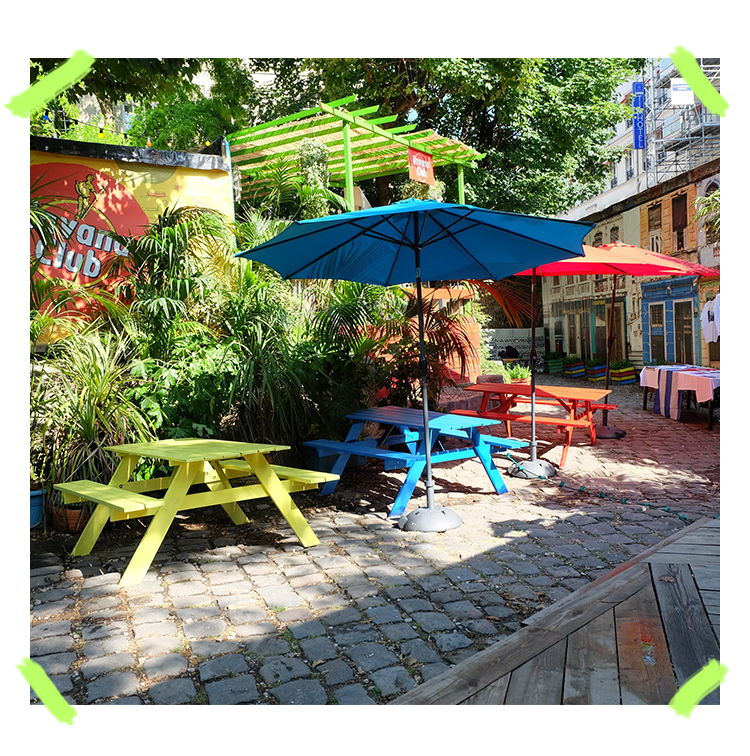 The party: on a latino air, o-o-o-oh… There is a "big ambiance" at Café A that once again has organized a facelift of its large tree-lined courtyard pimped in Little Havana mode. The former Récolletsconvent amuses itself to a muy caliente playlist, along with mini concerts worthy of the Gipsy Kings.
Who do you run into? Happy-go-lucky party-goers decked out to the nines. Whip our your most collector sneakers.
À la carte: the best mojitos in Paris, Cuban style of course (€10), a honey and green lemon cancha that slides down very easily (€10) or a fresh Corona with a zest of green lemon (€7).
The right moment: after a hard day at the office when you really need a happy hour.
Until the 14th of September. Open Monday to Sunday from 10am to 2am. 148 rue du Faubourg Saint-Martin 75010. All the info on www.plaza.havana-club.fr.
Bar à bulles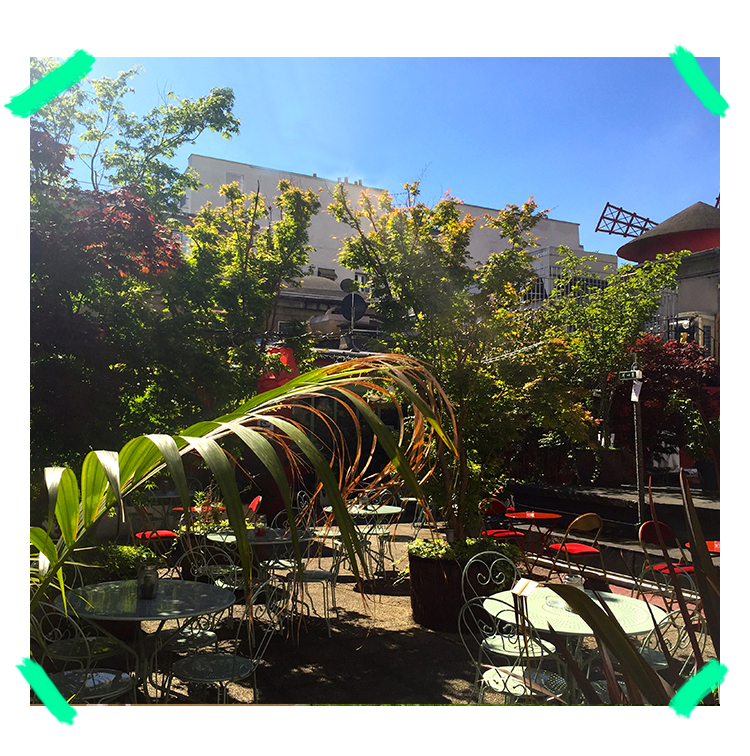 The party: hidden in a dead end, the Bar à Bulles is a small corner of greenery nestled above La Machine du Moulin Rouge in the shade of the mythical cabaret's wings. In a holiday garden decor, party-going Parisians meet up there in Summer to knock back drinks and flirt to the sound of a an upbeat musical program worthy of the must-go club right below. In short, the naughtiest fiesta of the year.
Who do you run into? Machine regulars looking for good sound.
À la carte: a wide array of tapas with a plate of charcuterie (€13), rillettes of mackerel (€10), roasted camembert (€10.50) or sweet potato fries (€5). For the gangs of buddies, go straight for the pitcher of Spritz (€54), a bottle of Chardonnay (€22) or côtes de Provence rosé (€25). Cheers!
Closed on Monday. 4 Cité Verron, 75018. All the info on www.lamachinedumoulinrouge.com.
La Tropézienne du Trocadero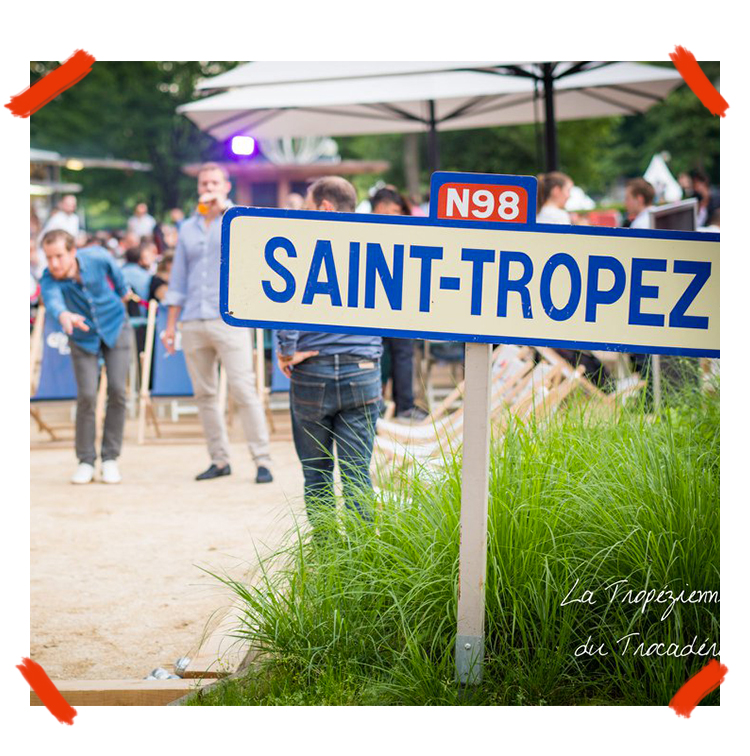 The party: Hervé Prouteau (the creator of the Chalet des Iles events, that's him !) does it again with La Tropézienne, his chill and wildly jet set fiesta, on the terraces of the Aquarium of Paris. On the programme: happy hour, deck chairs, pétanque and clubbing, in an ambiance worthy of Place des Lices. Whip out the gingham dress and espadrilles, BB has just taken possession of your body. All this to the tune of insider-track DJ s(Matthias Tanzmann, Marc Houlle, Miguel Campbell).
Who do you run into? 40-year-olds from the golden West, beautiful people looking for a good party and nostalgics of the hopping Chalet des Iles era.
À la carte: finger food (burgers, pizzas, between €10 and 15) to be enjoyed with a pool of rosé (€10) or a glass of bubbly (€10). There is a holiday feeling in the air…
The right moment: every Thursday, from 7pm until 2am.
Until the 20th of September. 5, avenue Albert de Mun, 75016. All the info on www.facebook.com.
Monsieur Mouche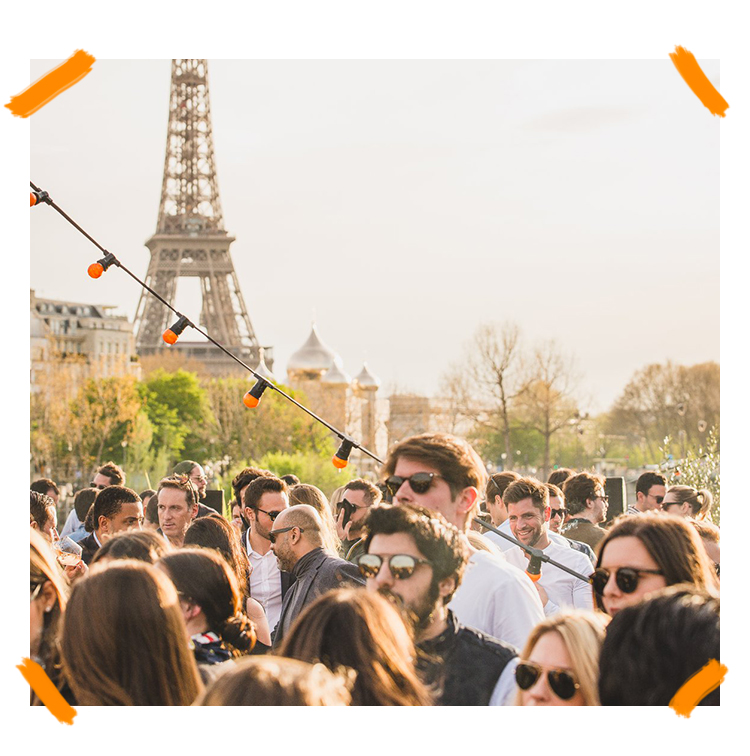 The party : this is the place to see and be seen. Launched by Benjamin Roussel (Cocktails Paris, Le Blaine Bar), the Monsieur Mouche terrace / rooftop by the water is always full and with reason. Well-stirred cocktails, good looking guys in every corner, "heavy" line ups (Macadam Crocodile, DJ W!ld, Chris Carrier...) and a fabulous view on the Eiffel Tower, here is a really uplifting 2.0 guinguette.
Who do you run into? The young guard of 30-year-old successful entrepreneurs installed at The Bureau, right across.
À la carte: apron clad barmen shake up zippy cocktails (€13) such as the must-try Pompadour (vodka, ginger beer, lemon juice) or the Mary Jane (gin, barley syrup, bitters, grapefruit). The tip: stock up on credits ahead of time in order (and reorder without having to run after the waiter) for their bottle of Minuty Prestige rosé (€40). One of you will throw the dice: it you are lucky and roll a double 20, you get a free refill !
The right moment: arrive as early as possible to avoid queuing up.
Always open when the weather is nice, Wednesday to Friday, 6pm to 1am and on Saturdays and Sundays from 3pm until 1am. All the info on www.facebook.com/monsieurmoucheparis.
Perchoir de l'Est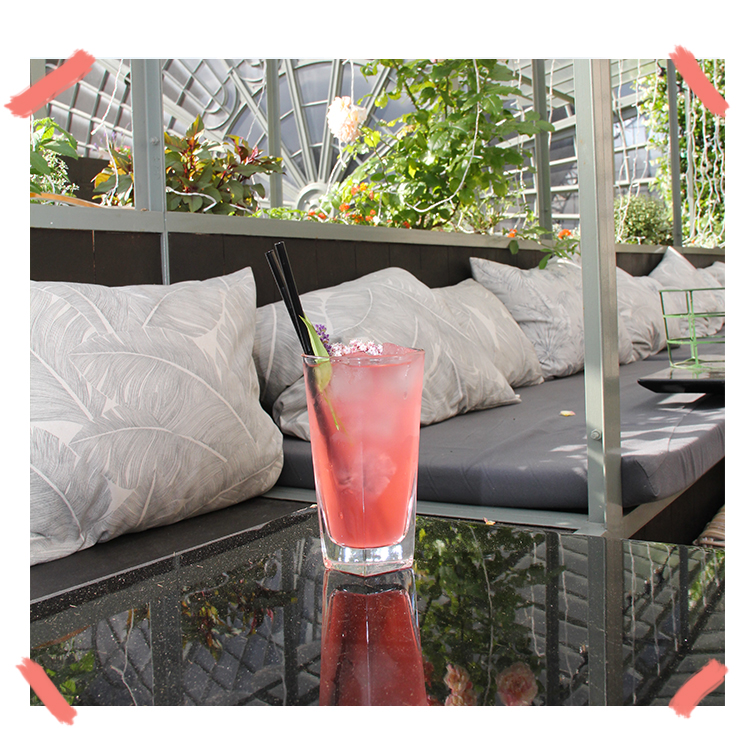 The Perchoir team has opened a new rooftop hidden above the Gare de l'Est. Under its large rosace, the decor is very floral and the atmosphere quickly heats up as the hours go by. All in a sufficiently intimate setting where you can bring your new date. At the turntables, nuggets spotted by AD Karl Planck to gyrate as though you were on holiday.
Who do you run into? Just as well groups of buddies in after-work mode as clubber looking for good sound.
À la carte: a brand new food menu (padrón sesame, tortilla, fried courgette flower, pissaladière, toastie ham/cheddar/ basil), and always superb chilled cocktails.
The right moment : from 6pm to 10pm, in order to take advantage of DJ worthy of Berlin fiestas.
10 Place du 11 Novembre 1918, 75010. All the info on www.leperchoir.tv.
La Démesure sur Seine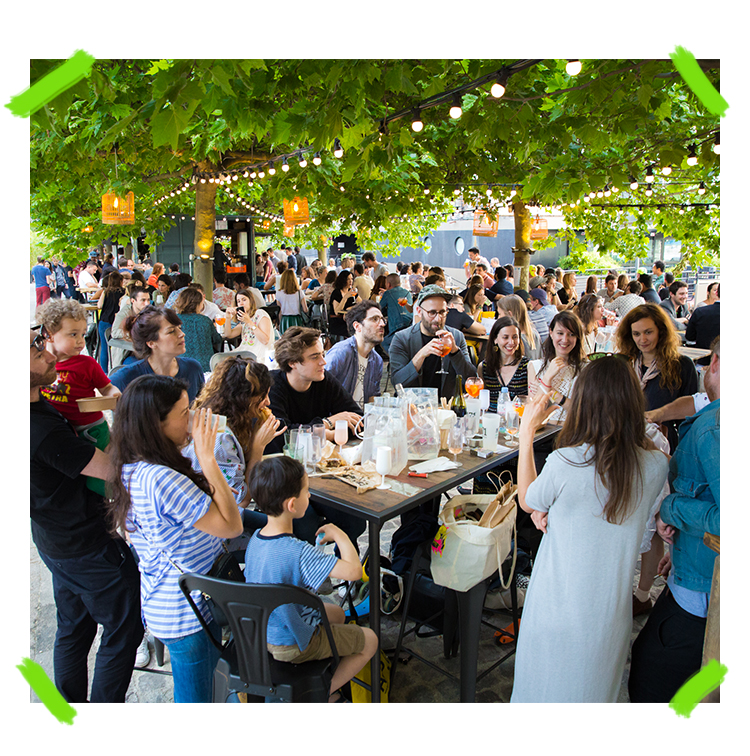 The party: if there were just one waterfront spot to keep in mind this summer, it would be this one. La Démesure sur Seine is back on the Quai de la Râpée to give some swing to the happy hour of Parisians. Briht garlands hanging from the trees, large wooden tables, it's Indian summer that is settling under the sun exactly. In terms of music, things are going to groove with trendy DJs at the turntables distillating funk, soul, disco and hip hop sounds. Everything we love.
Who do you run into? The cool 30 somethings come to chill as well-organized groups.
À la carte: the Strogoff has delocalized and is orchestrating a show of foodporn nuggets with Med starters (antipasti, burratina, grilled veggies… €12), a signature tuna tartare (€14), a salmon bagel (€9) or marinated squid (€15). And to wash it all down, fab cocktails such as the very fresh Cucumber Addict (Gin Bombay Sapphire, Saint-Germain, Concumber, €12) or a fresh bottle of Minuty (€38 ).
The right moment: every evening at happy hour… The alternative ? Showing up on Saturday or Sunday lunch for an anti-hangover brunch.
69 Port de la Râpée 75012. All the info on www.lademesuresurseine.net.
Pavillon Puebla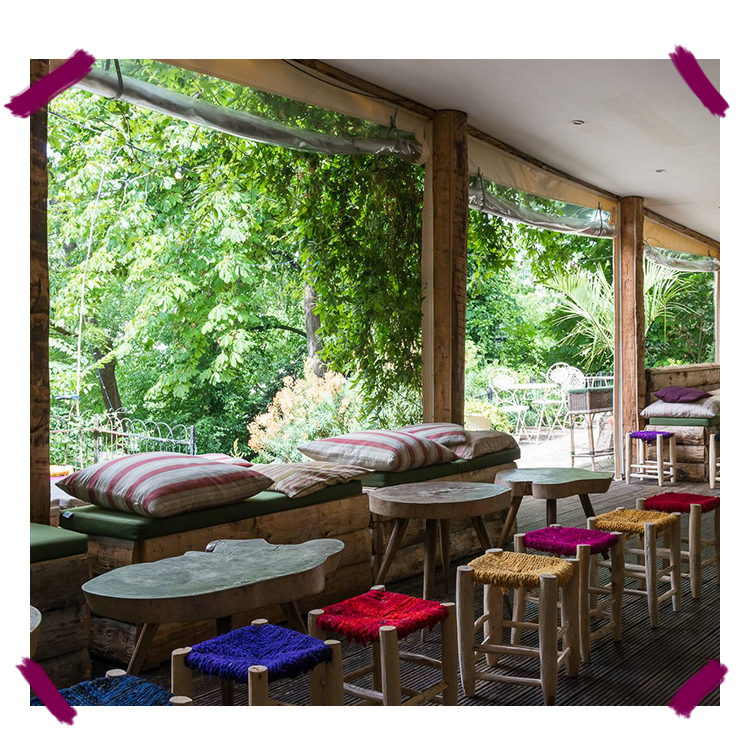 The Perchoir team does it again and we continue to really enjoy its highly perched XXL double terrace, at the heart of the Buttes Chaumont. In a wonderful hunting Napoleon III period, an ideal green Eden to show up with the gang, smoke a few cigs and flirt with the neighbouring tables …
Who do you run into? Hipsters and East Side thirty-year-olds.
À la carte: at the top of the list, the hot Moscow Mule with ginger beer (€12), or the Ramos del Claro concocted with vanilla infused gin, milk, lemon and orange blossom (€12). A small hunger pang? Always handy, the nibbles menu: chicken burger (€10) planchas of charcuteries and terrines to share (11 and €13), waffles (€3).
The right moment: at night fall to chill and stay fresh.
Parc des Buttes Chaumont, Avenue Darcel, 75019. All the info on www.leperchoir.tv.
88 Ménilmontant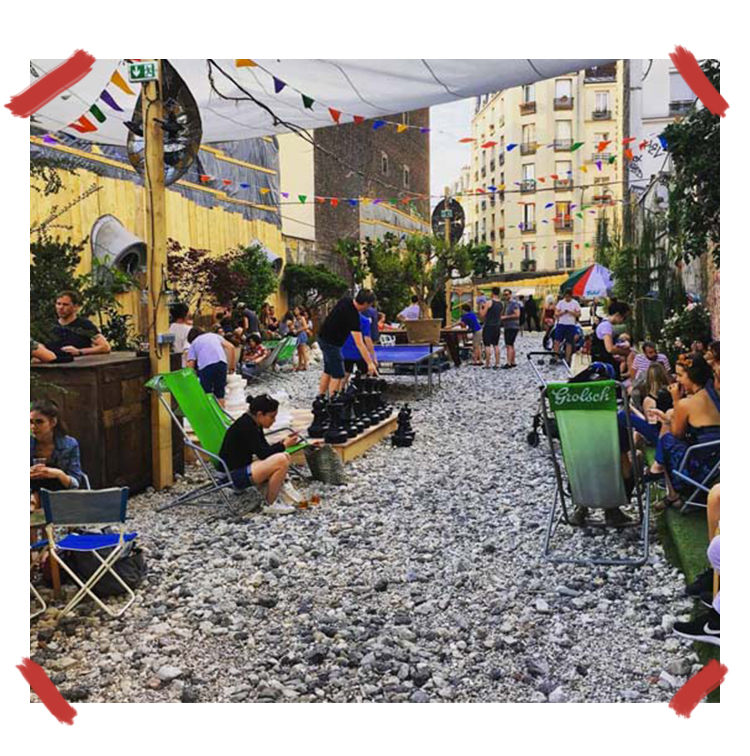 It feels like being in London, in one of these hybrid and messy spots with kids drawings on the walls, where one drinks beers while playing ping pong. 88 Ménilmontant, is a little of all that, with a giant checker board and deck chairs to boot. The perfect HQ to tan on the weekend and clink glasses. Psst: to keep in mind for the Fête de la musique.
À la carte: Thai dishes from Échappée, gluten free verrines by Tearamisu, and even seafood on Friday night by Chacha & Compagnie. To be washed down with fruit juice, sodas, beer, wine, cocktails, comfortably nestled in a deck chair.
When? Rather the weekend, to get in the mood starting at noon with the gang.
Until the 30th of September 2018. 88, rue de Ménilmontant, 75010. All the info on www.labellevilloise.com.
Le Jardin Suspendu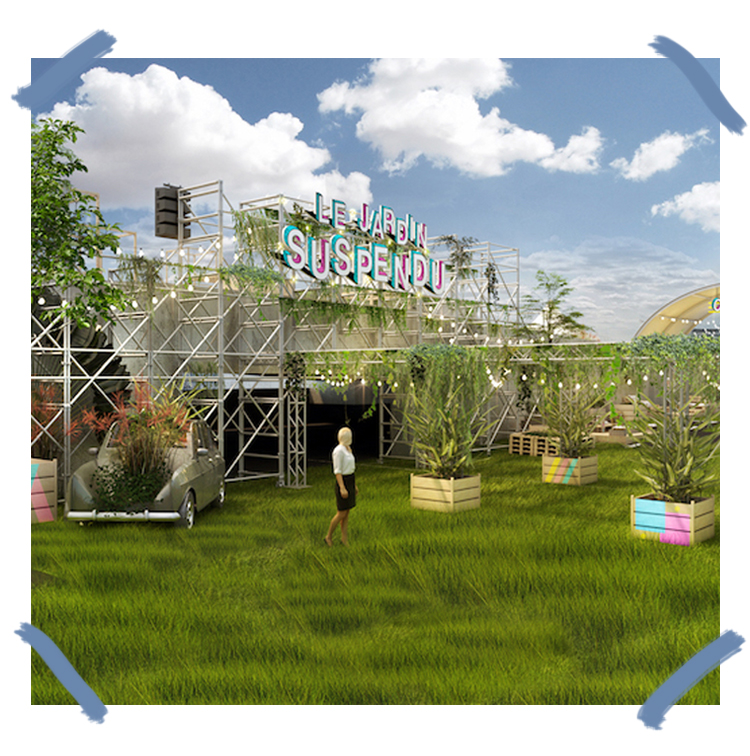 The party: an underground venue with a very London-Style spirit… Rendezvous on the 8th and last floor of the exhibition center at Porte de Versailles, on a parking lot, the Jardin Suspenduhappens to be the largest rooftop in Paris. Spanning 3500 m2, a wild terrace, resolutely instagrammable with cactus, lemon and olive trees, even a vegetable garden, hoola hoop or tasting of comestible flowers.
Who do you run into? All the Left Bank trendies looking for greenery.
À la carte: a foodcourt to nibble on a plump focaccia from Atelier Fratelli (€9-11), a couture kebab by Grillé (€4.5-15), or the avocado toasts of Avocatier (€5) and the veggie crêpes with tapioca from Onda (€4.5-11). Cool sipping options: delicious Martini cocktails (€8), a bottle of Pink Flamingo rosé (€30) or a glass of Piper-Heidsieck bubbles (€12). Cheers!
The right moment: from Thursday to Sunday nights around 6pm.
Access across from the 40 Rue d'Oradour sur Glane, 75015. Al the info on www.lejardinsuspendu.paris.
Also discover the trendy happy hours of the palaisat porte dorée and a hidden waterfront terrace near Bastille;