Green is sexy! On a stunning rooftop, around a colorful bowl or mouthwatering sandwiches, the foodie team at Do It In Paris has selected their 10 favorite tables for a delicious and healthy vegan feast. The best vegan and veggie restaurants in Paris are right here.
PH7 balance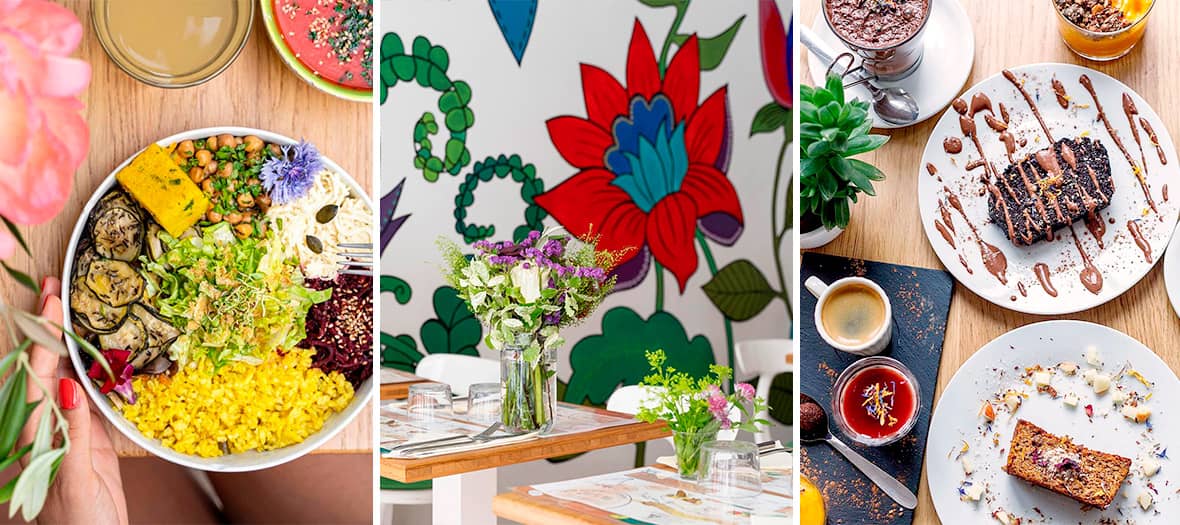 The place. These rainbow plates are making waves near the Grands Boulevards. Each dish is designed to bring your body into pH balance, an idea from the mother-daughter duo, Murielle and Claudia. It's a magical formula for more digestible and energizing recipes made with organic and gluten-free products, all vegetarian and even vegan... and absolutely delicious. It's the lunch break that makes you happy, in a nutshell.
On the menu. Every day, astronomical amounts of locally sourced vegetables are peeled and prepared on-site to create bowls like the fully cooked vegan option, with roasted spiced vegetables, ginger and garlic vegetable tian, Provençal-style rice and lentils, polenta, and green salad (€15). You can also try the discovery plate (€16) with Indian and Mediterranean influences. For example, Indian yellow rice, Provençal-style lentils, spiced roasted vegetables, and green salad... Accompanied by a green juice made with celery, fennel, parsley, pineapple, cucumber, and fresh turmeric. And don't miss out on the desserts, which are lightly sweetened and vegan: chocolate cake with chocolate coulis (€6), banana bread (€6). Also, try the surprising lemon sweet potato cream with granola (€6). It's a 100% pleasurable and healthy experience.
PH7 balance, 21 rue Le Peletier, Paris 9th. Open Monday to Friday from 11am to 3pm.
IMA Cantine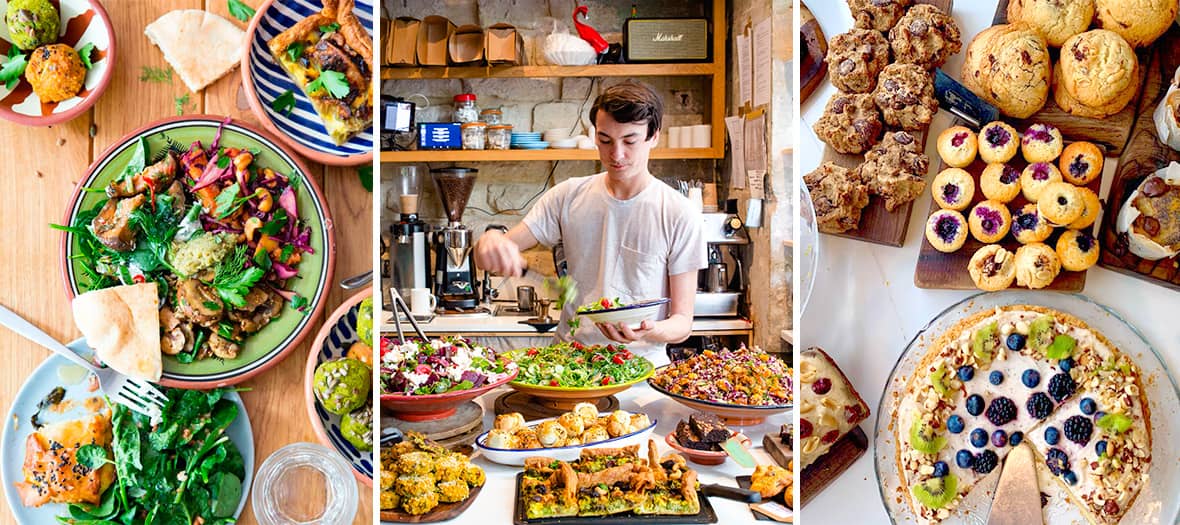 The place. This lovely coffee shop on the Saint-Martin canal promises a cozy atmosphere and 100% homemade products. This former plumbing store, transformed into a vegetarian canteen by Joe and Victoria, showcases delicious salads and small pastries displayed on the counter from the outside. Special mention goes to the beautiful mismatched plates, which gave us some interior design inspiration.
On the menu. You can sit down for a coffee accompanied by a vegan cookie, or indulge in a delicious shakshuka (€11.50) and large poppy seed and citrus peel pancakes with fresh fruits and vegan yogurt (€9). For lunch, you can enjoy super healthy salads (€13.50) served with pita bread or excellent seasonal vegetable tarts (€5). In the evening, in a more intimate ambiance, gather with friends to share "tapas" plates that showcase vegetables like nowhere else!
IMA Cantine, 39 quai de Valmy, Paris 10th. Open every day from 8am to 10:30pm.
Créatures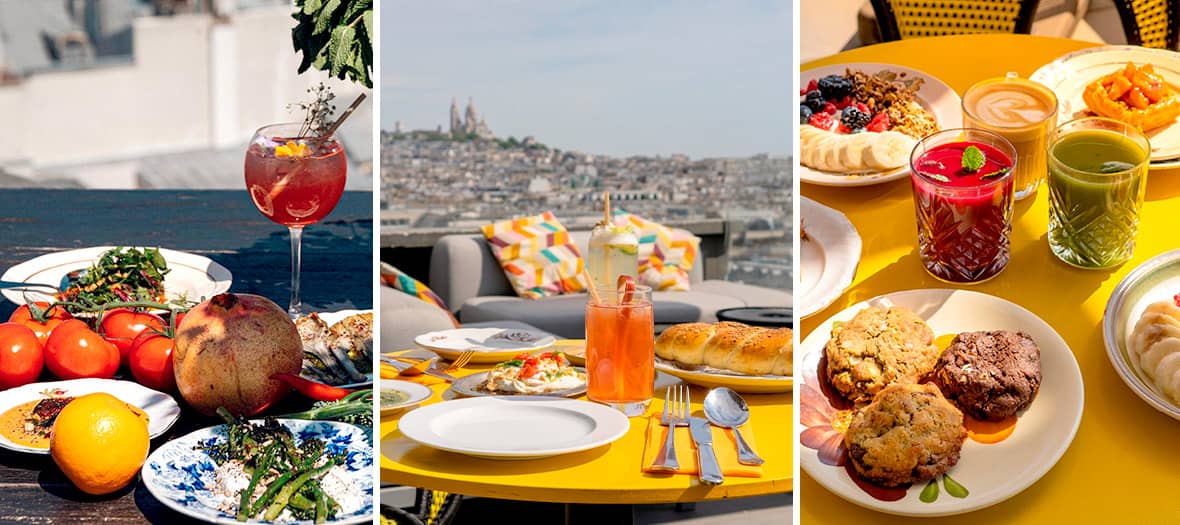 The place. The summer rooftop sensation returns to the roof of Galeries Lafayette, where Julien Sebbag, the trendy young chef, impresses with his 100% plant-based menu, inspired by Tel Aviv style and in the claimed lineage of Ottolenghi. The decor is an organized chaos as one dreams of: furniture entirely sourced from Emmaüs, perfect for hosting a large table of friends, from breakfast to dinner, with non-stop service.
On the menu. Eggplant caviar with chocolate and pomegranate (€9), baby broccoli thigurt, sumac, sunflower seeds (€11), Beet mille-feuille, mashed potatoes, aioli, chimichurri (€14), or an incredible Dark chocolate, homemade peanut butter, fresh cream with flower honey, orange zest (€11).
Créatures, on the rooftop of Galeries Lafayette Haussmann, 25 rue de la Chaussée d'Antin, Paris 9th. Open from 3pm to 8pm. +33 1 42 82 34 56.
Tekés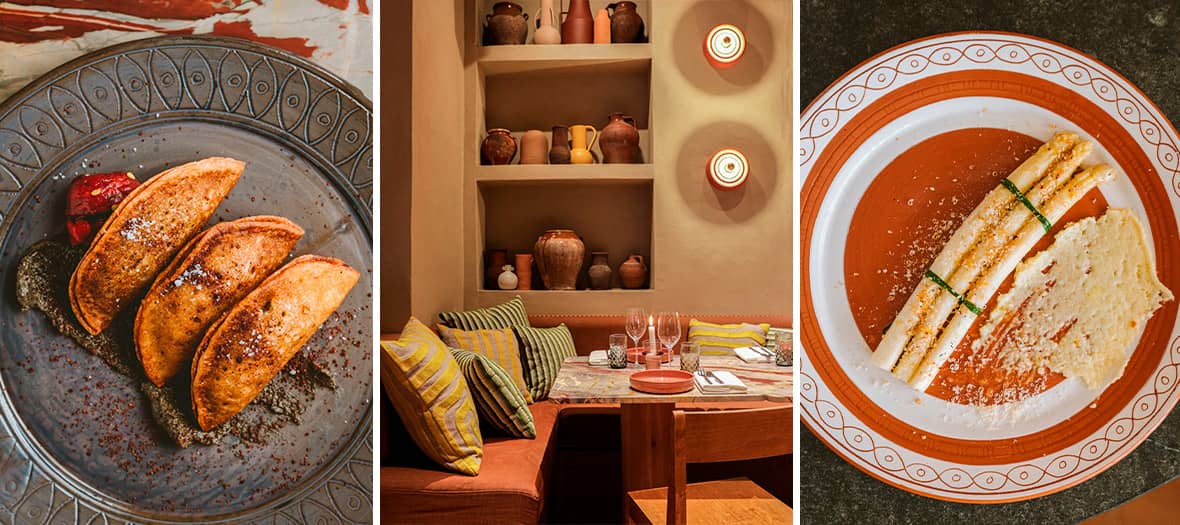 The place. The foodosphere is buzzing, eagerly awaiting reservations. After the success of Balagan and Shabbour, star chef Assaf Granit is teaming up with Dan Yosha, Uri Navon, and Tomer Lanzman, right across the street at Arthur Benzaquen's Klay, in collaboration with Cent15 Architecture studio. At the heart of this place, firmly in line with the taste of the times: naturalness, the appreciation of fine materials and good produce, responsibility, and craftsmanship, all revolving around a highly plant-based cuisine and open-fire cooking...
On the menu. Celebrating the new generation of delights, the dishes are meant to be shared, spread, and sauced with a garlic Laffa flatbread (€7), accompanied by impressive natural wines with a sharp selection, surprising but never preachy. In no particular order: Jerusalem artichoke cream with celery root tartare (€11), grilled zucchini served with cinnamon labneh (€12), flambéed eggplant (€26), caviar-style lentil mousse, replacing the eggs, also known as the "poor man's caviar" (€9). The exquisite desserts overflow with genius, like the mushroom mousse (€13).
Tekés, open every day from 7pm to 2am and from Monday to Friday from 12pm to 2:30pm. Reservation essential.
Le Potager de Charlotte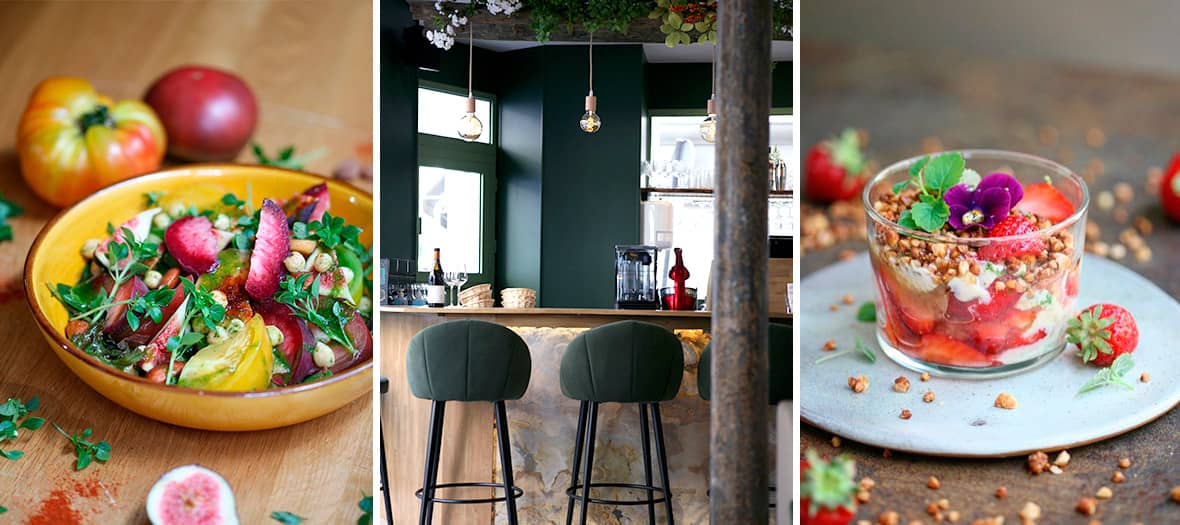 The place. A family story! David, restaurateur and chef, and Adrien, naturopath and front-of-house chef, both vegan, decided in October 2015 to fulfill their dream: opening a plant-based and gourmet restaurant. They succeeded! The two brothers offer a healthy and delicious cuisine every day, guided by three convictions: ethical treatment of animals, environmental protection, and promotion of a healthy lifestyle, naturally favoring local producers and seasonal ingredients. The verdict is in.
On the menu. You'll find grilled green asparagus (€12), amusing rice and chickpea pancakes (€9.50), avocado in the style of a hard-boiled egg (€9.50), basil and balsamic cream rigatoni (€19), seasonal green salad (€18.50), and irresistible hazelnut mashed potatoes (€19.50). And for a sweet treat, try the lemony cashew cream with blueberry coulis (€9) or the chocolate mousse topped with raspberries (€9).
Le Potager de Charlotte, 12 rue Louise-Émilie de la Tour d'Auvergne, Paris 9th, open on Tuesday and Wednesday from 6:45pm to 10:30pm, Thursday to Saturday from 12pm to 2:30pm and 6:45pm to 10:30pm, and Sunday from 11am to 3pm. Also at 21 rue Rennequin, Paris 17th, open on Tuesday from 6:45pm to 10:30pm, Wednesday to Saturday from 12pm to 2:30pm and 6:45pm to 10:30pm, and Sunday from 11am to 3pm.
Plan D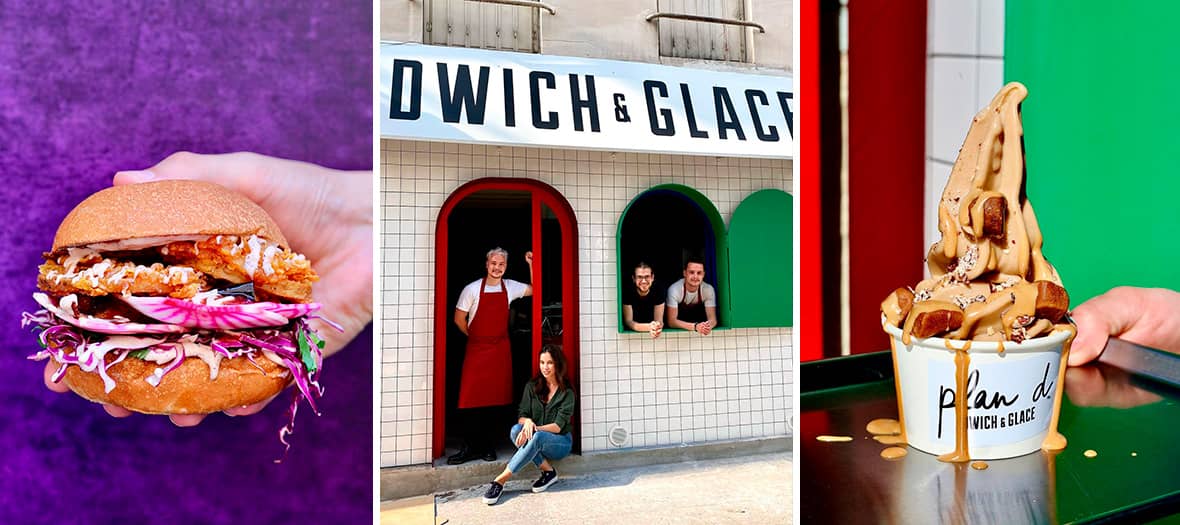 The place. Just steps away from République and Canal Saint-Martin, Alice Tuyet (creator of the Patate podcast) and chef Joris Lebigot (formerly from Stéphanie Le Quellec's La Scène) conceived Plan D, a spot that deals in two vegan specialties: ultra-delicious multicolored sandwiches and mind-blowing sundae ice creams to be enjoyed as take-away during a leisurely stroll along the canal. Yellow, green, red: you have to choose your color, the theme of each of these highly foodporn and meticulously crafted snacks that vary according to the seasons.
On the menu. What's hidden inside the warm and fluffy olive oil-infused bread, each priced at €9? Depending on the color scheme: an extraordinary cauliflower breaded in cornflakes, carrots marinated Banh Mi-style, roasted bell pepper, fresh tomatoes, a bouquet of herbs, or exquisite tempura zucchini. Add to that the insanely delicious smoked paprika or curry vegan mayo, and you've got yourself the best sandwich in Paris. Let's temporarily forget about our quest for the perfect bikini body and indulge in the crispy fries, in the form of dirty matchstick potatoes, accompanied by soy mayo and house-smoked sauce simmered for hours. And don't skip the sweets, especially the caramel, peanut, and peanut butter sundae (€4.50), which will make you salivate. It's addictive, indeed.
Plan D, 22 rue des Vinaigriers, Paris 10th. Open on Monday and Tuesday from 12pm to 3:30pm, Wednesday to Friday from 12pm to 3:30pm and 7pm to 9:30pm, Saturday from 12pm to 9:30pm, and Sunday from 12pm to 7pm. Set menu at €13.50 for a sandwich
Ora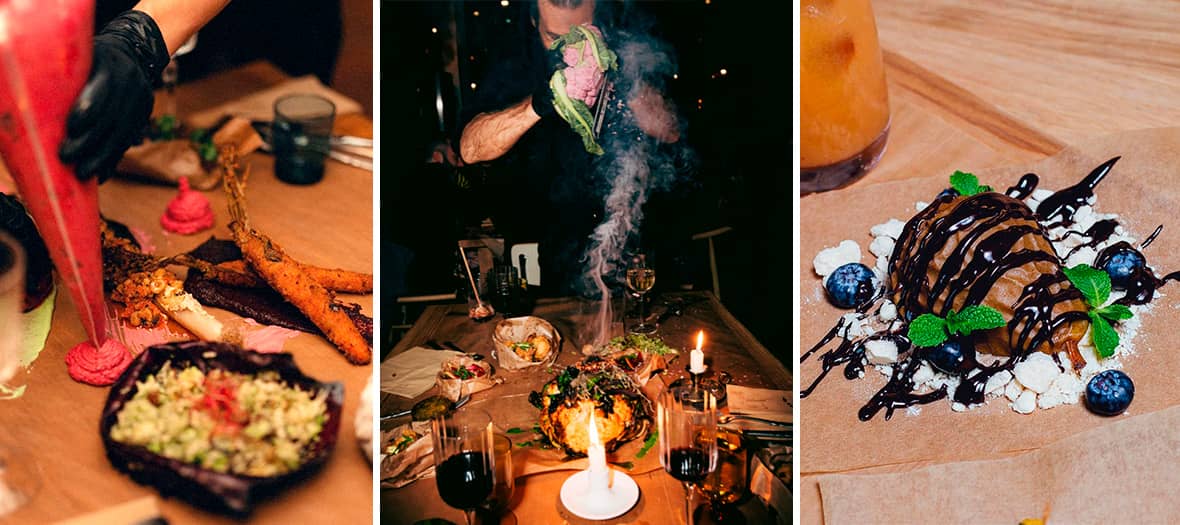 The place. Fully embodied by Chef Saayaann, the creator of the concept that encompasses the venue and the Caserne that hosts it, Ora creates an unprecedented bridge between plant-based cuisine and party vibes. Incredibly creative and devilishly energetic, this spot attracts the young, smart, fashionable, and thirty-something crowd who let loose within the walls of this electrifying and ethically-conscious table that focuses on zero waste. The show is guaranteed every evening as the chef navigates through the restaurant, placing vegetables directly on the table, on baking paper like painting a canvas, and then seasoning them on the spot in a Broadway-worthy choreography! Utterly sexy.
On the menu. Well, no plates! In a magical display of colors and flavors, a unique menu is presented on the table, changing weekly and featuring seasonal vegetables, often "houmoused," sprinkled with herbs and olive oil, visually stunning and bursting with taste. A signature dish? The cauliflower from the market gardener, Normandy camembert roasted with honey and garlic in its skin. Dessert? Chocolate mousse with candied chestnuts (€52 for starter, main course, dessert).
Ora x La Caserne, 12 rue Philippe de Girard, Paris 10th. Open from Monday to Saturday from 9 am to 2 am. Reservations highly recommended. +33 6 75 70 59 72.
La Maison Binder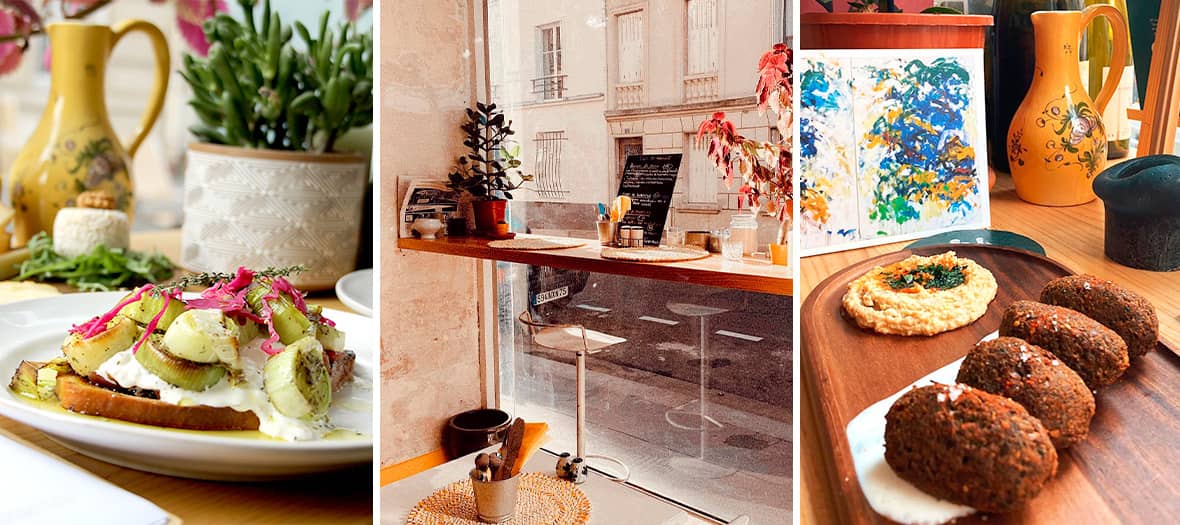 The place. Good funk, disco, and soul music, a participatory library, vinyl records, and board games to borrow for a fun time with friends—it's all happening at Maison Binder. Behind this project, Quentin and Baptiste decided to venture into the restaurant industry by offering a concept that's 100% about good vibes and 100% vegetarian. The two brothers share a common passion for large family tables where laughter and sharing reign—welcome home!
On the menu. Enjoy a leek and burratina French toast with caramelized onions and pickled red cabbage (€12.50), baker's buns with falafels, white cheese sauce, pickles, red cabbage, and cucumber (€12.50), or, for sharing, a large roasted sweet potato with aioli, feta, and za'atar (€11.50), or a cheese platter (€14.50). Finish with a delightful apple crumble with caramel and honey (€6) or the chai cookie with peanut butter and milk chocolate chips (€3.50). Calling all brunch lovers: Sundays are the day of comfort with a hot beverage, fresh fruit juice, scrambled eggs or a cookie, yogurt with granola and seasonal fruits, and a choice of a main dish.
La Maison Binder, 43 rue Hallé, Paris 14th. Open Tuesday to Friday from 12 pm to 2:30 pm and 6:30 pm to 10:30 pm, Saturday from 12 pm to 3:30 pm and 6:30 pm to 10:30 pm (available for private events in the evening), and Sunday from 12 pm to 3:30 pm.
Kapunka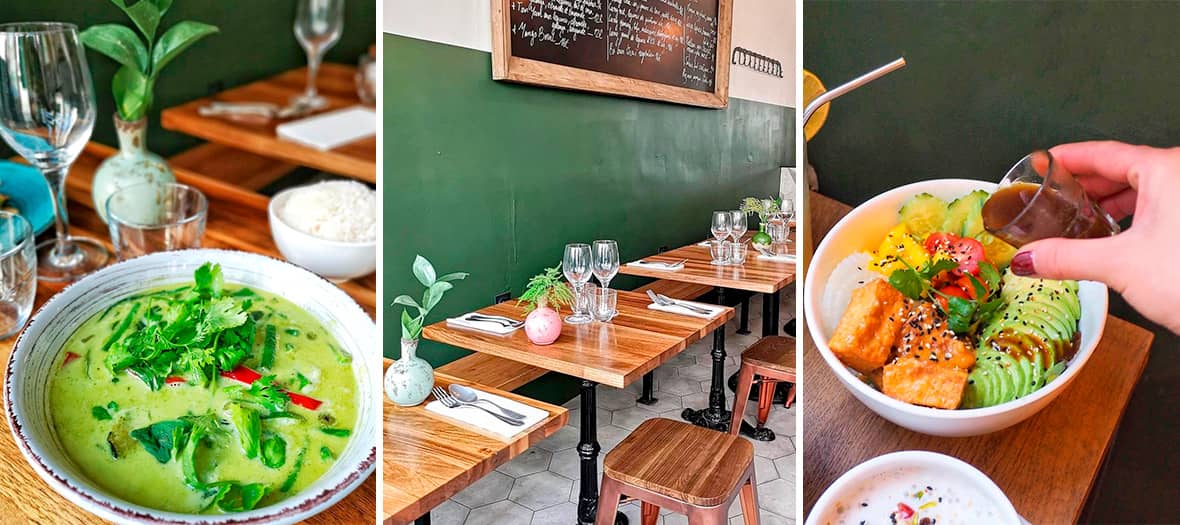 The place. Considered as THE Thai canteen in Paris, Kapunka is thriving with this 100% vegan establishment nestled in Sentier. Its compact dining room (20 seats), without exotic frills, opts for a raw and efficient aesthetic with wooden tables, benches, and a small counter.
On the menu. Animal-free and gluten-free dishes that tantalize the taste buds and showcase Thai cuisine classics such as spring rolls (€9) and green papaya salad (€10). Additionally, there are ultra-flavorful recipes specially developed for the venue, like the tom kha soup with coconut milk, lemongrass, and bergamot (€10), a spicy green curry with crunchy vegetables (€16), and the popular massaman curry with eggplant, turnip, apple, and potato (€16). As additional options, there are two daily specials and desserts that do the job, such as the chocolate pot (€7) or the tapioca pearl soup with banana and coconut cream (€7). For beverages, they offer organic wines, refreshing lemon or coconut iced teas, and well-crafted cocktails like the Mojithaï (€9).
Kapunka, 4 rue de Damiette, Paris 2nd. +33 1 42 33 78 99. Open Monday to Friday from 11 am to 3 pm and 6:30 pm to 11 pm, Saturday and Sunday from 11:30 am to 3:30 pm and 6:30 pm to 11 pm.
Maslow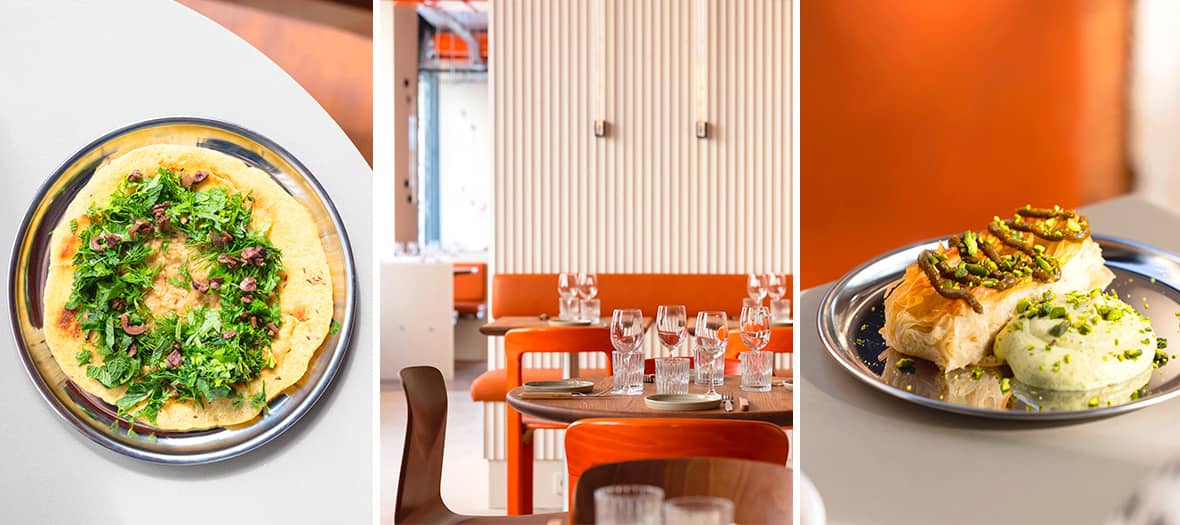 The place. Vibrant orange sets the tone and energy for this stylish new venue designed by architect Juliette Rubel. With a spacious layout, Maslow features three rooms and a lovely terrace, creating a daring and glamorous atmosphere where vintage reigns. Leading the way are restaurateurs Julian Chican Vernin and Marine Ricklin, accompanied by chef Mehdi Favri (formerly at Chardenoux des Prés). They are all determined to delight you with small, generous, and unpretentious plates without meat or fish, but bursting with life and surprises!
On the menu. Prepare for some sexy veggie delights, such as a Portobello mushroom gem covered in crispy breadcrumbs and served with a Shibuya sauce (€11). Indulge in a cheese extravaganza with a plate of warm sheep cheese drizzled with spicy oil, to be enjoyed straight from the dish (€6.50). Take a detour to Italy with revisited polpette, mushroom meatballs drenched in a homemade tomato sauce and topped with tangy Comté cheese that will deceive your taste buds (€12)! And don't miss the soft and fluffy gnocchi wrapped in a cream made with sheep's tomme cheese, delicately flavored with za'atar (€10). When it comes to desserts, they offer heavy hitters like buckets of choux pastry filled with smoked Madagascar vanilla cream and caramel sauce that will have you licking your fingers (€8), and a Mille-Fés with ultra-crispy filo pastry layers, adorned with a light pistachio cream and orange blossom that will take you to new heights (€7). They also serve creatively crafted anti-waste cocktails that ingeniously repurpose ingredients from the kitchen (€12), refreshing homemade soft drinks (sparkling lemonade, €4), and organic wines (starting at €6 per glass). At Maslow, you can visit at any time of the day—for coffee in the morning, ice cream in the afternoon, or to enjoy the sunset on the Seine during apéro hour.
Maslow, 14 quai de la Mégisserie, Paris 1st. Open Monday to Sunday from 8:30 am to midnight.
© Maki Manoukian
Mesa, the vegan restaurant at Hotel Hoy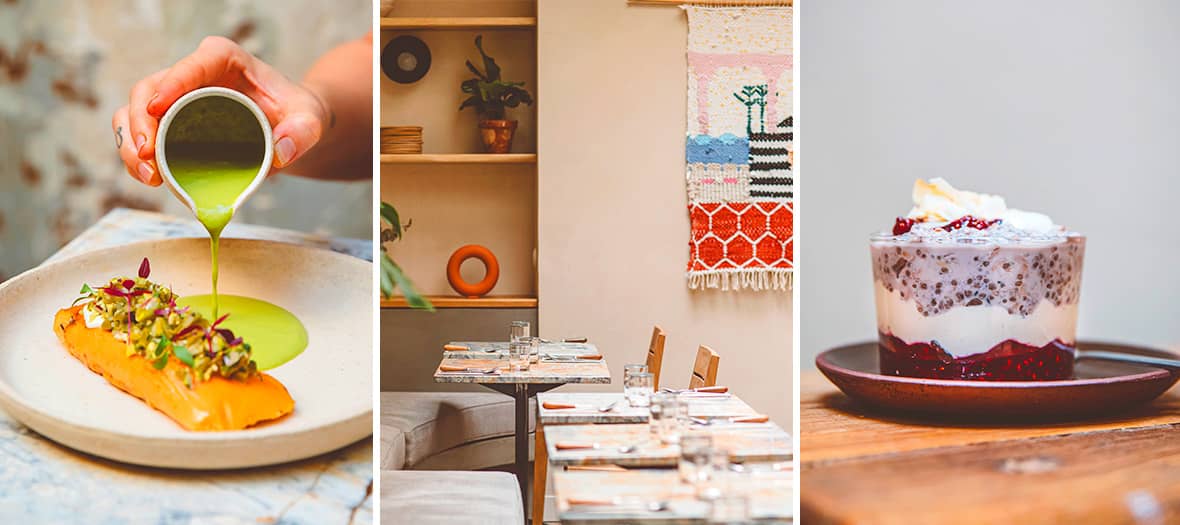 The place. Nestled in the heart of Montmartre, just a stone's throw away from the Moulin Rouge, Mesa is the 100% plant-based restaurant at Hotel Hoy. It offers a holistic, healthy, and high-quality cuisine inspired by the Latin American roots of its founder, Sabrina Goldin (also behind Carbon). A true haven of peace in the surrounding urban landscape, everything is designed to savor the moment in a clean and bright setting. Here, the values of a plant-based table are elegantly and refinedly celebrated, with generous dishes infused with a true culinary identity. Led by vegan chef Lauren Lovatt, the founder of the Plant Academy and Feed Your Mind Candy, Mesa excels in committed, local, and seasonal cuisine, always sprinkled with a pinch of adaptogenic herbs used in Chinese medicine for their body benefits.
On the menu. The "All day" menu offers dishes like a plate of chickpea and black bean socca with spices, plant-based cream, coleslaw, and harissa (€14) or the Carrot Lox with charcoal focaccia, smoked carrots, plant-based cream, pickled red onions, accompanied by seasonal shoots, lemon vinaigrette, and pecans. As sides, indulge in a bowl of revamped patatas bravas with cashew cream and preserved lemon (€8). To finish on a sweet note, the more indulgent diners can try the vanilla chia pudding with rhubarb hibiscus and macadamia granola (€8), or the Purple Corn Pancakes topped with seasonal jam, vanilla yogurt, roasted almond butter, banana, roasted coconut chips, and yacon syrup (€19)—an absolute treat! The drink menu is also noteworthy, offering a wide selection of house-infused sodas and kombucha served on tap, as well as a lovely list of natural wines.
Mesa, 68 rue des Martyrs, Paris 9th. Open Tuesday to Saturday from 7:30 am to 10 pm, and Sunday and Monday from 7:30 am to 3 pm.
© Sophia van den Hoek
Also discover Bloom, where they make veggie sushi sexy