Spring is definitely looking up! We're giving you the lowdown on the coolest high-altitude spots in the capital. The only question is, where will you start?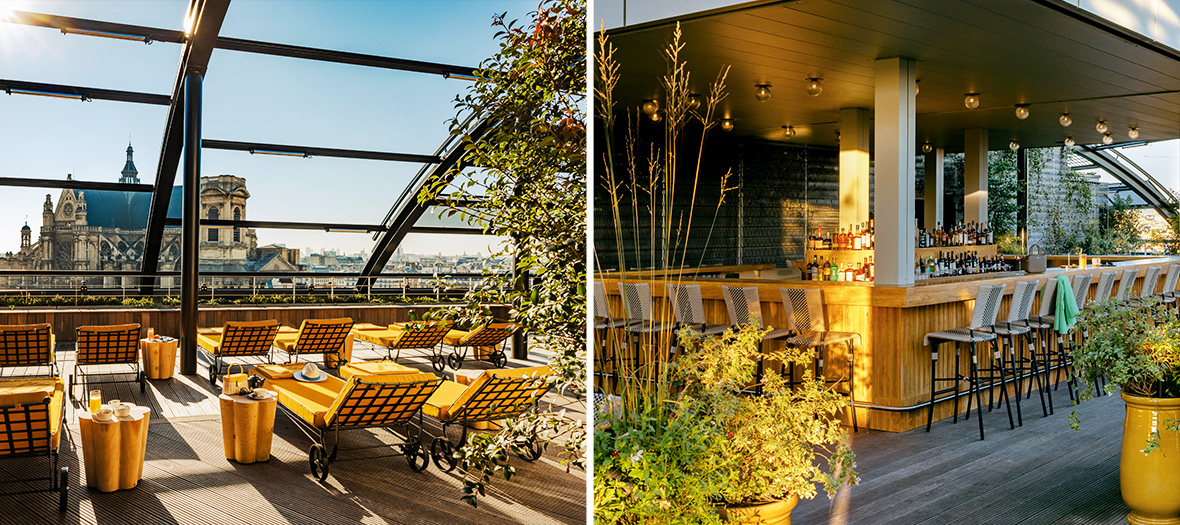 The place : The rooftop of the Madame Rêve hotel, the final stage of the transformation of the Poste du Louvre, is buzzing in the heart of Paris. You can access it directly at 43 rue Etienne-Marcel without going through the 5-star hotel or the Plume restaurant. On the 4th floor, in a green decor, you can admire the landscape, the view of Saint-Eustache and the Centre Pompidou, the clouds playing in the blue sky contrasting with the orange sun loungers. You can settle among the 250 seats, fight for the best ones on the church side, or sit at the central bar.
A must-try : are the delicious cocktails (between €18 to €20) like the Tropical Sound (rum, Cointreau, pineapple, tonka syrup) or the Back to the Roof (vodka, guava, lychee, rose). You can savor and sip, but unfortunately, a server clears the table as soon as the glass is finished... Too bad!
Madame Rêve is open every day from 6pm to 1am. 43 rue Etienne-Marcel, Paris 1st.
Sequoia at Kimpton St Honoré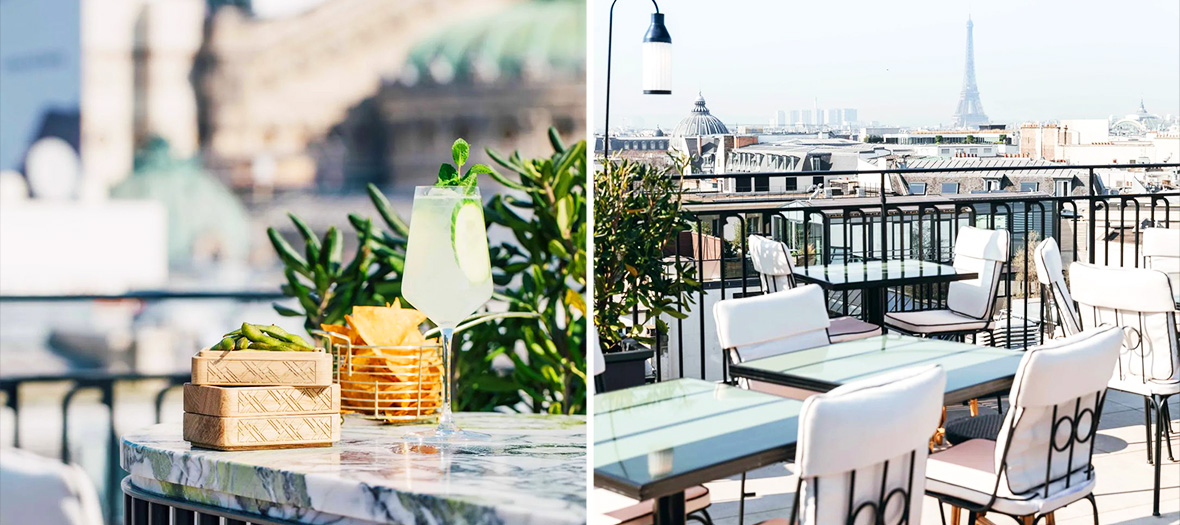 The place : When the trendy San Francisco hotel brand arrives in Paris, it creates a buzz. Nestled between the Opéra Garnier and La Madeleine, Kimpton gives a second life to the former Samaritaine de Luxe, a sublime Art Nouveau jewel largely revamped by superstar designer Charles Zana. The current attraction? The Sequoia cocktail bar, a real suspended Garden of Eden that culminates on the 10th floor with a magnificent 360° view. Open every day from 3pm. First come, first served.
A must-try : are the Spritz (€20) and signature cocktails (€22), potions to sip slowly to prolong the pleasure with some spiritual nourishment such as guacamole (€14) and maki (€18). (A minimum spend of €40 per person is required).
Sequoia at Kimpton St Honoré, 27-29 boulevard des Capucines, Paris 2nd. 01 80 40 76 20. Open Monday to Sunday from 3pm to midnight.
© Jérôme Galland / @kimptonsthonore on Instagram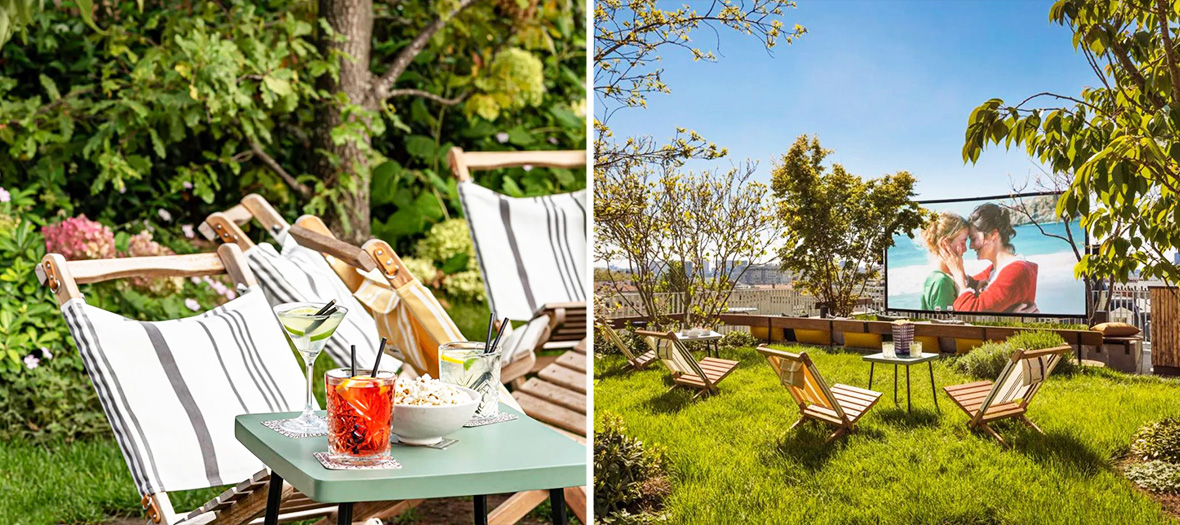 The place : The spot to see and be seen on the East Side is here! It's no surprise that the Karmitz brothers have opened a rooftop bar in their crazy hotel in Nation, which promises to be the most popular intellectual-bobo hangout spot of the summer in an ultra-stylish setting: wooden floors, green decor, cocktail bar, and private BBQ every night until midnight.
A must-try : are the cocktails that go down as easily as a bag of popcorn, including the excellent old fashioned (18€) and the delicious virgin spice tatin (8€), which combines drinks and sweets!
Hôtel Paradiso, 135 boulevard Diderot, Paris 12th. 01 88 59 20 01. Open daily from 10am to 11pm.
© Romain Ricard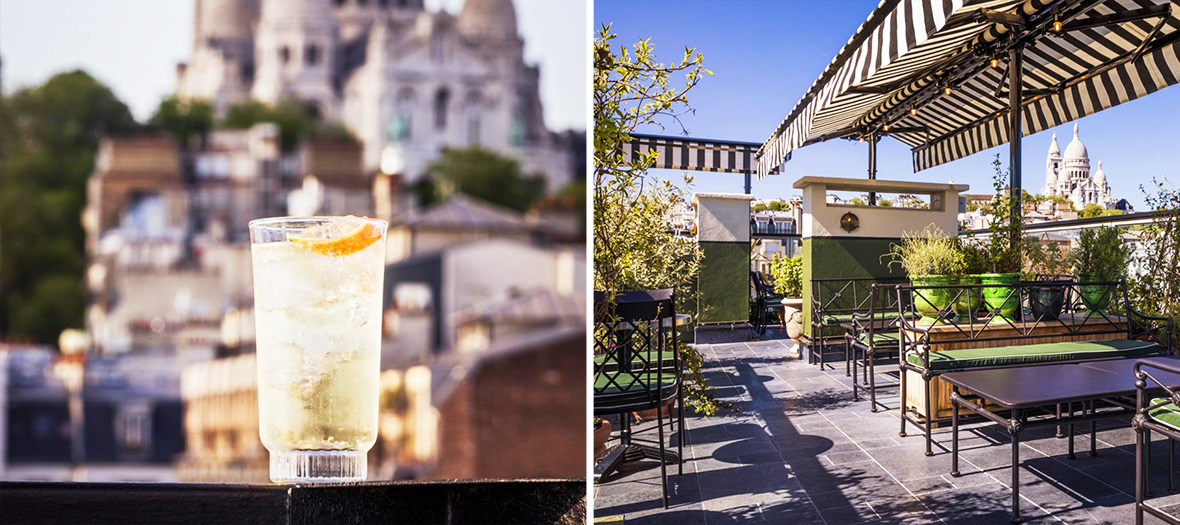 The place : The highly anticipated opening of the Hôtel Rochechouart and its trendy brasserie by Louis and Anouk Solanet, the signature of Studio Festen, caused a sensation. The excitement continued with the inauguration of their rooftop terrace, now considered the new go-to spot in Pigalle for an aperitif, featuring a high-up bar where the beautiful people gather around signature cocktails.
A must-try : is their creative cocktails with Latin influences, allowing you to travel to South America without taking your eyes off the Sacré Coeur. We recommend the Tango, made with rum, cognac, rinquinquin, lemon, and jasmine (17 €), or the Mariachi, with mezcal, grand marnier, lemon, electric velvet, and honey (19 €). To accompany your drinks, try the tacos (19 €) or ensalada (15 €). ¡Ay, caramba!
Located at Hôtel Rochechouart, 55 boulevard de Rochechouart, Paris 9th. 01 42 81 91 00. The rooftop bar is open from Monday to Friday from 12 pm to 3 pm and 5:30 pm to midnight, and from noon to midnight on weekends.

© Hôtel Rochechouart.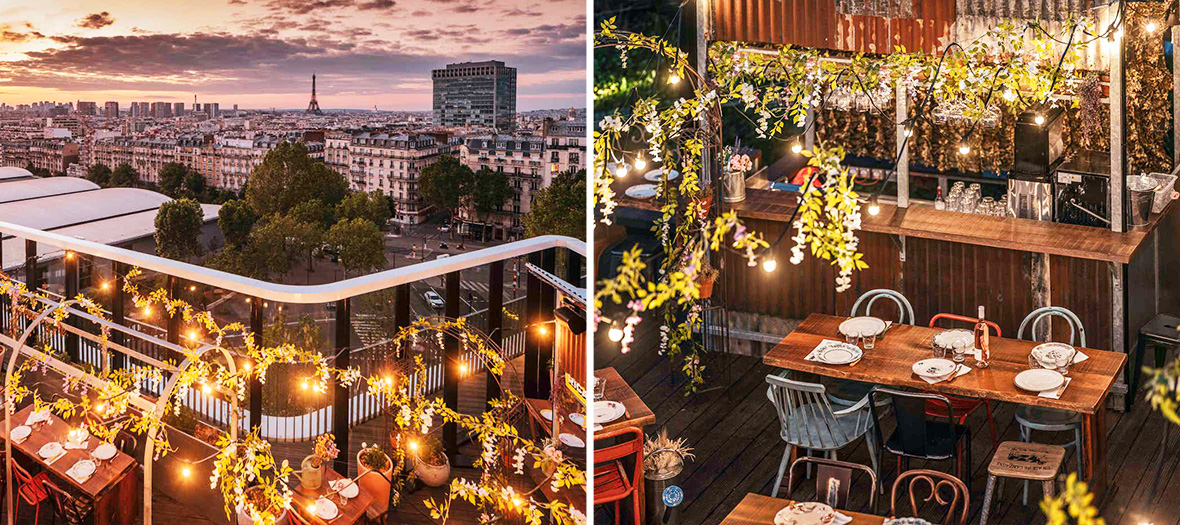 The place : You probably already know Pedzouille, the locavore restaurant in the 10th arrondissement that sources its products directly from the farm. Good news for residents of the 15th arrondissement: the collective that defends urban farmers is arriving on the rooftop of the Novotel Porte de Versailles and promises to be the laid-back and festive spot where you can come in a group and compete with Le Perchoir. The promise: a "rooftop with a view of the Eiffel Tower without breaking the bank."
A must-try : the large communal tables serving French dishes cooked over an open flame in collaboration with chef Gabriele Faiella (formerly of Anahi & Beefbar). But also the living wines to be filled yourself, and the digestifs to prolong the experience. The highlight? The "watering cans," giant cocktails to share (€16-19).
Pedzouille La Grange, 4 avenue de la porte de la Plaine, Paris 15th arrondissement, online reservations. Open every day from 12am to 2:00pm and 7pm to 1am.
© pedzouille la grange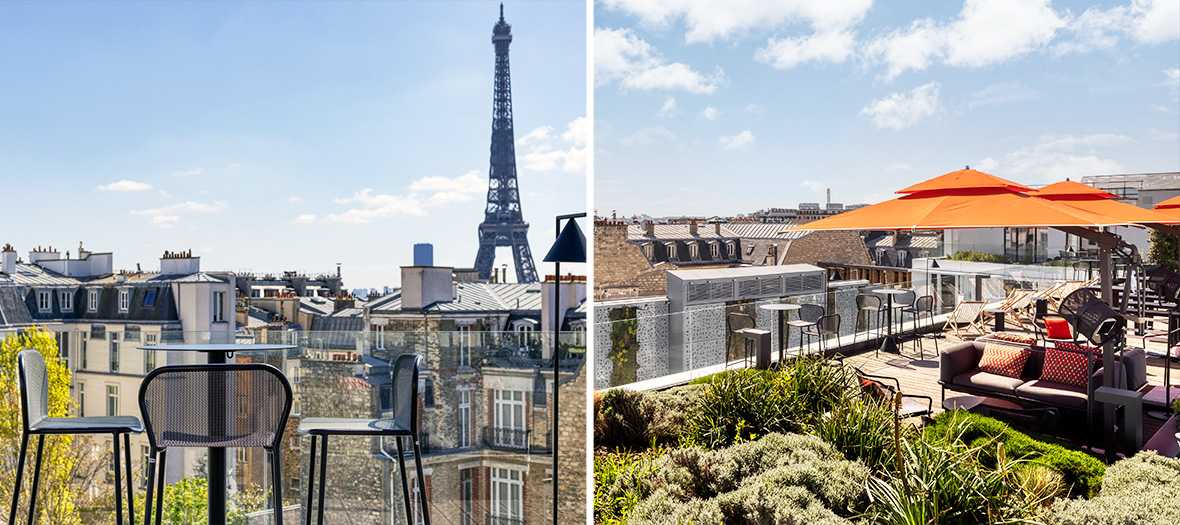 The place : Shareable tapas and well-shaken mojitos galore. At the height of coolness: a rooftop garden with beds worthy of the most beautiful Mediterranean beaches to clink glasses with the Eiffel Tower. The cherry on top? To perfect the chill vacation vibe, chef Joffrey Servant will prepare live BBQs, plus events all summer long.
A must-try : seasonal, locally sourced products with influences from the South - that's the promise of the chic aperitif at Eylau Paris Rooftop, which offers elegant bites with Provencal influences, tapas, and salads. Of course, you'll want to pair these delicious treats with expertly crafted drinks by Johann Meziani.
Eylau Paris by Canopy Hotel by Hilton Paris Trocadero Hotel 16 avenue d'Eylau, Paris 16th. 01 45 50 50 70. Open every day from 12 pm to 11 pm. Reopens on May 1st.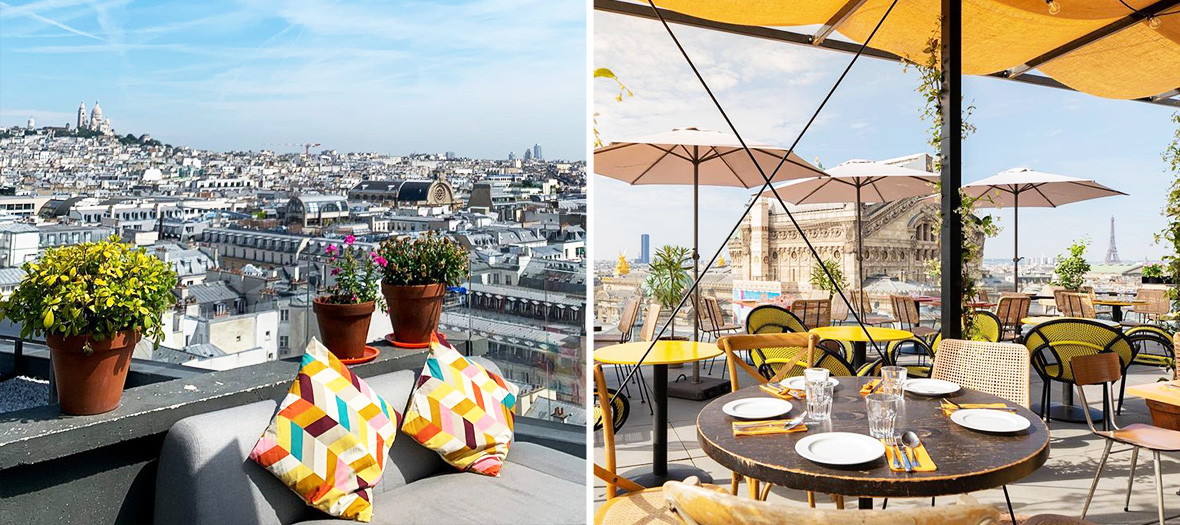 The place : The summer rooftop sensation is back on the roof of Galeries Lafayette where young and trendy chef Julien Sebbag is causing a stir with his 100% plant-based and very Tel Aviv-style menu, in the claimed lineage of Ottolenghi. The decor is a beautifully organized mess, with 100% Emmaüs thrifted furniture, perfect for hosting a large table of dozens of friends, from breakfast to dinner, with non-stop service.
A must-try : marinated strawberry and feta salad with fennel seeds (€15), baby cucumbers with sesame, crispy fennel and cashew cranberries (€11), focaccia with colorful courgettes and black olives (€17) or an incredible almond milk french toast with whipped cream, verbena and hibiscus (€9).
Créatures, Terrasse des Galeries Lafayette Haussmann, 25 rue de la Chaussée d'Antin, Paris 9th. +33 1 42 82 34 56. Reopening on May 2nd.
@creaturesparis on Instagram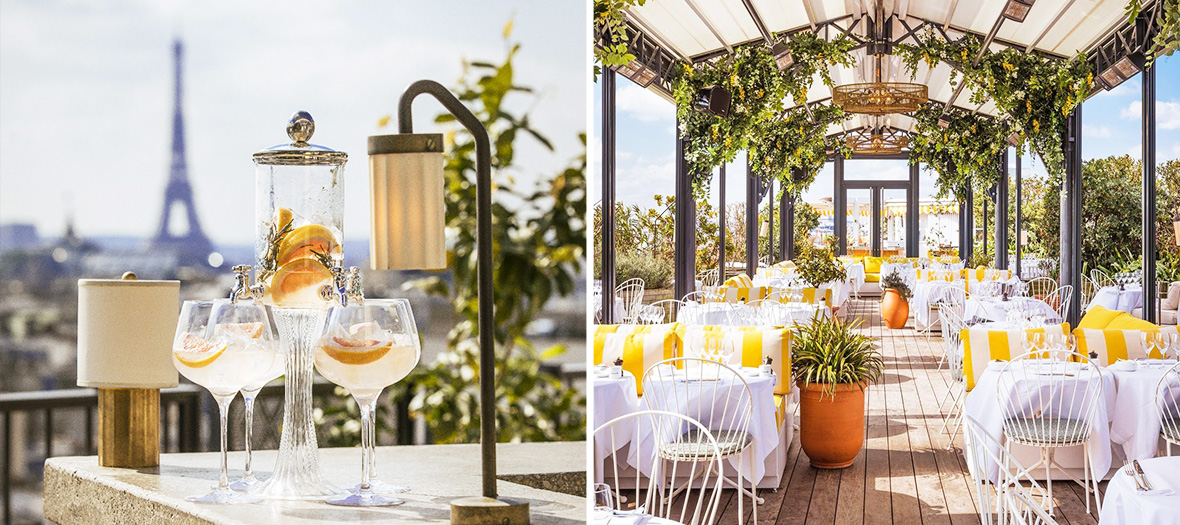 The place : Head to the 9th floor of Printemps de l'Homme and enter this trendy and exotic rooftop garden. Gilles Malafosse and Laurent de Gourcuff, renowned for creating successful venues like Monsieur Bleu, Loulou, and Girafe, have designed a charming French Riviera-style terrace with breathtaking views, a stylish bar, and delightful Mediterranean cuisine. The lush greenery and fashionable clientele add to the ambiance.
A must-try : fried calamari with pistou mayo (€15), beef fillet with fresh fries and black olive jus (€43), summer truffle tagliatelle (€41), and grilled octopus with sucrine lettuce and tangy cream (€36). For drinks, indulge in creative cocktails and a vast selection of spirits.
Perruche, Entrance at 2 rue du Havre, Paris 9th arrondissement. Printemps de l'Homme, 64 boulevard Haussmann, Paris 9th arrondissement. Open daily from 7 pm to 2 am.
© RomainRicard and @perruche_paris on Instagram.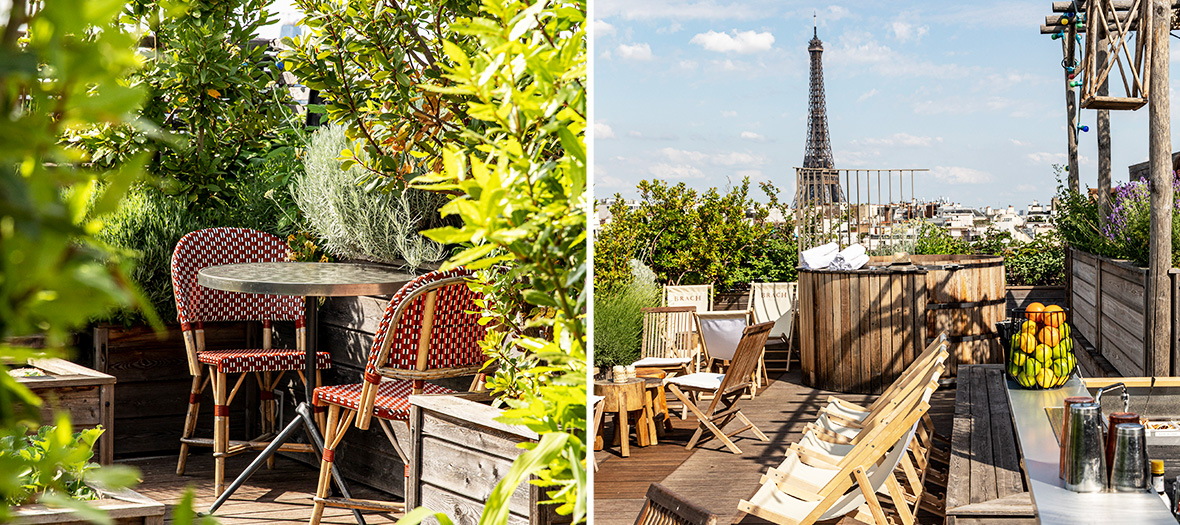 The place. A rooftop terrace that will take your breath away, located on the top floor of the prestigious Peninsula hotel. As an extension of the restaurant L'Oiseau Blanc, run by the talented chef David Bizet, this little slice of heaven serves up amazing cocktails.
A must-try: The famous "La Vie en Rose" cocktail, inspired by the Peninsula rose (€32) accompanied by grilled vegetable marinade (€34) or olive tapenade (€28). Dress code: chic and elegant!
Peninsula, 19 Avenue Kléber, Paris 16th. +33 1 58 12 28 88. Open Sunday to Wednesday from 4:00pm to 12:30am, and Thursday to Saturday from 4:00pm to 1:30am.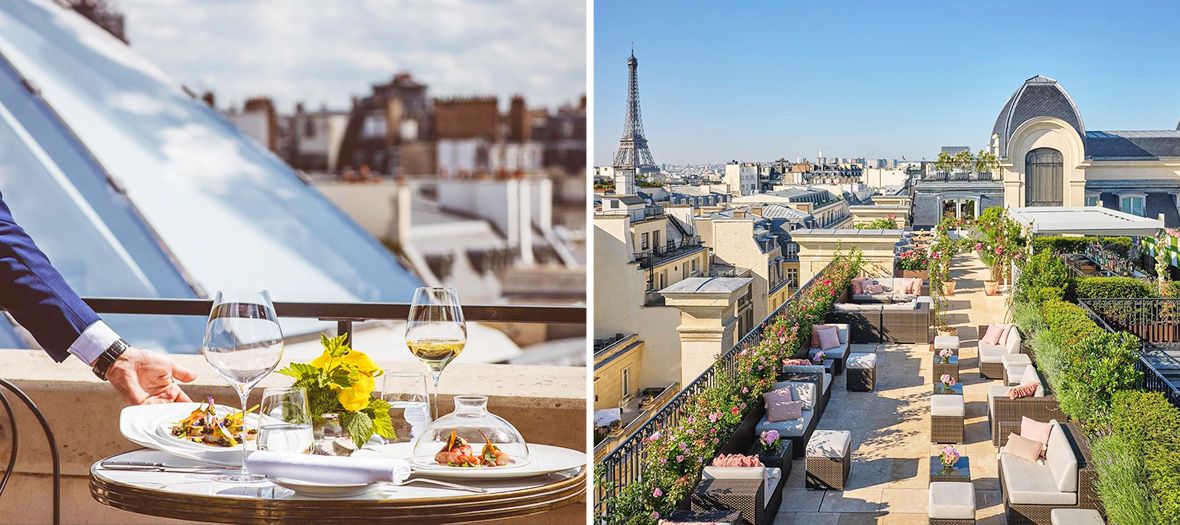 The place. Always higher, always stronger, the trendy hotel in the 16th arrondissement designed by Philippe Starck opens its rooftop garden to Parisians for country-style apéros with their heads in the clouds, with even a jacuzzi for the more courageous. Once you've reached the top, sip your cocktail and share Bellota-Bellota nibbles while watching herbs, fruits and vegetables grow, and enjoying the 360° view of Paris rooftops! This is life.
A must-try: Japanese-inspired dishes from the first-floor terrace, including dragon rolls (€34), crispy rices (€18-24), and futomakis (€16-29), paired with delicious signature cocktails (€22).
Brach Hotel, 1-7 rue Jean Richepin, 75016 Paris. 01 44 30 10 00. Open Monday to Sunday from 5pm to 1am.
© Simon Detraz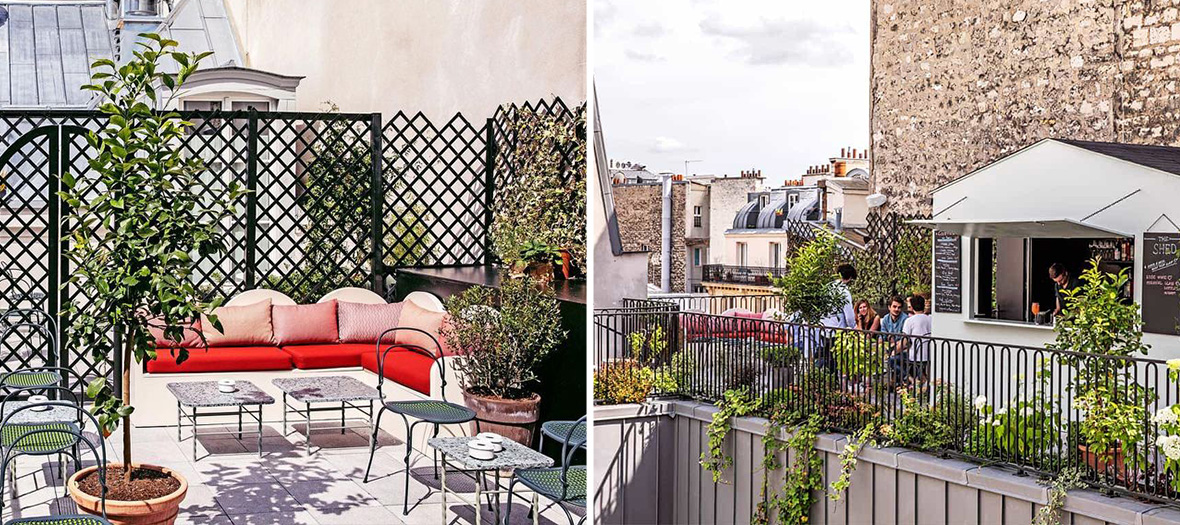 The Place. A rooftop bar in the heart of Paris? A dream come true! The unbeatable team from Experimental Cocktail Club has installed a terrace on the top of their Hôtel des Grands Boulevards, designed by the talented Dorothée Meilichzon. The setting is highly
A must-try: delicious cocktails made from ingredients from the restaurant's vegetable garden (starting at €14) to be sipped on plush, highly chic and sophisticated red and pink sofas with great music in the background. For small appetites: Italian charcuterie (€13), artisanal chips (€3) and a plate of Taleggio cheese (€8). Reservations recommended.
The Shed at Hôtel des Grands Boulevards, 17 boulevard Poissonnière 75002 Paris. 01 85 73 33 32. Open daily from 5pm to 11pm.
@hoteldesgrandsboulevards on Instagram.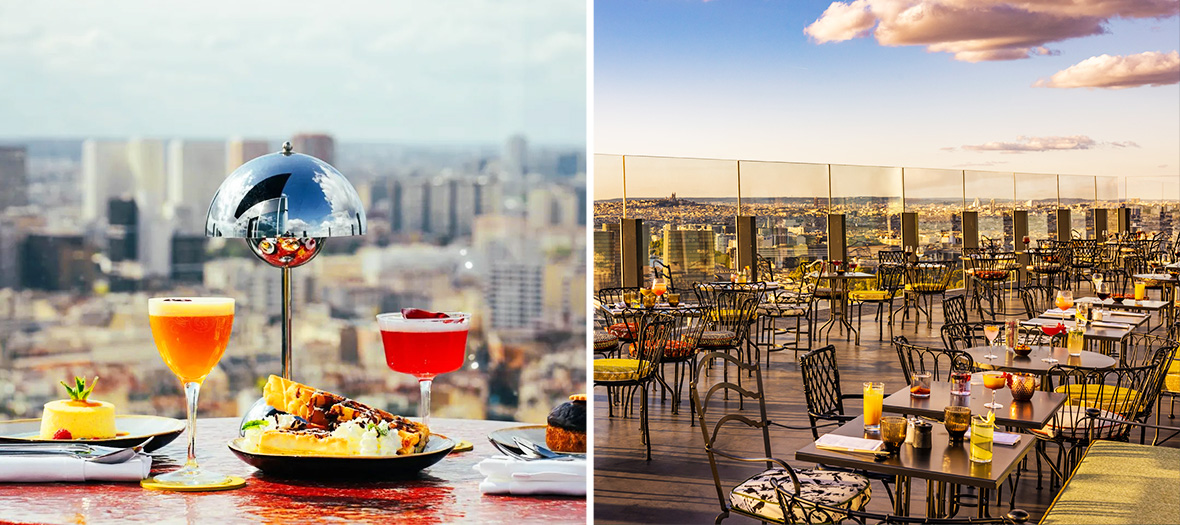 The Place. Too Hotel is a celestial, unexpected, and unclassifiable atmosphere. The latest brainchild of Laurent Taïeb (Madame Rêve) has settled closest to the sky at the top of one of the Jean Nouvel-designed Duo Towers planted in the bustling 13th arrondissement. This hotel's unique design was entrusted to the talent of Philippe Starck, who breaks codes by falling in love with a futuristic modernity, Tokyo or New York-style ambiance. "A suspended castle" that begins on the 17th floor and is 80 meters high! The aptly named TOO TacTac Skybar is hoisted up to the 27th floor, downright hanging from the clouds! From its impressive terrace, the sensation is unprecedented, and you'll feel like you're not in Paris anymore. Surreal.
A must-try: For a successful after-work, served from 6 pm to 11 pm: a selection of Nems (16 €), Takoyaki (6 €), Edamame hummus (8 €) or Tony spicy potato with octopus, parmesan, chorizo, and paprika (13€).
TOO Hotel, 65 rue Bruneseau, Paris 13th. 01 78 90 79 90. The rooftop is open with or without reservation for up to 8 people from Sunday to Thursday and up to 4 people on Fridays and Saturdays.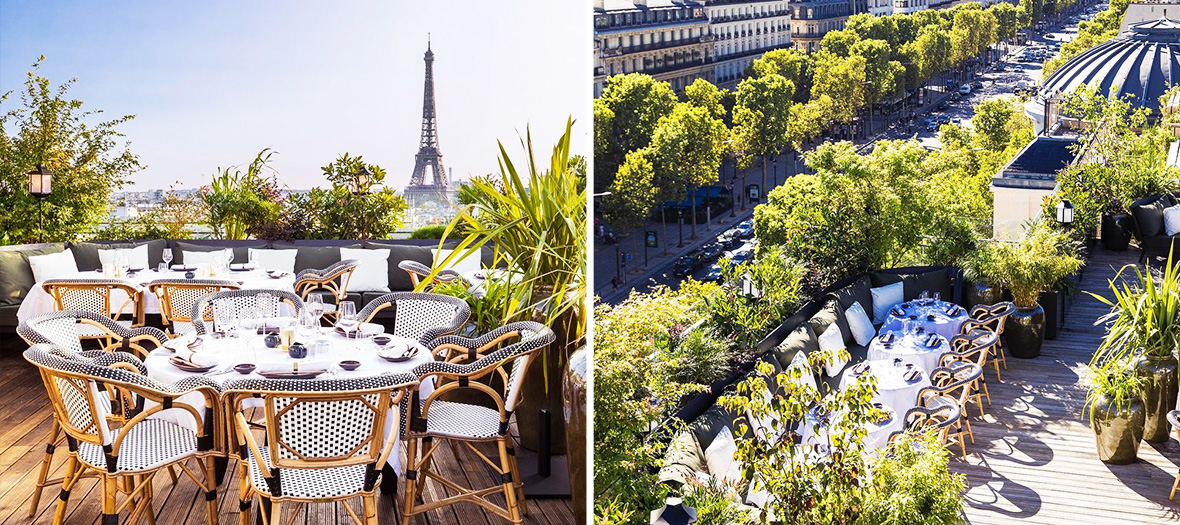 The Place. After Loulou, Coco, and Monsieur Bleu, it's obviously Laurent de Gourcuff (Paris Society) who is behind this stunning new meeting place in western Paris. A true vegetal paradise set at 52 avenue des Champs-Elysées, the rooftop and its restaurant are located on the 7th floor of the building where Chanel is headquartered... Because the highlight of this spectacular spot is this immense garden in the air (100 terrace seats) with the most beautiful view of Paris, from the Eiffel Tower to the Sacré-Cœur.
A rare feature is that you can also book a spot on the outdoor bar, to enjoy the atmosphere of the place without necessarily dining. This open-air speakeasy is nestled in a greenhouse with a mini herb garden that supplies Aurélien Fleury, the bartender, in locavore mode, all the way to the mint for the mojito.
A must-try: To accompany the couture potions, exceptional appetizers: puffed rice and salmon tartare (21 €), red tuna pancake, white truffle tarama (28 €), and Wagyu beef Tacos (22 €). Reservation recommended.
Mun, 52 Avenue des Champs Elysées, Paris 8th. 01 40 70 57 05. Open every day for lunch from 12 pm to 2:30 pm and dinner from 7 pm to 2 am.
@mun_restaurant_paris on instagram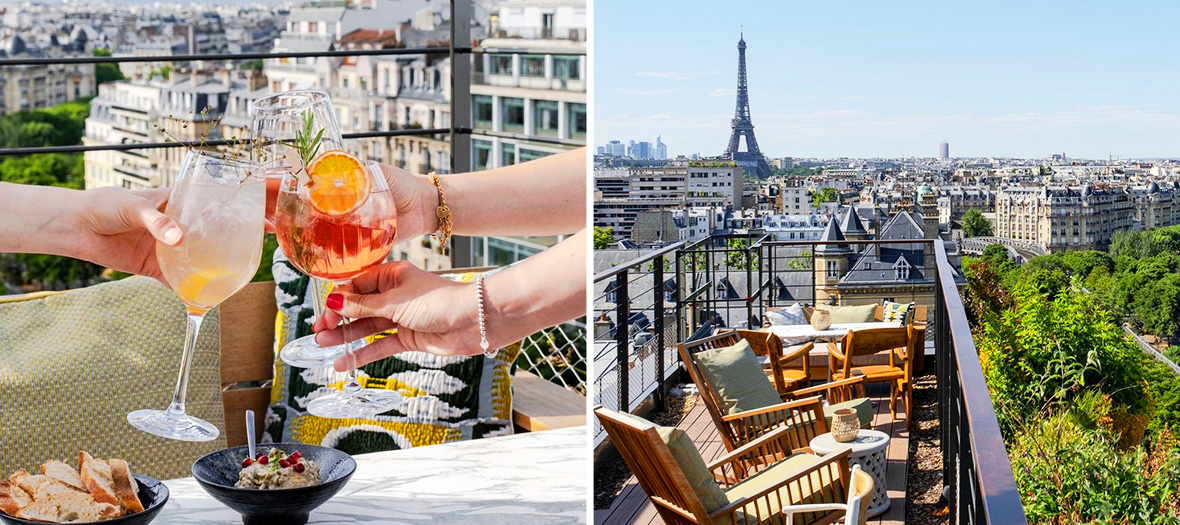 The Place. Let's go and check out the rooftop that everyone is talking about! The Villa M, designed by Starck, is a new highly stylish and relaxed address opened by Laurent de Gourcuff, the head of the Paris Society group, known for organizing upscale events. A true oasis on the top floor of the hotel: a suspended garden full of fruit trees, plants, Canadian garden chairs, and wicker lamps, with an open-air cocktail bar and a spectacular view of the Eiffel Tower to enjoy the most beautiful sunset in Paris.
A must-try: The dreamy aperitif with Hummus and pita bread (12 €), Fried squid with tartar sauce (19 €) or Tuna Tataki (20 €), to nibble on with a chic drink.
Rooftop of Villa M, 24-30 boulevard Pasteur, Paris 15th. 01 70 61 70 44. Open Tuesday to Saturday from 12 pm to 2:30 pm for lunch and from 7 pm to 10:30 pm for dinner. The Rooftop Bar is open from 3 pm to 7 pm from Tuesday to Saturday.
©@villamhotel on Instagram

Also Discover Louise Bourrat, Top chef winner, hosts a pop up table at Ladurée and A New York style-italian table