With its flashy pink neon sign, its atmosphere worthy of a Pinterest mood board  and strong scents of ground coffee, this new hot spot catapulted at Répu has all the winning assets: « inspiring » for Instagram. And it hit the bull's eye: all the graphics, creative types and other free-lances spend their day behind computer screens, hooked on excellent coffee and house cakes.
At lunch, everybody makes a beeline here to come taste sunny comfort-food by Mexican chef Mario Flores (ex Café Chilango). Starting with the already cult California Bowl made with rice, quinoa, avocado, red cabbage, sweet potatoes, cheese, black beans, kale chips… (13€). Another option, poached eggs or miso tuna and chilli sauce. A must. Tops also, couture tacos (12€ for 3), ceviche of ceviche and mango (14€) huevos rancheros, super fancy eggs on a tortilla twisted with guacamole and a fab tomato sauce (12€), mmhm. For the same price you even get a green tea or filtered coffee.
And of course, we'd like a nice little dessert: banana bread, cookie, cheesecake, crumble…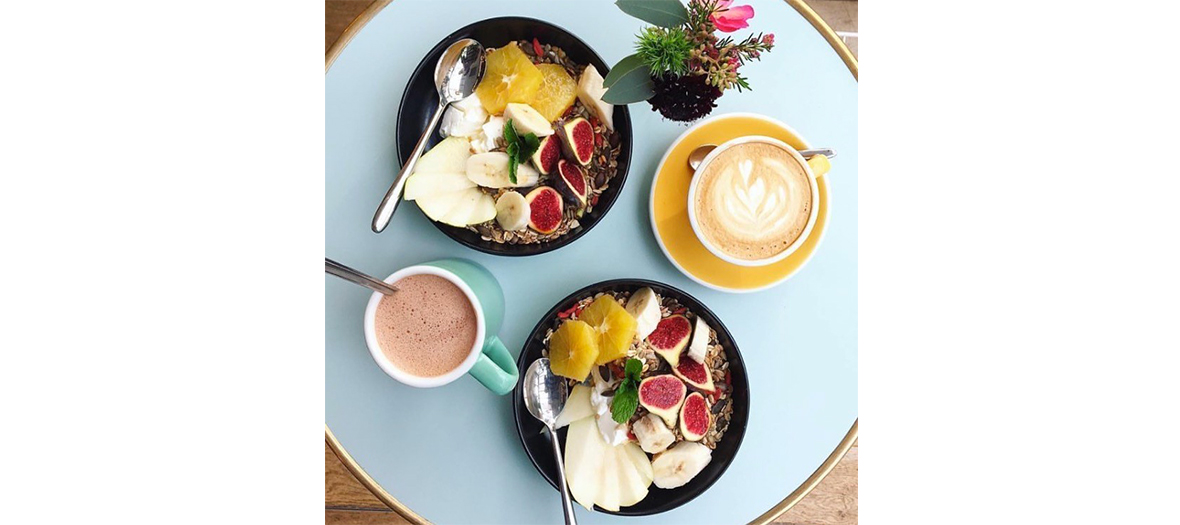 Open Monday through Friday from 8am to 7:15pm, Saturday from 9am to 7:30pm, Sunday from 10am to 6:30pm.
Also check out Peonies, the coffee-shop of trendy flowers and Marcello, the new hot spot in Saint-Germain-des-Prés.
Photo Crédits : @demoedervanbooze and @laminutefood on Instagram