Have you never tasted the cuisine of Chef Yasuo Nanaumi? It's time to catch up! After 55 years of a fascinating career, he has finally settled in his first restaurant. Head to the left bank to discover this elegant couture gem named after a legendary lucky creature in the land of the rising sun.
Charming Boudoir
A white facade that brightens the street, a glass door, and behind it, a first room of absolute chic that showcases a stylish bar counter surrounded by cream velvet seating. At the back, the open kitchen stands out with its terracotta color. Upstairs, a second room, wooden and soothing, framed by bookcases, mirrors, and benches adorned with cushions. We sat down here that day, at a table closest to the window, right under the sun's rays. Best place.
Love for France
This is Yasuo Nanaumi's driving force, who left his native Japan for France at a young age. After gaining experience alongside great chefs and taking charge of the kitchens at the Maison de l'Amérique Latine for ten years, he created Sept'N and Ao Izakaya. At the age of 72, hand in hand with his son Ken, he fulfills his dream of a family restaurant, letting his love for French gastronomy and terroir products shine through with divine Japanese touches.
Flawless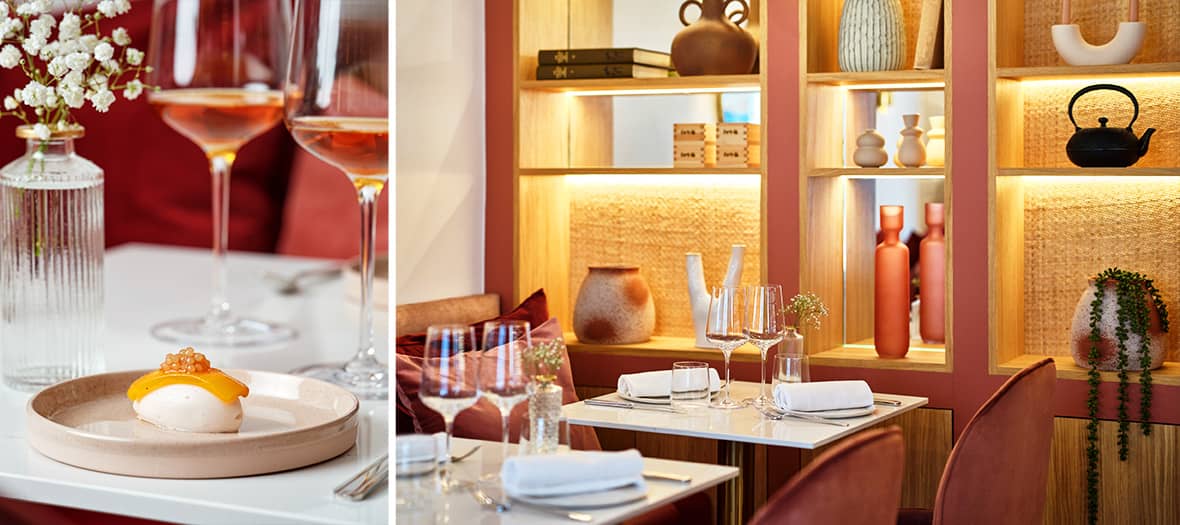 At Akabeko, you don't choose anything! You let yourself be carried away in a carte blanche menu: Ken Nanaumi takes care of everything, palace service! The amuse-bouche opens the festivities with a bang: a Saint-Jacques dumpling with Yuzukôsho (Japanese pepper) served in a soybean and shiso leaf tempura, accompanied by caviar. Next, a sashimi-style amberjack carpaccio with flying fish roe, soy sauce, and yuzu: like an enchanted stopover in Japan.
Back to France with pan-seared Périgord foie gras on vinegared rice and beet tempura: sublime. A dive into the sea with sole fillets served with a champagne sauce: classy! Then back to the land with a duo of Charolais and Wagyu beef, red wine sauce, and tender seasonal vegetables. And a chocolate finale with delicate chocolate mousse quenelles, Tonka bean, and homemade marshmallow: what finesse!
Lunch, Omakase in 5 stages, €79. Three-stage wine pairing, €39.
Dinner, Omakase in 7 stages, €129. Five-stage wine pairing, €65.
Open from Tuesday to Saturday, from 12 pm to 1:45 pm and from 7 pm to 9:45 pm.
Also discover Yakuza, the japanese table in Paris to be tested and Bloom, the veggy sushi temple