He's a bit like Jean Imbert from Portugal: a lot of creativity, a lot of bling and 178k Insta subscribers on the clock. Olivier Da Costa is setting up his famous Yakuza concept at Maison Albar Hotels - Le Vendome , a stone's throw from the Opéra Garnier , and is already gathering lots of celebrities (Joey Starr, Hafsia Herzi ...) who flocked to its inauguration last September. And it is above all THE new address to know for all lovers of Japanese gastronomy in the tradition of a Nobu Matsuhisa .
Author Japanese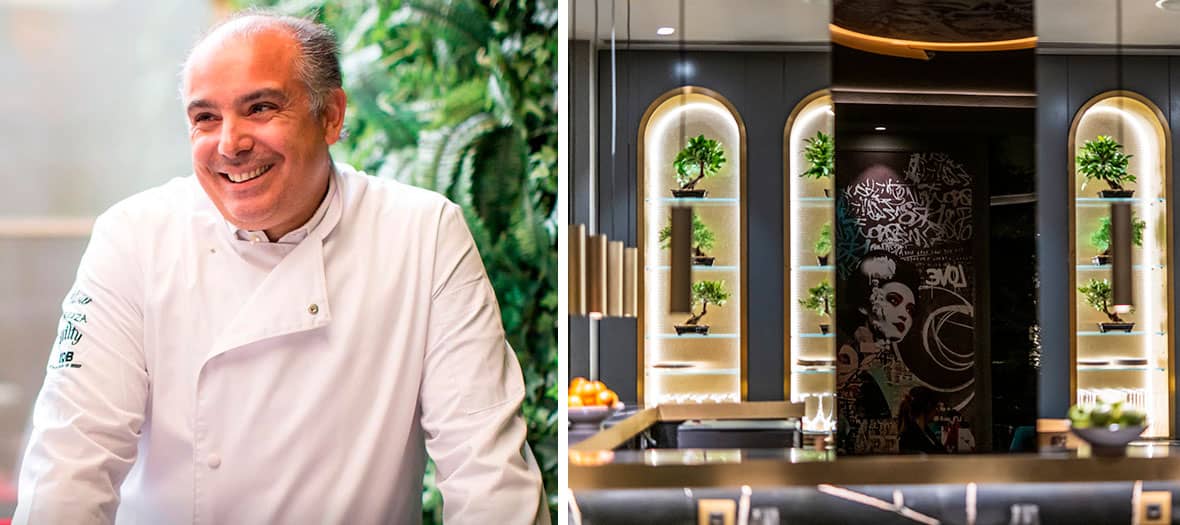 After Yakuza Porto or Lisbon and its restaurants which are all the rage in São Paulo and Bangkok , the chef continues to advocate the high-end in Parisian version. Starting with the golden door hidden in the hotel lobby, through which we signal ourselves to be able to enter speakeasy style, then the decor dappled with velvet, carp on the ceiling and geishas on the walls with a view of a pretty patio and the masters sushi at work.
But it is truly on the plate that Olivier Da Costa imposes a refinement by his very Mediterranean interpretation of Japanese specialties around fish. We instinctively trust the tasting menu, which is brilliant in order to avoid breaking down the menu (€ 120 in the evening, € 70 at lunch), whose sophisticated dishes reveal this subtle umami of the great houses.
A subtle menu tinged with Mediterranean influences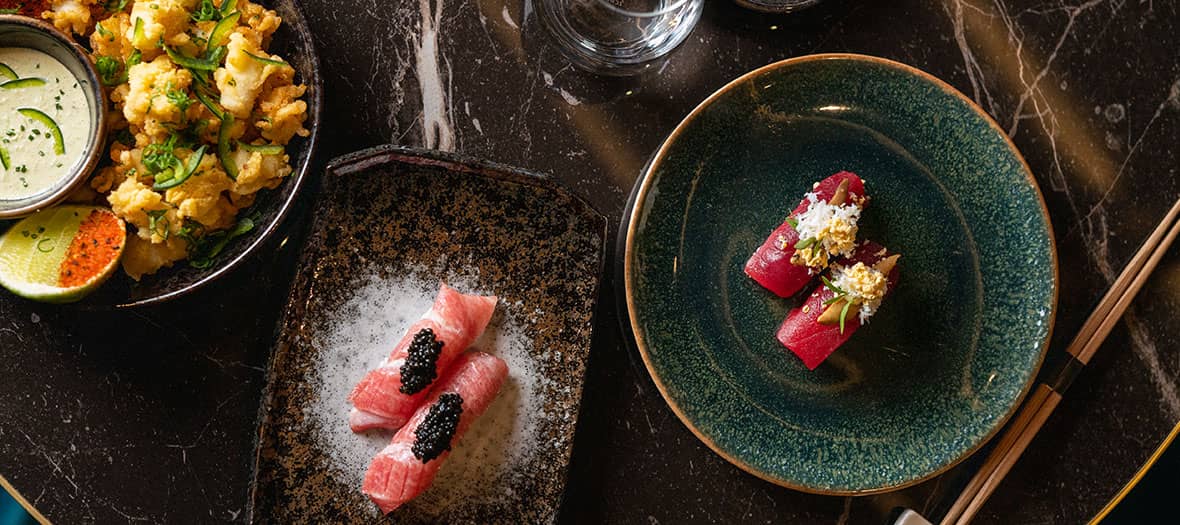 On the menu, the chef combines Japanese and Mediterranean codes: fish taco and guacamole (€ 18), truffled gunkan with a quail egg (€ 19), salmon chive temaki shake (€ 16), tuna belly toro and king crab (€ 44), vegetable tempura (€ 26) ...
We do not leave without ordering the green tea fondant and sesame ice cream, the recipes of which we would be stealing (€ 14). Note for thirst: a nice selection of sakes , well-chilled cocktails (€ 17) and a nice matcha lemonade (€ 14).
The lunch menu that has it all
It is the ideal compromise for a smoothly conducted business lunch. The promise ? 45 minutes, € 45 with miso soup, gyozas, daily chirachi, tea or coffee. Smart.
Open every day for lunch and dinner. Reservations recommended on 01 87 44 38 88.
© Marco Strullu
Also discover the best sushi in Paris and the new Japanese restaurant on the Canal Saint-Martin.