From Loïc Prigent to Lilly-Rose Depp, Jacquemus, Olivier Rousteing, Constance Jablonski or Carine Roitfeld … What are the most coveted tables during fashion week? A small listing of the must-go places to "be part of the scene".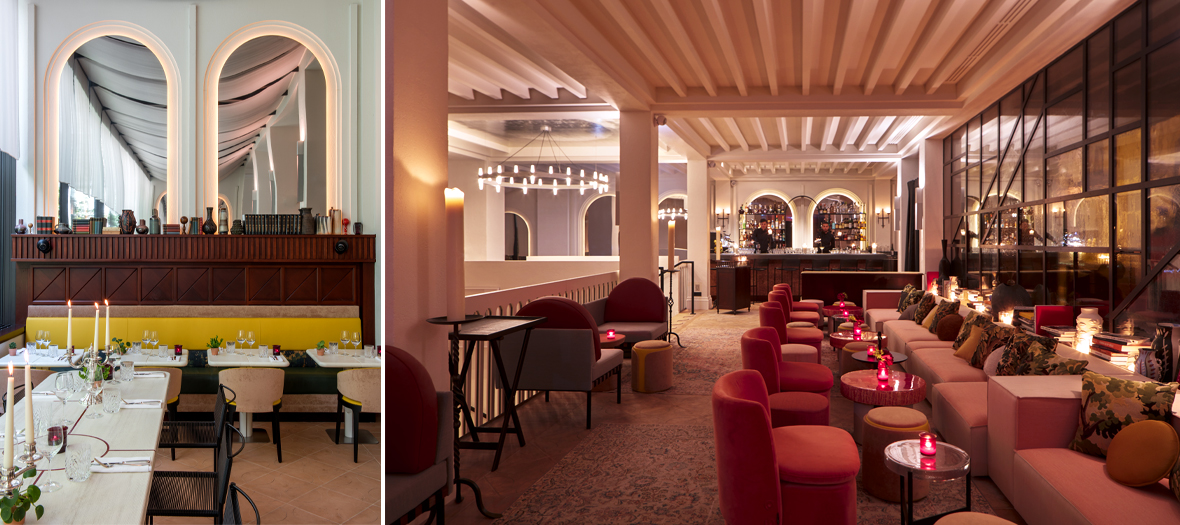 Everyone is talking about it! Normal, the new hotel designed by Tristan Auer at the heart of the Marais flirts with the nostalgia of the Palace days. Recently opened by the Hôtel Brach gang, Sinner has imposed itself as the new headquarters of n cool, attracting all the top fashion influencers— starting with the clique of Géraldine Nakache as well s Leïla Bekhti, Joey Starr and Co.
Two options: show up unexpectedly on the large super comfy sofas of the bar to sip a fresh juice, a latte or then in the evening, one of their terrific cocktails—it's a great place to chat, work or set up an interview. For a more socialite evening, go for the real ultra-glam' restaurant, headed by Adam Bentalha who takes on tribal and Peruvian references: braised kefta (€16), tajine (€31), mechoui (€14 ), ceviche (€38) without forgetting the desserts of MOF Yann Bris.

Sinner, 116 rue du Temple, Paris 75003, 01 42 72 20 00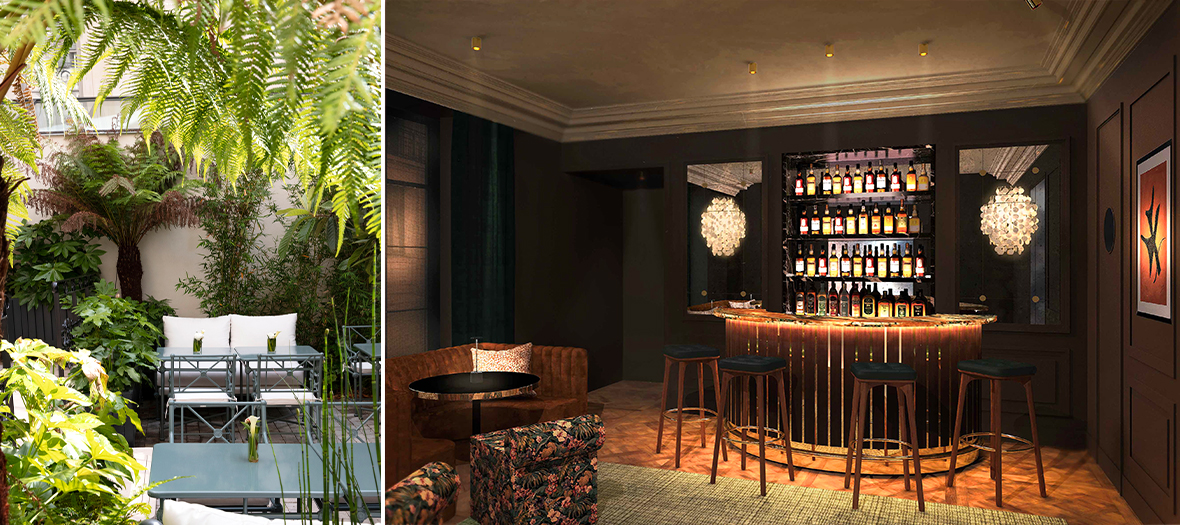 Be ready: magical place. Just behind the Élysée and the Louboutin Saint-Honoré boutique (irresistible), the brand new 5 star hotel Les Jardins du Faubourg is already attracting the beautiful people. The fashion editors of Vanity Fair and Vogue have made it their lunch spot, while Nicolas Duvauchelle, Isabelle Adjani and even Shaggy come hang out on the hidden terrace at happy hour.
At the help of the bistro, chef Bruno Doucet, king of Parisian bistronomy has created the buzz with his very clever concept, La Régalade and his amazing menu, started-dish-dessert at €45. Unless one prefers flirting around a signature cocktail (€22) in the low key bar?
Discover all the information for Les Jardins du Faubourg.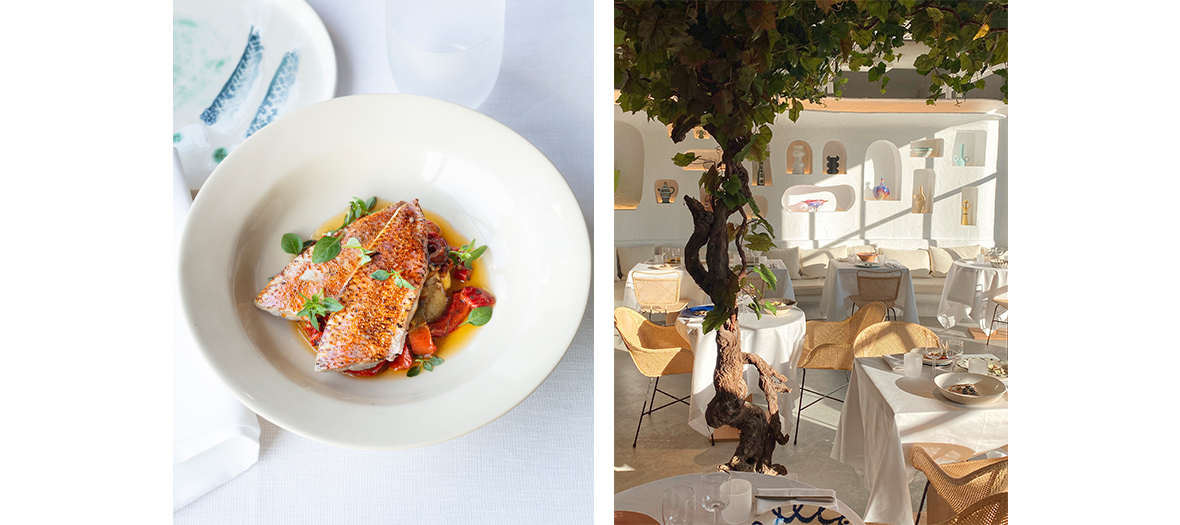 This is the most highly awaited table of fashion-week. After Citron, the provençal café open by Jacquemus, the most coveted couturier of his generation, teamed up with Kaspia to open his first real socialite ouvrir restaurant on the last floor of Galeries Lafayette Champs Elysées. One already expects all the big names of fashion, starting with Jeanne Damas, to come sit down around cocktails and seafood. Ok guys: make your reservations!
Oursin, 2nd floor of Galeries Lafayettes Champs Elysées 60, Avenue des Champs-Elysées Paris 75008, 01 83 65 61 02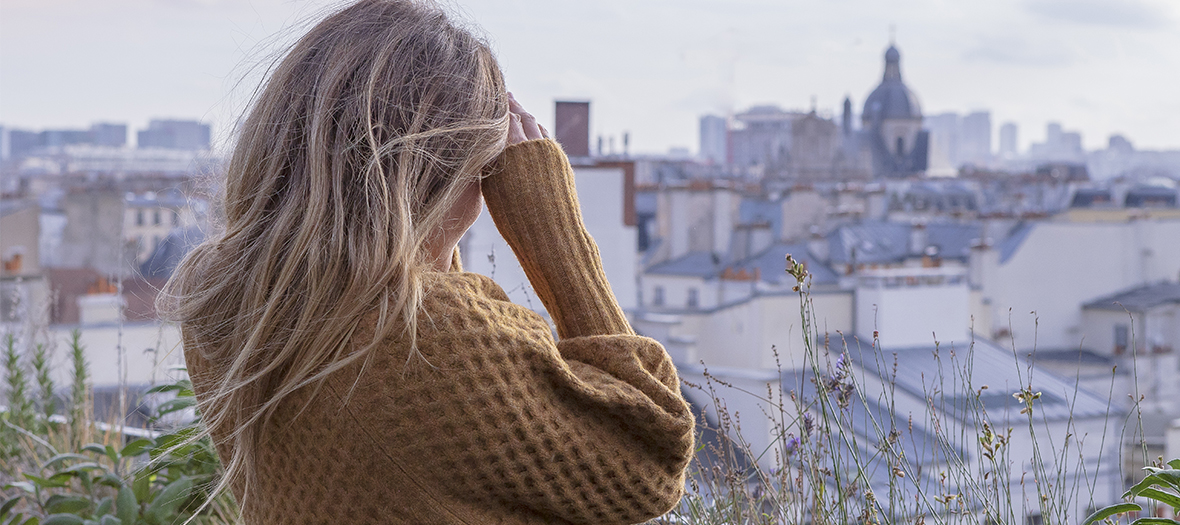 © Lisa Klein Michel
If there were only one rooftop to mention, this would be the one. And with reason. This new highly socialite and arty rooftop has just been opened by Jean Phi, the legendary owner of La Perle, at the heart of the Marais and already the hot spot of Paris fashion-week. Imagine a giant BBQ placed on top of the 98 Rue Vieille-du-Temple with a 360° view and a very cosy open roof that enables chilly-willy Parisiennes to stay warm.
The VIP potential of this unique terrace? Here, seats are rare and well deserved. An official reservation on the site is a must. After passing by the private elevator, the staircase, an XXL print by artist Philippe Ramette, you have reached the summit. Champagne, good sounds and grilled delights: you can start enjoying!
Discover all the information for Au__Top.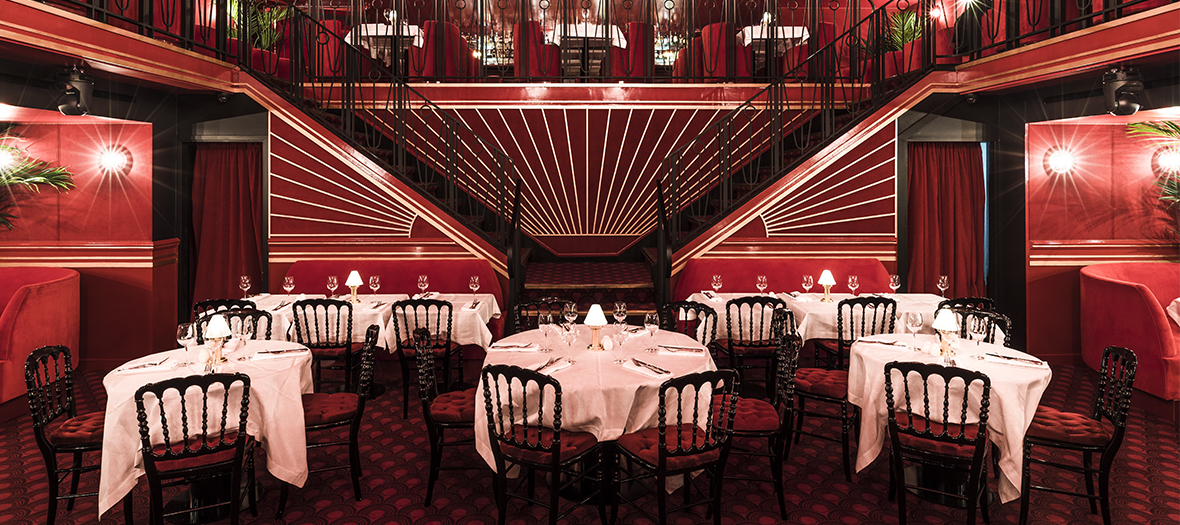 © Romain Ricard
Spotted on the restaurant's banquettes: Salma Hayek, Cara Delevingne, Ashley Benson, Camila Coelho, Joey Starr…. Normal: the Christian Dior party during Fashion-Week? This is where it was happening. The After-Party of Golden Globes? Roxie again. Freely inspired by Roxie Hart, star role of the Chicago musical, this new stylish rendezvous, orchestrated by Laurent de Gourcuff and Olivier Salem (Paris Society), puts the spotlight on music hall, with orchestras to replace the DJs. Party time full blast!
Check out all the info on Roxie.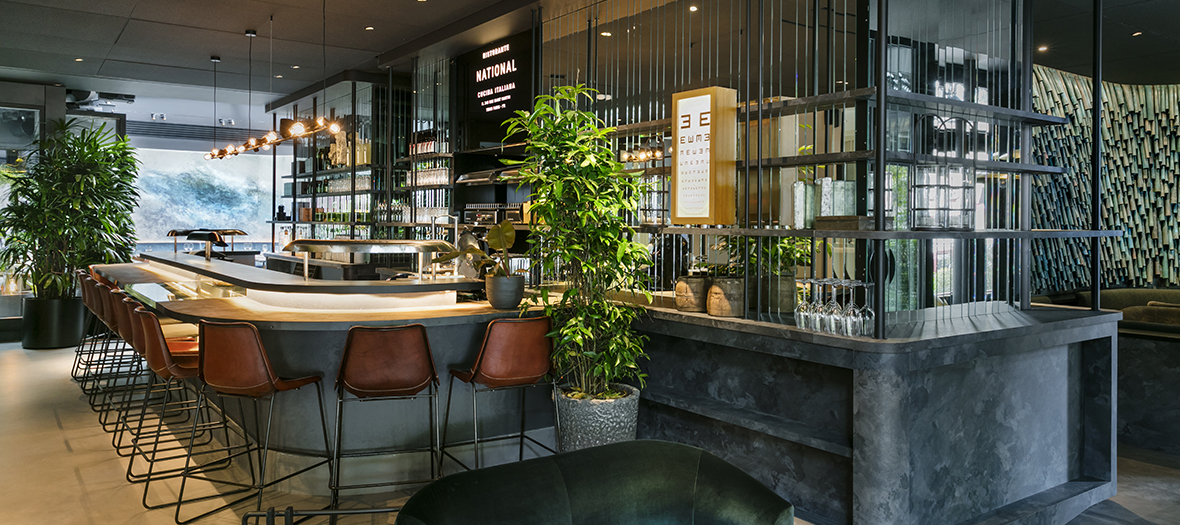 © Jerome Galland
If fashion week were to have an official restaurant, it would surely be Hôtel National, HQ of buyers, fashion editors, models, agents: they are all squatting the amazing patio around a drink and Italian-style tapas (mini breaded scallops, arancinis, meat balls…), unless you prfeer Il Ristorante, for their fab no gluten pasta sans gluten or a vitello tonato. Ultimate coolness: hanging out on the rooftop for an open sky drink if there is enough room.
Discover all the information on l'Hôtel National.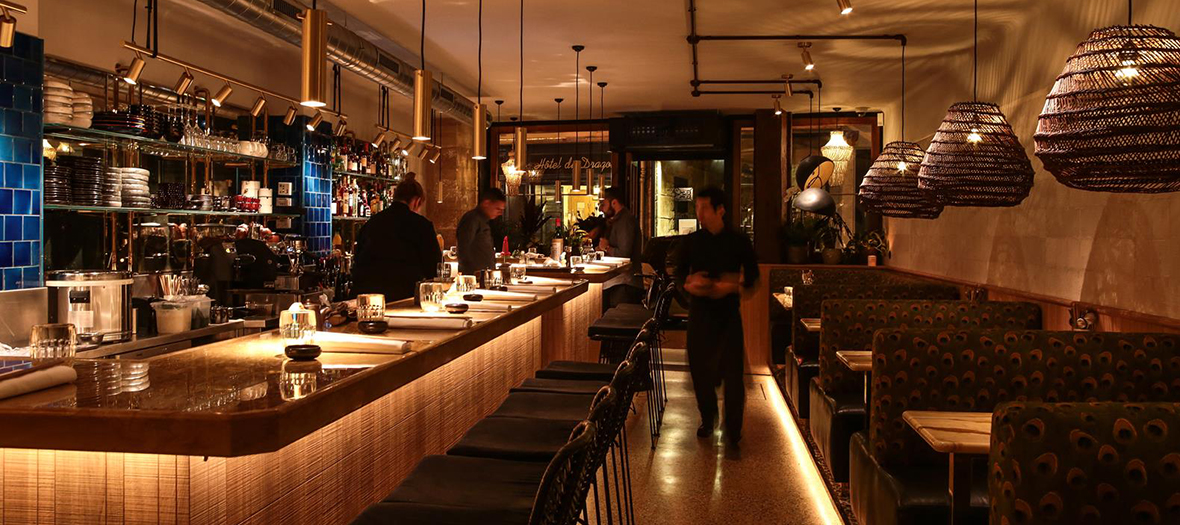 By inaugurating a sushi and cocktails bar with a highly New York style made in Saint Germain des Prés inspiration two years ago, Cyril Lignac could not imagine he was signing one of the most glam socialite addresses in Paris. Busy all year-round, the bar concentrates the most stars and influencers by square meter during fashion week, making it the absolute place to see and be seen during FWP.
Discover all the information on le Bar des Prés.
Wild and The Moon Saint Honoré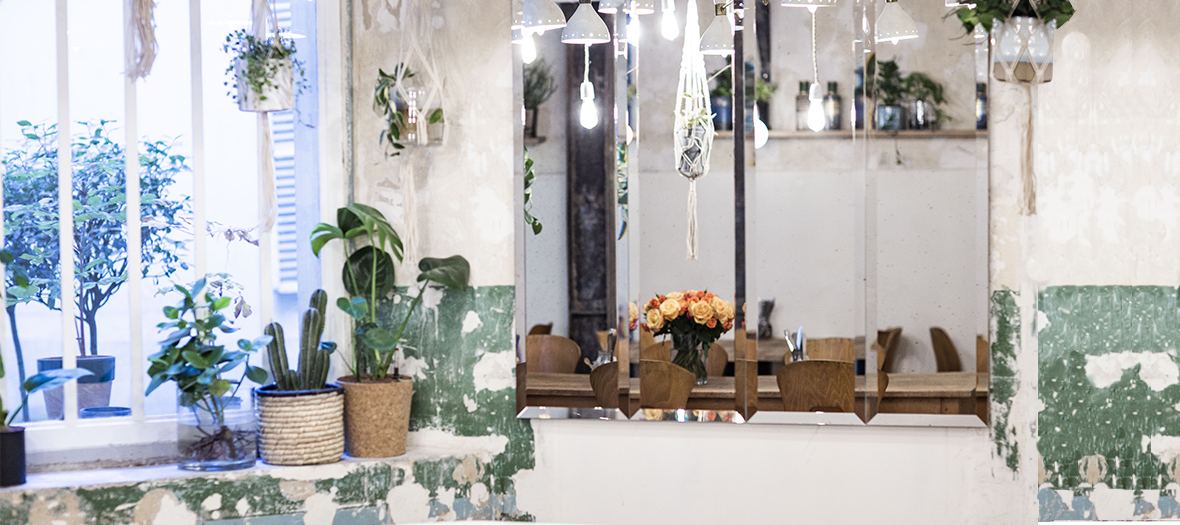 Emma Sawko has successfully managed to combine French living style with veganism from Los Angeles in her new delightfully couture flagship on Place du Marché Saint-Honoré (ex Marc Jacobs). Green Bowl, small cakes with a taste of Twix, colour galore freshly squeezed juices, fab salads, gluten-free paninis: no fashion twig will resist.
The must? After a first collab' with Virgil Abloh, Wild and the Moon launched a juice in limited edition during fashion-week with the super trendy Japanese label Sacai: a delicious bottle of ginger, lemon, pumpkin, curcuma, carrot and apple—to be instagrammed immediately.
Discover all the information on Wild and the Moon.
Also discover Shabour, the new buzzing table.