The most famous Parisian decorator is a must this fall. In addition to a line of jewelry that she signs with her sister Marie ( Stone Paris x Maison Sarah Lavoine ), Sarah Poniatowski continues to enhance exceptional places both in Paris and in the regions with her Maison Sarah Lavoine label , such as a private mansion in Lille renovated by her or the Château Ducru-Beaucaillou which she completely revamped.
Creator of trends, unearth of nuggets, Sarah Poniatowski has no equal when it comes to magnifying interiors; enough to ask him for his best decoration tips.
What is the link between decoration and the creation of jewelry?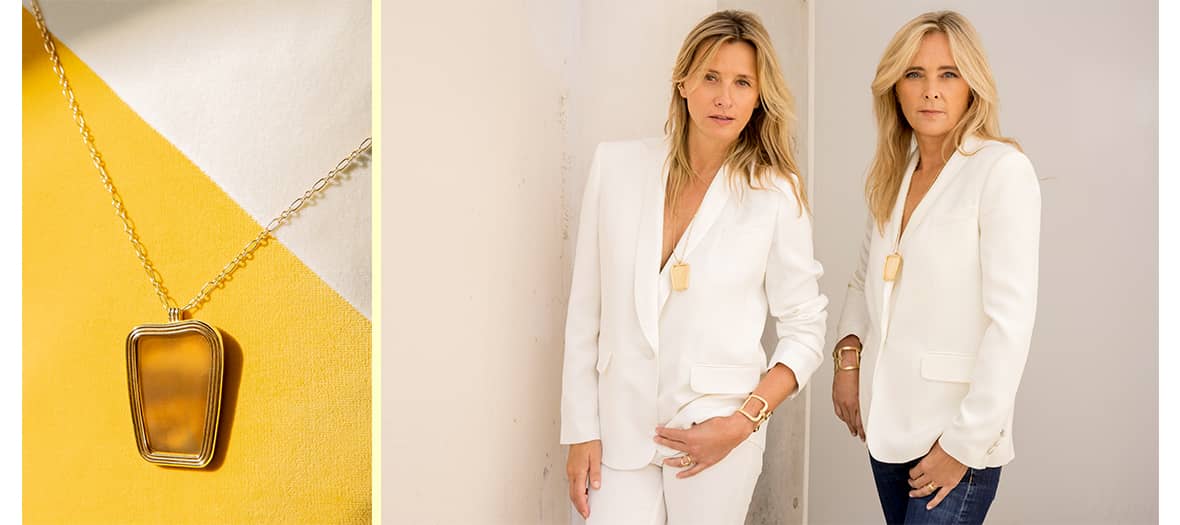 With my sister, Marie Poniatowski , we wanted to tell something. Even though we have very different worlds, there was a connection to explore. We started with brass , which is an ideal material both for decoration and for creating jewelry . In the end, imagining accessories to sublimate women is not so far from designing interior spaces. It is said of a good hairdresser that he is a " hair architect ". As far as I'm concerned, here, I did " exterior decoration "!
© Francois DARMIGNY
Where do you draw your inspirations from?
Pretty much everywhere. I am inspired as much by what other decorators can do as by pop culture . I'm a big consumer of series and I sometimes find a few ideas there that I use later. For example, when I worked on the Roch Hotel & Spa , I was inspired by a paving that I had spotted in Game of Thrones !
What color could dethrone your famous "Sarah Blue"?
This color is so iconic that I can't see myself working with other colors. But let's say that I'm not stuck on this nuance. Like Picasso , I have my periods. I'm a fan of green, although right now I have a soft spot for eggplant .
What would be your tips for making an apartment trendy?
Avoid the total look because it can very quickly make it old-fashioned. To give an obvious charm to your apartment, the best thing is to hunt around. The Puces de Saint-Ouen are a gold mine for that! Otherwise, I would also say focus on lighting . A bright apartment is already a beautiful apartment in itself. If possible, avoid spotlights and opt for indirect lighting with daylight. Finally, do not hesitate to vary the accessories . It costs less and is less tiring than changing furniture .
Other designers, decorators, artisans whose work you appreciate?
There are a number of them, but if I had to choose just a few, I would say the decorator Charles Zana who recently decorated the Hôtel Crillon le Brave in Provence or the architect duo Karl Fournier and Olivier Marty from Studio KO .
Do you have any favorite decoration addresses?
Obviously the Puces de Saint-Ouen and its many flea markets for antiquing. Otherwise, on the left bank side , I am a fan of the many galleries that can be found on rue de Seine such as the Vallois gallery , the Jacques Lacoste gallery …
What do you think is the biggest lack of taste in decoration?
Personally, I hate flashiness , anything too flashy . When it shines too much, it is absolutely not elegant. In interior decoration, it is better to be warm and therefore avoid falling into something that would be too modern , designer .
What is the ideal gift that can be made on a small budget?
Candlesticks are a very good idea and have that little extra touch that gives charm to an interior. In another genre, I find that table mats , deliciously old-fashioned, can be a good surprise to offer.
What is the accessory / piece of furniture that justifies breaking the bank?
Of course, the bed ! Having good bedding is essential and it is priceless. If there should be only one quality piece of furniture in an interior, it is the bed.
How to optimize a small space?
The best is to play with mirrors. From the point of view of perspectives, it is unstoppable! Otherwise, decompartmentalize rooms. This can give a loft effect which is quite nice.
What would be your three decoration essentials?
A pretty candlestick , a vase and a vintage armchair as a centerpiece.
A recent decoration / design crush?
The work of the Bouroullec brothers , Ronan and Erwan , regularly exhibited at the Galerie Kreo . I'm a fan!
Our selection for a life in Bleu Sarah
A blue sofa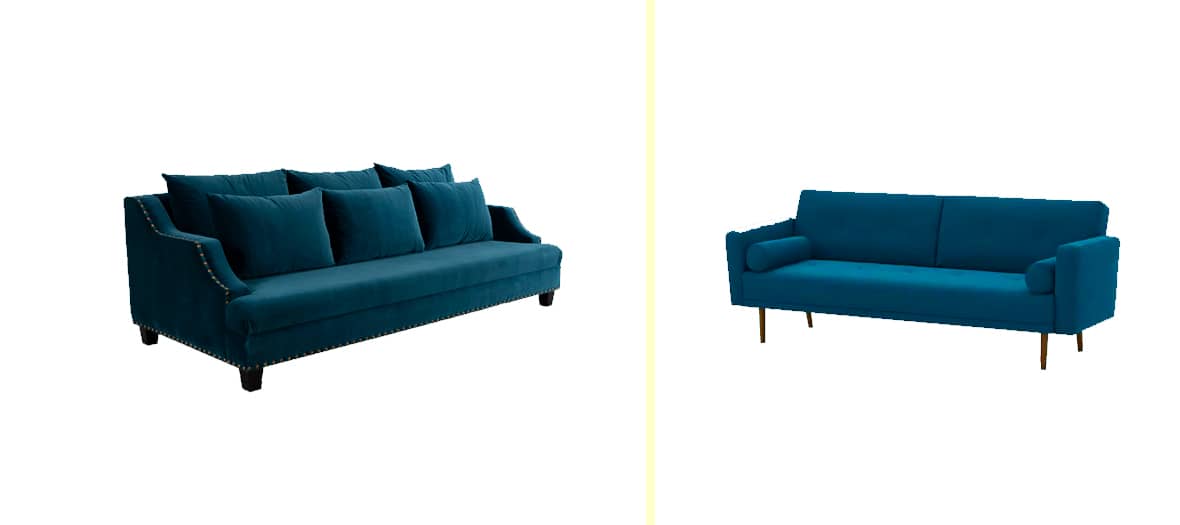 The original at Maisons Sarah Lavoine and the inspiration at La Redoute Interiors.

A black and white vase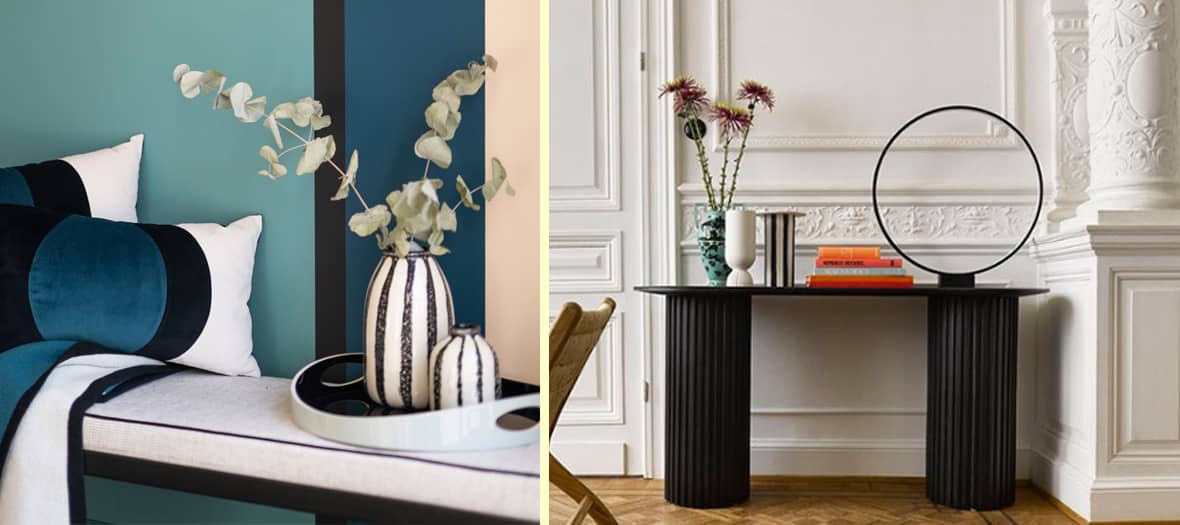 The original at Maison Sarah Lavoine and the inspiration at HK Living for The Cool Republic.
An armchair in curly wool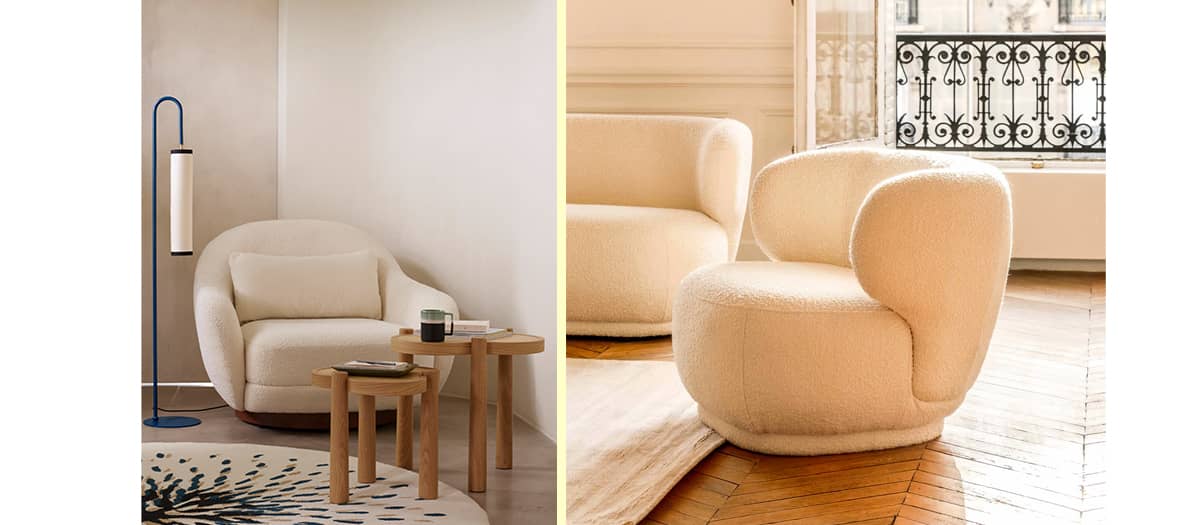 The original at Maison Sarah Lavoine and the inspiration at NV Gallery.
© Alexis Armanet
A white and yellow carafe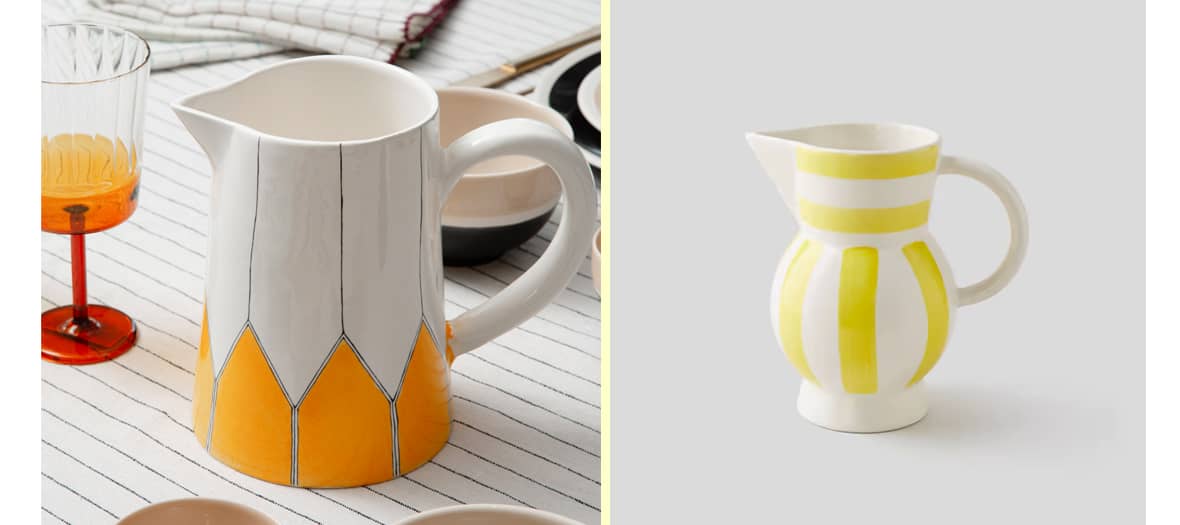 The original at Maison Sarah Lavoine and the inspiration at Monoprix Maison.

A saffron yellow cushion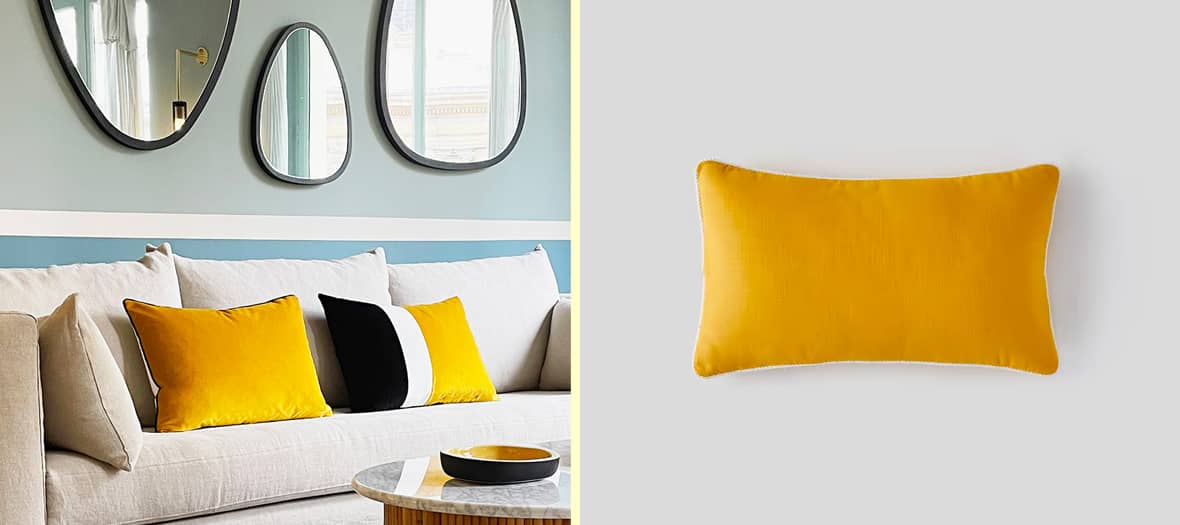 The original at Maison Sarah Lavoine and the inspiration at Monoprix Maison.
Also discover What if we had our portrait taken by a Vogue artist? and 3 adresses for cycling in Paris