Recently inaugurated along canal Saint-Martin, this new Asian hole in the wall is already created the buzz.
Its name? Siseng. Claim to fame? Having imported the bao burger in Paris. What's the story? A fusion between the burger and the bao (Asian brioché bread), this hybrid sandwich consists in replacing the bun by this famous white and soft brioche. Crossbreed street-food that emerged in Asia before conquering Paris.
So now just choose between the marinated beef steak (Bao Burger with 5 spices, caramelized tamarin sauce, onion tempura, glazed onions, arugula and spinach) or  breaded chicken (Bao Burger Kaï, basil and coconut milk sauce, glazed red peppers, coleslaw, basil). Unless you decide to share with your +1.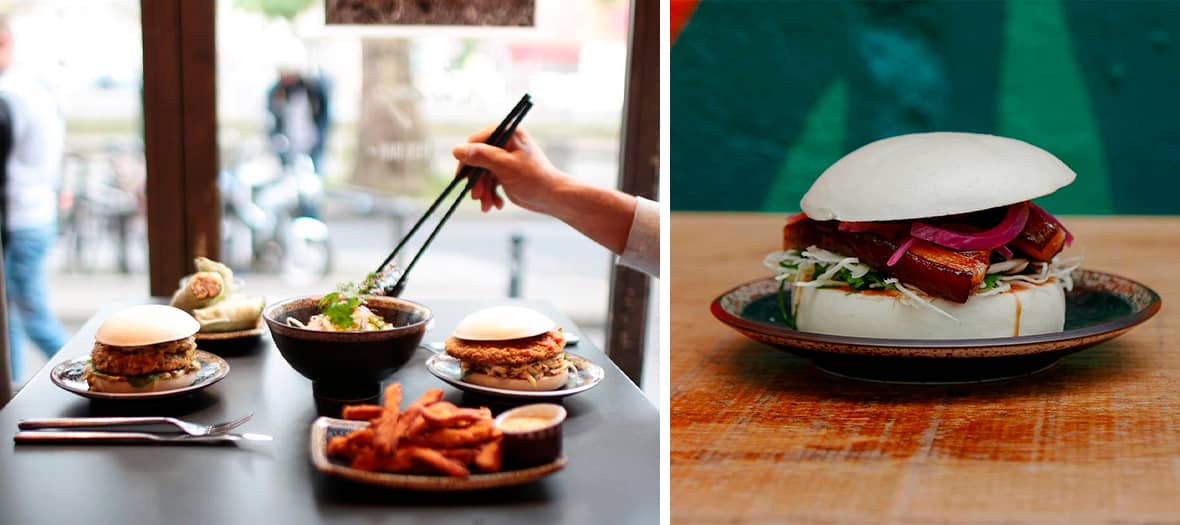 What about sides? Forget French fries, pushed aside by sweet potato fries, shrimp dumplings and veggie tempura, so much more exotic.
Same thing for the amazing far-flung cocktails: Mantra (saké, Saint-Germain, cucumber, wasabi), Adaka Jime (vodka, pimento, lemon, wasabi, grapefruit cream, apple juice).
We adore: the super trendy decor (brick wall, wooden stools, XXL fresco like a mural tattoo) and the lunch formula midi (bao burger+ sweet potato fries+drink, 15€).
Small tip: get there before or after the service hours so as to avoid standing in line at the entrance.
Open Tuesday to Sunday from noon to 3:30pm and from 7pm to 11pm. Until 2am on Friday and Saturday. Closed on Sunday.
Bao burger, 10€ ; sides between 4 and 8 € ; cocktails between 10 and 14€.
Also discover the japanese cantina of Fasion trendie in the Marais and  the franco-japanese table of Canal Saint-Martin.