BBQ has never been as chic and stylish than in this new Korean restaurant, specialized in Bulgogi (meat cooked over a fire). Pretty expats are already there as well as foodies.
No burnt smells. The decor is more like a gallery of contemporary art—freestone walls, granite design overhead lighting fixtures.
On the tables with built-in grills, you can watch top notch meats cooking: marinated beef with soya sauce (18€), Spanish pork (22€), grilled chicken with a spicy sauce (20€) or the exceptional Wagyu  steak from Australia (70€).
The servers, who look like Comme des Garçons models, cut up the meat in small pieces just for you, to be seasoned with a wide array of sides. Starting with the kimchi, their famous fermented cabbage, lotus roots, daikon… to nibble on with a nice little wine.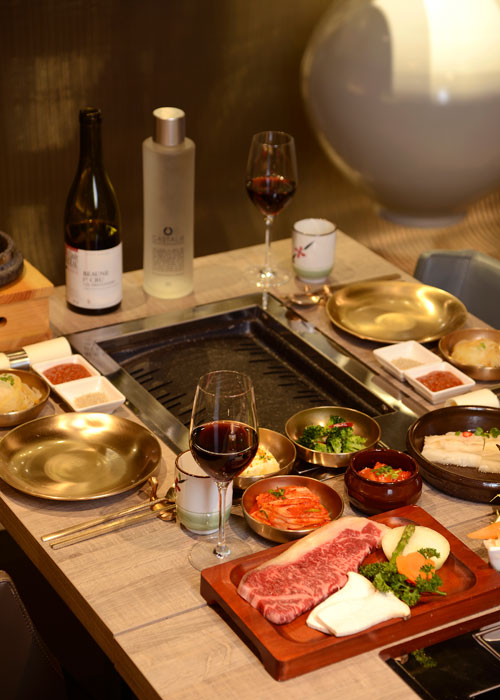 We also like: the bibimbab, a mix of rice, vegetables, egg, meat, served in a hot stone bowl, super popular in Korea.
For dessert? Rush for the green tea Korean tiramisu.
Lunch menus 15-26 €. In the evening, à la carte about 40 € without wines. Wine by the glass between 5,50 € and 12 €
Open every day from noon to 2:30pm and 7pm to 10:30pm.
Also discover Ran, the festive restaurant that is setting the 8th on fire.
© Alain Caste.