It's back to school and the foodies are struggling. No new restaurants or tables in sight to test on the horizon.
Phew: Bertrand Grébaut and Théo Pourriat have found something to delight aficionados of author cuisine with a new address which is causing a stir: Tapisserie .
After Septime , their starred restaurant, the natural wine cellar, their marine HQ Clamato and the country house of One Island , the agite-popotte of rue de Charonne have decided to open a pastry shop that plays with words. You know where to go for your next snack.
A claimed artisanal pastry
Tapestry assumes retro desires and a Proustian immersion in a decor all in wood and dried flowers. The bosses of Septime have summoned the new generation of Parisian craftsmen to stage their last baby with Assemblage Atelier , the cabinet-makers architects who design the most prominent sets of the moment.
Cakes, pies and coffee: the window displays the color of what is happening inside with letters painted by hand by Etienne Renard , who has brought one of the prettiest Parisian professions up to date.
Cakes, pies and coffee ...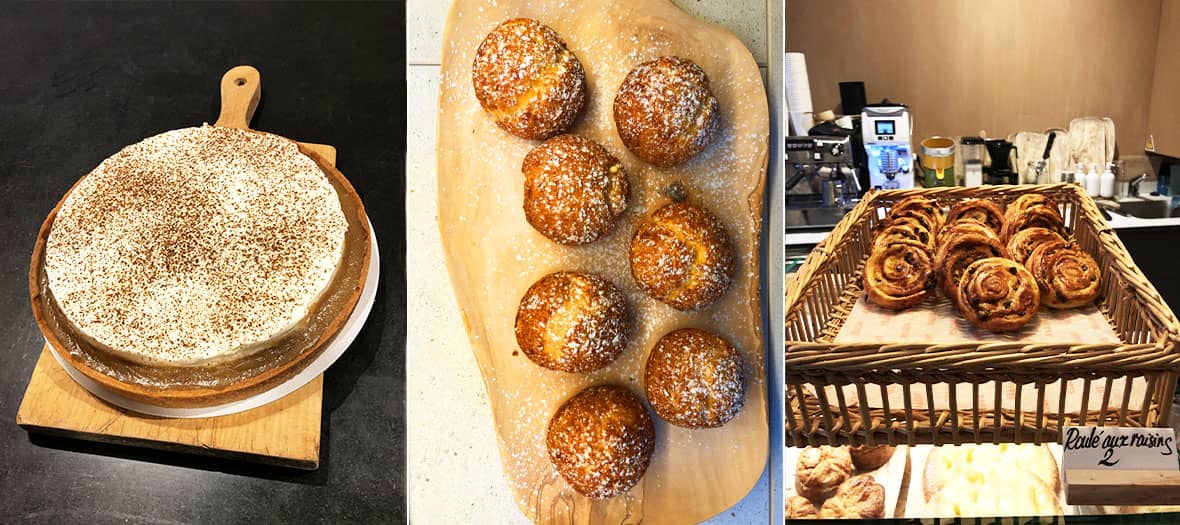 No fuss or convoluted creations. Here, we focus on the essential. Starting with traceability, seasonality and the right organic products.
Bertrand Grébaut takes care of sourcing with the Rolls Royce of suppliers to simmer some great classics of the pastry repertoire with the sweet team of Septime at the bakehouse.
The stars of good products are jostling: Terroirs d'avenir for fruits and vegetables, good eggs from Didier Chevée's farm, the formidable Maison Borniambuc for butter and Plaq , the rue du Nil factory for chocolate.
On the tiles, we write in pen the delicacies of the day straight out of the oven. Each one excels in its kind: the sugar pie (€ 3.80), the portion of flan (€ 4), the wonderful raisin roll (€ 2), the chocolate and caramel tart (€ 6.50) or a Bourdaloue (€ 4), orgasmic chou à la flouve (€ 2) or Kouign-Amann (€ 2.50).
Another singularity: we find the famous maple syrup tart by Septime, star dessert of the table in large format (38 € the large tart): the new snobbery to be served on curfew tables.
Also note: a small grocery department to spice up your breakfast cupboard with homemade products: jelly, sachets of smoked caramelized nuts (€ 4.50), sachets of super granola (€ 6) and pear in syrup (7 €). We are already licking our chops: a salty proposal that should soon see the light of day.
Open daily from 8:30 a.m. to 7:30 p.m. (except Saturday and Sunday from 9:30 a.m.). Closed on Mondays.
Also discover the best galettes des rois de Paris and the Jeffrey cagnes pastries at the Batignolles.