Historically, French toast was elaborated by mothers in order to give a second chance to stale bread. Dipped in milk, then mixed with eggs and sugar, this ressuciated breakfast was the special sweet treat of kids for dessert or breakfast.
This highlight of down to earth cooking has moved up in the gourmet world … It's now the new best-seller at brunch and on the menu of trendy coffee-shops. And chefs are delighted to serve their version of French toast for the greates pleasure of Instagram. Proof that gold old gluten is certainly still in the running.
Café Coutume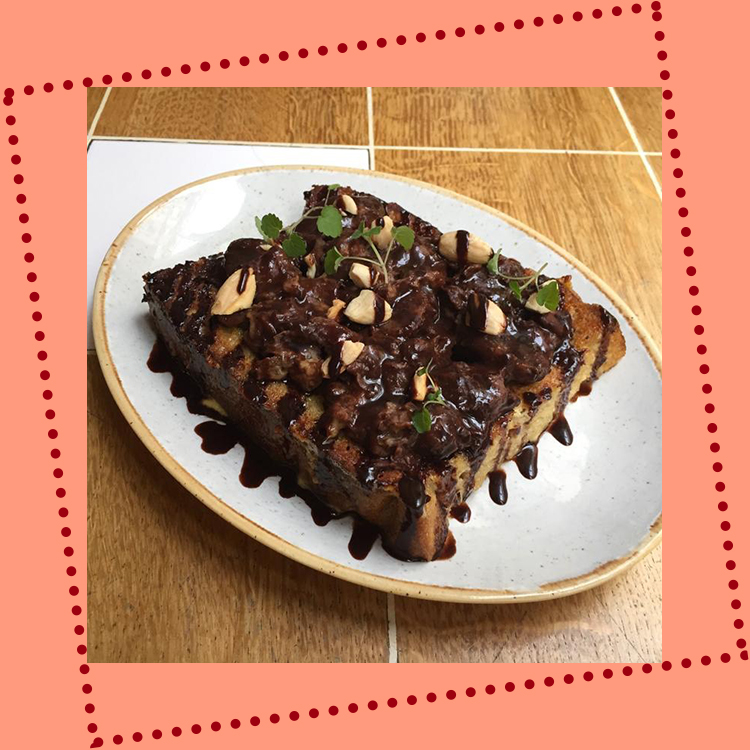 A high-end coffee specialist, the hottest bean roaster in Paris also turns out to be a very trendy coffee-shop. And coffee-lovers will not be able to resist sipping their latte or filtered coffee with joyful French toast cooked with friends' breads, sourced at Julhes bakery. Just visualize: French toast with spices, cooked à la plancha and served with banana, a chocolate sauce and maple syrup. Yummy!
€12 for French toast served from 8:30am to 3:30pm and from 9:00pm until 15:45pm on Saturday and Sunday
Café Coutume: 47 Rue de Babylone, 75007 Paris.
La Glacerie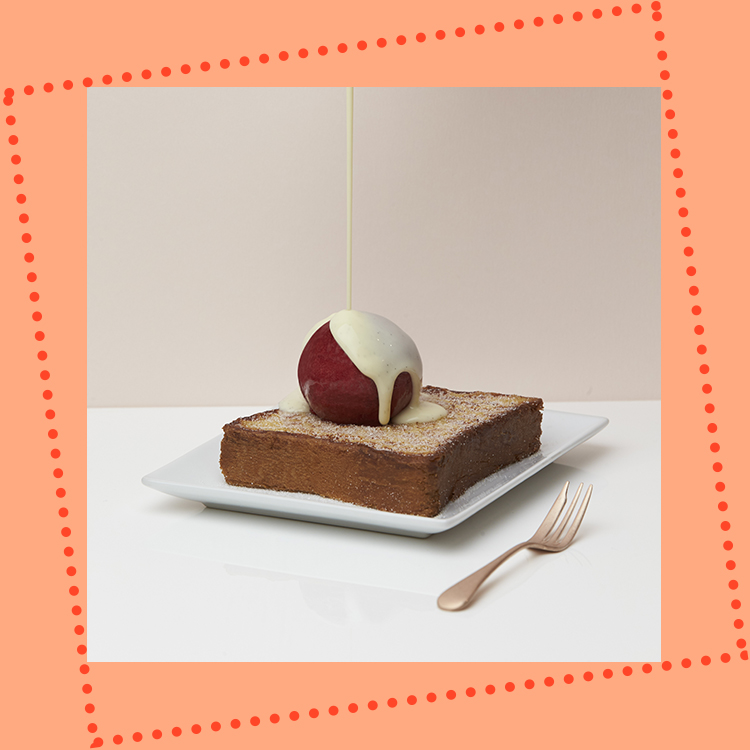 Recently installed in the Marais, the Meilleur Ouvrier de France ice cream-maker, David Wesmaël, has concocted a high flung French toast brioche. A gourmet gem comprising an amazing golden house brioche, to be savoured plain or with a scoop of vanilla ice cream as well as a red fruit sherbet with home-made topping (caramel with a touch of salt, hot chocolate, English custard or fruit coulis—depending on your whimsy).
Plain brioche perdue: €7.50; Brioche perdue with ice cream and topping: €9.50
La Glacerie: 13 Rue du Temple, 75004 Paris.
Ladurée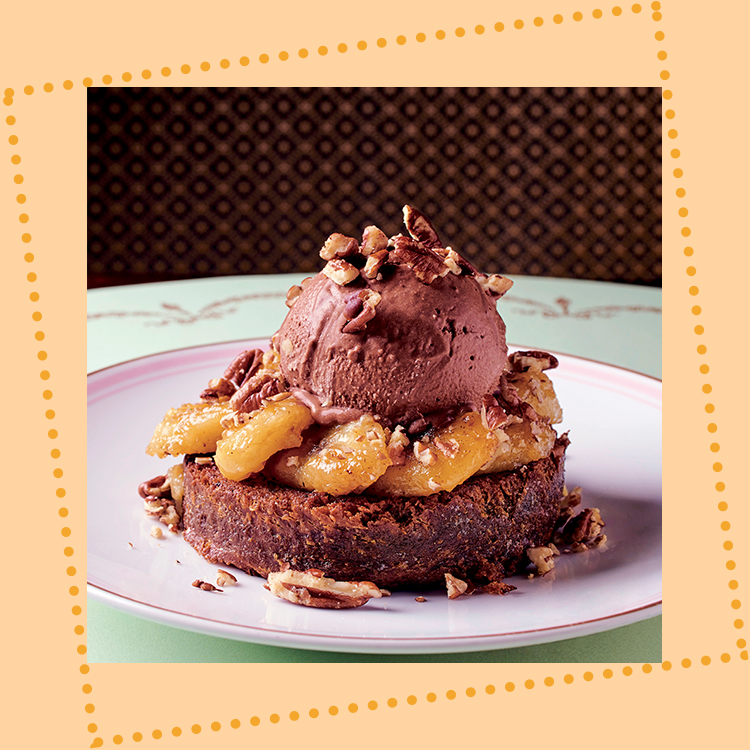 Aside from their world-reknown macaroons, all the real Paris gourmets already knew that Ladurée tea salons served the best French toast in Paris. Good news: this week, three new recipes have been added and will delight sugar addicts. Our favourite ones? The Banana-Chocolate brioche mousseline or the brioche perdue with a salty butter caramel sauce, macaroon chips and a scoop of ice cream.
Available at the Champs-Élysées, Royale, Bonaparte, Printemps,
Ralph's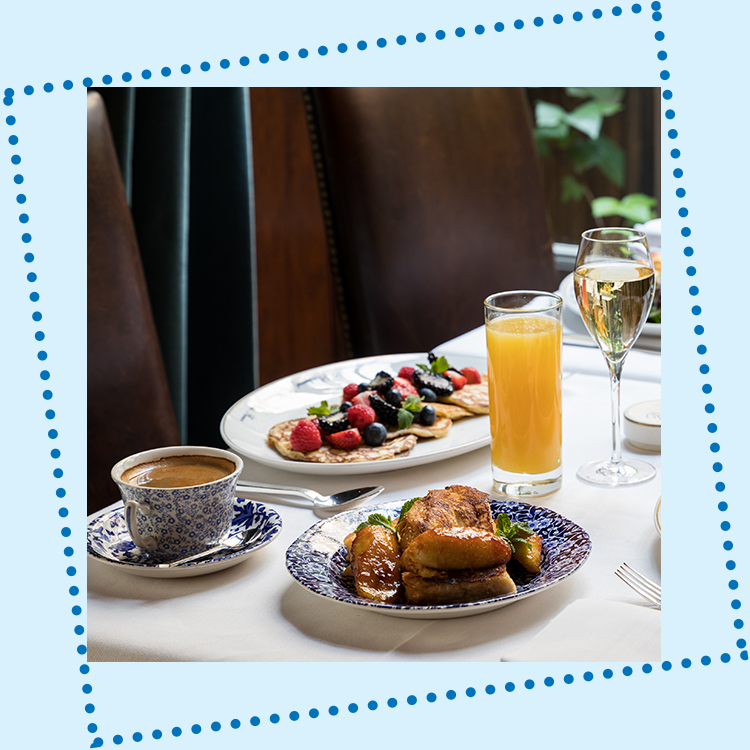 If one had to remember just one brunch in Paris this would be it. Worthy of the most trendy tables in the Hamptons, Ralph's features for its Sunday brunch, served by the fireplace, a "French toast, with caramelized banana and Chantilly." An absolute must to enjoy after the best eggs Benedict in Paris.
€20 à la carte every day lunch and dinner.
Ralph's : 173 Boulevard Saint-Germain, 75006 Paris.
Anahi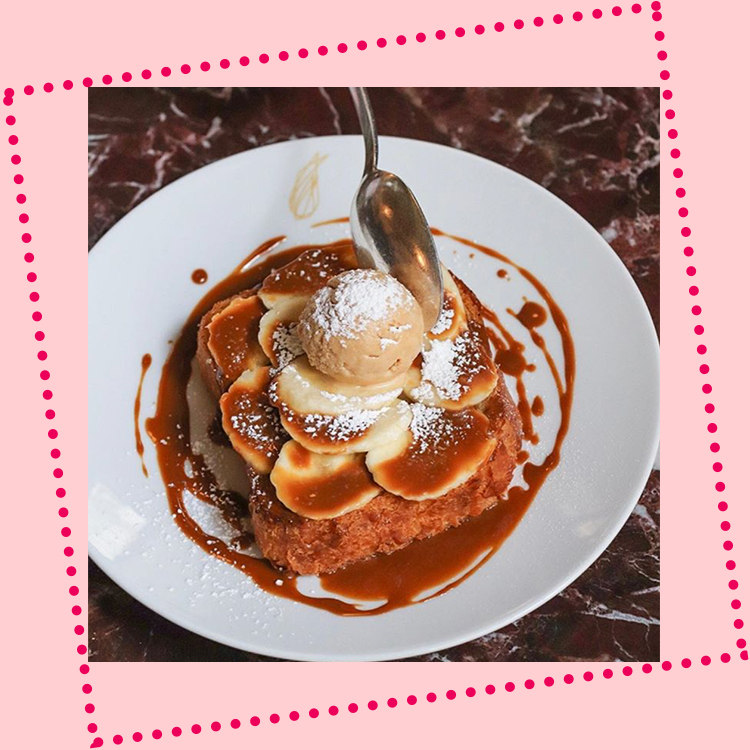 crédit photo instagram @pariswithcharlotte.
Anahi, the most socialite of Argentinian restaurants, offers every Saturday and Sunday a wild brunch. Amongst its à la carte best-sellers: French toast made with a classic brioche. The extra plus? It's covered with house Dulce de Leche (the real specialty of the restaurant) and banana.
€14 à la carte brunch Saturday and Sunday from noon to 3pm.
Anahi : 49 Rue Volta, 75003 Paris.
Marcel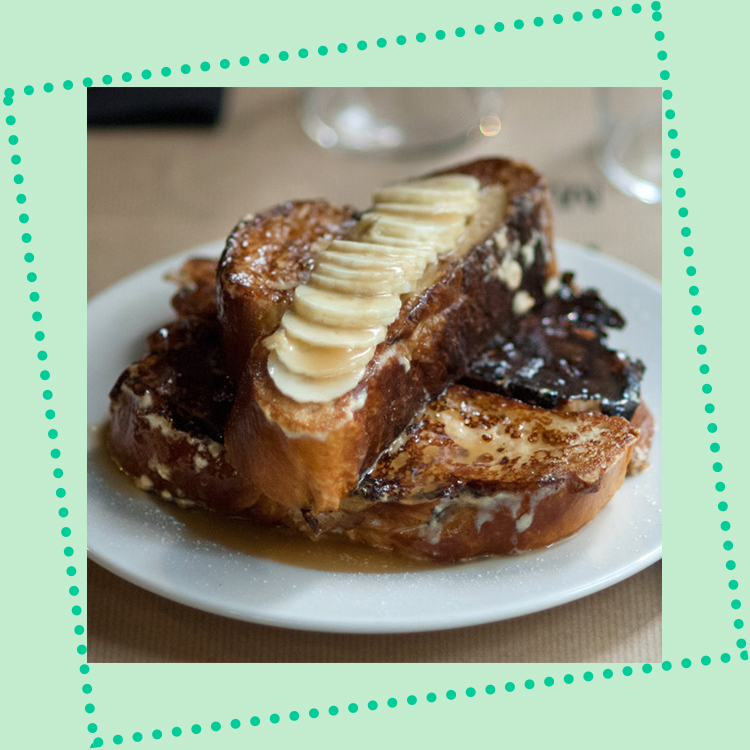 The New York style brunch institution can be proud of itself. Zoom on its fab French toast, concocted with baker's brioché bread, pimped with banana and toffee sauce (salty butter caramel). Irresistible.
€13 Monday to Friday from 10am to 11pm, Saturday and Sunday brunch from 10am to 7pm.
With or without reservations.
Marcel : 15 Rue de Babylone 75007 Paris and 1 Villa Léandre 75018 Paris.
Sando Club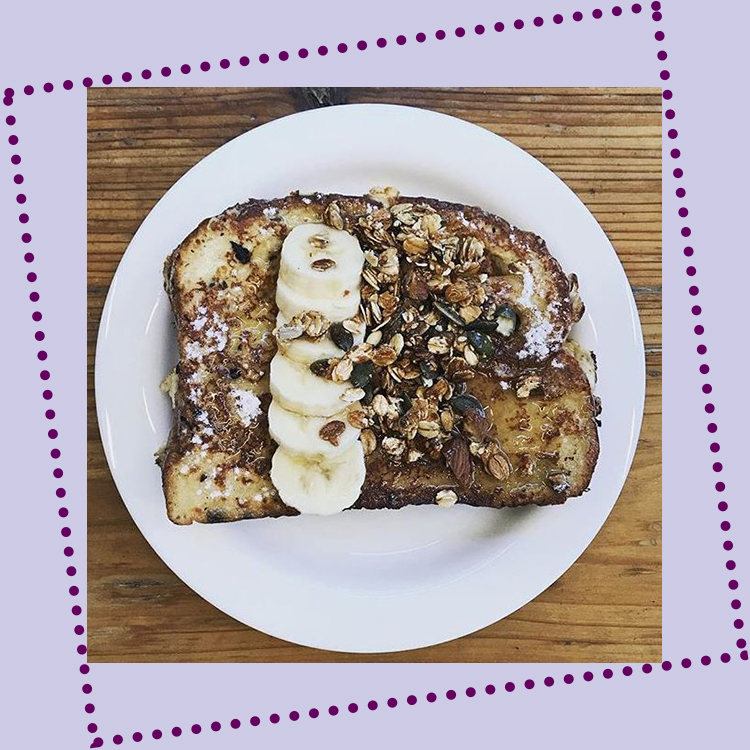 Crédit @sandoclub
A skip and a hop from Rue de Charonne, the specialty of this new trendy coffee-shop is Hokkaido milk bread, Japanese toasting bread with milk, incredibly fluffy and soft. We like it just as much as an Instagram-friendly sandwich, garnished with fried chicken and veggies, as we enjoy customized French toast with house granola topping, seasonal fruit (at the moment, apple and banana) and corn syrup. Yum.
€7 Monday to Friday from 9am to 6:30pm and Saturday-Sunday from 10am to 5pm
Sando Club: 1-3 Passage Thiéré, 75011 Paris
BigLove Caffé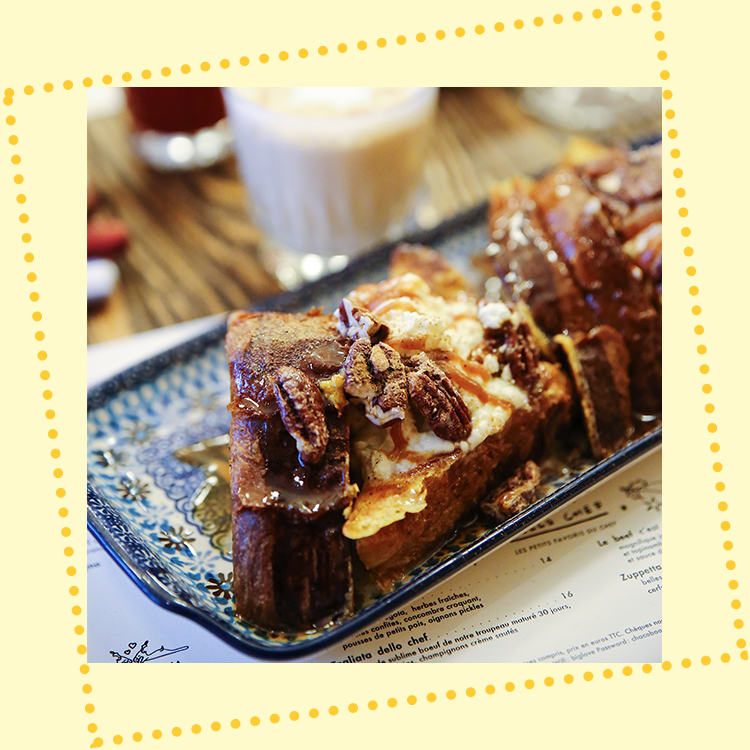 In the Big Mamma squadra, brunch is sacred. So much so that the gang of Victor Lugger and Tigrane Seydoux launched this dedicated address, where pancakes, avocado toasts and brioches perdues are served7/7. And in this case, it's a house brioche with a zest of orange and cinnamon, spiked with caramelized pecan nuts and a divine house Chantilly with runny caramel. When to we go try it?
€7 Monday to Friday lunch and dinner and Saturday-Sunday morning and evening.
BigLove Caffé: 30 Rue Debelleyme, 75003 Paris.
Claus
The particularity of this couture tea salon, where upcale Parisiennes like to come? Their breakfast! And needless to say that the menu is filled with small marvels, amongst which an incredible brioche perdue, sourced from the divine baker Landemaine, served with applesauce, Chantilly and roasted almonds. A must-eat with your breakfast golden latte or brunch.
€7.90 breakfast service until 2:30pm from Monday to Sunday
Claus: 14 Rue Jean-Jacques Rousseau, 75001 Paris and 2 Rue Clément, 75006 Paris.
La Fontaine de Belleville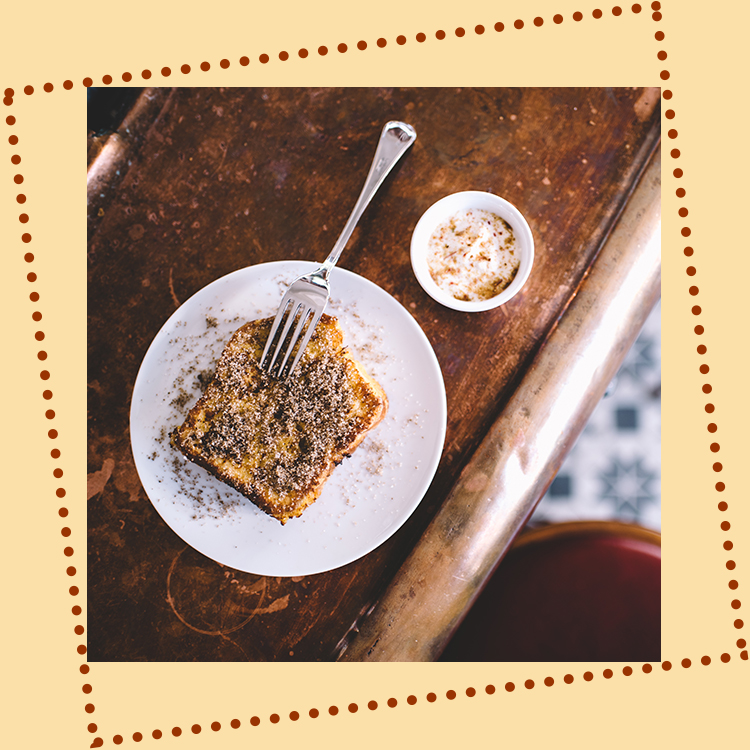 © Albin Durand

When in Paris there is nothing better than enjoying specially brewed coffee with delicious French toast in a typical decor. Pure delight! And such is the promise granted by the gang of the Brûlerie de Belleville, served at the Fontaine de Belleville. We won't offend you by mentioning its amazing coffee, roasted made in Belleville, natch. We prefer to concentrate on its French toast, using as base a brioche from the Fournil Briard. It is soaked in egg and milk during an entire night with toasted nuts, cinnamon, seasonal fruit and farmer cheese. Quite simply delicious.
€12.90 Tuesday to Sunday from 8am to10pm and Monday until 5pm
La Fontaine de Belleville : 31-33 Rue Juliette Dodu, 75010 Paris.


Also check out the best galettes des rois in Paris