Where to taste the best Lebanese and Levantine specialties to die for? Falafels , mezzes , grilled meats, tabbouleh , plates to share… Discover our selection of the best restaurants and addresses that deliver these sunny dishes.
The best author's cuisine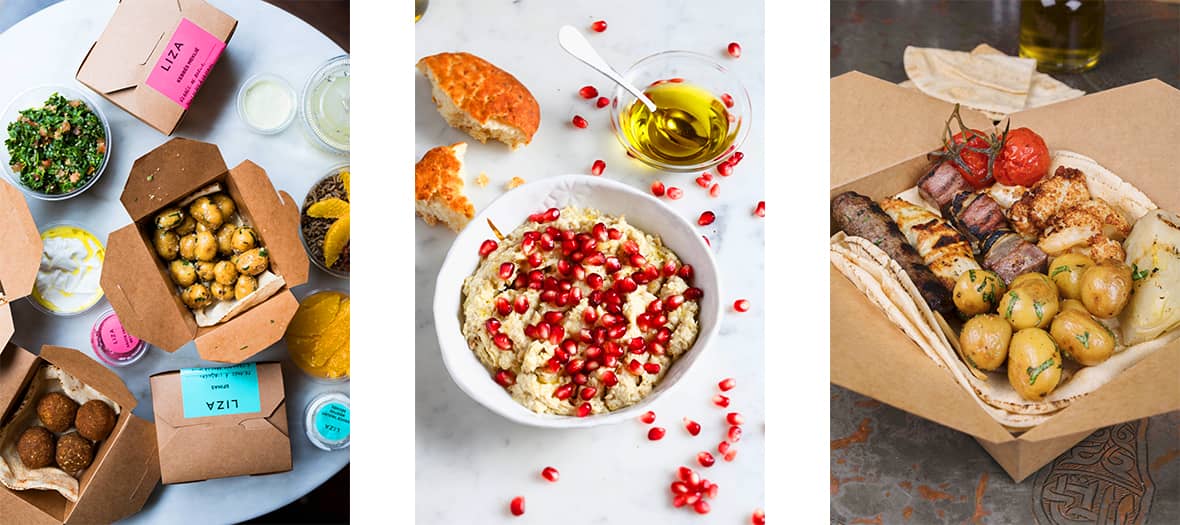 Liza , the dining room of Liza and Ziad Asseily, is billed as the trendiest restaurant in Beirut . A true institution of cool and good, their Parisian address in the 2nd regales all the happy few of the capital.
Liza's signature? Signature cuisine with healthy and totally foodporn 2.0 mezzes : hummus with tahini and homemade pita, smoked green wheat tabbouleh , beetroot, mint and pomegranate, eggplant caviar with sesame cream, potato kebbe for dipping in a coriander yoghurt sauce Fried beef kebbe with a beetroot and mint sauce (mezze formula at € 22.50 ). Too good: the homemade lemonade and their extraordinary mouhalabieh, a pudding with milk and orgasmic orange blossom (€ 4).
Liza at home in click and collect at 14 rue de la Banque Paris 2e or in delivery
© Liza Chez vous
The best sandwich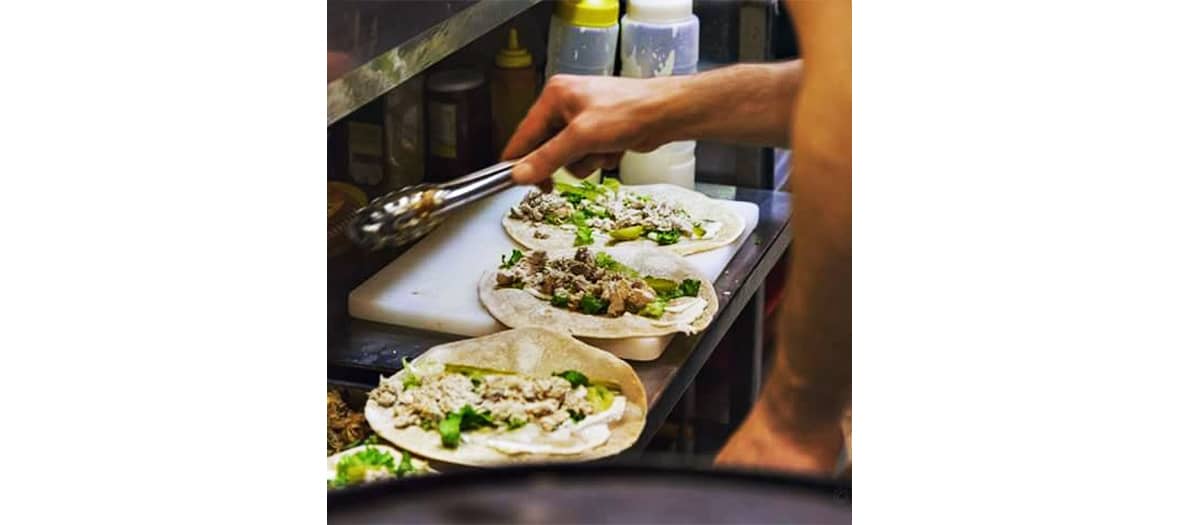 Nestled between Saint-Michel and Odéon, Chez le Libanais restaurant is the star snack of Lebanon: manakiches , a kind of pancake bread with zaatar - a mixture of spices. Raised according to the methods of yesteryear, the dough made from organic flour and buckwheat is baked on a saj , the traditional Lebanese oven in the shape of a half-globe. All that remains to be done is to garnish this couture sandwich (from € 5.50) with falafels, small vegetables or marinated shawarma.
At Le Libanais 35 rue Saint-André des Arts, 75006 Paris, in take away and on UberEats
The best kebab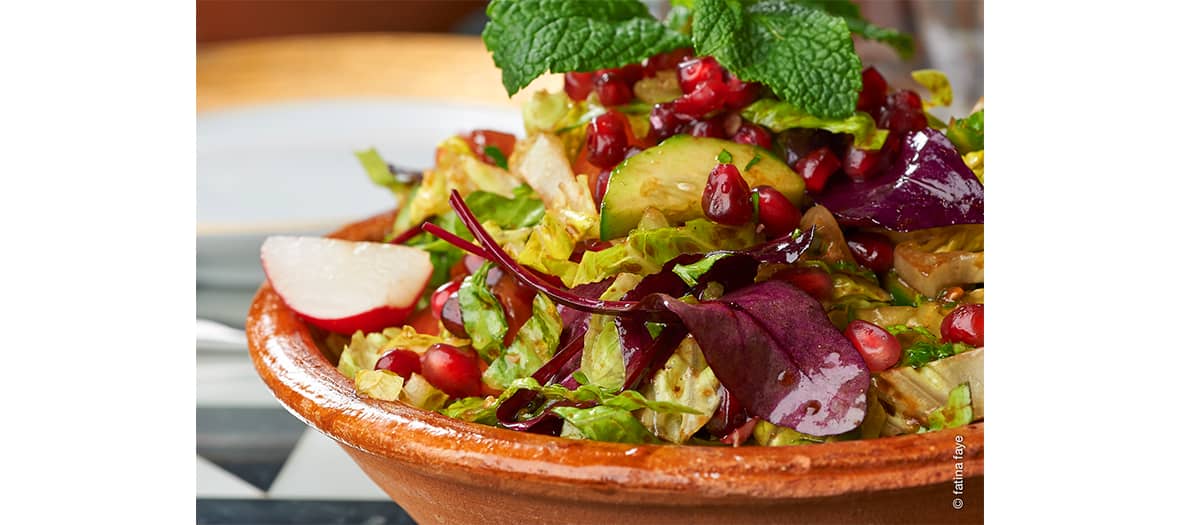 We no longer present Al Ajami, the first Lebanese gastronomic restaurant installed in Paris in 1920 and with an unrivaled reputation, whose precious know-how is provided by Fadi Joseph Abou . The singularity of this incredible gourmet address which now delivers to your home: its extraordinary grills on charcoal .

It's simple : lovers of kebab chick (20 €) will not recover from its 100% natural Italian white Piedmont veal fillet grilled over a wood fire. The alternative ? His Chich Taouk (€ 18), an equally crazy marinated organic chicken supreme skewer, to devour with a space hummus (€ 8), a salad of pomegranate raw vegetables or a yellow lentil caviar. Yum.
© Fatina Faye
Al Ajami 58, rue François 1er, 75008 Paris, in delivery via Deliveroo, Uber Eats and Stuart.
The best grocery store 2.0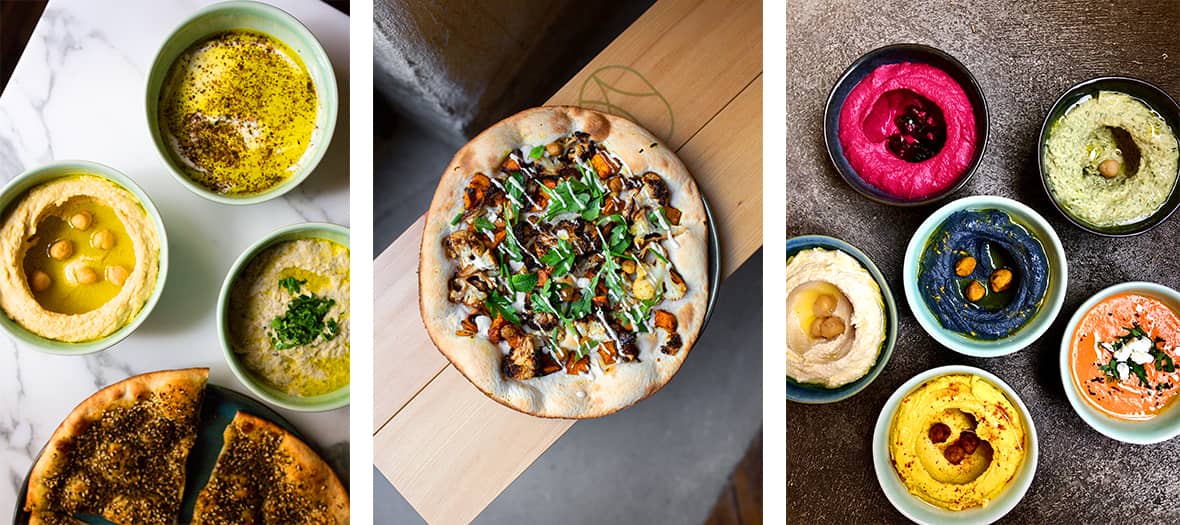 Opened a few months ago, Eats Thyme appears as the new snobbish and gourmet address trusted by the beautiful Parisian world. Thought out as an oriental trattoria, its creator Carla Rebeiz, ex maestro of finance, now devotes herself to her passion for food with a virtuosity and a millimeter sourcing. The concept: a counter behind which you can find the best of Lebanese cuisine 2.0 from breakfast to dinner.
It gives crazy croissant with zaatar, chocolate halva brownie, daily specials like at home, labné or babe ghannouj in mezze, Lebanese white coffee, but also and above all Mann'oushé (the Lebanese wheat pancake) made from flour organic, here endlessly available and baked a minute behind the counter.
Eats Thyme 44, rue Coquillière , Paris 1er, by click and collect or delivery on ubereats or deliveroo
The best kosher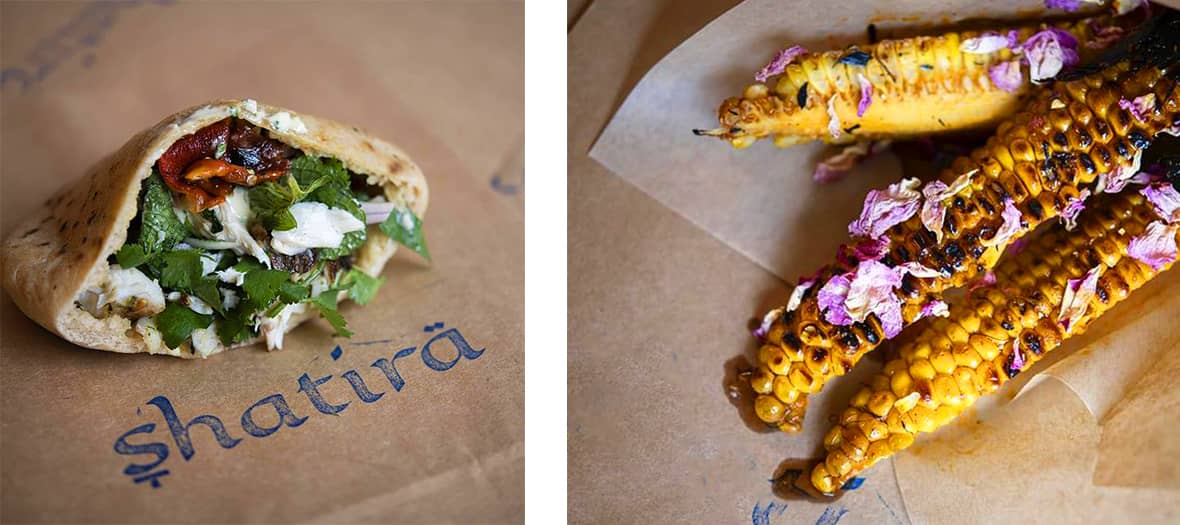 A lot of mystery still remains around this brand new address in Batignolles and its surprise chatting chef who is keen to keep his identity a secret for the moment (" But I'm not that well known, eh "). What we can tell you is that Shatira is already creating a buzz on Insta foodies from all over Paris! Normal, its 100% kosher levantine street food with a good grilled taste is simmered with the sun in its heart and especially good, responsible products handpicked.
Among the tasty kifs to lick the plate: supersweet corn grilled with Cuban charcoal on the cob, fragrant spices of Shira (€ 6.50), root vegetables beetroot, kohlrabi and small roscoff onions roasted in the flames or in salt, a vinaigrette called horseradish sauce (€ 6), to slide smoothly with homemade almond or raspberry drinks (€ 5). But the star of the menu is undoubtedly the insane pita shawarma : spit of veal and lamb simmered all night then roasted slowly on a traditional Konro BBQ, pointed coleslaw, onions, sumac, tahina sauce, chili, sauce amba with black radish pickles and sweetbreads (€ 14). Mmmh ...
Shatira 48 rue Dulong, 75017 Paris, in delivery on Deliveroo or in click & collect
© @shatira_paris
The best full of races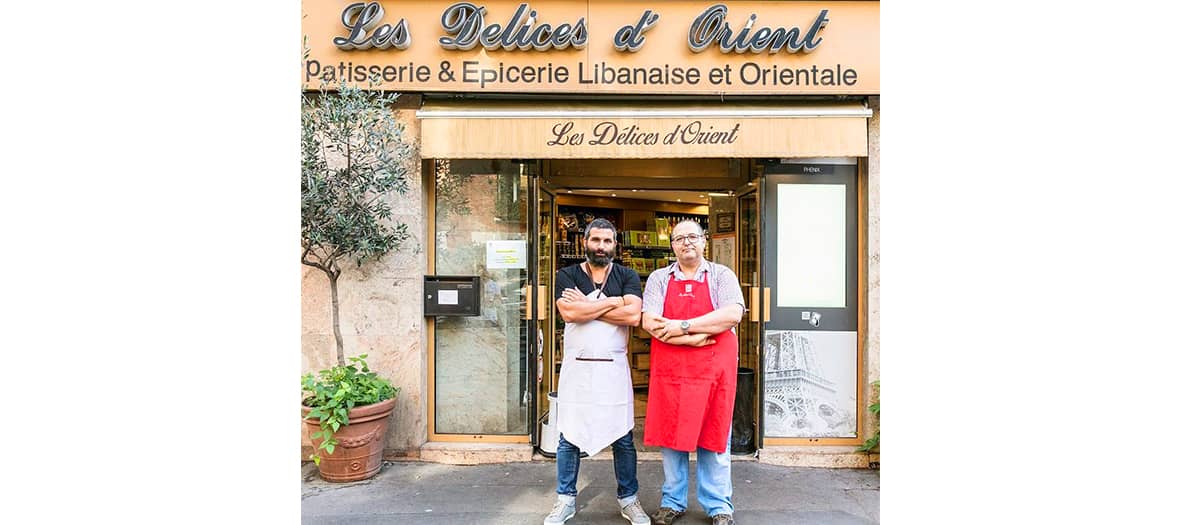 The Lebanese intelligentsia from Paris come to shop at Délices d'Orient , the capital's largest oriental grocery store in the heart of the 15th district. The ideal address when planning to entertain friends over delicious mezzes.
In its basket: tabbouleh with parsley, hummus, moutabbal (€ 4.90 for 200 g), Fleur de Ka red wine from the Bekaa valley (€ 28), Ksara wine from the Convent Reserve (€ 14), baklava (€ 28 per kilo), pita bread (€ 0.70 for 5), tahina al kamater (€ 5.50 for 450 g).
Délices d'Orient 52 avenue Emile Zola, Paris - 15th. On site and delivered via Epicery
The best trattoria: Eats Thyme
© The Social Food or Alizée Cailliau
The best ice cream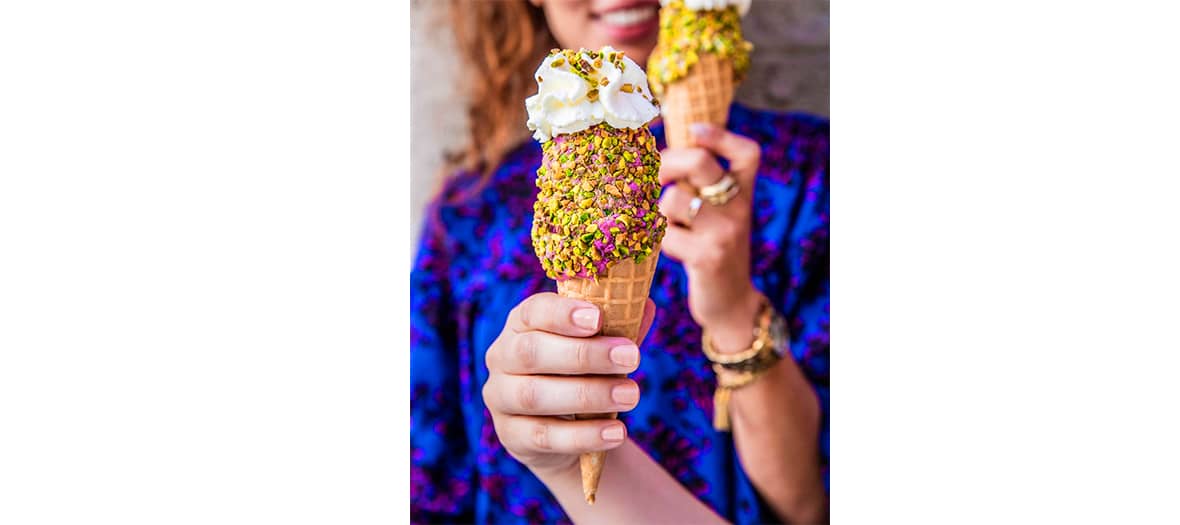 Old fashioned " with a twist ". Bachir is the most coveted (and most Instagrammed) oriental glacier in the capital. Addictive, the 100% organic star achta ice cream made from milk and orange blossom, coated with crushed pistachios is a must-eat to try once in a lifetime.
Bachir ice cream 58 rue Rambuteau, 75003 Paris and 7 rue Tardieu, 75018 Paris
The best brunch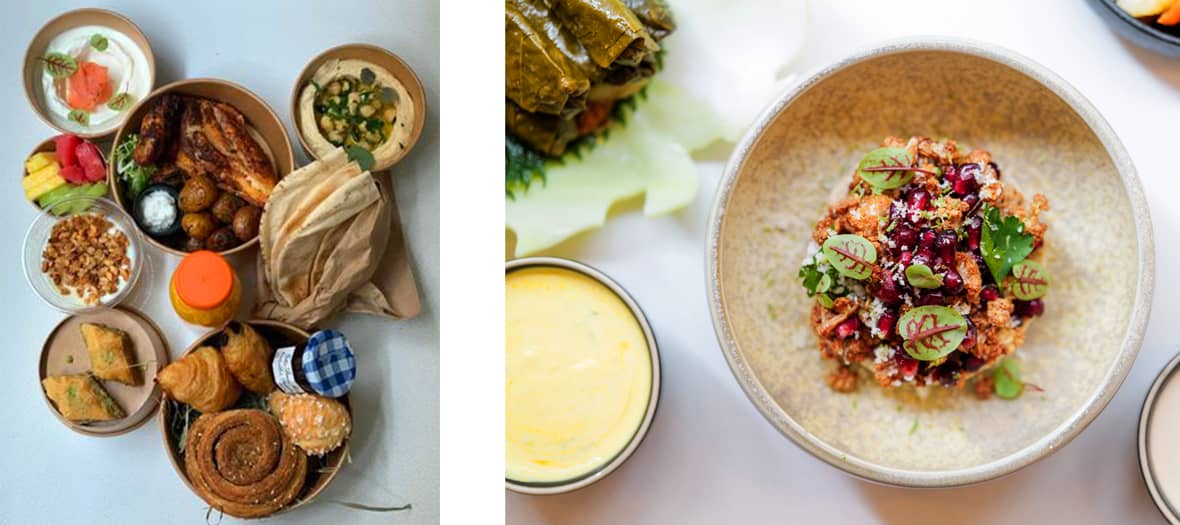 With the opening of Qasti , the author's bistro of the starred chef, Alan Geaam created the event. Always on the lookout for new food experiences despite confinement, the chef is causing a sensation with his gourmet take-out pop-up where he provides a crazy Yallah Brunch (€ 25) every Saturday and Sunday.
On the menu: mini pastries, brioche with Zaatar, hummus, labneh salmon, roast chicken - potatoes or omelet with herbs and quinoa salad, baklawa, fruit salad, honey yogurt and orange juice.
Qasti 205 rue Saint Martin, 75003 Paris , click and collect brunch or delivery
Also discover the best burgers in Paris delivered and The best couscous in Paris.