When nostalgia has a hold on us ! While walking down the memory lane of his childhood souvenirs, the star chef of rue Lauriston rememberd the little honey madeleine his mother served him with a café au lait.
Not thinking twice, he replicated it, revisiting the recipe and launched the Mad'Leine kiosque at Beaugrenelle. In total, 7 amazing variations. The most amazing? The one with orange marmelade and vegetal charcoal, that gives it a black color.
Tops also, the tonic lemon, chocolate guanaja and tonka strawberry versions.
We adore: the arty packaging created by street-artists, to be kept once you have wolfed down the contents.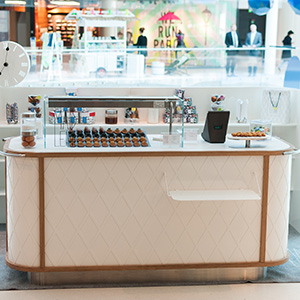 Open Monday to Saturday from 10am to 9pm.
Also discover the inventor of cronut lands at Yann Couvreur.