The Emily In Paris teams made no mistake in unearthing this nugget to shoot a scene from season 2 of the series.
Tram is an absolutely perfect address, both poetic and sharp, which makes everyone agree and is already one of the unmissable musts in Paris.
A poetic meeting that sticks to the taste of the time
The appointment is made in a small cobbled street hidden just behind the Pantheon, where Paul Hyatt and Marion Trama , a few years after the Trama café, opened an inspiring and poetic place in an exquisite decor by Marie Carmarans Gulin .
Divinely picturesque and charming, Tram seems to have existed forever (final compliment) but fits well with the taste of the time with natural wines, feminist readings and vegetable dishes.
The menu features a few best-sellers from the former Trama , starting with their extraordinary croque-monsieur with Prince de Paris ham and truffle salt (€17), a couscous of market garden vegetables (€17), a sublime tartare flank steak from Aubrac with a knife and baby potatoes (€18). But also some new best-sellers: black mullet ceviche (€11), burrata focaccia , candied eggplant (€16), seasonal soup and delicious desserts with chestnut fondant and custard or semi-cooked chocolate black (€7), affogato or lime cream and old-fashioned meringue (€8).
The little café that has everything from breakfast to aperitif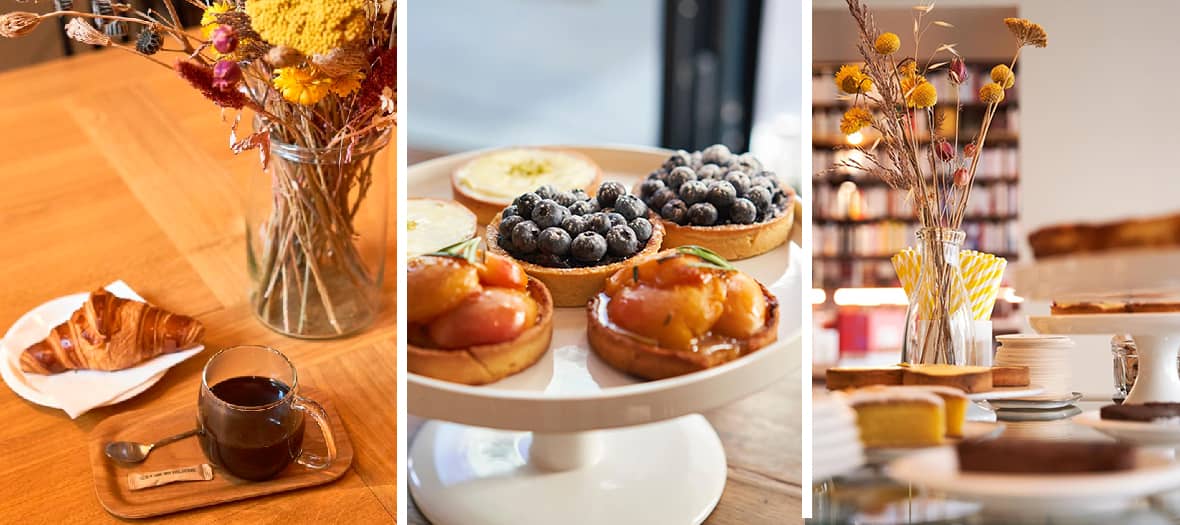 Open non-stop, Tram satisfies all the desires of stylish Parisians. According to the mood: read a book or work around an almond milk with orange blossom and a good cake. Lunch with friends and buy beautiful little notebooks. Have a great breakfast with your kids. Drink a pressed juice on the terrace in the sun. And if you have dinner with friends in the neighborhood: get advice on a good book to offer and leave with a good bottle of natural wine under your arm
Special mention at breakfast from 9 a.m. for a croissant, caramel French toast, toast with jam, fried eggs , truffled tomme... and even the famous croque that some regulars like to order with their first espresso or matcha latte.
The bookstore: a treasure trove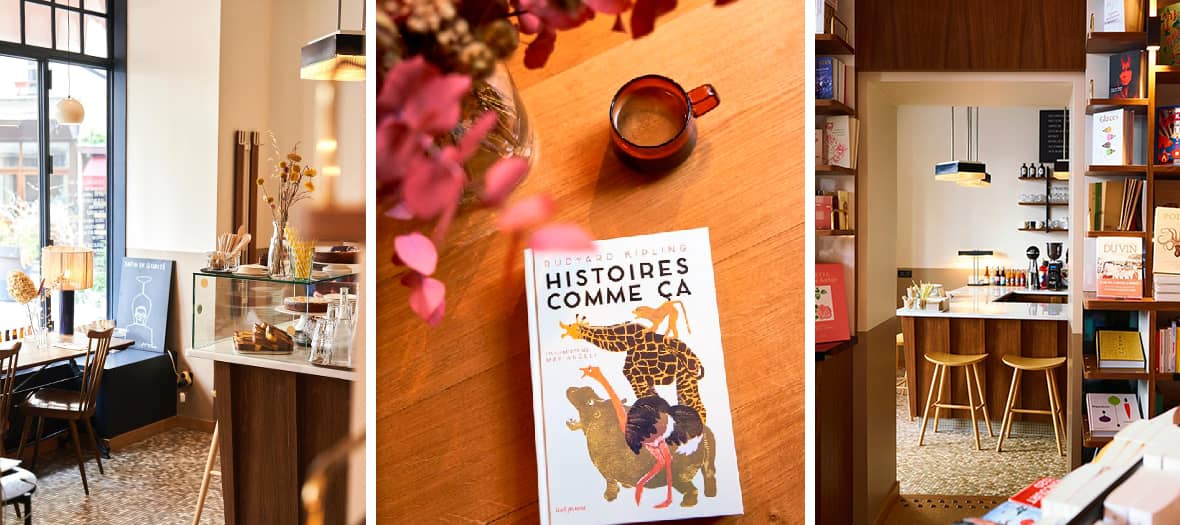 It is in this dream setting that Marion Wolff , a passionate bookseller (formerly at Delamain opposite the Comédie-Française) offers a great selection, between the star authors of the moment such as the new Karine Tuil , the Goncourt or the novel by Abdel Quentin but also cutting-edge stationery with Petit Gramme , erotic works, a great offer for children (his latest favourite: Animals that may exist by Professor O'Logh at Little Urban ). Not to mention a great range of contemporary comics and graphic novels with nuggets like the absurd comedy Tunnels by Israeli author Rutu Modan, an anti-Indiana Jones to deal with the Israeli-Palestinian conflict.
" It's sure, here, you won't find the latest Zemmour, but sometimes less well-known works that question society. We have a real feminist section with Les éditions du remue-ménage which has, among other things, published Libagère la anger de Genveieve Moran and Nathalie-Ann Roy, a fascinating treatise that explains why feminism exists and why women are angry, " explains Marion Wolff .
Open daily from 9 a.m. to 7:30 p.m. Closed Sunday and Monday
Also discover the new street food addresses in Paris and the restaurants to curl up by the fireside.