Pastrami sandwich by the founder of Homer Lobster , exciting specialty from Venezuela, new Lebanese corner from Alan Geaam and Israeli sabich like you've never seen before: who can get Paris' best street food obsessions delivered?
Janet by Homer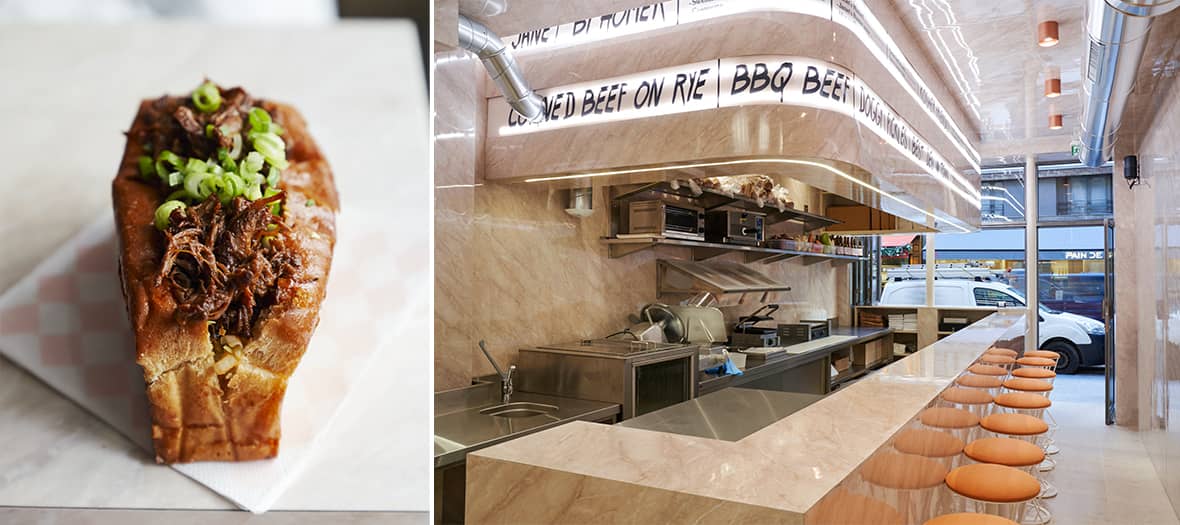 And two! After having converted Paris to the religion of the upper lobster roll (as the it-girls of Long Island like), Moïse Sfez does it again by gastronomizing another New York bestseller: the pastrami sandwich . To evangelize Manhattan's favorite finger-licker: a highly instagrammable vintage Déli's decor at a strategic address in the Marais which bears the sweet name of Moses' grandmother: Janet . It smacks of buzz.
To order. Same successful recipe as for his lobster star, Moise offers his concept in 3 sandwiches: the iconic Classic Corned Beef (normal menu 15 € or XL 20 €) , a toasted rye bread garnished with an extraordinary pastrami with still warm wagyu , cut minute with sweet mustard, candied onions and pickles. More gourmet: the Langers version ( € 17) with a runny cheese, coleslaw and mayo option. For fans of Homer's brioche: a BBQ Beef Roll ( € 19) with candied and caramelized meat, not to mention the Doggy ( € 6), a hot dog like in the streets of the Big Apple (and better).
Janet by Homer , 13 rue Rambuteau, Paris 4th. Open every day and available for delivery from 12 p.m. to 10 p.m. on Deliveroo
© Puxan
Say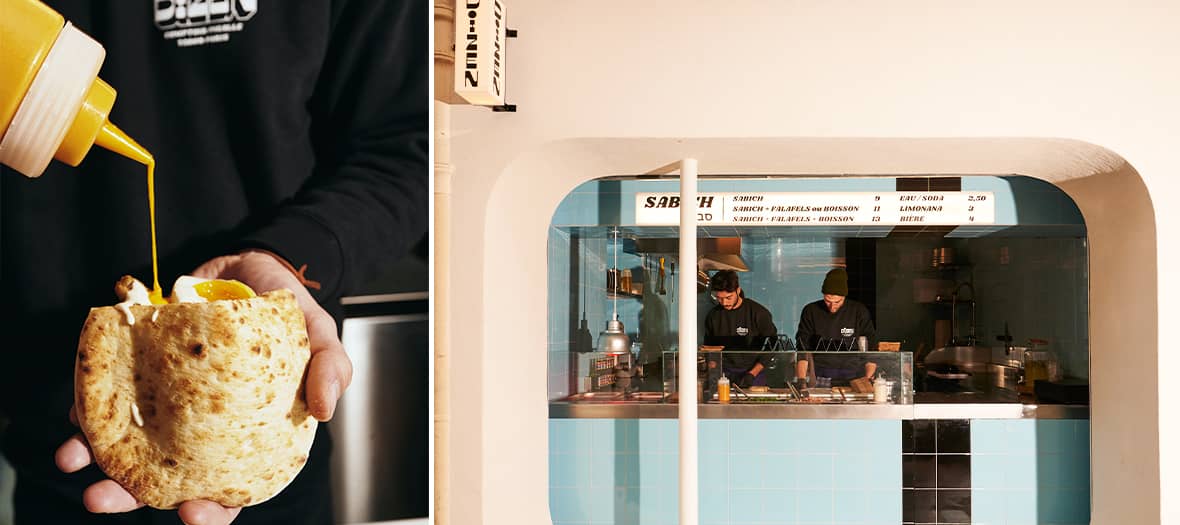 You don't have to have a big one to be the best. It is the masterful demonstration of David Israël and Marc-Antoine Dudouit with Dizen , installed in a street stall as riquiqui as spectacular thought by Studio MUR.MUR. The decor alone deserves a post. From their futuristic capsule, the two deal Israeli street food inspired by the trendy vibes of Tel Aviv .
To order. A sabich or nothing. But the best of your life! Here, we only sell the cult Israeli sandwich consisting of pita bread with Shabbat leftovers, pimped by chef Yossi Levy . It gives an exquisite pita garnished with melting eggplant and minute fried, samba potato cooked at low temperature in an oriental broth, soft boiled egg infused in oriental broth, a mix of chiogga beet cooked in a salt crust and crunchy celery because that it is in season, all seasoned with house tahina and fresh herbs. Serve the dwich with homemade falafel and lemonade. It's a dream.
Dizen 27 rue Pierre Fontaine - Paris 9. Delivery available Monday to Saturday from 12 p.m. to 3 p.m. and from 7 p.m. to 10:30 p.m. on deliveroo
Qasti Shawarma & Grill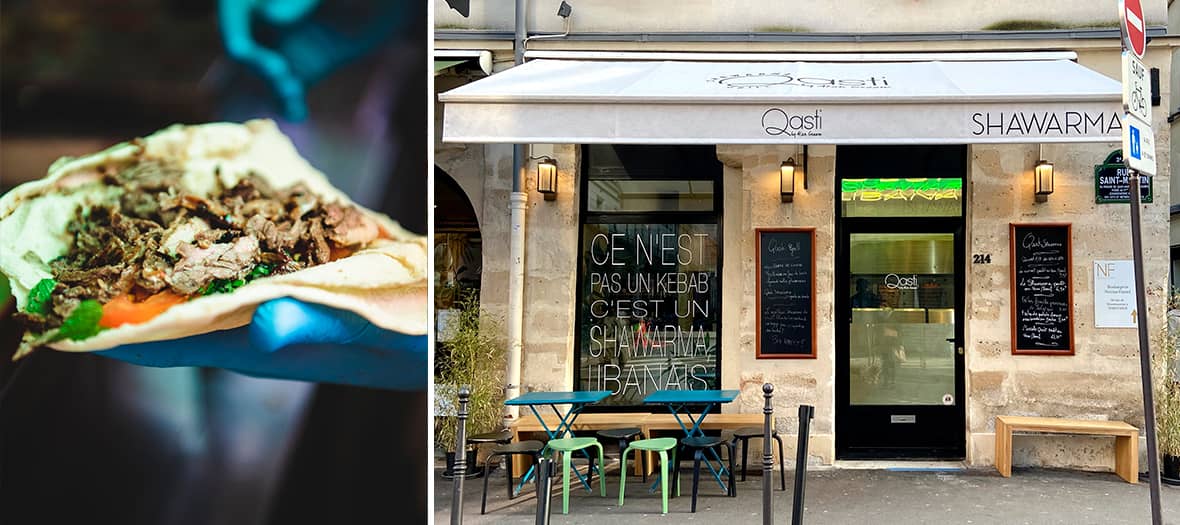 Originally from Tripoli , Alan Geaam arrived in Paris in 2000, with nothing in his pockets. Since then, the autodidact has become the benchmark of Lebanese gastronomy there , earning a star at his eponymous gastro table in the 16th arrondissement, then with Qasti, his bistronomic in the Marais and a real obsession with foodies in the neighborhood. Joy: the chef has just opened a street food space in his restaurant where people come and grab some shawarmas of anthology.
To order. Chicken or kefta shawarmas sandwiches marinated for 48 hours and mounted every morning on roasters (€ 6.50) with pickles, garlic and hummus. We necessarily leave with the star mezze of the house: hummus, baba ganoush or tabbouleh (€ 4.90) and other kebbe balls (€ 2), fatayer (€ 1.50), feta turnovers (€ 1.50) and samboussek (€ 1.50). Special mention for the homemade lemonade with orange blossom.
Qasti , 205 rue Saint-Martin, 75003 Paris, delivery available Monday to Sunday from 12 p.m. to 2:30 p.m. and from 6 p.m. to 10:30 p.m. on Qasti and UberEats
Totuma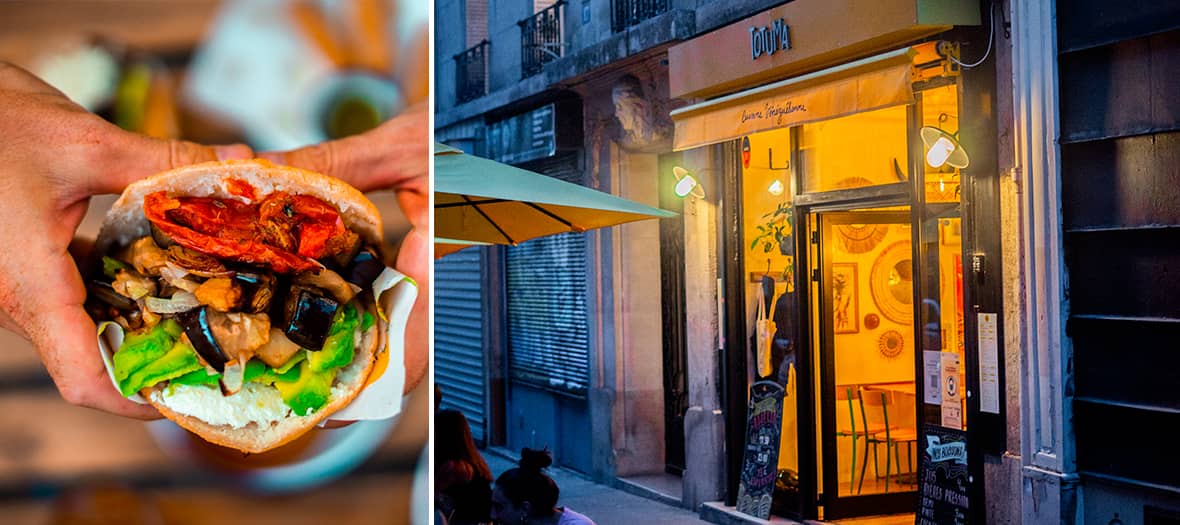 It's a revelation! Since June 2021, Valentina Palacios has enriched the 11th of its Venezuelan specialties… really little known in France. The star at Totuma are the arepas , these corn flour pancakes ( gluten-free , therefore) garnished and flavored with sweet spices. Obviously, everything is homemade with fresh, tasty products.
To order. The juicy Pabellon with simmered shredded flank steak, black beans, plantain and cheese, the Frida veggie with sautéed vegetables, candied onions, avocado, paprika and sheep cheese or the Norma with smoked breast, avocado, mango and mint salad, among 9 demented arepas including three vegetarians (9 €). To accompany for the crunchy of guacamole served with cassava, sweet potato and plantain crisps (€ 6) or tequeños , small cheese fritters to die for (€ 3).
Totuma , 17 rue Alexandre Dumas, Paris 11th. Open Tuesday to Sunday from 11:30 am to 11:00 pm non-stop, available for delivery on Deliveroo .

Also discover the best bakeries in Paris that deliver and Plan D, the sandwich everyone is talking about on the Canal Saint-Martin