From pastrami sandwiches by the founder of Homer Lobster, to exciting specialties from Venezuela, a new Lebanese corner by Alan Geaam, and Israeli sabich like you've never seen before, the new street food addresses in Paris are here!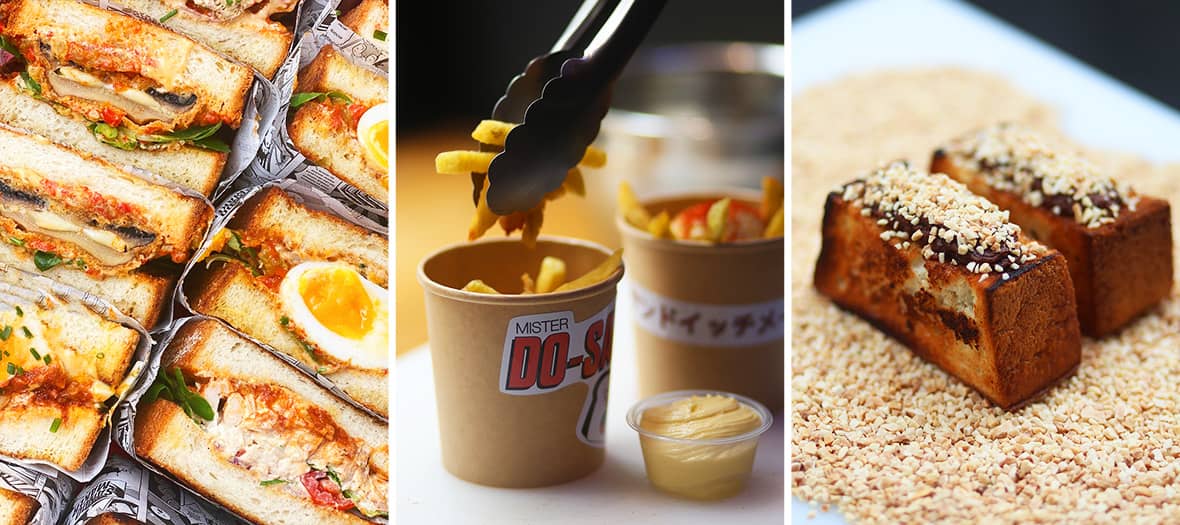 An unlikely fusion of Japan and Tunisia: that's the bold vision of Mister Do-San, located on Rue de Paradis, where they offer a unique take on the famous "sando." With walls adorned in nods to Japanese culture, a counter reminiscent of izakayas, Elliott in the kitchen, and Noémie in the dining area, they take us on a journey between these two worlds with a cosmopolitan menu that shakes up traditional Japanese white bread with a touch of harissa and olive oil!
Must-try : The Roula Bello is a big hit, featuring shokupan bread, handcrafted in a nearby bakery, enveloping a delightful Portobello mushroom panko creation, topped with sheep's cheese, a drizzle of méchouia, and harissa mayo (€14.50). Chicken enthusiast? The Djadja will make your day with its roasted chicken slices, cherry tomatoes, lamb's lettuce, red onions, and lemony mayo (€14.50). As for sides, you have two options: go all out with sea salt fries (€2.50) or keep it healthy with Besbess, an ultra-fresh fennel salad (€2.50). And whatever you do, don't leave without sinking your teeth into the Habibi, the sweet sando, toasted and filled with a homemade spread that's finger-licking good! (€4).
Note : The Signature kefta beef sando is only available on Fridays and is worth marking in your calendar (€15).
Mister Do-San, 31 Rue de Paradis, Paris 10th. Open Monday to Friday from 11 AM to 3 PM.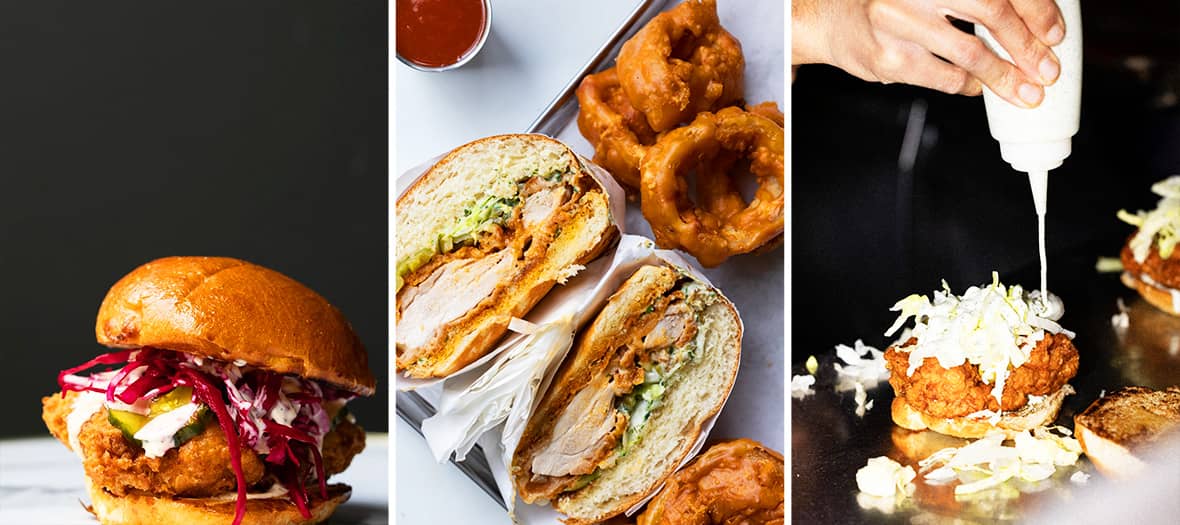 Attention fried chicken lovers, this one's a game-changer! After making waves in the 9th with their fantastic eatery Pompette, Mathieu Grichois (formerly in advertising) and Canadian chef Jordan Robinson (with experience at Frenchie and Frenchie to Go) venture into the world of street food in this stylish micro spot decked out in polished concrete. Dogma's fried chicken turns heads because it's clearly playing in the gourmet league, featuring top-notch ingredients and expertly crafted recipes: free-range chickens from Landes and Bresse marinated for 24 hours in homemade buttermilk, breading, and secret spice-infused sauces that deliver maximum pleasure with every bite.
Recommended : Solo servings of Fried Chicken with mind-blowing house sauces, including the mind-numbingly spicy red pepper and confit garlic Spicy option (2 pieces or 3 pieces from €11 to €14). Or go for a burger in an artisanal potato bun with two options: the OG, fried chicken topped with marinated white cabbage, beet juice, vinegar, and white barbecue sauce (€13). And El Diablo, fried chicken drenched in clarified butter and spiked with jalapeño chili (€13). For sides with high addictive potential: crazy smashed potatoes with homemade cheese sauce (€4), tender Buttermilk Biscuits straight from the US (€2), and perfectly golden and crispy onion rings (€5).
Note : There's a vegetarian alternative for both burger recipes, where smoked tofu replaces fried chicken (€13).
Dogma, 10 Rue des Petites Écuries - Paris 10th. Open Monday to Saturday from 12 PM to 3 PM and from 7 PM to 10 PM.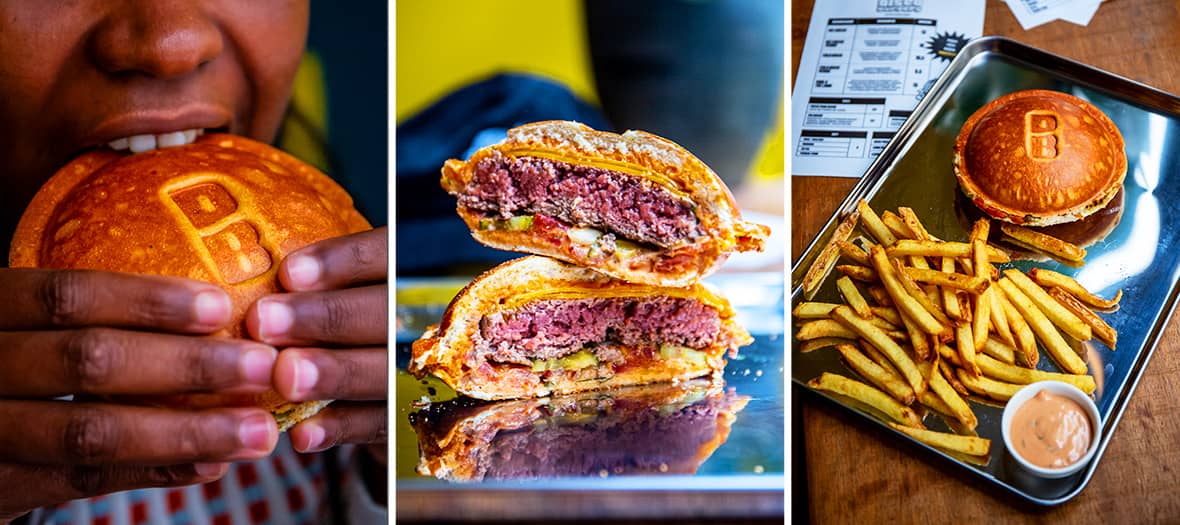 The king of street food dons a new outfit and snugly nestles into a toasted and pressed bun that leaves nothing hanging out! Welcome to this new concept borrowed from the Koreans, brought to Paris by two childhood friends, Louis and Augustin, just steps from Pigalle. The place is adorned with disco balls and grooves to a competitive disco playlist!
Recommended : If you're going for the experience, why not stray from the classic cheeseburger (although it's delicious here) and dive straight into the Italo Disco burger. The concept? A slightly sweet brioche bun specially designed for perfect cooking and pressed on Disco Burgers' 'magic machine.' Inside, there's minced beef, stracciatella cheese, fresh and candied tomatoes, roasted eggplant, marinated zucchini, arugula, and basil: refreshing and even better with the black truffle cream option (€10 and €12). Tied for first place is the Kool & The Lamb with 24-hour shredded lamb shoulder, caramelized onions, cumin-roasted sweet potato, pickled red onions, crispy cucumber, and a lemon-mint yogurt sauce (€14). Pair them with super homemade fries (€4) and finish with the Wonderland choco/coffee cookie (€4).
Note : There's a small terrace for on-site dining.
Disco Burgers, 26 Rue de Douai, Paris 9th. Open Tuesday to Sunday from 12 PM to 10 PM.
© Johanna Alam
And still...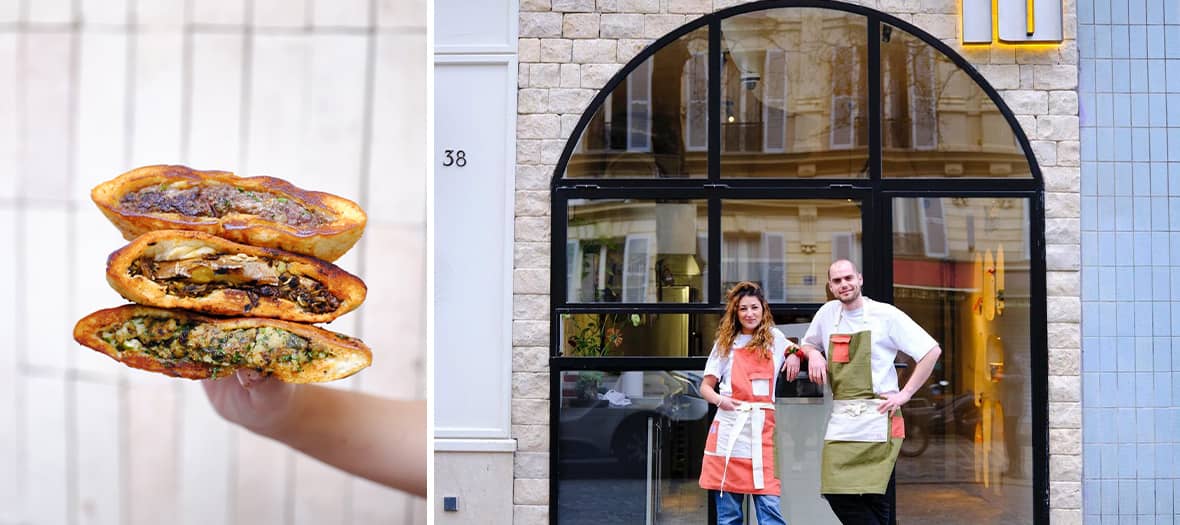 Have you ever heard of arayes? These popular Syrian mezzes have traveled from Lebanon to Jordan and Tel Aviv to become an icon of Middle Eastern cuisine. In his charming traveling shop on Rue Jean-Pierre Timbaud, Franco-Israeli chef Yossi Levy (the famous sabich from Dizen is his creation) devotes all his love to this soft pita bread stuffed with meat, fish, or vegetables, seasoned with herbs and spices.
Must-try: go for the lamb arayes! Here, the chef uses a beautiful shoulder that he chops and flavors with his delicious homemade baharat (a secret blend of spices) to which he adds sweet onions, garlic, parsley, and coriander. The whole thing goes into a homemade pita bread that he brushes with spicy oil before sending it off to be grilled and then dipped in a tahini sauce. Three other recipes complete the menu: matured beef arayes (our other favorite along with the lamb), fish arayes that change depending on the daily catch, and a vegan option with seasonal vegetables (whole arayes €9.50, half €5.50). Special mention for the delicious steamed vegetable sides, lacquered with a harissa-based sauce and grilled on lava stone (€5). And for drinks, the gazoz, another specialty of the chef that comes straight from Israel: a delicate preparation of fresh fruit and herbs blended with kombucha, which is worth a dessert (€5)!
Nour Comptoir, 38 Rue Jean-Pierre Timbaud, Paris 11th. Open Monday to Thursday and Sunday from 11:30 am to 2:30 pm and from 6:30 pm to 10:30 pm. Friday from 11:30 am to 2:30 pm and Saturday from 6:30 pm to 10:30 pm.
© Pierre Lucet Penato


After his Mao Dumpling Bar that the whole editorial team frequents every week, Adrien Zheng, the Franco-Chinese child of the Marais, doubles down in his favorite neighborhood. Welcome to Mao Fry, a casual daily spot that has made Taiwanese fried chicken its specialty. Always in love with kitsch, Adrien Zheng has covered the walls of his new spot with Bruce Lee posters, placed his lucky cat as a star, and lit red lights like in Taiwanese and Hong Kong night markets. Ambiance!
To order: without hesitation, the XXL Chicken Steak, a kind of Milanese cutlet passed through the fryer and sprinkled with 7 spices, to be eaten with your fingers (€9). But also its variations in the form of burgers with Shake Shack bread and a good spicy mayo that comes to enhance it all (€13) or even in a bowl with rice (€14). On the side, crispy homemade fries (€4), a cabbage salad with sesame vinaigrette (€4), and a controversial fried chicken skin with seven spices, to be tested to choose your camp (€4). For desserts, the owner chose the Chinese pastry shop Adèle Bakery, including a Macao-style pastel de nata that revisits the famous Portuguese dessert (€6 for 2 pieces).
Mao Fry, 4 rue de Réaumur, Paris 3rd. Open from Tuesday to Friday from 12pm to 3pm, continuous service on Saturday and Sunday from 12pm to 10:30pm.
© Simon Detraz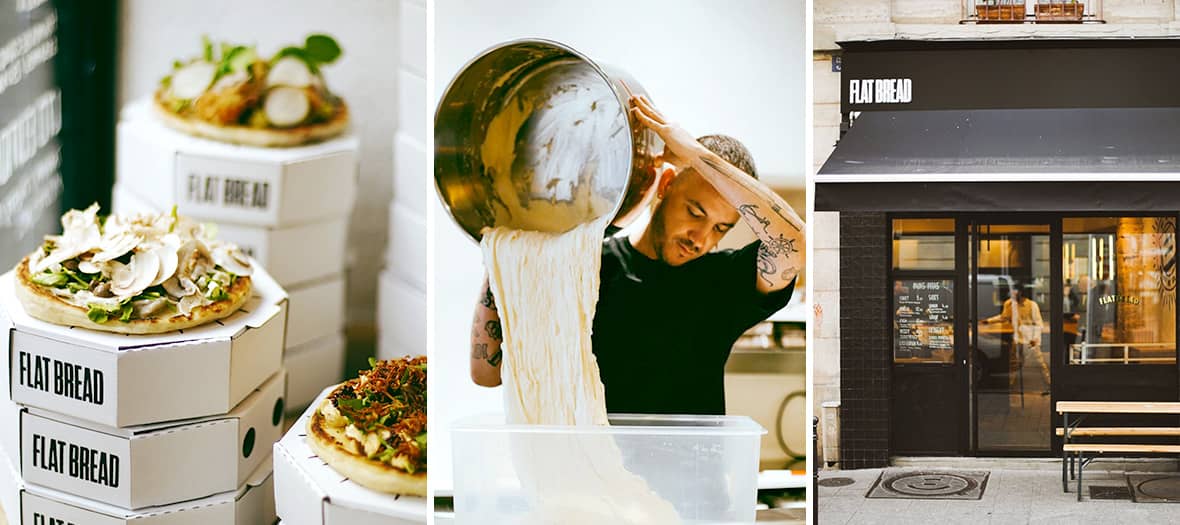 Chef Baptiste Trudel is boosting the popularity of flat bread with his cool new spot that devotes its entire menu to this street food delight, which is part-sandwich, part-pizza, made with ultra-fluffy pita bread. Trudel, an ex-Top Chef candidate who now heads the kitchen at the Datsha restaurant, has been perfecting this dish for a while, adding extra-fresh and top-quality toppings that enhance the taste and pleasure of the dish.
On the menu: The King Flat Bread comes in five mouth-watering recipes that cater to all tastes. For meat lovers, there are two options: roasted chicken with aioli and sorrel (€9) or lamb with honey, harissa, and feta (€12.50). There is also a fish version with crispy fried fish, tartar sauce, and watercress (€12), a veggie flat bread with squash hummus, peppers, sesame, and burrata (€10.50), and a monthly limited-edition couture recipe that melted our hearts with fresh tarama, truffles, and shaved Paris mushrooms (€14.50). Those with bigger appetites can add a side of wasabi mayo smash potatoes (€4.50). For dessert, there is one option but a great one: the chocolate peanut tart with Espelette pepper, salted butter caramel, and caramelized peanuts (€4.50). And to wash it all down, grab a beer (starting at €4).
Flat Bread, 5 rue René Boulanger, Paris 10th. Open Tuesday to Saturday, from 12 pm to 2:30 pm and from 6:30 pm to 10:30 pm.
© Instagram/ @juliafihman_photography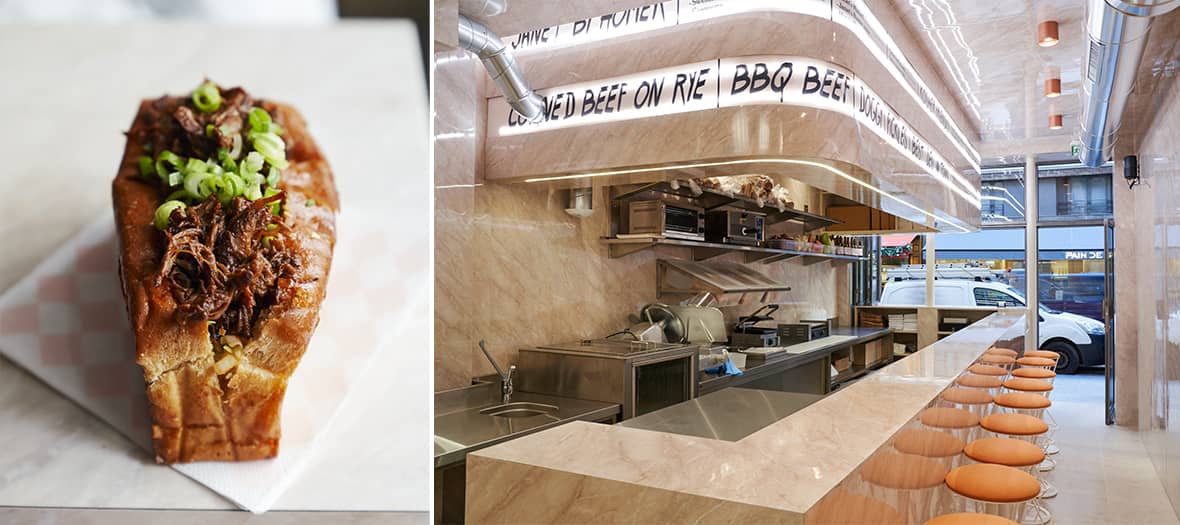 And now for the second act! After converting Paris to the religion of haute lobster rolls (as loved by the it-girls of Long Island), Moïse Sfez is back at it, gastronomizing another New York best-seller: the pastrami sandwich. To spread the word about Manhattan's favorite finger-licking treat, Moïse has created a highly Instagrammable Deli-style decor in a strategic location in the Marais, with a sweet name that pays tribute to his grandmother: Janet. It smells like buzz is in the air.
To order: Following the successful recipe of his lobster star, Moïse offers three sandwiches: the iconic Classic Corned Beef (regular menu for €16 or XL for €21), a toasted rye bread filled with extraordinary, freshly sliced wagyu pastrami with sweet mustard, caramelized onions, and pickles. For those with a bigger appetite, the more indulgent Langers version (€17) offers the option of melted cheese. And for those who swear by Homer's brioche, there is a BBQ Beef Roll (€15) with caramelized, slow-cooked meat, not forgetting the Doggy (€7), a hot dog like those sold on the streets of the Big Apple (but better).
Janet by Homer, 13 rue Rambuteau, Paris 4th. Open every day and available for delivery from 12 p.m. to 10 p.m. on Deliveroo.
© Puxan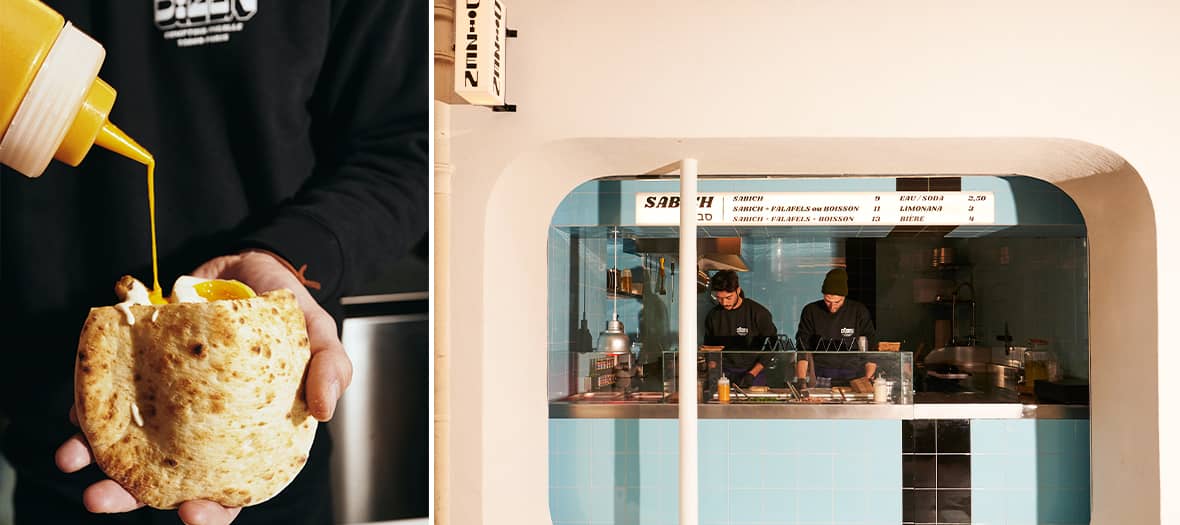 No need to be big to be the best, as demonstrated by David Israël and Marc-Antoine Dudouit at Dizen, located in a tiny yet spectacular street stall designed by Studio MUR.MUR. The decor alone is worth an Instagram post. From their futuristic capsule, the duo deal Israeli street food inspired by the trendy vibes of Tel Aviv.
To order : it's a sabich or nothing. But it will be the best of your life! Here, they sell only the cult Israeli sandwich composed of pita bread with leftovers from Shabbat, pimped out by chef Yossi Levy. It results in an exquisite pita filled with tender and freshly fried eggplant, slow-cooked samba potatoes in an oriental broth, soft-boiled egg infused with the same broth, a mix of chiogga beet cooked in salt crust and crunchy celery (because it's in season), all seasoned with homemade tahini and fresh herbs. Accompany the sandwich with homemade falafels and lemonade. It's a dream.
Dizen, 27 rue Pierre Fontaine - Paris 9. Delivery available Monday to Saturday from 12pm to 2:30pm and from 7pm to 10:30pm on Deliveroo.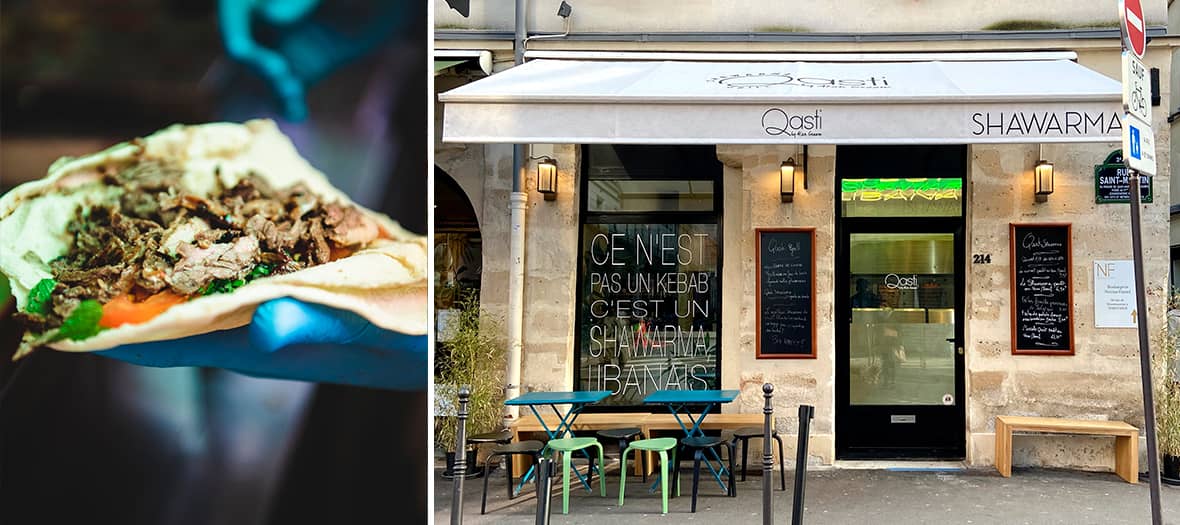 Originally from Tripoli, Alan Geaam arrived in Paris in 2000 with nothing in his pockets. Since then, the self-taught chef has become a reference for Lebanese cuisine, earning a Michelin star at his eponymous gastro restaurant in the 16th arrondissement, as well as with Qasti, his bistro-style restaurant in the Marais that has become a true obsession for foodies in the area. The chef has recently opened a street food space in his restaurant where you can grab some legendary shawarmas to go.
To order: The shawarma sandwiches with chicken, veal or beef, marinated for 48 hours and mounted each morning on the rotisseries (6.90€), with pickles, garlic and hummus. Don't forget to also take away the house's star mezzes: hummus, baba ganoush or tabbouleh (4.90€) and other kebbe balls (2€), fatayer (1.50€), feta turnovers (1.50€) and sambousek (1.50€).
Qasti, 205 rue Saint-Martin, 75003 Paris, delivery available from Monday to Sunday from 12:15pm to 2:30pm and from 7:15pm to 9:30pm on Qasti and UberEats.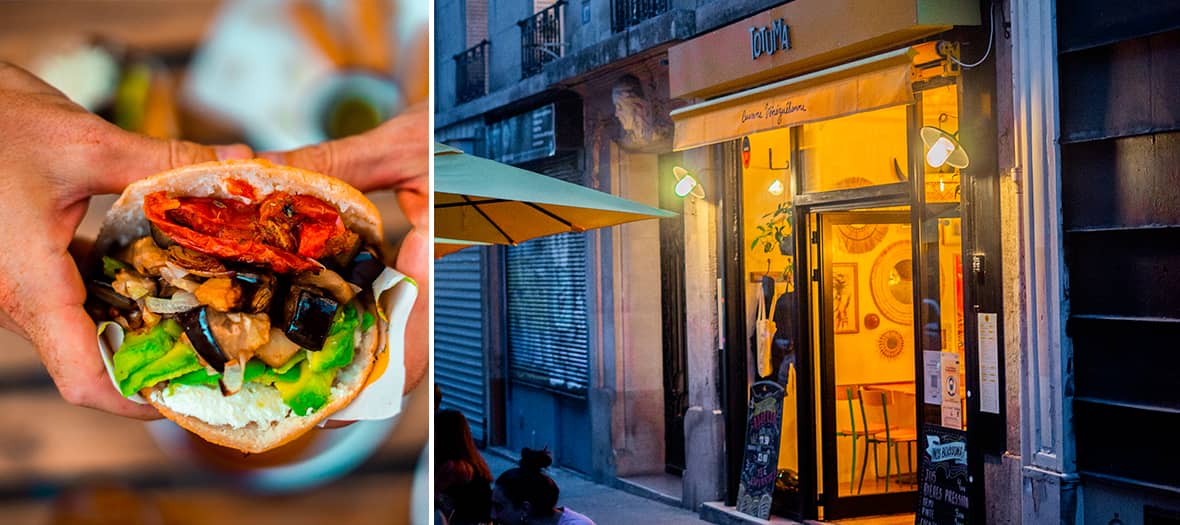 Totuma is a revelation! Since June 2021, Valentina Palacios has been enriching the 11th arrondissement with her Venezuelan specialties, which are still relatively unknown in France. The star at Totuma are the arepas, these gluten-free cornmeal cakes filled and flavored with sweet spices. Of course, everything is homemade with fresh, flavorful ingredients.
To order : try the juicy Pabellon with shredded flank steak, black beans, plantains, and cheese, the veggie Frida with sautéed vegetables, caramelized onions, avocado, paprika, and sheep cheese, or the Norma with smoked breast, avocado, mango salad, and mint, among 9 insane arepas, including three vegetarian options (9.90€). Don't forget to order the crunchy guacamole served with yucca, sweet potato, and plantain chips or the tequeños, little cheese fritters that are to die for (7€).
Totuma, 17 rue Alexandre Dumas, Paris 11th. Open Tuesday to Sunday from 11:30 a.m. to 11 p.m. without interruption, available for delivery on Deliveroo.

Also discover the best bakeries in Paris that deliver and Plan D, the sandwich everyone is talking about on the Canal Saint-Martin