Where to curl up to the sound of the crackling of a fireplace when the temperatures drop to negative and the snow is not far away? For brunch, dinner with friends, work with Wifi, flirt or network, Do It In Paris has selected its favorite fireside spots.
The Proust lounge at the Ritz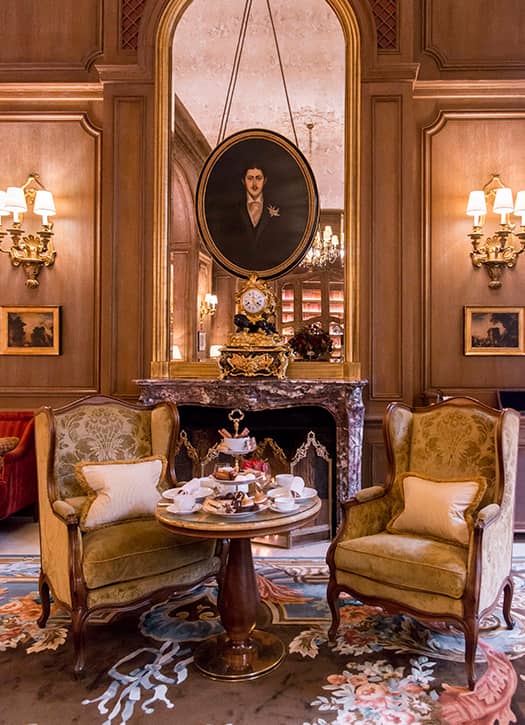 Warm ! We no longer present the 5-star place Vendôme , the fashion headquarters and Anna Wintour in person, nor its counter, the most prominent coffee shop in the upscale neighborhoods . We are less familiar with the Proust lounge , a very discreet meeting place out of sight where a fireplace with a table for two sits in front of the crackling fire.
We like: the snack of François Perret , the most popular pastry chef in Paris and Netflix star of The Chef in a truck . In this setting, he serves a "French tea " (68 €): brioche with cocoa beans, marbled cake, a multitude of pies, cakes and madeleines from his childhood. To garnish with a chef's dessert or a glass of Barons de Rothschild Champagne as desired.
14 place Vendôme, Paris 1er. 01 43 16 33 74
Every afternoon, until 6 p.m.
© Thomas Dudan
Hotel de l'Abbaye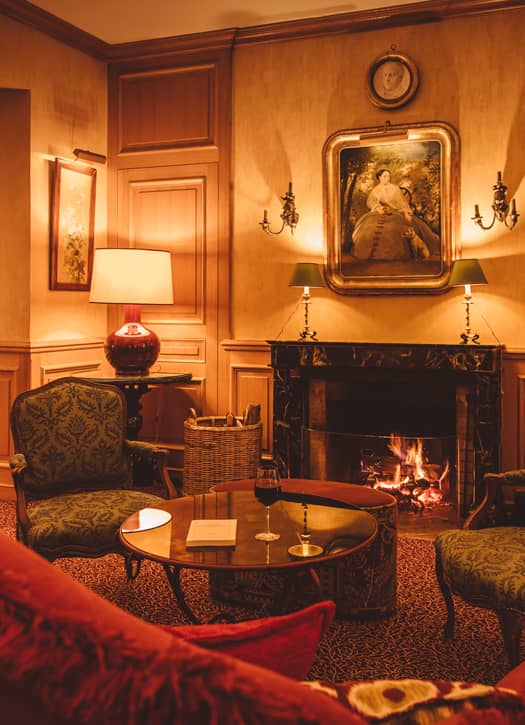 Warm ! Downton Abbey in Paris, it's here! A hidden and unspoiled place on rue Cassette, the Hôtel de l'Abbaye appears as an ultra-intimate home sweet home that would almost let you believe that you are " at home " in a sublime mansion with garden, fireplace and tea room. ...
We like: curl up in the felted sofas when the hour of the aperitif strikes after a cinema session around a comforting glass of wine, a croque-madame of the haute (19 €), an avocado toast (€ 10) or soup (€ 9). Special mention to the breakfast , really royal with eggs (6 €), pancakes with maple syrup (10 €) and a good coffee to punctuate a morning stroll.
Hotel de l'Abbaye Saint-Germain
10 rue Cassette, Paris 6e. 01 45 44 38 11
Open every day
Hotel Providence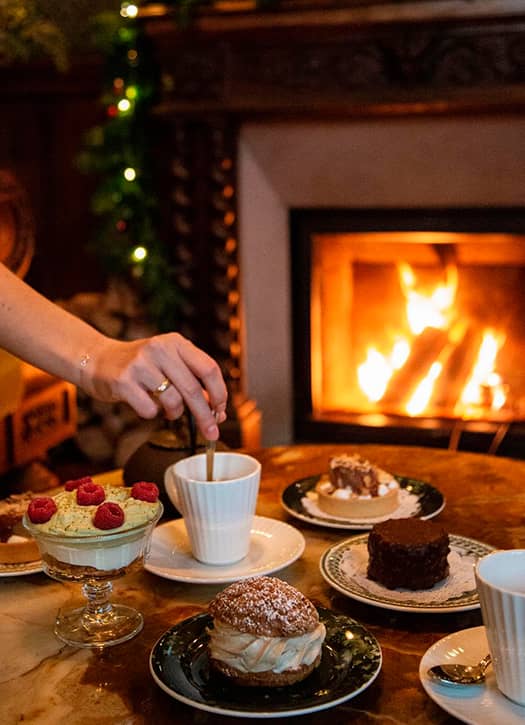 Warm ! Headquarters of the hype of the East of Paris, we no longer mention the heated terrace of Providence . What is less known is that its very British style dining room has an adorable fireplace. Remember to book the table next door.
We like: feasting by the fire for a good French dinner . We find all the Parisian gratin around a great cocktail accompanied by a Parisian croque with truffle and old Comté (21 €), minute seared tuna served with avocado (21 €) or a good chocolate pear tart (9 €). Dream place ever!
90 rue René Boulanger, Paris 10th. 01 46 34 34 04
Open every day
© Benoit Linero
The Queen's Pavilion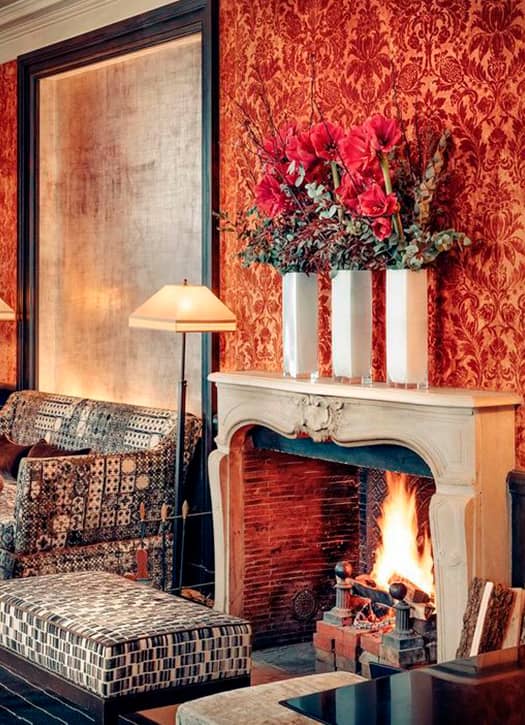 Warm ! It is the best kept secret in the Marais . This house with garden, hidden away on Place des Vosges , is nothing other than… an ultimately chic and discreet 5-star boutique hotel! Its small ultra-cozy living room is centered around a large cozy fireplace. The promise of a magical moment on very cold days.
We like: curl up in the large armchairs with an afternoon tea or improvise a dinette by the fire. À la carte: coffees and a selection of Mariage Frères teas and infusions (€ 8), stylish cocktails (€ 22), Comté cheese and ham from Paris (€ 20) and a glass of wine (€ 12). Joy.
28 place des Vosges, Paris 3rd. 01 40 29 19 19
Open every day
Robert and Louise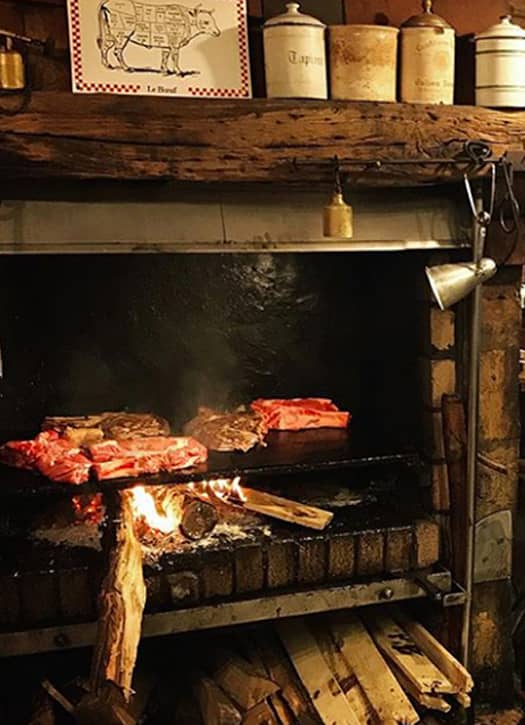 Warm ! Aim for the painting: a small vintage dining room in the middle of the Marais with its old Parisian stones and large wooden tables, in front of a fireplace with a good wood fire in which grills meat to die for, cooked under your eyes. In short: a Parisian institution to truster once in a lifetime.
We like the incredible prime rib (58 € for 2), leg of lamb (€ 23) or sausage (€ 18) served with delicious little fried potatoes or vegetables. We feast in advance.
64 rue Vieille du Temple, Paris 3rd. 01 42 78 55 89
Open every evening except Wednesday, and weekends for lunch and dinner
Ralph's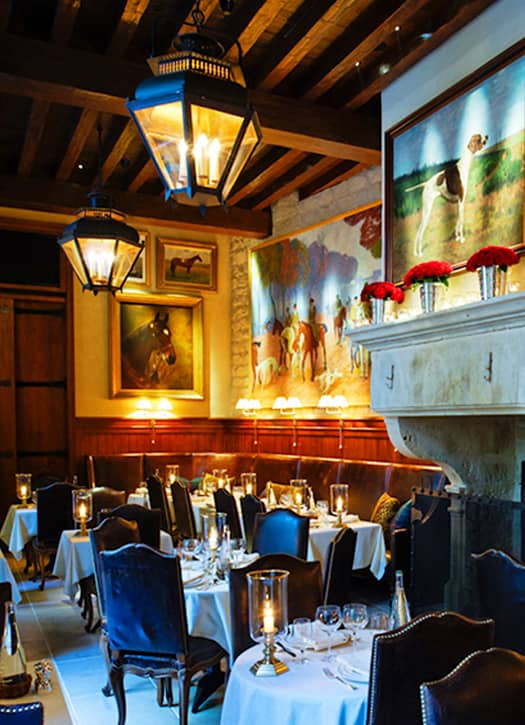 Warm ! Teleport in the dining room of the ranch of Ralph Lauren with Chesterfield sofas, tartan cushions and paintings of hunting! A chic and comfortable setting where the elegant of Saint-Germain-des-Prés flock to it.
We like: enjoy a brunch by the crackling fire to feast on the iconic Ralph's burger (€ 31), Eggs Benedict (€ 23), bagel with cream cheese and smoked salmon (€ 27) or the lobster salad (37 €).
173 Boulevard Saint-Germain, Paris 6e. 01 44 77 76 00
Open every day for lunch and dinner. Brunch served on Sunday noon.
The Bristol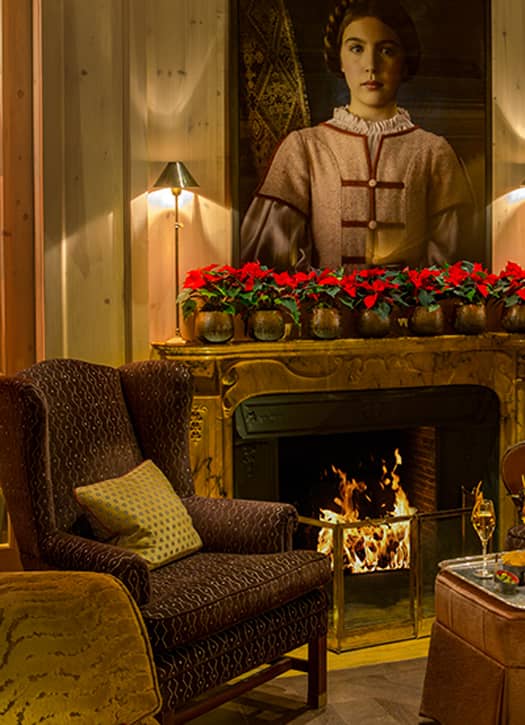 Warm ! It is undoubtedly the most intimate hotel bar in Paris, where you meet all the elite passing through. And for good reason: the decor, all in woodwork and large rugs, was designed as a glamorous and cozy cabinet of curiosities , around the sumptuous Siena marble fireplace.
We like: the DJ set option of the " Bristol After Dark" evenings from Thursday to Sunday from 10 p.m. to 2 a.m., to drink creative cocktails such as the famous Bullet Blank or Bloody Good (29 €), and succumb to tapas from the high by Eric Frechon (from 16 €).
112 rue du Faubourg Saint-Honoré, Paris 8th. 01 53 43 43 00
Open everyday from 5.30 p.m. to 1.30 a.m.
Flamboire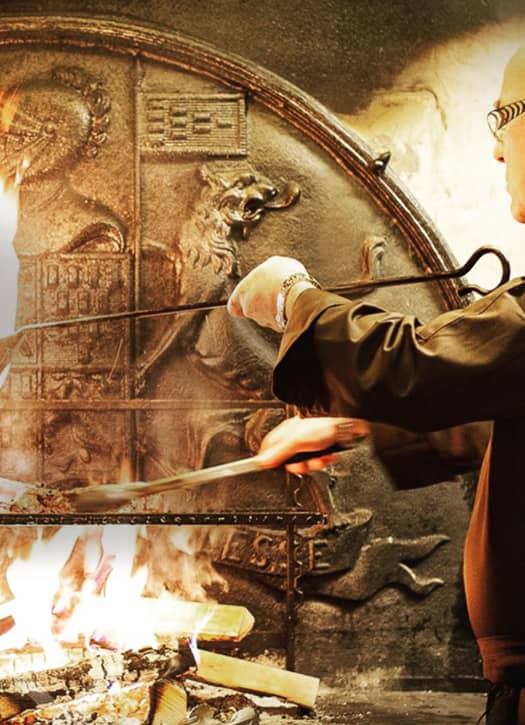 Warm ! A rotisserie , a real one, or rather a " flamboire " as we say in Aveyron . This fireplace where meat is cooked is the soul of this very local restaurant where trendy people from the 9th arrondissement like to come and sate their cravings for a bidoche.
We like: the grill menu is based around the best Aubrac meats . And for good reason: prime rib, lamb or veal from Conquet , not to mention the andouillette or kidneys, all served with sauces and small potatoes. For amateurs: the fish option is just as successful.
54 rue Blanche, Paris 9th. 06 95 01 77 38
Open every day except Sunday
Reserve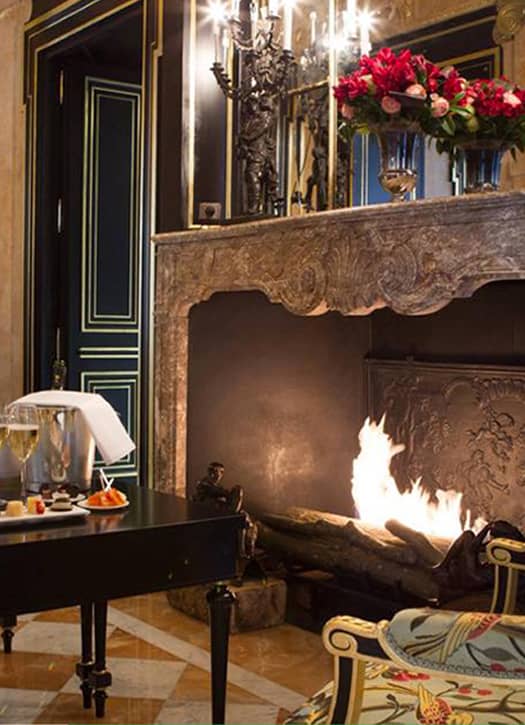 Warm ! Neighbor of Emmanuel Macron at the Elysee Palace, the most discreet palace in the capital, former home of Pierre Cardin, welcomes its guests like at home, particularly in the library area . The fireplace is a must-go, and the service almost aristocratic. A little luxury to afford once in a lifetime. Just for a tea or a cocktail before a neighborhood theater.
We like: the possibility for foodies to test the menu of the chef that everyone is snapping up, Mohamed Cheikh, in residence at La Réserve until December 4 . On the program: red tuna sashimi (€ 28), scallops a la plancha and avocado guacamole (€ 42), blue lobster and gnocchi (€ 58), roasted saddle of lamb (€ 44) and a magnificent panna cotta (€ 16).
42 avenue Gabriel, Paris 8th. 01 58 36 60 60
Open every day
Mansion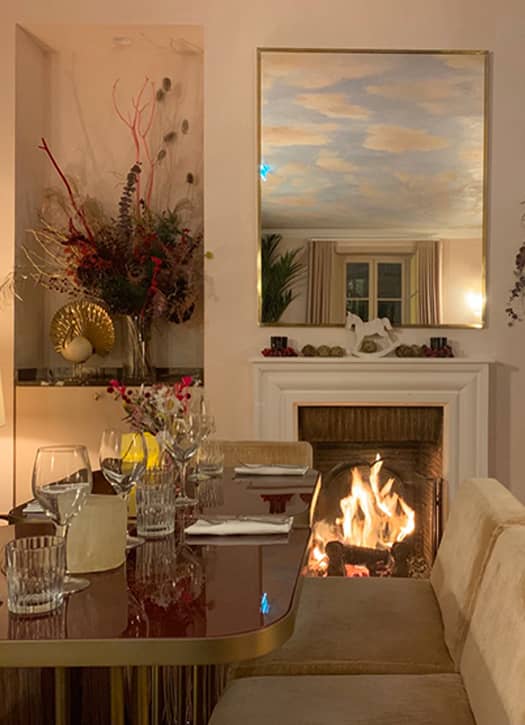 Warm ! As its name suggests, this private mansion bordered by a sublime garden and having belonged to the Hermès family remains the most popular secret address in Montmartre . Its " Grand Salon " has just reopened its doors after a princess boudoir-style facelift, all in pink velvet. To complete the chic country house atmosphere, a fireplace warms the atmosphere.
We like: sit in the large sofas and cocotte armchairs around the fireplace, to enjoy Guillaume Castaignet's signature cocktails (formerly Castor Club ) or a comforting dish (sole meunière € 55, small spelled risotto € 26).
Pavillon D, 23 avenue Junot, Paris 18e. 01 53 41 81 40
Open every day
Also discover the best breakfasts in Paris and Chocho, The Thomas Chisholm's new table