Here is the hot tip for down and out movie buffs. Nestled right near the recently refurbished place de la République, Les Bobines, is the new trendy hangout. Its added value? It combines two ideas: restaurant and movie.
The idea ? Offer a free movie session after a happy hour nibble on the terrace. Behind this address, two marketing working-girls reconverted into restaurateurs after intensive training at Alain Ducasse for one and oenology for the other.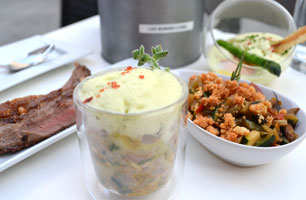 How to do it. Show up after work to sip a cocktail (starting at 7€) or a glass of rosé (4€) with a selection of tapas with a frankly delicious Frenchy sauce (from 4 to 9€) : organic egg with asparagus emulsion, Spanish chorizo, tartare of raw sea bream in a glass, ratatouille or gravlax salmon, in short super refined small portions to share. And for the sweet tooth, chocolate raspberry melt cake and a white chocolate passion fruit verrine.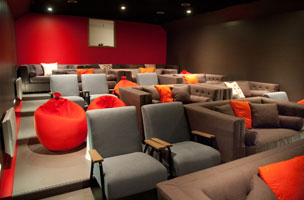 Now you need to work on your movie session ! It takes place in the lower level projection room with super comfy sofas to watch on a giant screen that has an at home feeling. Every evening, you can come snuggled in front of super fun recent films like Le Prénom, La Dame de Fer or L'amour dure trois ans, the film of Frédéric Beigbeder. In short the ideal spot to catch up on films you have not seen yet !
We like : sipping our cocktail in front of the film.
Session offered for a minimum of 4 tapas
Program and information on the Bobines http://www.les-bobines.fr
Open noon and evening from Tuesday to Saturday