A wonderful typical French breakfast on the place des Vosges, it's totally romantic and a delight for upscale visiting New Yorkers, trendy Japanese gals and  it-girls from around the world who envy us unanimously.
Parisiennes, you are going to adore this magical luxury that won't cost you an arm and a leg… Whip out your navigo pass and treat yourself to « the» 13th marvel in the world, international luxury at an insider price only a few metro stops from your home …
Imagine the « à la française » picture (pronounce with the accent): an unforgettable café croissant, world heritage of the typical French breakfast that is nestled under the stunning historical arcades of the Place des Vosges. Scene of the crime? Ma Bourgogne, a very authentic Frenchy house that is not a tourist trap…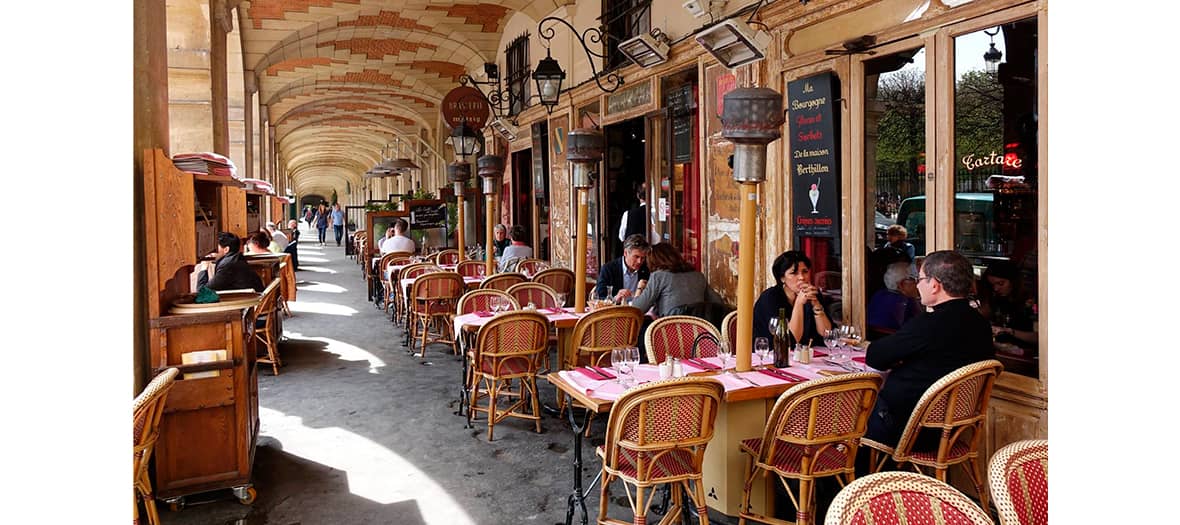 View on the garden, total calm, the sun comes to tickle the end of the your nose while you choose how to start off your day. The charming "garçons de café", (rare enough to be noted) come take the order: croissant (1,80€), freshly buttered baguette (1,80€), country bread toasts to spread with jam ( 2,50€) with everything to be dipped in your coffee (2,80€) or chocolate…
Cherry on the cake, if you ask for some water, a young man will bring you a glass of fresh city water and a big pitcher. Real service for sure?
PS: for the people anecdote, it happens to be the favorite café of Jack Lang who comes to have breakfast there every morning.
Careful : they don't take credit cards.
Also discover Madame rêve, the brasserie chic in Paris and Mimosa, the mediteranean restaurant of Jean-François Piège.