In Japan, the cherry blossom season coincides with the arrival of the saké nouveau. Just like our national Beaujolais, the new white alcohol is celebrated during a traditional ceremony called Kagami Biraki.
For the occasion, the country of the rising sun is hosting a dinner at the very chic restaurant Le Camélia inside the deluxe Mandarin Oriental hotel. On Wednesday 17 April, the 100% Japanese meal will be preceded by the traditional hammer opening of the saké barrel by Thierry Marx, the in-house chef and famous juror of Top Chef.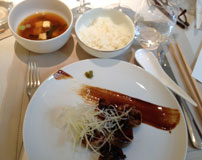 This festive menu begins with an assortment of revisited sushi, followed by a steamed eggplant in a sweet and sour sauce, delicately fried chunks of cod with vinegar soya sauce, marinated chicken with ginger served with a tasty miso soupe and a dorayaki dessert, a pancake stuffed with red bean and a scoop of green tea ice cream. All accompanied by saké of course, served in masu, traditional box-shaped wooden cups.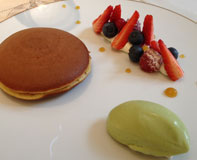 We like : a refined special event in a beautiful setting, not to be missed!
Kagami Biraki menu on Wednesday 17 April from 5pm to 11pm
55 €/ person
Information and reservation at 01 70 98 74 00 or mopar-restauration@mohg.com