No need to wait until the end of the week to indulge in the delights of Shabbat: at Vendredi Soir, it's on the menu every evening! After Levantine and MaMi Deli, Keren Afriat and Jérémie Bankhalter return to delight us within the walls of this lively, radically convivial, and gourmet bistro.
The place seems to have always been there. A family home atmosphere with decor collected from all corners of the globe: Shabbat tables, Persian rugs, mirrors adorned with foliage, Moroccan jars, blown glass lights... and an imposing zinc and carved wood bar. Crowded, noisy, vibrant, Vendredi Soir has the charm of those places that resonate with authenticity and return to the basics. From the dining room to the terrace, you simply feel good there.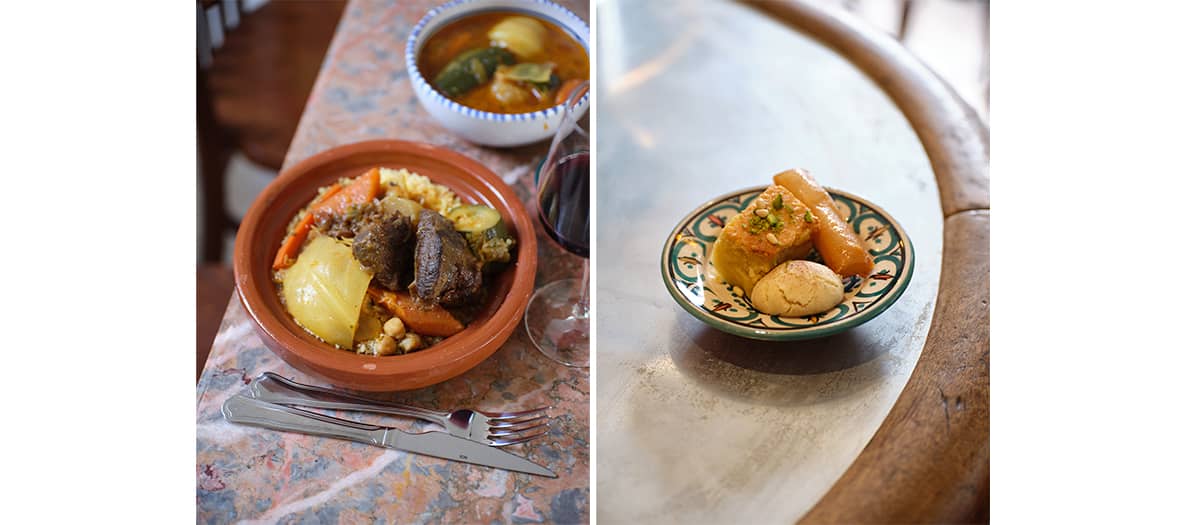 And a travel-inspired one! Because there's not just "one" but "many" Jewish cuisines, the menu at Vendredi Soir traverses the entire Mediterranean basin and brings together recipes from both Sephardic and Ashkenazi traditions. The motto? Everything is homemade, just like at home. Appetites are satisfied! To kick off the feast, there are shared "kémias" to be dipped with the delicious homemade challah bread: tchoutchouka, hummus and tehina, carrots with orange, artichokes with preserved lemon, Levantine salad... (€5 per plate).
You can continue according to your desires with the extra sweet and savory chicken pastilla, Moroccan-style (€12), the egg and tuna "brick" as in Tunisia (€8), or the chopped liver, an Ashkenazi delight cooked with caramelized onions and hard-boiled eggs (€9). As for the main course, while the essential couscous takes the spotlight and delights in its three versions: chicken, beef, or vegetarian (€18 to €23), the pkaila, a Tunisian specialty (slow-cooked fried spinach stew with fresh herbs, white beans, and beef), is worth trying (€22).
Meat lovers will dive into the royal mixed grill (lamb chops, beef keftas, merguez, €32), while schnitzel fans can confidently choose the house version (€18). For thirst-quenching, go for the "mauresque des délices" (arak, boukha, white grapefruit juice, orgeat, passion fruit lime syrup, €13) or have a bottle of Cabernet Sauvignon or organic Chardonnay.
IF YOU HAVE A BIT OF ROOM LEFT...
To stay in the spirit, seal the deal with the frozen sabayon with eggs and orange blossom, an ethereal and addictive delight that can truly be devoured without restraint (€8). For hearty appetites, weigh yourself down with oriental pastries or halva chocolate mousse (€8). Rest assured, the mint and pine nut tea will make everything go down smoothly!
Open from Monday to Thursday from 12:00 PM to 11:30 PM, Friday from 12:00 PM to midnight, Saturday from 12:00 PM to midnight with continuous service, and Sunday from 12:00 PM to 11:30 PM with continuous service.
Also, discover Jolia: the little sister of Dalia and Dar Mima, the festive table imagined by Jamel Debbouze.