" It's an instinct, I'm an earthling ", admits David Le Quellec about him and his wife Stéphanie . This complementarity had already worked for them with MAM, their catering 2.0 concept. The most powerful duo in gastronomy has just inaugurated Vive, its new duo project on Avenue des Ternes, a true ode to marine products. Classy! We tell you everything.
Long live: House Sea
When a purebred Breton and a chef who has long been brought to Provence become a couple, there is a chance that they will share a certain love for seafood. Bingo: David and Stéphanie Le Quellec dedicate their new table with fish , shellfish and crustaceans , in a refined setting.
Our rec? Ask to be seated at the bar to be able to admire the chef himself managing part of his team in the cold, all well watched by a beautiful tuna maturing in his window with his tail in the air. The rest of the restaurant is not lacking in charm either, with a large dining room upstairs and comfortable tables haloed with shell decorations .
Seafood from the high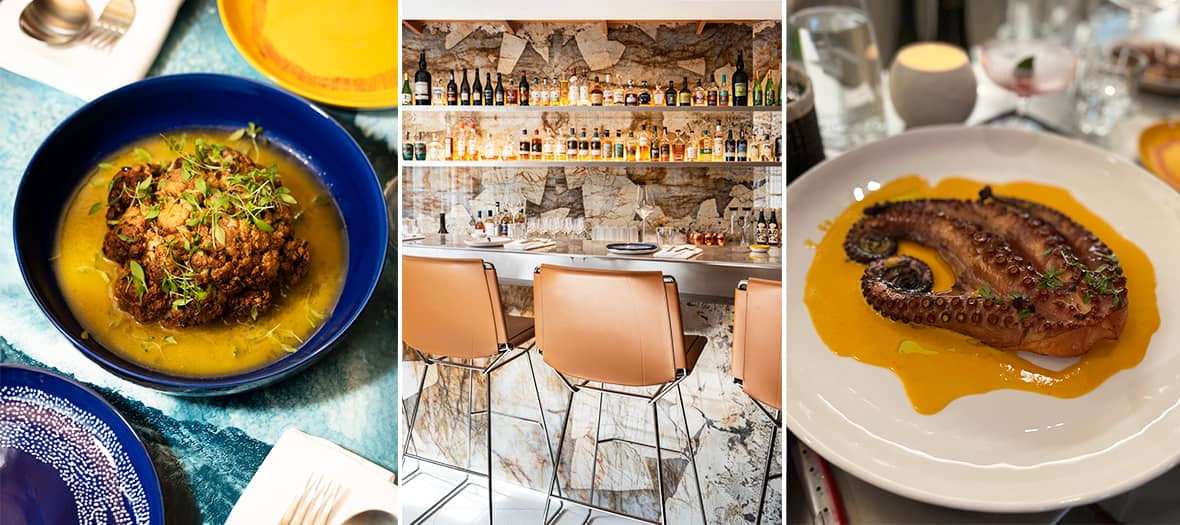 At Vive , we advise you to take four or five plates to share in order to discover the extent of the possibilities offered by 100% French seafood products: amberjack , bergamot-infused oil, marjoram (€26), red tuna , mint pesto coriander (€28), rock soup (€21) and, to accompany them, a nice plate of porcini mushrooms with blackcurrant vinegar (€23) or fondant potatoes with boiled juice (€13).
But the star of the menu is unquestionably the sexiest octopus on the Place de Paris, whose tentacles, as thick as they are melting, are soaked in a divine creamy harissa sauce : a totally addictive discovery, always to be shared (59 € half). Yum: we end with a perfect affogato (€11).
Open from Tuesday to Saturday noon and evening.
Also discover Carmona, the new buzzing Andalusian table and the new Prunier menu by Yannick Alléno.