Phew…the Eastern part of Paris no longer has the monopoly of trend and things are now swinging in the 16th arrondissement. Here is the proof with Auteuil, an absolutely amazing brasserie that has just opened its doors, replacing the former Tsé that burnt down.
Result: A huge place with a totally bluffing decor, both trendy and poetic, signed Laura Gonzalez. Check out the ultra-stylish setting: bucolic touches and vegetal background, vintage furniture, mismatching dishware...
This is the new ideal HQ to hang out from breakfast time, to have lunch in the sun or enjoy a long lasting happy hour with the gals on one of the two fabulous terraces...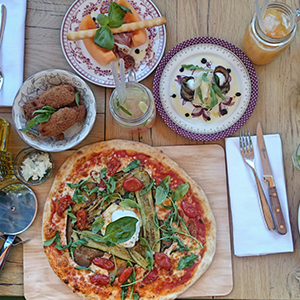 In terms of cuisine, the touch is very Italian! Great pizzas such as the one with burrata (17€) Roman squids (7,5) nuggets of Mozzarella & Speck with basil 8,5, amazing salads (17€) tartare of raw sea bass (19€), penne with truffles (19€). And a wide array of savory desserts such as the cup strawberry, raspberry ice cream.
We adore: the incredible rooftop with ivy, orange trees like a Provencal paradise. No need to have a three-course meal. Here you can come to just have a drink with the possibility of nibbling on a mix of starters and pizzas...
Open every day from 9am to 2am. Valet parking