It always works. Give a rendezvous to a friend. Better, a a specific date. Without going into details give him (or her) the name of this restaurant that all Oberkampf is wild about : Bidoche.
If everything works as planned, your +1 will walk by once or twice in front of the window at 7 rue Jean Pierre Timbault wondering if he has the wrong address.
Normal, in fact, Bidoche is a top-notch butcher shop with maturated meats and the label of a serious house . Now just head for the back of the shop and go through a door where … their restaurant is hidden.
At the helm: Alexandre de Toulmont, a cute guy who dropped the world of finance and passed his butcher CAP exam. His concept is very clever, since he opened a steak-house just behind his shop.
So now take your pick from great cuts of meat (prime rib of beef, lamb chop, veal cutlet, filet of pork…) in the butcher shop before sitting down at the table.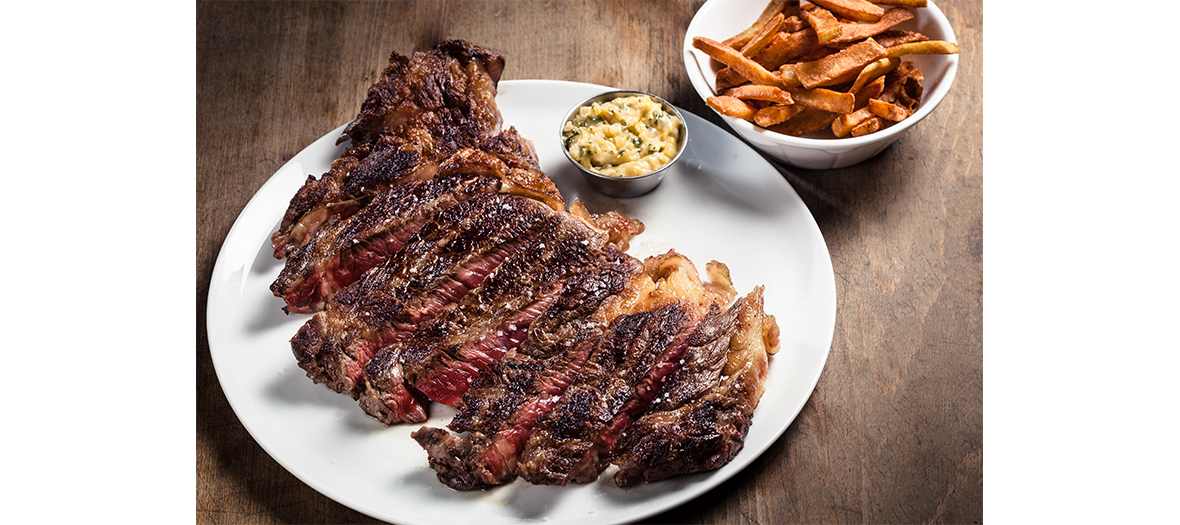 What do they serve at the table ? Starters : a  small salad or a plate of charcuterie (€9). Your grilled meat  (price of the butcher shop + €12 for cooking) lands on your plate with home fries in beef fat, mashed potatoes, glazed veggies and a wide array of sauces à volonté : blue cheese, béarnaise or chimchurri.
Alternative dish of the day : a veggie steak, because everyone is not a carnivore, or a blanquette de veau with vanilla, green lemon…
For those who are still hungry : a cheese selection from Fromagerie Goncourt ( x plate) and sweets from the Utopie pastry. Of note: a very nice cellar.
We like : going home with a piece of meat for dinner the following night or drop by the butcher shop during the day for a nice juicy steak ( open Tuesday to Sunday starting at 9:30am)
The restaurant is open every night from 7:30pm to 10:30pm. Closed Sunday and Monday.
Also discover the butcher-canteen of vegetarians and the new HG of rafined meat lovers.