Head for this very cool and locally sourced tapas bar in the 9th arrondissement. Right near the Théâtre de Paris, Boca already imposes itself as the favourite mini cantina of comedians in the area. Its racy small plates can be nibbled to the infinite in this tiny space that is conducive to confidences with its bar, its mirror ceiling, its green walls and its miroir, ses murs verts et son bamboo panelling. Adorable!
At the helm of the restaurant and the kitchen, globe-trotter chef Olivier Krot (ex George V, La Gare), also big boss of the caterer Le panier de Zoé, goes out of his way to  deliver locally sourced and responsible ingredients, "indispensable today", according to him.
And considering what is served here, we are happy the eat green every day: sweet potato nuggets with a veggie  sauce (€7), comfortable mushrooms with cream of parmesan and Burgundy (€12), eggplant tempuras with a Gribiche sauce (€7), gravlax of red label salmon and yuzu (€9) or ribs farm range pig for carnivores (€8). And for those with a sweet tooth, a nice apple tatin pie regressive cider ice cream (€8).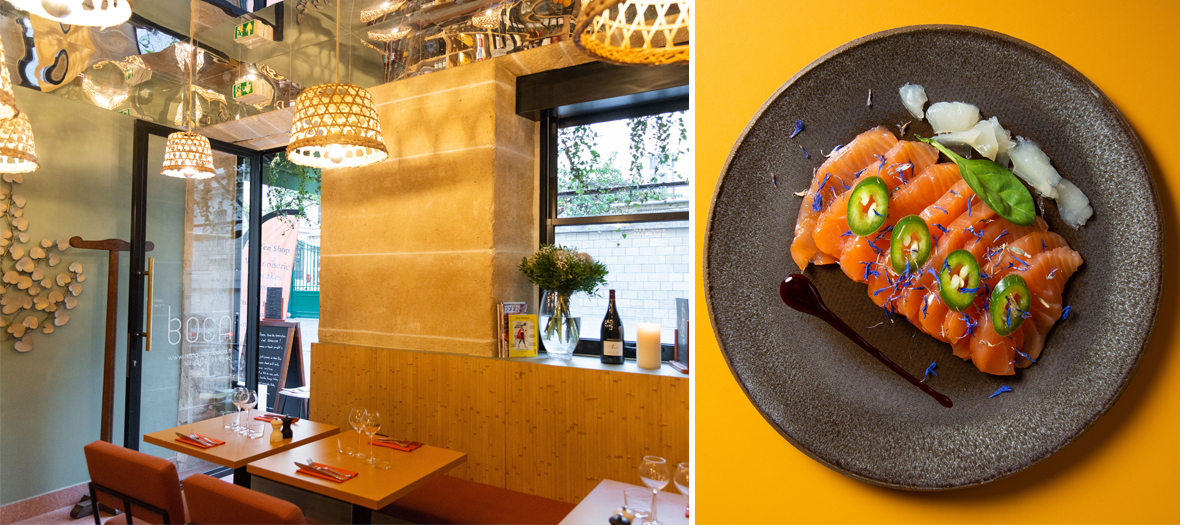 We like: the selection of French natural and biodynamic wines, a logical continuation to clink glasses with a clear conscience. Cheers!
Open for lunch on Monday, Tuesday to Saturday from lunch to dinner, brunch on Sunday.
Also discover a €35 happy hour in the cabin Sarah Lavoine and the new bistro of Yannick Alléno.