In the central space of this superb decorating boutique in Oberkampf, the tiny inside courtyard has just been set up as a cantina to be enjoyed when the nice weather settles in. La dolce vita opens up its arms…
A real nugget at the heart of the shop. Striped red and white banquettes fly the colors of Bologna, the native city of the flagship, extra checkered tables, showcase the off-beat and warm atmosphere of Italy in the Sixties we all dream about.
Nestled comfortably between two cushions, we bite into the Boot's specialties. Carpaccio of bresaola (18€), tomato and Buffala Campana mozzarella salad (17€), and of course their anthology pasta (penne à la bolognese, 13€).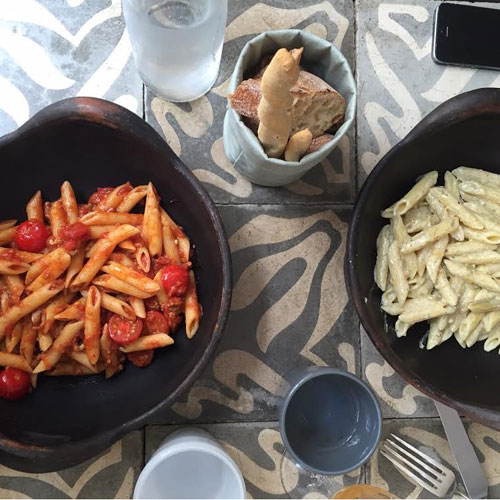 The menu changes every day, just like the pastries on the counter: tiramisu, lemon meringue pie, chocolate charlotte, meringue with marsala…
Be sure not to leave without having tasted the house specialty: tigelle, small round breads delivered straight from Bologna and stuffed on site (veggies, charcuterie or cheese). Perfect with a Spritz at aperitivo (8,50€).
We adore: the retro table settings, to pick up there.
Open Monday to Saturday starting at 10am.
Also discover Piero TT, the italian restaurant of Pierre Gagnaire.