If you cherish trendy restaurants AND  addresses with a historical past, open your ears wide.
The duo at the helm of Gabylou, the very hip restaurant near Ternes, has just taken over La Bouteille d'Or, the oldest restaurant in the capital, in order to pimp it into a furiously trendy address with view on Notre-Dame… Yes, yes. As an option, an  XXL terrace for a chill option (thanks for the draft).
Once upon a time there was a joyful tavern, open during the 17th century, in what was the heart of Paris at the time of Louis XIV…  But from this Parisian past, only remains (luckily) the name.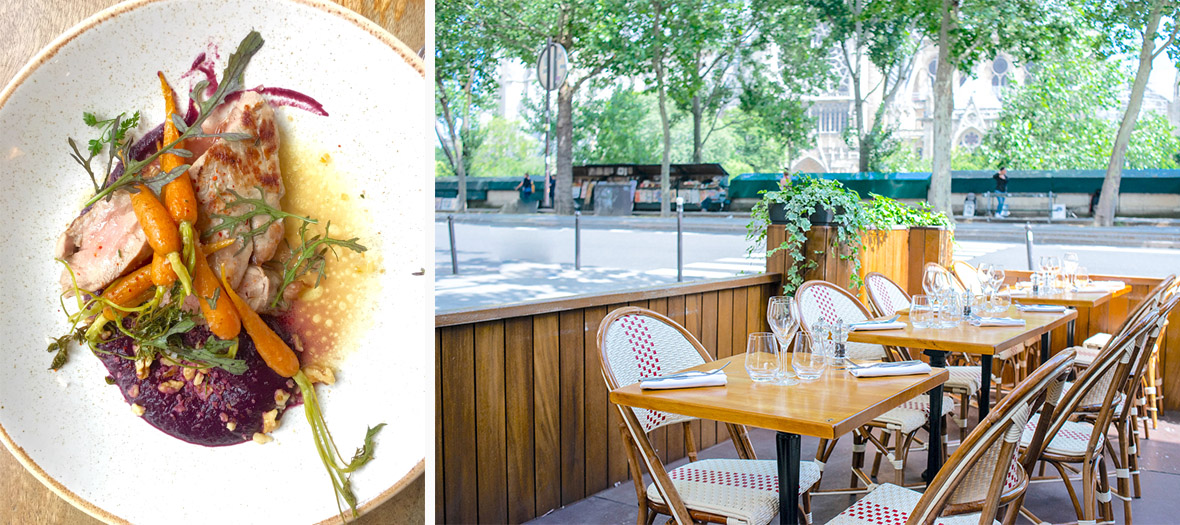 À la carte, 100 % home-made dishes with fresh and seasonal products: gazpacho with old-fashioned tomatoes (€7), fried organic egg with smoked bacon bits and croûtons (€9), fab small ravioles de langoustines (€18,5) and a rice pudding dessert with salty butter caramel, finger-licking food (€7). All this presented in very instagrammable tableware, one would love to have at home.
To be noted: on the upper level, the Cobbler bar to knock back incredible  s potions whipped up by the mixologist globe-trotter, with unknown far-flung ingredients ( starting at €10). For the fun, an exotic aquarium separates the main space with a speakeasy allure from the cozy smoke room.
Open Monday to Saturday from noon-10:30 pm, on Sunday noon.
Also discover the lovebird terrace and the trendy restaurant of La Concrète.