With Julien Duboué (A.Noste, Corn'R), never trust appearances. His latest facetious venture? An all-you-can-eat buffet in the most trendy dining hall of Paris.
The place
With Julien Duboué (A.Noste, Corn'R never trust appearances. His latest facetious venture? Having hidden the most trendy dining hall of Paris in the back boutique of an elegant retro boulangerie nestled in the 18th. You need to fend your way between the pastry counter and the bread wall to reach the main room filled with large tables of buddies, under a vegetal ceiling.
The hit of the show? A gargantuan buffet, where everyone can pick and choose, especially since there is an all-you-can-eat formula.
The high of the all-inclusive holidays, without the bad surprises. Because the ex Top Chef, native of the Landes has gone all out
Of the program of treats
For exactly €39: seafood galore, a wide array of terrines, eggs mimosa, coleslaw, salads, charcuteries, cheese. Hang in there, it continues with HOT offerings: beef ribs, breaded sea bass, polenta, roast chicken, cut up on the spot, a show worthy of star tables. On the grill, an exquisite duck sausage with Espelette pimento shares the spotlight with couture sardines.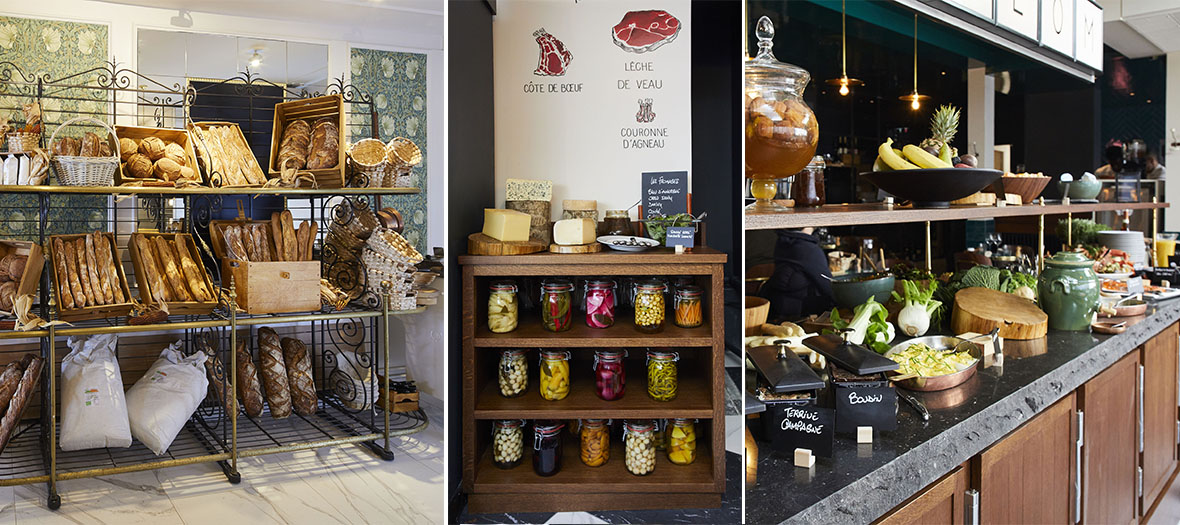 How about a little sugar? Viennoiseries, lemon meringue tart, crêpes Suzette flambéed on the spot with Armagnac, brioche, ice cream machine, chocolate fountains an a huge puff pastry high cake, worthy of Meghan and Harry's wedding. Warning: the chocolate mousse always wins. Everything is concocted in-house, most of the veggies are picked in the garden of Julien's parents and the other products are supplied by buddies in the South-West.
Cherry on the cake, beverages are included. Tea, coffee, water, rosé…
The added plus
The ideal venue to go stuff your face as a gang or with the entire family (reservations starting at 6 persons). Ultimate whimsy, the clandestine cocktails bar hidden behind the refrigerator door, can be reserved for small groups.
Also check out the brunch for avocado buffs, the 100% crêpes brunch of Brutus and the decadent brunch of Balagan.