Are you going to get back to Greece, blue and sun this weekend? Here is the most refreshing address of this fall. Planted at the top of the rue des Martyrs, Maison Kalios is the Greek canteen that we expected in Paris.
A solar place
The charm works right away thanks to a tailor-made decor designed by the Uchronia agency (to whom we owe the Manko , Coyo taco and Créatures in particular ) and its talented founder Julien Sebban . Like a village square, Maison Kalios embodies its identity by marrying Greek codes and its favorite colors. The royal blue and luminous white of the whitewashed niches flood the eyes. The typical Cycladic soil makes us want to take off our shoes to feel the stone under our feet. And this majestic olive tree, star of the place, which seems to stretch beyond the walls thanks to the magic of a mirrored ceiling, makes us roll our eyes. The best seat is at his side, on the central bench.
At table !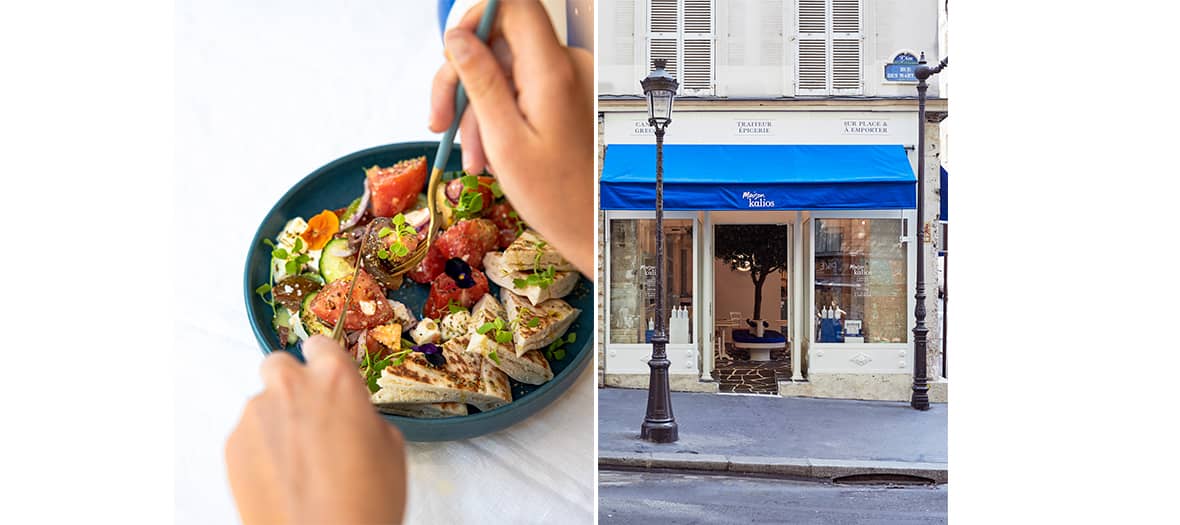 In keeping with seasonality and made from quality ingredients, Maison Kalios ' dishes give you a taste of a tasty Greece. The menu unrolls all the recipes that we already love but that we have the impression of discovering for the first time: white tarama , feta and artichoke vine leaves (from €4.90), crazy garnished pitas (at from €12), lamb confit for 7 hours… Attention addiction: the courgette and mint koftedes (2.50 euros) and Hélène's moussaka served by the slice (€14), are good like nowhere else! And to end on a sweet note, don't miss the Portokalopita cake soaked in orange and honey (€3.50).
To take home
To continue the journey and treat yourself at home, Maison Kalios is also a caterer and a delicatessen where you can shop 1001 wonders. In the niches and on the shelves, you can find all the house's olive oils from sizes S to XL (from €8.80). And also kalamata olives , balsamic vinegar, feta cheese from Lemnos , mandarin marmalade, beautifully named infusions, a fine selection of wines... What did we like best? Cashew nuts with truffles that you could fill buckets with (€9 for 100 grams) and salt smoked in beechwood (€4.30) that would spice up any dish.
Kalios, since 2010…
The desire to help chefs discover the richness of their origins, this is the starting point of the adventure initiated by the Chantzios brothers, Pierre-Julien and Grégory at the head of Kalios , whose family produces olive oil. olive for 8 generations in southern Greece. Successful bet ! Kalios has attracted nearly 1,000 chefs and restaurants in France, 800 delicatessens around the world, and us!
Maison Kalios , 54 rue des Martyrs, Paris 9th . Open Monday to Friday from 10:30 a.m. to 8:30 p.m., Saturday from 9:30 a.m. to 8:30 p.m. and Sunday from 9:30 a.m. to 7:30 p.m.

Also discover pheno-food, popular finger sandwiches and 10 cheap restaurant in Paris