In the vicinity of Parc Monceau, the discreet 8th arrondissement was sorely lacking a neighborhood hotspot, a true meeting place for regulars. Even better: people would even travel from afar to discover Cena, where the beautiful plates, as colorful as they are refined, are the creation of an ultra-promising Japanese chef...
Table of the Heart
How tranquil this superb neighborhood is. Far from the hustle and bustle of trendy corners where people jostle for a spot on the terrace, Cena's terrace already hints at a romantic interlude during dinner, replacing the lawyers and politicians of lunch breaks with couples who have come to coo in peace. Inside, of course, the meticulously decorated interior adheres to the contemporary codes (leather banquettes, mirrors, wood...) in a minimalistic style that allows the focus to be on the menu to be savored.
A Unique Menu... That You Don't Choose!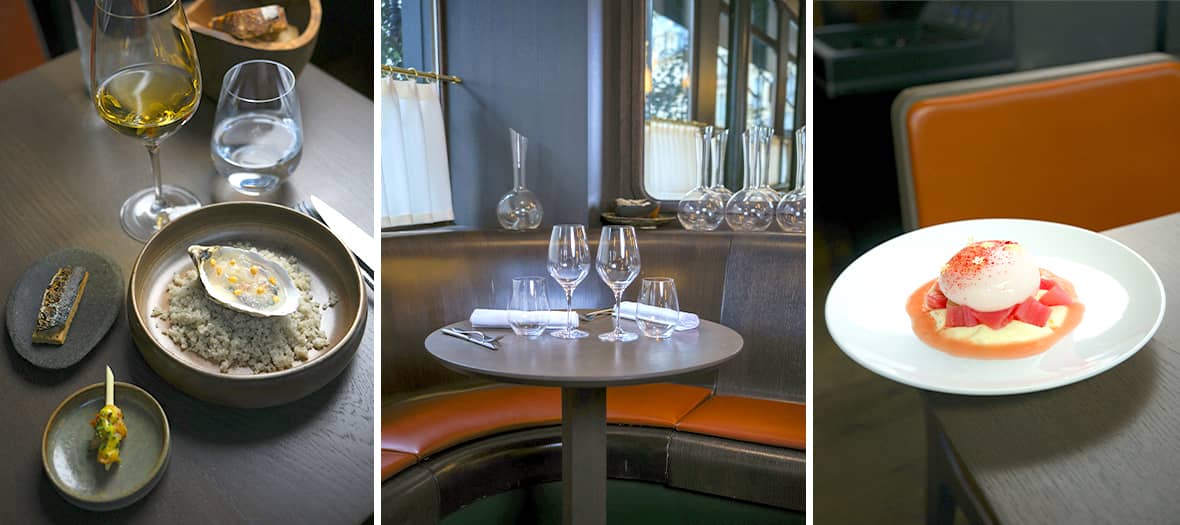 What could be more enjoyable than surrendering yourself to complete trust and letting the chef take the reins? Control freaks may be infuriated, but this new trend of unique menus is increasingly captivating these 2.0 chefs who seek to challenge conventions and introduce delightful flavors that you might have never chosen otherwise. Bingo! From his kitchen open to the dining area, the modest Japanese chef Hideki Nakamura, former sous-chef at the double-starred La Table du 53, delivers something extraordinary. Something truly remarkable.
Depending on your appetite, you can choose from the Discovery menu (4 courses, €75, already quite substantial), the Immersion menu (6 courses, €95), or the Tasting menu (chef's inspiration, €120). As befits a gastronomic table, you can already anticipate the pleasure to come with the tantalizing amuse-bouches: peanut clams, octopus bite on brioche, or mackerel serving as preludes to a superb langoustine with strawberries and horseradish cream, a harmonious marriage between monkfish and white asparagus, a delightful veal dish with green asparagus... all depending on the chef's whims, the season, and the arrivals.
A little joy awaits at dessert on the evening of our visit: a small, cute, pink cloud delicately hovering over crunchy rhubarb and vanilla cream. Mmmhh...
Fine Bottles
While the chef remains focused on his plates in the kitchen, Matthieu Morvan (formerly of Substance, Flaubert, Racine des Prés) creates a relaxed atmosphere in the dining room, while sommelier Lucas Hubert introduces us to natural wines like an excellent ultra-punk-labeled Bourgogne Aligoté (€12) or the perfect orange wine, Oxymoron (€14). Once again, we surrender ourselves and follow their guidance with closed eyes.
Open for lunch and dinner from Monday to Friday. © Stephane Riss

Discover also The most beautiful guinguettes of the summer and The must-try rooftops in Paris