A chic pink boudoir, cookies with demanding pastry know-how, a stylish Parisienne and the good taste of American junk food. Mix it all up: you will get Cookidition , the new little cake box that is maddening the West of Paris (and Instagram) with highly foodporn pastries. And that's good, it delivers well beyond the 16th arrondissement ...
The success story of a Parisienne as we like them
Obsessed by her own Proust madeleine, Charlotte Zeitoun does not miss an opportunity to test a new cookie address and develops her first recipes that she shares with her friends. At the same time, this chef's daughter works as a brand manager at Messika Paris .
With confinement, the young woman decides to deliver cookies to hospitals. Until "the order that will change the situation ": a chocolate and peanut cookie. The foodie multiplies the tests and develops the Snicky : chocolate paste, pieces of milk chocolate, roasted peanuts, all covered with a homemade vanilla caramel. And makes him want to go for it for real.
The entrepreneur at heart begins by launching her e-shop: Cookidiction . Wake up at 5 a.m. to prepare the day's deliveries in his mini lab, working day at Messika, then baking session from 7 p.m. to 10 p.m. for evening deliveries.
The best American-style cookies in Paris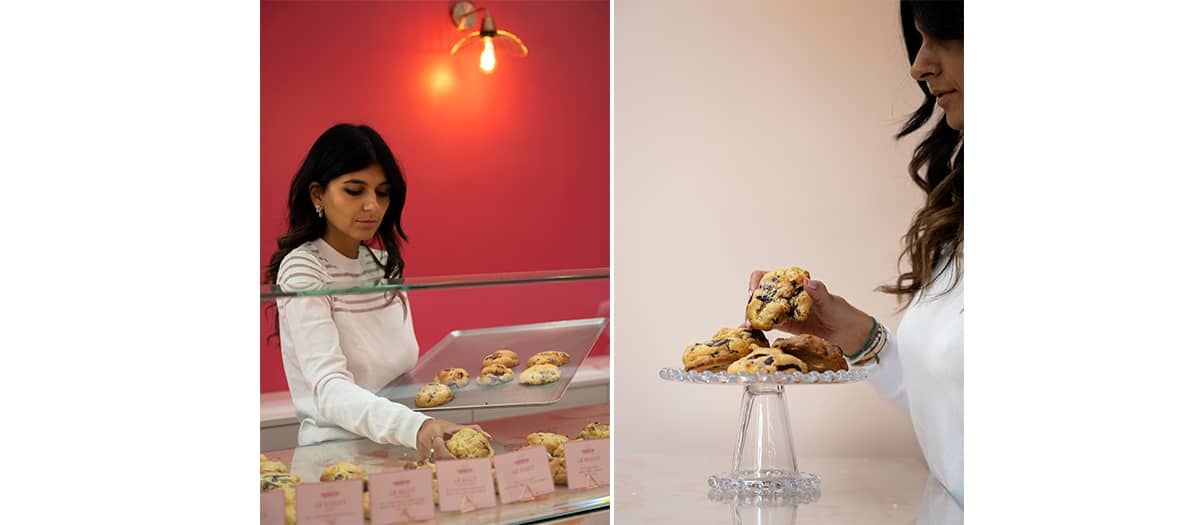 From word of mouth to Instagram buzz, there is only one step. Charlotte decides to quit her job to open her first store in the 16th district, in Ranelagh.
The result is a divinely photogenic pink case where her 5 best-selling cookies are displayed, featuring New York favorites (choco-fleur de sel, Kinder , Nutella , Snickers , Reese's ), with special mention to her cookie- (tira) misu (jar of mascarpone with pieces of cookie). All to match according to your desires to create your personalized box .
His signature ? Small cakes (with gluten free option) handcrafted with the best products: PDO Charentes-Poitou butter, unrefined sugar, Valrhona chocolate , Piedmont hazelnuts , bourbon vanilla from Réunion. Once in the oven, the gourmet twists her addicting cookies on request with homemade spread , caramel and peanut butter . Good American taste in the best of Parisian know-how, we applaud!
€ 3.90 per cookie, cookie box from € 22.90 (6 cookies)
Also discover the best babkas in Paris and the best baguette in Paris.